Garçons' Tarantino-Inspired Video for "Numba One" Is a Colorful Funk Vibe
The video for their debut single "Numba One" is a pastel-washed day exploring the city and a meditation on how to get your crush to stop playing around.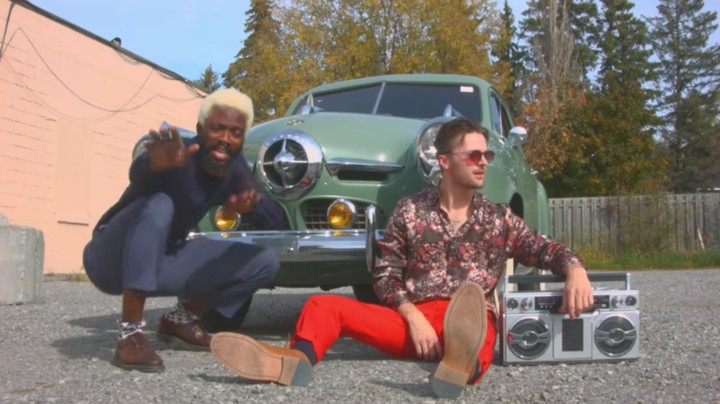 via YouTube
Caribbean music is hugely influential to artists in Canada, and the duo Garçons (singer/songwriter Deelo and record producer/director Julian Strangelove), are no exception. Today we're premiering the video for their debut single "Numba One" from their upcoming Body Language EP, "a blend of 7 groovy, funky & colorful love songs that were written to brighten up your day."
Directed by Strangelove, the video is a visual journey that sees the singer/producer team grooving in various locations around Ottawa, including hanging around in an arcade, riding around in a vintage car, and dancing outside of an ice cream shop. The whole thing looks like if a French noir film and a much, much happier version of Blade Runner had a baby, and if that baby had a lot of soul. Across settings displaying a beautiful pastel palette of colors, Deelo talks about the highs and lows of pursuing a new lover over a reggaeton-inspired instrumental that sounds exactly like how developing a crush feels. Deelo tells me they are influenced by the likes of Frank Ocean, Erykah Badu & A Tribe Called Quest, which is already apparent when you observe his delivery style and Strangelove's sonic fingerprint, but even more so after you compare the video to those named, such as for Badu's "Bag Lady," or Tribe's "Can I Kick It?"
In a press release, Strangelove explains what it was like to prepare for their debut EP. "There wasn't a goal, we just wanted to make good music. At the end of the day, the music is really all about embracing uniqueness and the things that make us human—love, nostalgia, euphoria, insecurities, lust, boredom, etc."
Watch the video for "Numba One" above and keep an eye out for the release of Body Language.
Stories