The Minnesota Lynx are not supposed to be getting better.
This is not a knock on the team. The Lynx have reached the WNBA Finals five times since 2011 and won three of them—a run that no team in league history can match save for the 1997-2000 Houston Comets. They have kept largely the same core of players, all future Hall of Famers—Seimone Augustus, Lindsay Whalen, Rebekkah Brunson, Maya Moore, to which they added Olympic gold medalist Sylvia Fowles midway through the 2015 season.
Last year, Minnesota finished atop the league in both offensive and defensive rating. Fowles, who had won Finals MVP in 2015, was even better. They reached the Finals yet again, only to lose to the Los Angeles Sparks in the final three seconds of a hard-fought and decisive Game 5.
At the same time, it was reasonable to expect the Lynx had peaked last year. Fowles entered the 2017 season already 31 years old. Augustus is 33. Brunson and Whalen are 35. Some attrition seemed possible, even likely, around the 27-year-old Moore.
Lynx coach Cheryl Reeve saw something else, too: a league where more and more players were taking and making threes. Her roster, however, finished 11th in a 12-team league in both made threes and attempted threes, and had only one player, Moore, shooting above 33.3 percent from beyond the arc.
In essence, that's how the Sparks caught up to the Lynx last season: flooding the basket area to neutralize Fowles and Brunson, two of the four best rebounders in the history of the league, and sinking threes while playing Minnesota to a standstill.
So Reeve's marching orders to her team this off-season revolved around one thing: get comfortable shooting the three. And come into camp ready to take them and make them.
"It's something I went into the off-season working on, it's something that I'm continuing to work on," Brunson said. "Last year was the 15-footer, this year it's branching out from that. It's something [Reeve] told us all she wanted us to work on, so it's something we've embraced collectively."
Rather than add another player with the new dimension, Reeve trusted her group to diversify themselves and through ten games so far, the results are clear: the Lynx improved from 33.7 percent from three last year to 37 percent, which ranks second in the WNBA. Nine different players have already attempted at least five threes, compared to eight who reached that mark over the entire 2016 season. Those who already were shooting it have greatly increased their attempts as well. Whalen, who took 11 all of last season, has already attempted 14.
"I watch a lot of basketball, whether it's WNBA, NBA, or college," Whalen said in a phone interview. "You can sense that's where the game is going. And those are things people are really focusing on. I only took 11 threes last year, so first thing was, I wanted to take more. And of course you want to make them."
And so far she has, at a 50 percent clip.
Augustus, too, is making 47.1 percent of her threes, while on pace to easily eclipse her attempts from 2016. Moore is steady as ever—above 40 percent from deep again, taking more than five per game, suffering from an attention gap because she's simply played at an unmatched level, consistently, since arriving in the league in 2011 (you know, when all the Lynx championships started).
But the real paradigm-changer in Minnesota has been Rebekkah Brunson.
Brunson entered the 2017 season, her 14th in the league, with 12 career three-point attempts and two makes. The 35-year-old made a living under the basket, and only recently extended her range to help with spacing once Fowles arrived. Somehow, Reeve saw a stretch four in her veteran prototypical power forward, and Brunson spent the off-season, first in Turkey and then back in Minnesota, working on her shot daily with Whalen and the coaching staff in order to become that player.
Brunson took more than one three only once in Minnesota's first four games, but she's gotten more comfortable on the perimeter as the season has progressed, taking multiple threes in four of the next six games. Heading into Friday's game against the Washington Mystics, she has attempted 17 threes on the season, averaging more than one attempt per game for the first time in her career.
The change is reflected in every possession. Before, having Brunson by the basket in conjunction with Fowles overwhelmed opponents with physicality, but the setup didn't maximize Fowles as a finisher around the basket, nor her world-class ability to rebound herself. The focus on the three-point line has not cost the Lynx on the boards—their 53.4 rebounding percentage is just off the league lead, and now Brunson is free to utilize her newfound versatility.

Reeve pointed out that none of Brunson's four threes against Washington came on sets designed to get her that shot—it was simply cycling through options until it was her turn to shoot.
"It's also the evolution of where the game is going," Whalen added. "You look at the Houston Rockets this year, and other teams—you want to get high-percentage twos and threes. Rebekkah and I have always gotten two of those three: we get to the free-throw line because we're aggressive going to the basket, and then get high-percentage twos. We've worked on our midrange game through the years. And so now, it's the three-point line. Coach saw this was the way the game is going, and this is a way we could get even better. And we've really embraced it."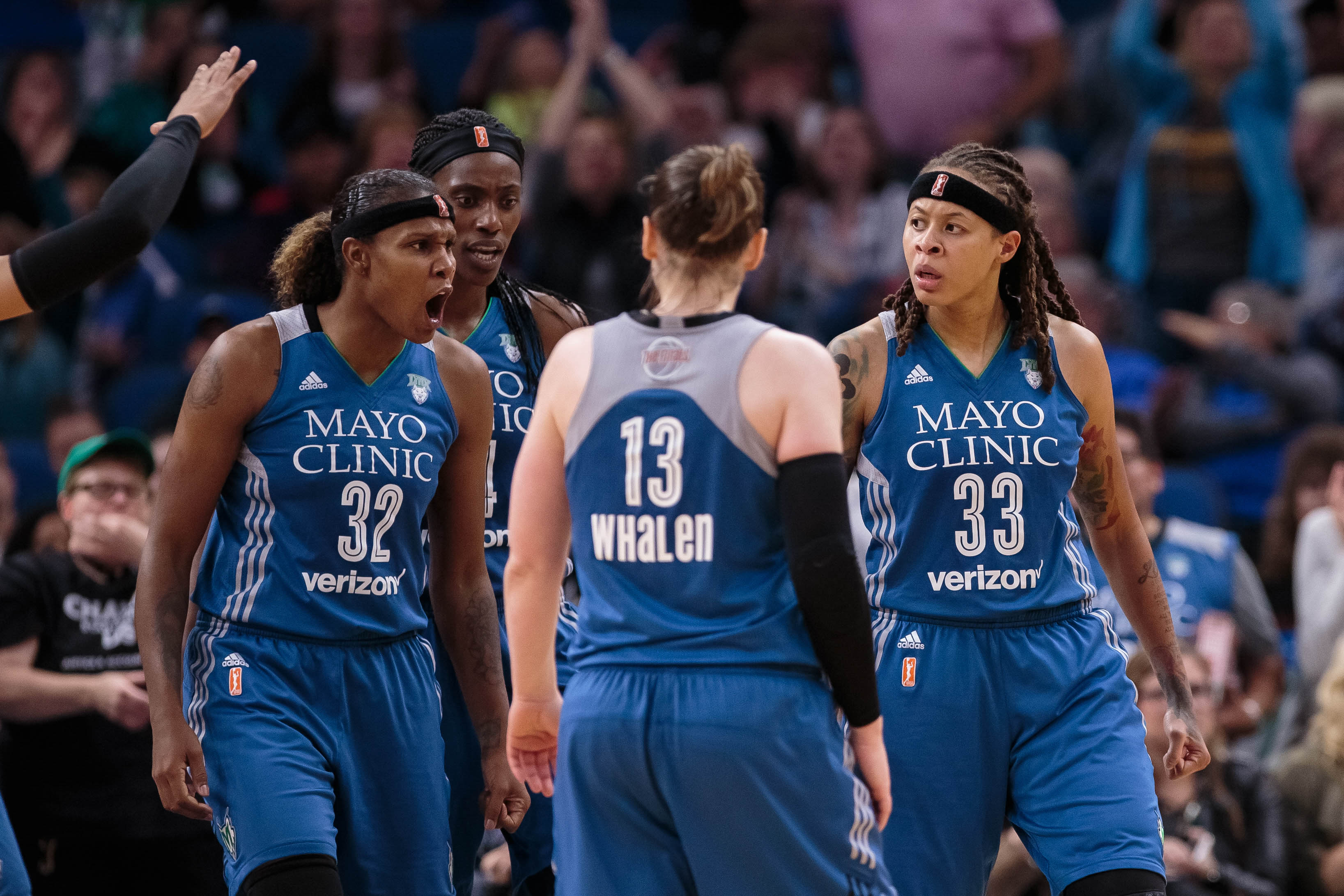 Much like their counterparts in the NBA, the Lynx being able to put four or five legitimate perimeter threats on the court at a time makes their offense nearly impossible to stop. Opponents can single-cover players like Fowles, who has made a career of scoring almost at will through double-teams, sometimes triple-teams, or they can send help defenders, but at a higher risk than ever before with Brunson feeling so comfortable outside.
The Lynx are not the only team to try this; most notably, the Mystics have embraced a similar setup with the acquisition of Elena Delle Donne, often deployed at the four, along with Emma Meesseman at the five and a host of other wings. But it is the personnel that truly sets Minnesota apart. To punish spread-out defenses is one thing. To do it with the league's best center and the best small forward is quite another.
"I call it the doubleheader factor," Fowles said. "Either I'm going to score or my teammates are going to score. So I can finish, or I can pass it out to them, out of a double, triple team, and make it easier for them. So we start it inside, but it's a team effort."
Fowles has the highest usage rate of her career (25.6, up from 20.1 last year), but also easily the highest assist percentage (11.6, up from 7.0 last season). Her player efficiency rating is 35, which is within shouting distance of the league all-time record of 35.04, set by Lauren Jackson in 2007. Earlier this month against the Seattle Storm, she scored 26 points in the first half, due in large part to how Brunson has changed the calculus for opposing teams—seeing Brunson's transition, Storm coach Jenny Boucek elected to keep a defender out on her, leaving the hyper-efficient Fowles single-covered.
"I can say honestly that I've never felt in the groove like I did that first half in Seattle," Fowles said. "But I'm getting the opportunities, and the spots to score, because my teammates are getting me the ball in spots where I can score. So there was definitely a wow factor that night."
Once Seattle made a halftime adjustment, bringing help defenders on Fowles, Brunson went off, finishing the night with 17 points, shooting 9-for-10 from the field as the Lynx went on to a 100-77 victory. The Storm have a versatile frontcourt on the defensive end led by Breanna Stewart, but even they have no answer to the dilemma posed by this Lynx squad: either leave a Hall of Fame center to feast on a single defender, or give Brunson all the time and room she needs to sink the shots she keeps furiously practicing every day.
Teams have the option of putting their more athletic wing defender on Brunson, but that leaves their less effective wing defender on Moore, who is well on her way to making a case for best player in the history of the league. (Fun sneak peak of the future Moore vs. Diana Taurasi debate: Taurasi posted 32.6 wins above replacement in her first six WNBA seasons. Moore? Around 20 percent more valuable: 41.7 in her first six campaigns.)
Even if teams have a backcourt defender with size to rotate up into the matchup against Moore, that leaves Augustus or Whalen with a mismatch, or both. That would be one of the best iso scorers in league history and a Hall of Fame scoring point guard, for the record.
Nor has And the Lynx remain the best defensive team in the league, well ahead of second-place Phoenix in defensive efficiency.
The Lynx are 9-1 so far this season, with other emphatic wins coming against elite teams like Washington (by 25 points), and New York (by 19). They also remain the best defensive team in the league, well ahead of second-place Phoenix in defensive efficiency. While it's premature to give the Lynx another WNBA championship trophy, few coaches around the league have many answers for how to confront their new attack.

"That's the fun part, for coaches, for me as a point guard, the game-within-a-game," Whalen said. "And when they try to take something away, we go to the next play, the next pass. And everybody's willing to do both, and everybody can do it."

For her part, Whalen doesn't seem all that surprised that there is another level for her team to reach.
"We're always improving, so I hope every year is our best," she said. "I mean, why not?"