Among the hundreds of unfilled positions in the Trump administration is the Deputy Under Secretary for International Finance, a slot that is one of the top advisers to Treasury Secretary Steven Mnuchin and President Trump on global financial markets and international monetary affairs.
Trump's nominee for the post is 34-year-old Acting Assistant Secretary Geoffrey Okamoto, whose related experience, at least according to his profile on LinkedIn, is limited to six years working in financial policy on Capitol Hill.
But he does have experience staking out positions on major foreign policy issues, at least if you count the blog he appears to have kept as a college student during the war in Iraq, which advocated for the use of torture in wartime and argued that the military should bomb Al Jazeera TV antennas to keep journalists from reporting on it.
The blog also argues that waging a war to obtain Iraqi oil was worth American lives. "So is oil worth fighting a war over? Absolutely. Is it worth 200 billion dollars? Yes. Is it worth American lives? Sadly, yes," read a now-deleted post on the blog "TheOka."
The U.S. Treasury and the White House did not respond to a VICE News request for comment. Okamoto did not respond to multiple attempts to contact him.
VICE News was able to view the blog on the Internet Archive's Wayback Machine, and the blog is written under Okamoto's full name. A copy of Okamoto's resume appears on the blog, and is linked to a Google Plus account under Okamoto's name, which mentions he worked as a House staffer from 2011-2014. "TheOka" also appears to be Okamoto's Twitter handle, though the tweets are private.
VICE News has been unable to confirm when the blog was deleted.
On the blog, named for the author's "Halo" nickname, the writer described himself as "not a tree-hugging, peace screaming, communist hippie." Rather, he said, "I am a political junkie and an amateur political pundit. This is my rostra. Our goal is to advance the conservative agenda."
The author expounded on other controversial political views between 2004 and 2005 as a student at California State Polytechnic University.
The blog called for bombing the Doha-based news outlet Al Jazeera to keep information like the photos of torture at the Abu Ghraib facility out of the press: "This is War. There is no such thing as freedom of speech or freedom of the press. There should be a complete and unwavering media blackout in the entire region…If we have to bomb Al Jazeera TV antenna arrays, do it. If we have to humiliate prisoners, do it. For our own sake, let's have a damn backbone for once in American foreign policy."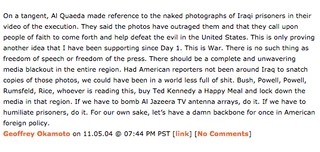 Another post in 2004 justified the torture at Abu Ghraib: "These aren't American citizens deserving of the rights we grant ourselves. And another thing, WHO DIED IN THAT PRISON DUE TO THESE "CRIMES?" I'll tell you what, if a military interrogator found out a name, a place, a location, or any information to help our cause or defend our homeland, then I applaud the military for using humiliating and such tactics to garner such information."
In a 2014 study of interrogation methods that drew upon active-duty military and FBI agents, researchers concluded that confrontational methods such as torture were the least effective interrogation technique. In 2009, President Obama signed an executive order banning the use of torture, followed by Congress, which banned torture as part of the National Defense Authorization Act of 2016.
One post argues that American journalists should not have published photos of torture at Abu Ghraib, and that the U.S. military would be justified in doing anything to stop it.

"Another controversial issue are these photographs that keep surfacing courtesy of your American journalist in Iraq," another post read. "I'm sorry, but when did America stop interrogating prisoners in effective ways to gather information and protect ourselves? I don't see what the outrage is about."
Cover: Official photo of Geoffrey Okamoto, U.S. Department of the Treasury (Photo: Chris Taylor)