Ground Cherry Cocktail
A hint of spice, a dash of sweet, and a bit of booze = the perfect cocktail.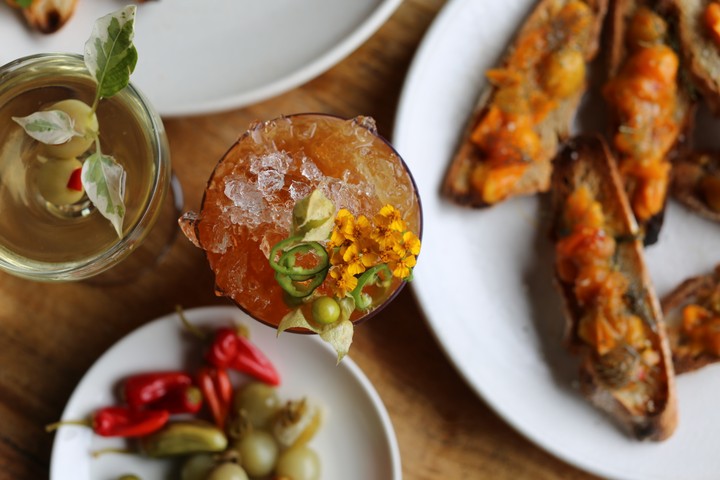 Photo by Sydney Mondry
Servings: 4
Prep: 10 minutes
Total: 20 minutes
Ingredients
for the ground cherry preserve:
¾ cup ground cherries
¼ cup verjus
⅓ cup sugar
1 tablespoon kyoto Manganji pepper, thinly sliced
for the cocktail:
1 ½ oz Lyon Distilling Dark Rum
4 bar spoons ground cherry preserve
½ oz Keepwell Aronia Berry Vinegar
3 dashes Woodberry Kitchen Ginger bitters
Manganji pepper slices
fresh ground cherries, in the husk
fresh Mexican mint marigold
Directions
1. Make the ground cherry preserve: Heat ground cherries, verjus, sugar, and 1/3 cup water in a small saucepan over low heat until sugar dissolves. Increase heat to medium, cook mixture until half of the ground cherries have popped, stirring occasionally. Add Manganji peppers, bring to a boil, stirring frequently so that the sugar does not burn. Cook mixture until viscous, ground cherries have fallen apart and preserves are thickened. Cool slightly, transfer to a small food processor, blend till smooth. Transfer to 8 oz glass jar, let cool; cover and chill. Preserves can be made 2 weeks ahead. Keep chilled.
2. Make the cocktail: In a highball glass, add rum, ground cherry preserves, vinegar and ginger bitters. Set aside.
3. Wrap a large piece of ice in a kitchen towel. Using the back of a large wooden spoon, whack the ice cube 6-8 times breaking into finely cracked ice. Add ice to highball glass and swizzle. Garnish with pepper slices ground cherries and marigold flowers.