Islamic State's weaponized drones are now so ubiquitous that you can even buy replicas of the bombs they drop for training purposes. They look just like the real thing, and even feature removable fuzes and safety pins. Of course, they won't explode, and are made out of solid urethane.
Welcome to the replica ISIS weapon emporium, Inert Products LLC, the self-titled "world's leading supplier of inert training products".
Pennsylvania-based Inert Products is an eye-opening seller of fake Islamic State weapons, fake casualties (including body parts), simulated explosives, and replica ordnance—all in the name of military, government, and law enforcement training purposes.

There's literally nothing explosive related you can't buy on this website. From imitation AGM-114 Hellfire missiles usually found on MQ-9 Reaper drones to a whole plethora of dud explosive suicide vests, Inert Products has it all. Incredibly, many of the replica explosive products come in multiple grades, ranging from just pure lookalikes up to versions that trigger a siren when activated and even look real under an x-ray machine, for that security stop authenticity.
"With the rise of groups such as ISIS, there is a larger need for specific training designed around the current capabilities of these groups. We currently provide a workshop that is specific to the ISIS inspired weaponry and tactics, with a focus on the devices used in these attacks," Inert Products executive vice president Dean Klipple told Motherboard in an email. "As new threats emerge, we will produce training equipment that is relevant to the training requirements in demand. Domestic Terrorism is a large concern and as such there is increased focus on the training provided to address such threats."
One of the more surprising and niche areas of the website, Motherboard found, was the replica pressure cooker bomb section, which lists multiple styles of pressure cooker IEDs (improvised explosive devices), including a $2000 'Afghan training kit' and a pressure cooker that can be hooked up to a cell phone.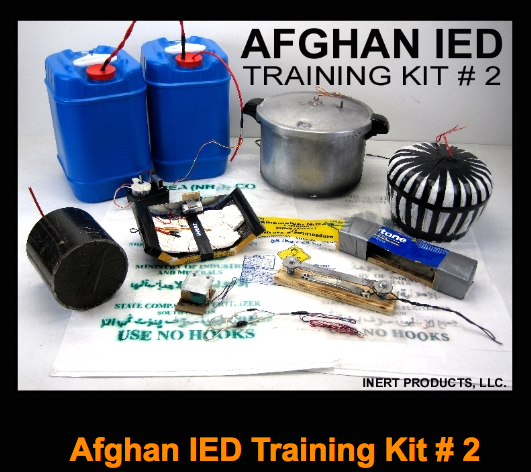 When you think about it, none of this is that crazy though. It makes sense the government and military needs to train for these scenarios somehow, and it's great that they can with such authentic details.

Go ahead, peruse at your pleasure, just make sure to exit through the gift shop to pick up your replica Trident submarine-launched ballistic missile.
Subscribe to pluspluspodcast, Motherboard's new show about the people and machines that are building our future.