The Only Rocket Who Doesn't Shoot Three-Pointers
Houston center Clint Capela shot his first three of the season in Game 5 of the second round. But he's crucial to the Rockets' aerial attack.
Troy Taormina-USA TODAY Sports
The Houston Rockets launched over 500 more three-pointers than any team in league history this season, casting shots from seemingly anywhere inside halfcourt with accuracy and aplomb. Coach Mike D'Antoni's playbook was designed to generate a meteor shower; a generational playmaker named James Harden and a battalion of sharpshooters delivered on that vision. The Rockets chucked a lot, made a lot, and finished with the third-most wins in the NBA.
And yet it was not until Game 5 of Houston's second round Western Conference Playoffs series against San Antonio that one Rocket hoisted his first three of the season. Clint Capela, the team's third-year center out of Switzerland, was the last holdout in the Houston rotation this year when it came to firing from deep. The shot was pretty ambitious, as far as first attempts go: a buzzer-beating Hail Mary from the opposite free-throw line that sailed wide right. It was close enough to make you look.
Capela's abstinence from deep makes him an outlier on a team that has prioritized floor spacing over every other NBA skill in building its roster. A track-and-field star in a seven-foot, 240-pound frame, Capela has only taken eight shots all season outside of the paint; his shot chart looks like a tangle of Christmas lights stuffed in the restricted area. Capela's effective field-goal percentage (a standard of shooting efficiency) is the second-highest on the team without a single three-point make. Nevertheless, his teammates have caught him working on his long-distance stroke.
"It needs some work," Houston forward Sam Dekker said, grinning sympathetically.
Capela is still raw. He gets outmuscled for rebounds—he was no match for the bruising Oklahoma City frontcourt in the first round—and doesn't have much of an offensive repertoire. But Capela's emergence during the Rockets' battle with the Spurs is testament to his rapid growth under D'Antoni. Against a pair of All-Star bigs in LaMarcus Aldridge and Pau Gasol, he has looked like the better player for much of the series, running them weary in transition and out-leaping them on the glass. He's posting averages of 12.6 points, 10.2 rebounds and 2.8 blocks in the five games. Capela was breaking out before his platoon partner, Nene, got hurt; the injury sidelining the veteran big man for the rest of the playoffs means people might start realizing it.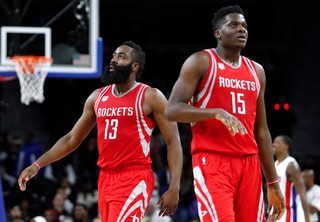 The Rockets, at least, are well aware. "[He's gone] from sitting on the end of the bench and not really being a factor in the playoffs to being one of the better centers in the league, in just a short time," D'Antoni said at a team shootaround at the AT&T Center before Game 5. "We thought he had the potential, but we didn't know it was going to be this quick."
Behind D'Antoni, Capela was working on his free throws as John Lucas, the Rockets' head of player development, laughed heartily—like, obscenely heartily—in his ear to distract him. It was just last year that Capela, making about a third of his attempts, was subject to intentional fouling. He's up to 53 percent this year, evaporating the tactic before the extremely catchy "hac-a-pela" term for it caught on. Lucas credits a summer's worth of 6 a.m. workouts for the turnaround.
On the other side of the court, several of Capela's teammates took places behind the three-point line and played around-the-world. Being that this is the most prolific three-point shooting team of all time, the bar has been raised: it takes five hits in a row to proceed to the next station, and an airball puts you out. Ryan Anderson either won or was disqualified, depending on who you ask.
While he isn't part of the shooting contests that follow Rockets practice, Capela is nonetheless critical to the team's success on the perimeter. With the speed to play at breakneck pace, the springs to catch lobs high above the rim, and the sense not to shoot anything he can't finish without dribbling, the 23-year-old meets D'Antoni's ethos of efficiency.
"He's one of those players that doesn't try to do things he can't do," said Spurs coach Gregg Popovich. "He helps the team with the skills that he has."
Capela's offensive impact begins at the outset of each possession, when he books it up court in transition, a footrace that the guy who played striker growing up in Geneva usually wins. He drags a defender into the key as shooters race to spots on the wing. Someone is inevitably left open.

"I've always been a guy who likes to run the floor," Capela says, a sentence which in all likelihood Aldridge and Gasol have never uttered. They look miserable by the middle of the second quarter.
In halfcourt sets, Capela's powder-keg explosiveness makes him available to receive lob passes from any angle. The Rockets prefer to make Anderson or another shooter the screener for Harden, but when they do use Capela in the pick-and-roll, the Spurs have to choose—does someone sag off a shooter to tag Capela on his way to the rim? Or does everyone stay home, clearing the runway for an alley-oop?
The Rockets have only run about 20 different offensive sets this series, according to one Western Conference scout—the Spurs are closer to 50—but they execute them with humming precision. When Harden or another Rocket gets a step on his defender and into the paint, it's death; the Spurs just have to decide how long they want to suffer. If the big stays glued to Capela, he's conceding a layup; sliding over to help tips a domino of rotations that ends in an open three or with the driver floating the ball skyward to Capela. Shooting a (DeAndre) Jordan-esque 72 percent at the rim this season, Capela's about as good a release valve as there is in the league.
More importantly, though, Capela has brought enough defensive rim protection to keep a full complement of undersized, defensively suspect snipers on the floor. Interior defense was expected to be the biggest hole on Houston's roster after Dwight Howard departed last summer in free agency. But Capela made a leap. "He's a quick learner," D'Antoni said. "Every day it seems like he gets a little bit better." In 9.4 field goal attempts per game at the rim with Capela nearby, the Spurs are shooting just 48.9 percent, according to stats.nba.com. (For purposes of reference and/or ridicule, Aldridge is a welcome mat at 60 percent.)
Nene's injury has meant additional playing time for Capela, but also an arduous defensive assignment. D'Antoni moved 6'9" Ryan Anderson to the bench so that he could spell Capela at center. That means starting a wing player on 6'11" Aldridge or seven-foot Gasol while Capela mans the other, switching on every screen and hoping for the best. Capela has shown he can track the speedy Spurs guards on drives to the hoop, and has the leverage to hold his ground in the post. Whether he can own the glass against multiple long, physical bigs with little help has yet to be seen.
The answer to that question might determine the outcome of the series, and Capela knows it. San Antonio pounded the Rockets for 18 offensive boards in Game 5, and it won't relent as long as Houston plays small. "I'm going to have to step up and be ready to be even more of a presence," Capela said before Game 5.
Down 3-2 in the series, the Rockets are facing an uphill battle to advance. But the Rockets are thrilled with the progress of their young big man. Just a few years ago, they were planning on stashing Capela in France while their incoming superstar big man, Chris Bosh, formed a new Big Three with Howard and Harden. Instead, Bosh re-signed with Miami and the Rockets bought out Capela's contract with his French team, then stashed the beanpole project in the D-League. Now they have a franchise center on the cusp of his prime. Not a bad return for a former 25th pick.
Like Dekker, D'Antoni laughed when asked about Capela's restraint from behind the arc. Then he emphatically discouraged Capela from getting any ideas. So did Lucas. But Capela hasn't ruled out joining his triple-happy teammates somewhere down the road.
"Maybe eventually," he says. "Why not?"
Want to read more stories like this from VICE Sports? Subscribe to our daily newsletter.
Stories