Sweet Honey In The Blues
A few years ago, when that big Scorsese-produced PBS special of films about "The Blues" was about to premiere, I was exceptionally psyched to hear that Wim Wenders (<i>Paris, Texas, Wings Of Desire</i>) made one about this gospel blues singer named...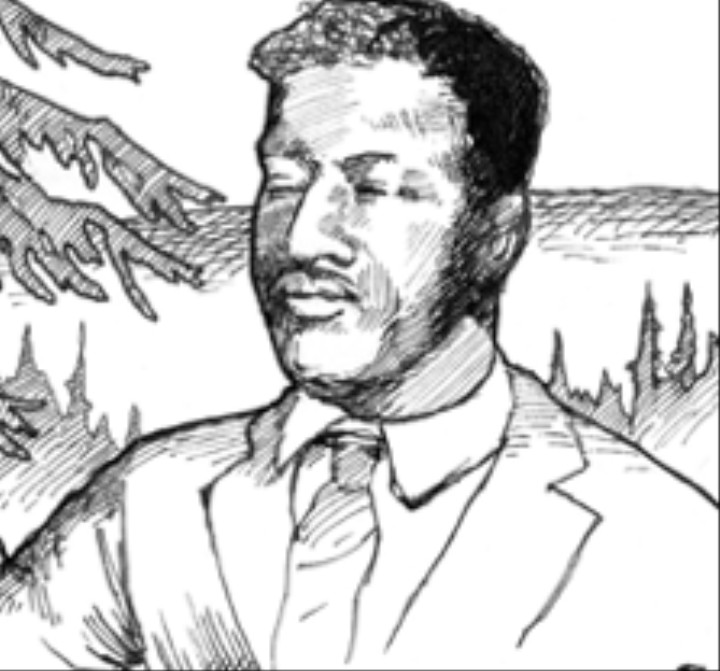 Illustration by Jim Krewson.
A few years ago, when that big Scorsese-produced PBS special of films about "The Blues" was about to premiere, I was exceptionally psyched to hear that Wim Wenders (
Paris, Texas, Wings Of Desire
) made one about this gospel blues singer named Blind Willie Johnson. In Wenders' film (which sucks), there's this scene where the blind singer goes from playing more typical, secular juke joint tunes to singing spirituals. And the audience gasps and freaks out, like church ladies seeing 2 Live Crew at a Sunday program.
I contend this is utter bullshit—that the patrons of a juke joint in the '20s wouldn't have reacted that way. It's well known that both spiritual and "saucy" subject matter were recorded by many blues artists, from Charley Patton to Rev. Gary Davis, which leads me to believe that this stuff co-existed in African-American culture (then, as today).
Modern gospel is a form of music younger even than jazz. It was promoted most heavily by Thomas A. Dorsey, a second-rate bluesman who recorded racy "race" records as Georgia Tom. After a conversion, Tom wrote a number of phenomenal tunes, such as "Take My Hand, Precious Lord." In many ways, gospel forms more of the foundation for pop music than the blues does. But one of the most heady thrills in all of recorded music occurs when you combine the two.
Most folks into this stuff see the "sanctified blues" of the '20s and '30s as a stillborn bridge from the devil's music to God's, between the music everyone knows is the blues and the stuff we all recognize as gospel. But if you pay attention, it's obvious that bluesy, crazy, intense gospel was made on into the '50s and '70s, and even today. The best introductions to this heady stuff can be found on the single Revenant disc
American Primitive Volume 1: Raw Pre-War Gospel (1926-36)
or the budget-priced five-disc JSP set
Blind Willie Johnsons & the Guitar Evangelists
.
1. "I'm Working On A Building," Rev. Louis Overstreet (1962)
Here's a hypnotic, sloppy, seven-minute number by Rev. Louis Overstreet With His Sons And The Congregation Of St. Luke's Powerhouse Church Of God In Christ, from his sole album on Arhoolie. About three minutes into what sounds like a heavy dirge, the song takes off and becomes one of the most intense things you've ever heard. Overstreet was an itinerant preacher; his music's raw and amazing.
2. "Honey in the Rock," AC & Blind Mamie Forehand (1927)
Among the most sublime, ghostly things ever recorded: gorgeous guitar lines (both slide and fingerpicked) accompanied by a single bell struck repeatedly. A strong, quavery female voice never escalates beyond a moan, even though you want it to. That restraint, and the strangeness of the arrangement, makes this one of those songs you listen to over and over until your lover throws a book at your head to make you stop.
3. "I Got Two Wings," Utah Smith (1953)
There are three singles total by the gospel slide guitarist/ singer Utah Smith--and on each of 'em, his version of "Two Wings" is the A-Side! One listen to this frenetic, rollicking, speaking-in-tongues tune and you almost wonder why he didn't just do six versions. You'd do well to get the complete recorded works of Smith, included with the also-burning lap-steel player Rev. Lonnie Farris on a single CD from Document Records called
Slide Guitar Gospel 1944 - 1964
.
4. "Don't Take Everybody To Be Your Friend," Sister Rosetta Tharpe (1947)
If you can ever imagine gospel music being shouted magically inside a bawdy pool hall in the 1940s, then picture Rosetta singing it. No one else brought such bawdy and bluesy touches to gospel, notably on the recordings made in '46 and '47 with the Sam Price Trio backing her.
5. "Jesus Is On The Main Line," Mississippi Fred McDowell (1966)
His knife-sharp Delta style of slide guitar is among the heaviest, and deepest. If you think you love the Rolling Stones' cover of his arrangement of "You Got To Move," wait 'til you hear his own. In the '60s, McDowell cut two records of spirituals with his wife Anna Mae backing him up. The one this is taken from,
Amazing Grace: Mississippi Delta Spirituals By The Hunter's Chapel Singers Of Como, Miss
., is superb throughout.
6. "God's Got It," Rev. Charlie Jackson (1976)
Here's a pure visceral stomp, with loud distorted vocals accompanied by a slightly out of tune guitar. Totally punk rock gospel. The percussion's provided by a plank of wood and sundry hands clapping. Holy fuck. Found on the CaseQuarter CD
God's Got It: The Legendary Booker and Jackson Singles
.
7. "Blessed Are The Poor In Spirit," Luther Magby (1927)
Magby only made one 78, and there's supposedly only one known copy! It's bizarre and beautiful, consisting of mumbly and gruff vocals set to organ and tambourine. The instrumental coda sounds like somebody tap-dancing along to a carousel pump organ; that part always cheers me right up.
8. "Death Is Only A Dream," Reverend Edward W. Clayborn, the Guitar Evangelist (1926)
A common gripe about Clayborn, the first recorded sanctified bluesman, is how all his tunes sound the same. But that's kind of what I love about him! His tunes mix the jaunty with the sublime, especially on this slide guitar-driven description of "glory beyond the dark sea." Totally gorgeous.
9. "The Bible's Right," Sister Ola Mae Terrell (1953)
Here's a song so Delta-bluesy and absolutely frolicsome, it's impossible to sit still while the thing plays. "Tell you once, tell you twice/ Can't get to heaven with another man's wife," she preaches.
10. "Dark Was The Night, Cold Was The Ground," Blind Willie Johnson (1927)
Using nothing more than a slide guitar and occasional moaning, the brilliant Johnson conjures the sound of a preacher and his congregation answering him on this sepulchral, subtle little tune. Ry Cooder calls it "the most soulful, transcendent piece of American music recorded in the 20th Century." Amen.