1. Sleep on Kevin Love at Your Own Risk
Coming off a night in which he scored 27 points (his most since early January) and drilled six threes, in the last Outlet Pass of the regular season it only feels appropriate to salute Kevin Love as he quietly trudges along as one of the most effective and dangerous offensive players in the league.
In the absence of Kyrie Irving, many expected Love's responsibilities to increase, and for Cleveland to finally unlock him as a well-rounded second-fiddle beside LeBron James. That hasn't exactly happened. Love's usage is actually lower than it was last season, while his PER, assist percentage, and three-point rate are almost exactly the same.
But even in what's been more or less the same role despite starting at a new position (according to CTG, 80 percent of Love's minutes were at center this year), during a season in which an injury kept him out of All-Star Weekend and he had to exist in a supremely dysfunctional situation, it's still the most efficient campaign of his career. Love's True Shooting has cracked 60 percent for the first time, and his adjusted field goal percentage in pick-and-pop situations went up 11.1 percent.
According to Synergy Sports, he's posting up less frequently while upping his field goal percentage from 39.5 percent (last season) to 47.7 percent. And from the 83 players who've logged at least 200 spot-up possessions, only C.J. McCollum and Anthony Tolliver have been more efficient. (The only player who's more accurate on wide open threes is Klay Thompson!)
Love fundamentally functions as the same guy he's been over the past few years, except he's just flat out better at it today. Whether he's a trailer in transition or dragging an opposing center out of the paint (no team is more accurate at the rim than the Cavaliers, but when Love is at the five, their field goal percentage at the basket rises all the way up to 71.2, which is high-key dominance), it's undeniable how game-changing his impact feels on a game by game basis.
Love's usage tends to drop in the playoffs, and even though the Cavs have nearly ranked as an average defense since the All-Star break with him on the floor (dialing back their desire to trap side pick-and-rolls has helped), Cleveland needs their second-best player to scorch Earth as often as possible. When playing next to arguably the greatest who ever lived, opposing schemes have no choice but to be at the mercy of his flicking wrist. Expect more Love than ever before over the next couple months.
2. A Quick Q&A with Brandon Jennings
VICE Sports: Looking back a few years, how badly did the Achilles injury impact your game and change who you were from before it happened up until today? [Jennings tore his Achilles on January 24, 2015.]
Brandon Jennings: For me it was really rough. People don't know how bad an Achilles injury is. It's actually a career-ending injury. Some people never come back from it. But it took me a good two years. The first year was just the rehabbing and the process of being patient. And the second one was just finding that confidence again, moving around and feeling like I could do what I did before. So I think that was just the toughest part for me. I also rushed back, which I feel like I shouldn't have, and you know it's just a tough process. My first seven years in the league I started, and then I had to come back from an injury and then I don't ever get a chance to start again. So I think that was just a tough part, coming off the bench the first two years.
Why did you feel the need to rush back?
Well, it was my contract year. I was on my contract year so I wanted to show that I could still get back to who I was but, you know, coming back early hurt me more than anything, because I still wasn't ready and I was forcing myself to be out there playing.
How difficult was it, mentally, when you were out?
It was tough. I mean for three months I just had to sit up in the house with my foot up and not be able to move or anything like that, so it was definitely tough, you know, just sitting around.
How has your experience been this season, back up at the NBA level in Milwaukee?
I just got back from China. China was a good experience for me. I needed that, just to play and have the ball in my hands a lot, see the ball go through the hoop and things like that, so it was a great experience. But being back with the Bucks, I mean, it's definitely a blessing. I had to go through the G-League and everything like that, so I had to go through some things, but I love the game so I didn't care.
I read somewhere that it was your decision to go to China. Were there NBA offers after last season ended? What other options were you gauging after the Washington Wizards were eliminated from the playoffs?
Leaving the Knicks, when I got waived from the Knicks, I think that hurt me a lot. Getting waived and then you know going to the Wizards, I was playing behind John Wall, and he was playing MVP basketball, so he was averaging almost like 40 and 10 so there wasn't really any time for me like there was here. So it's just a different experience. I think more of it was just moving around a lot, going from the Knicks to the Wizards in the middle of the season, so my mental wasn't right at all.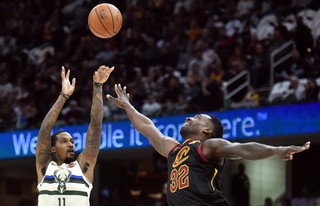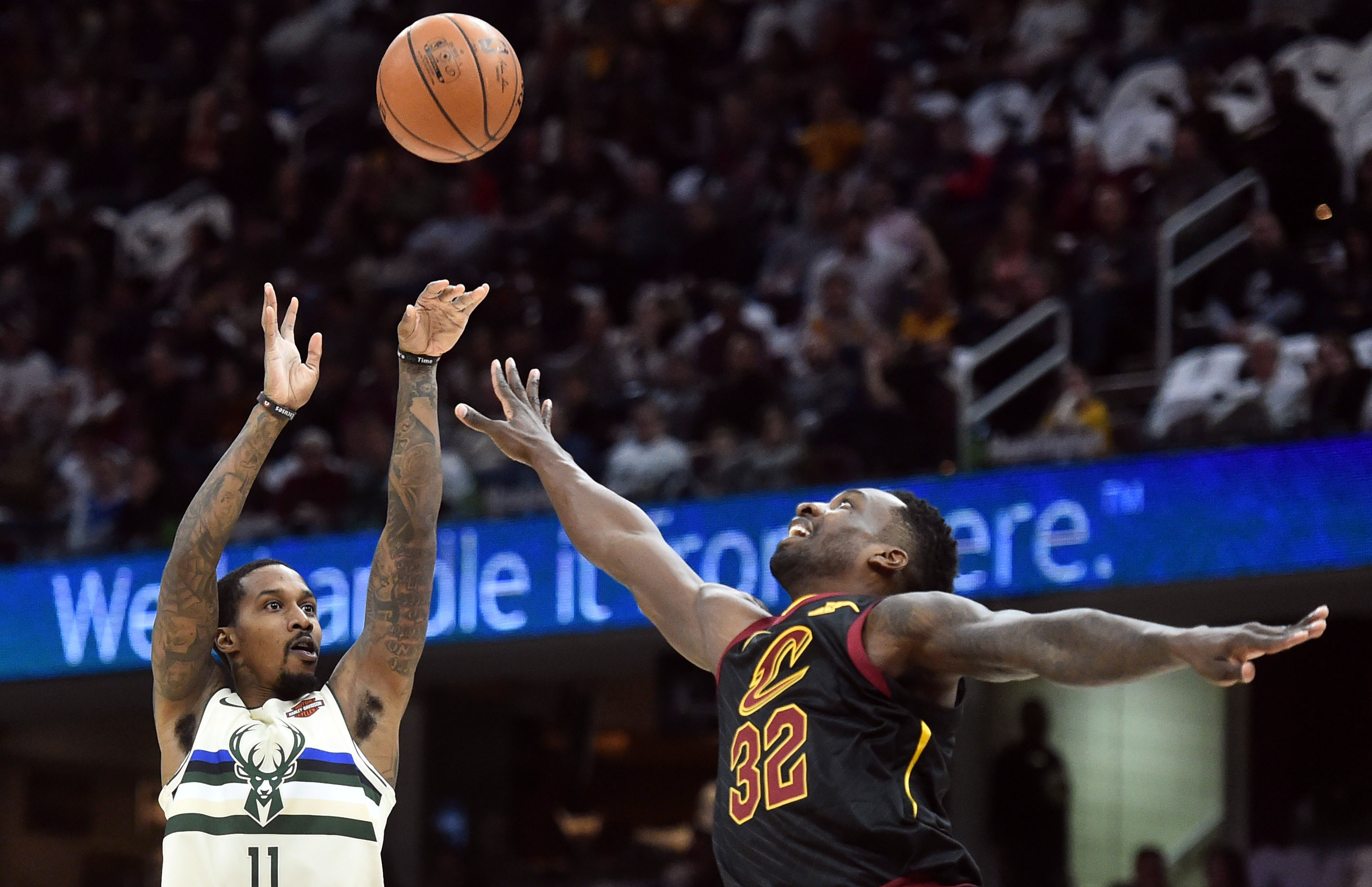 Did you view China as an opportunity, or was there a fear that if you left you'd never come back?
I mean, I think there's always a concern when you leave the league. You just never know. The league gets younger and younger. But for me it was just for my mental. You know my mentality of just getting back to playing basketball and China was fun. It's a basketball country. They love ball. But I never had any doubt that I could get back to the league because I always knew I could play in the NBA and my game was meant for the NBA, so I just had to take some time away for my mental, and become a better person, and get my mind right.
Was that the goal all along, to get back to the NBA?
Yeah. Oh yeah, yeah. For sure, for sure, for sure. But me I just need to see the ball go in, I need to play a lot of minutes and I need to just play. I need to just play and not think about anything.
And right now you'd say you're mentally and physically where you were three, four years ago?
Yes, yes, yes yes. I feel like my body, my mind, and anytime I get the opportunity to play you know a lot of minutes, I feel like I can show that.
Zooming out on this team, what's one reason Milwaukee can surprise in the first round, or even make a deeper playoff run than a lot of people expect?
I mean, well, first of all we have the Greek Freak.
Yes, that helps.
Jabari, he's healthy. So we have a lot of surprises. We're just young and raw. So I think the young teams, we're hungry. I think wherever we end up, eighth or seventh, I think we can give those teams a run for their money.
And then what's your mentality when you enter a ball game right now? Is it getting shots up like Jamal Crawford? Who are you?
Now that I'm 10 years in, I'm a vet, I'm just trying to show that I can still go get it. With every opportunity now, I'm gonna take full advantage of it, everytime I step on the court.
3. What is Greg Monroe to the Boston Celtics?
When Boston filled Gordon Hayward's disabled player exception with Greg Monroe, the plodding center—who's ostensibly useless in a league that values defensive versatility, three-point shooting, and people who don't move like Paul Sheldon—represented some type of unclear insurance. With a solid frontcourt rotation and no desire for clunky post-ups that would clog driving and passing lanes, Monroe probably wasn't going to see much of the floor had Boston stayed healthy.
Still, the acquisition was always, and still is, incredibly low risk. It's a stretch to describe what we've seen over the past 15 games as a high reward—Monroe's on/off numbers are brutal, even when he shares the floor with Al Horford, and Synergy Sports grades his post-up and roll man offense as "below average"—but even in a sub-500 minute sample size, Monroe's posting career-high numbers in several interesting categories. His PER, assist rate, usage percentage, and Win Shares/48 minutes have never been better.
Some of those numbers are meaningless, but Monroe's passing is anything but. His vision from the elbow is a critical tool whenever defenders (illogically) crowd up on him, and even though he hasn't been the most efficient post scorer in a Celtics uniform, Monroe is enough of a threat against single coverage to momentarily distract help defenders. Here's an example from Boston's recent loss against the Atlanta Hawks.
The play begins with Jaylen Brown curling off Monroe's pindown, but without any real gravity to drag his own man away from the paint, Hawks center Miles Plumlee plants himself in front of the rim to stifle a drive. Brown then passes back to Monroe, and relocates on the opposite wing, so when Horford sets a perfect back screen on Terry Rozier's man, Atlanta only has one defender to guard two shooters. This is quite a bit of work for Boston to get a good shot, but Brad Stevens has no choice but to be creative with his current personnel.
Monroe's basic per 36-minute numbers aren't bad, either: 19.4 points, 11.8 rebounds, 4.2 assists, 2.0 steals, and 1.2 blocks. With so many health-related problems up and down this roster, Stevens all but has to play Monroe at least 20 minutes a night. But with Horford likely to spend more time at the five and Aron Baynes still one of three healthy human beings on this team, it'll be interesting to see what role Monroe has in the playoffs.
If he can cut down on turnovers, continue to bludgeon the offensive glass, and keep opposing big men in foul trouble, Monroe may have use after all in an unexpected postseason run. As well as he's played so far, that still feels like a long shot.
4. Jamal Murray Never Stops Moving
The most restless player in the NBA (in a non-Corey Brewer, actually-impacts-winning sort of way) might be Jamal Murray. He simply doesn't tire. Among all players who average at least 25 minutes and have appeared in at least 15 games since the All-Star break, only C.J. McCollum covers more ground on offense every night.
A 43.1 percent shooter on spot-up threes—who's 85-for-90 from the free-throw line during the fourth quarter this season—with an impossibly quick release that's paired with a surprising amount of defensive tenacity, Murray's future appears to be that of a perennial All-Star and Nuggets cornerstone. But it's that bottomless reservoir of energy that's most responsible for Denver's offense looking the way it does whenever he's on the court.
All of this is less about the pace Denver plays at with or without Murray, and more just about how they carry themselves in the half-court. There's a persistent stress his movement implants in even the most disciplined defense, whether he has the ball or not. Relaxation is impossible. Here's what the Nuggets looked like right before Murray entered a recent must-win game against the Milwaukee Bucks.
First, Denver attacks with Trey Lyles on a Jason Terry mismatch. It goes nowhere, movement on the weakside is insubstantial, and the play ends with Nikola Jokic airballing a fadeaway three. On the next play, they clear out for Jokic to go one-on-one against Tyler Zeller. It's another wasted possession.
Then Murray enters the game, and Denver is immediately struck by a bolt of lightning.
He sprints into the frontcourt, screens, re-screens, then uses two dribble handoffs in opposite directions to slice through Milwaukee's defense (*inhales*) before he forces the weak-side to drop down towards the baseline and set up an open three at the top of the key. On the next play, Murray cut through the paint and drew a foul. Blink and he'll murder you.
Here he is making another cut against the Indiana Pacers. This one is almost entirely random and forces Victor Oladipo to lean half a step out of position so Will Barton can drive in for a layup.
Denver has the best offense in the NBA with Murray on the floor, and it falls to 26th when he's on the bench. His technical skills are obviously impressive, but never overlook Murray's ruthless stamina, and say a prayer for every defender who has to track him in thin air.
5. J.J. Redick's Inverted Screens Are a Nightmare
Ever since his last season with the Orlando Magic, J.J. Redick has had an obvious positive impact on his team's offense. Whether he's scurrying around screens, slicing your heart out with a transition three, or simply spacing the floor for a ball-handler, Redick is an invaluable chess piece whose contributions are irreplaceable in Philadelphia.
Overlooked only in relation to everything else he does, Redick's on-ball screens are all pretty damn effective, and force defenders to answer unusually difficult questions. These are usually designed actions that demand split-second decisions by the opposition, whether he's screening for Joel Embiid at the elbow or racing over to clear out Ben Simmons' man.
When the Sixers get bogged down in half-court situations throughout the postseason, look for Redick to be exploited as a screener more than ever before. The only player shorter than 6'7" with more screen assists this season has been P.J. Tucker.
6. The Indiana Pacers and Non-Spacing Lineups
One of the strangest lineups deployed by a playoff team over the past few weeks has been an anti-gravity group that somehow features five players who, well, it's not that they can't shoot threes, but no defender is going to have a coronary if they do. They are Trevor Booker, Domas Sabonis, Glenn Robinson III, Cory Joseph, and Lance Stephenson. And as an ode to their extreme 1998 sensibilities, henceforth they shall be known as the Ruff Ryders.
Indiana has only played one five-man unit more minutes over its last 10 games (and that would be the starting lineup). Their offensive efficiency is surprisingly adequate, but so much of that is thanks to unsustainable outside shooting, both beyond and a few feet in front of the three-point arc.
Nate McMillan will presumably tighten up his rotation in the playoffs, though. Oladipo's minutes will skyrocket. There's no time or place for an all-bench unit.
This particular group can pound the offensive glass and do a decent job getting to the free-throw line, but against a coordinated defense that's long and fast enough to pack the paint and help on the weakside after doubling the post, the Pacers will drown.
At the end of the day, Booker is a primordial power forward who doesn't function in big minutes on a good team. He sets smart screens and fights on the glass, but also shackles Indy's offense in ways that'll keep the Pacers from winning a game and/or series if he stays in the rotation as anything but a small-ball five—for which, with Sabonis and Myles Turner, all tables are reserved.
7. Is Transition Offense Worse Than it Used to be?
One of the most striking differences between NBA basketball five years ago and today is how teams approach transition opportunities. Where once it was clear that a two- or three-on-one fast break should result in an uncontested layup or, at worst, quick trip to the foul line, we've recently seen a steady (and greedy) migration to behind the three-point line.
That trend by itself isn't problematic—though when observed on a case-by-case basis it can be comical—but something even more worrisome that may or may not be real is how teams execute 2-on-1 fast breaks when they're actually interested in scoring two points. Watching the Denver Nuggets take on the Minnesota Timberwolves in a critical game last week, this play stuck out in my head as a symbol of something I feel like I've seen happen more often this year than ever before.
It's unclear if Murray got his hand on the ball as Tyus Jones went up for a lefty layup, but the decision to pass back to Derrick Rose is still so weird. It's almost like NBA players and teams have taken for granted one of the game's most advantageous scenarios. I highly doubt coaches spend a bunch of time working on it in practice, and the increased advent of the three cuts further into moments like the one Jones and Rose share above. (This may very well be the first time these two have ever run a two-on-one fastbreak, by the way, which is kind of strange to think about.)
I took a quick look at Cleaning the Glass to see if there was any noticeable decline in transition efficiency over the last 10 years, and, at least on some level, it's clear teams were more effective in the past. The Houston Rockets currently lead the league in transition efficiency, averaging 129.1 points per 100 transition plays. That would rank eighth 10 years ago.
The San Antonio Spurs were dead last in transition efficiency in 2008. Today, they'd rank 23rd. Jump ahead to 2010, and a dozen teams were more effective than this year's Rockets. Add one more team to the list in 2011. In 2012, the 28th ranked Portland Trail Blazers would land right behind 17th ranked Orlando if magically transported to this season.
These numbers aren't enough to conclude that transition offense is definitely getting worse, or transition defense is definitely improving, or both (or neither). But if you watch a lot of basketball, you've probably seen an unusual number of missed shots, or turnovers, off situations that used to feel automatic.
My theories are outlined above, and now I'd like someone much smarter than I am to figure out if they're true.
8. Reminder: Henry Ellenson is in the NBA
A symbol of Detroit's rough future: Henry Ellenson, whose claim to fame (in my mind) over the past two seasons has been 1.) exaggerated standing ovations for teammates, with a dry towel around his neck, from the end of the bench, and 2.) an unusual, comically high dribble. Beyond that and this one time I saw him hit a contested three above-the-break, there's zero evidence he can play.
And that's where his static development hurts Detroit. If they want to succeed as a relative small-market organization that feels at a disadvantage in free agency, hitting on draft picks outside of the lottery is pretty important. To be fair, Ellenson is still only 21 years old and there weren't any obvious picks behind him at the time. But Detroit may still regret that selection over Caris LeVert, Malcolm Brogdon, Pascal Siakam, Dejounte Murray, or even Patrick McCaw. All of whom, at the very least, have skills/physical characteristics that clearly translate to the modern game.
Adding insult to injury, Detroit did not make the playoffs, which means the Los Angeles Clippers get their first-round pick (currently slotted at 12th overall) in this June's draft. Devastating.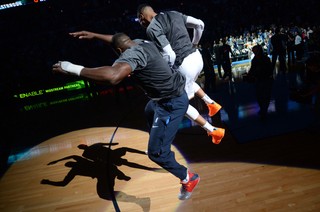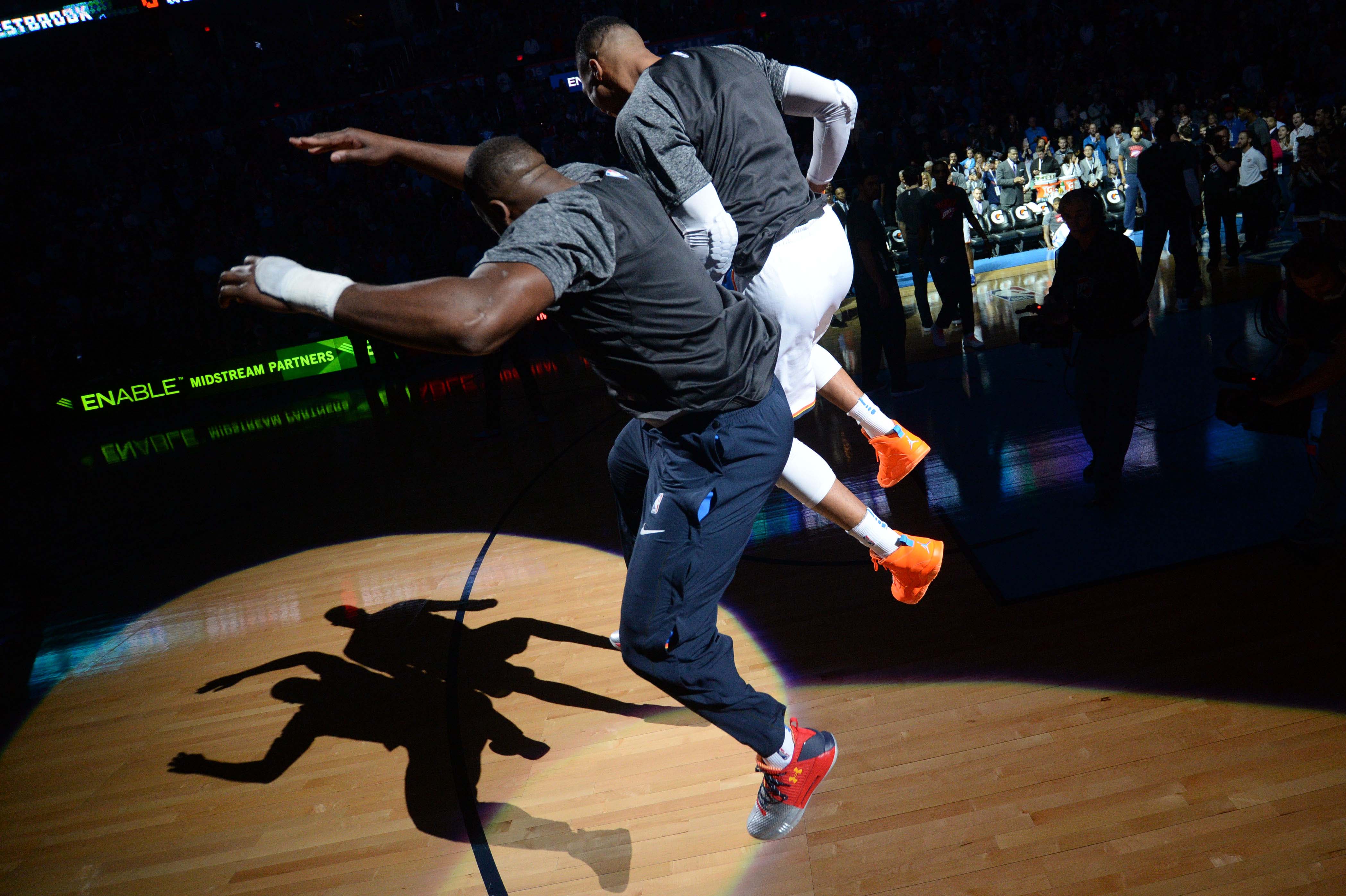 9. True Detective Season 3
Here's how a few of Russell Westbrook's actually important stats are affected by Ray Felton's presence: Net Rating (+1.5), Offensive Rating (+0.7), Usage percentage (+5.7), True Shooting (+5.5). Be cautious, because we're stacking a 383-minute sample size up against 2493 minutes of Felton-less activity, but if the Thunder ever find themselves in a sticky situation, playing Westbrook, Felton, and Jerami Grant at the five would be a cattle prod for the defense. (According to CTG, this exact configuration has only logged 73 possessions all season, but those 73 possessions have been successful!)
10. Apologies to Denver
Even though most of their long-term questions will persist whether they make the playoffs or not, I think it's fair to say this column was just a tad premature. Thanks to Jokic's magical run, the Nuggets are currently on a six-game win streak and, with seven playoff spots already taken, still have a chance to be the seven or eight seed and earn a first-round matchup against the Houston Rockets or Golden State Warriors if they beat the Timberwolves on Wednesday night. That's all very awesome and the game should be on Pay Per View. (The game will be in Minnesota and Jimmy Butler should play at least 49 minutes, so I expect the Wolves to win.)
11. John Wall's Off-Ball Touches

Everything you're about to read as it relates to the next couple weeks is irrelevant and worth monitoring at the same time. Since John Wall's return a couple weeks ago, Washington's offense has been very good with him on the court and very bad when he's off. While the 27-year-old was out, a narrative brewed regarding how often the ball should be in his hands. For the Wizards to unlock another level, does Wall need to race around and attack in different ways, à la Kyle Lowry and Steph Curry?
The obvious road block getting to that destination is Wall can't shoot like those two can. He doesn't possess the same gravity and, much like Russell Westbrook, he needs the ball to access the very reason why he's an All-Star and max-contract-extension-worthy individual.
It's only been three games but not much has changed. Wall's dribbles and seconds per touch are marginally down, but the overall touches per game are up despite similar playing time. But before they were labeled a selfish team by their own head coach, the Wizards attempted to implement minor wrinkles to start actions with the ball in someone else's hands. From what I've seen, it's been pretty awkward.
I could write 4,000 words on Wall's current and future relationship with the Wizards organization, but for now, how he functions in Washington's offense in these playoffs is all that matters. It's one of the more fascinating subplots in a second season that's about to be filled with thousands of them.