Spare some sympathy for Rosie French, a food writer and street food business director in London who was semi-horrified to be charged £1.50, or just over US $2, when she asked for extra Parmesan during a dinner out on Tuesday evening.
French tweeted her displeasure shortly after her meal, asking why a "parmisan [sic] supplement," as it was described on her receipt, should possibly cost her anything at all. In that tweet, French tagged famed restaurant critic Jay Rayner, wondering if he had any thoughts; Rayner seemingly shared her displeasure, as he asked his 212,000 followers if they'd experienced anything similar.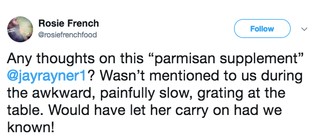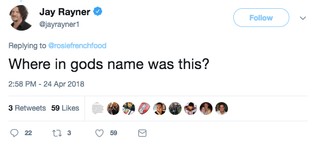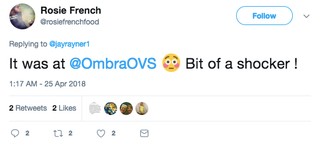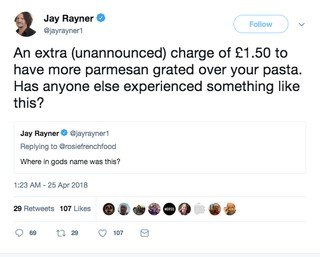 It didn't take long for French's tweet to develop, somewhat inexplicably, into a matter of national concern. Headlines in national outlets compounded the grave sense of injustice she faced as a patron ("Woman Shocked After Charges Extra for Grated Cheese on Meal," one in The Independent reads).
"I definitely didn't expect this level of coverage!" French wrote MUNCHIES over email on Thursday. "The internet is insane."
French didn't name the restaurant in her initial tweet, a decision she explained to MUNCHIES was purposeful; she claimed she "was just genuinely interested to know if this was a normal charge in London." When prompted by Rayner to name the restaurant, though, she clarified the restaurant was the Italian eatery Ombra.
It's a place that notably, as Eater London pointed out, puts this grated Parmesan price point right there on the menu, albeit in fine print. It's also, admittedly, at a different price than what French was charged; the menu reads that extra Parmesan is £1, not the £1.50 that was billed to French. (The restaurant reportedly attributed this error to an outdated system that didn't adequately register this change in pricing, and offered her a refund.)
"Our Parmigiano is not a commodity," Ombra's head chef, Mitshel Ibrahim, wrote MUNCHIES on Thursday. "Nor are any of the ingredients we work with at Ombra."
Ibrahim has, according to Eater London, received at least one note from a stranger claiming they'll never eat at Ombra because of this unjustifiable parm policy. After all, Ibrahim works hard to source his ingredients, he explained to MUNCHIES. "Like all our ingredients, it is the best we can find," Ibrahim wrote. "It is not an umami powder, cut with MSG and anti-caking agent. It is an ingredient in its own right that we are proud to serve with our house tagliatelle—two ingredients from the same region in Italy, which share the same cultural tradition. For those reasons, we charge a small supplement."
Ibrahim's explanation doesn't hold much water to French. "I run a street food business and our harissa is expensive, but it's a core accompaniment to our flatbreads," she said. "So if people ask for more they get it. For everyone who wants extra, there will be people who don't so the margins tend to balance."
Ibrahim admitted that the restaurant accidentally overcharged French but remedied the situation by offering both an apology and refund. Still, Ibrahim maintained that charging his patron at all isn't where the restaurant went wrong.
"Next time you go an Italian restaurant and they offer free Parmesan, ask where it's from," Ibrahim wrote. "See if they can tell you."