Shandra is sophomore at Nest+M, a public school on the lower east side of Manhattan. Today, on the 19th anniversary of the Columbine school shooting, she and students across the country are participating in the National School Walkout to raise awareness on the dire need to address gun violence.

A longtime member of the Lower Eastside Girls Club , a nonprofit dedicated to the advancement of girls who live in that neighborhood, Shandra says it was because of her involvement in the club that she realized the impact she could have on her community. In addition to honing her public speaking skills through WGRL , the Girls Club's online radio station and podcast (which is covering today's walkout), she's also launched her own T-shirt line, featuring social and political statements meant to spur conversations.
"In general, it has been a 'Shandra the activist' year for me," she says. The 16-year-old organized the walk-out efforts at her school, and will speak at a rally later today at Washington Square Park, where about 5,000 students from 40 public and private high schools are expected to be in attendance.
Organizing the walkout at my school has been emotional for me because I've been able to connect with gun violence in different ways that I hadn't been able to before. Unfortunately, in my community, we are forced to become numb to these types of situations. We hear gunshots, and we're like, 'Oh, people die every day.' And when we hear other people protest, it's like, 'Oh, so this isn't normal.'
At first, advocating for gun violence prevention wasn't as important to me. Nobody paid attention when Black people were talking about gun violence—why is this something that we should rally against now? And I realized that that's the wrong way to go about everything; I realized, why don't I use that as a platform, so that things can change in my community?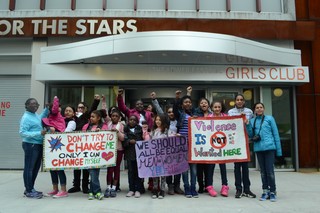 My drive comes from knowing that me and my friends have lost people to gun violence and I felt like I owed it to them and to the Black community to try my absolute hardest to seize the opportunity. It became something that was emotional for me. A close friend of mine died this past summer.
Throughout this experience, my views on gun violence have changed a lot. At first I was like, well, semi-automatic weapons just shouldn't be allowed because those are the things that kill people in schools. But by saying that, I'm excluding the forms of gun violence that affect people of color. Black people aren't killed with AR-15s—we're killed with handguns by the police. And women are killed by handguns by their spouses. And children are being shot.
Now I have this really unrealistic view that guns should be banned from every place, everywhere. I know that's so totally unrealistic.
In my speech today, I'm going to talk about the different forms of gun violence, speaking about how 62 percent of gun deaths in America are people killing themselves, and although we choose not to pay attention to suicide, that should very much be encompassed by this movement. … A lot of people have lost people to suicide, and that's something that we don't think about. We grieve those who were lost because of gun violence, but we don't grieve the fact that somebody was so hurt that they felt the need to take their own life.
I'll be talking about stuff like that—police brutality, suicide, and domestic violence. I'm just going to try to bring everybody into this movement and let them know it's not just a privileged white person movement. It affects everybody of all cultures and all races. I want people who feel like they've been silenced to not give up and to know that their voices will be heard.