Does Trump Actually Know What's in His Own Healthcare Bill?
The president insists he knows his stuff, but his public statements leave room for doubt.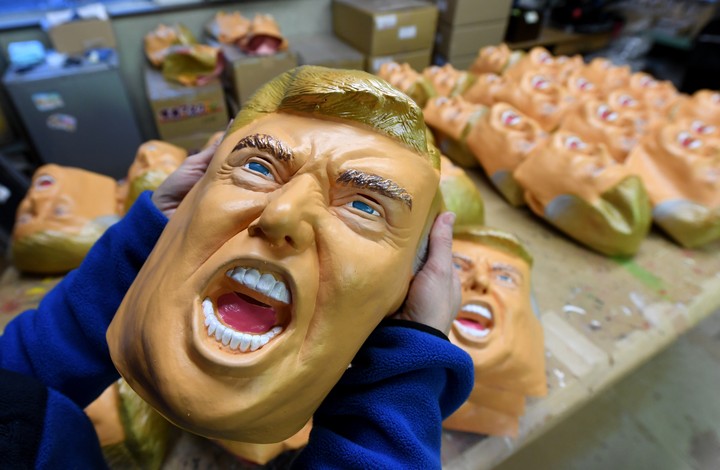 Some Trump masks. Photo by TOSHIFUMI KITAMURA/AFP/Getty Images
Oh, what a time we live in! What wonders unfurl in front of our eyes daily! The president of the United States, who just a couple years ago was upbraiding Gilbert Gottfried for telling sex jokes at a presentation to a frozen-food company, can take out a phone anytime he wishes and tell the world what he is mad about.
The source of Donald Trump's frustration Wednesday morning was apparently a New York Times story from the previous evening about a meeting Trump had with Senate Republicans to hash out what was going on with their healthcare bill. As you probably know, the proposed law cuts taxes for the wealthy in exchange for slashing benefits to the poor. A planned vote on it had been delayed amid widespread criticism; the Times reported that Senate Republicans were frustrated at Trump and that the president hadn't really been involved in negotiations over the bill.
But what everyone was paying attention to were a couple paragraphs near the end of the story:
A senator who supports the bill left the meeting at the White House with a sense that the president did not have a grasp of some basic elements of the Senate plan—and seemed especially confused when a moderate Republican complained that opponents of the bill would cast it as a massive tax break for the wealthy, according to an aide who received a detailed readout of the exchange.
Mr. Trump said he planned to tackle tax reform later, ignoring the repeal's tax implications, the staff member added.
This seems to be more evidence of a theory many Trump opponents have about the small-handed commander-in-chief: He tends to govern on instinct and bluster while ignoring details like what is actually in the signature bill his party is advocating. (Or, more simply, Trump may not have any idea what's going on.) Though he campaigned on bringing jobs and infrastructure to the country, in practice he's basically pursued an ordinary Republican's anti-regulation, anti-tax agenda—or rather, he's let other people pursue that agenda while tweeting and periodically appearing at rallies in the heartland.
Trump doesn't like being called ignorant, however, and he let his displeasure be known:
It's impossible to say for sure how well Trump knows his own healthcare policy. We do not even know what is in the minds of our lovers when they are lying next to us in the dark. How can we know whether Trump understands anything? Other people will forever be as mysterious as the furthest depths of the ocean.
But Trump's statements about healthcare during and after the campaign do not suggest this is a man who has spent much time contemplating the intricacies of Medicaid block grants and essential health benefit waivers. To wit:
Anyway, Trump will be president until at least 2021, probably.
Follow Harry Cheadle on Twitter.