Welcome to Health Goth, our column dedicated to cooking vegetables in ways that even our most cheeseburger-loving, juice-bar-loathing readers would approve of. Not everyone realizes this, but vegetables actually do taste good. We invite chefs to prove this assertion—and they do, time and time again.
We're doing a new column called Health Goth, and Leif Hedendal, San Francisco-based cook, forager, and culinary artist, is prepared for the occasion. He's got an off-black sweatshirt, a playlist he specifically wants us to use ("it's not going to be available on Pandora—you'll have to use your phone"), and several armfuls of asparagus, ramps, mushrooms, and lettuces, all foraged from the Union Square Greenmarket. We'd asked him beforehand what he planned on making, and he'd made clear that it was going to be a spur-of-the-moment thing: "Since I am from the west coast, I would rather let the greenmarket inspire me the day of, if that works for you."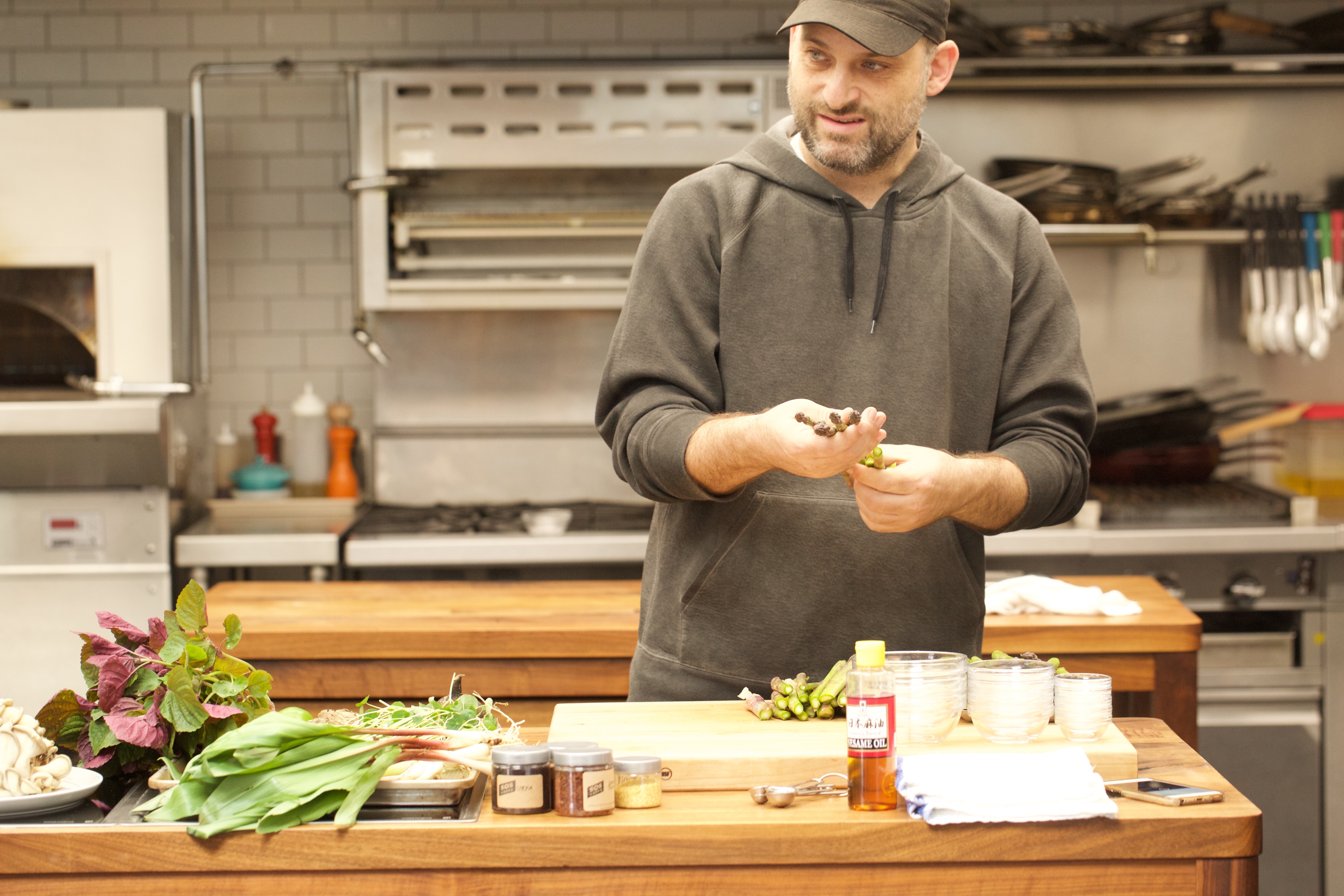 Fair enough. He doesn't want to talk about his process, though: "My approach to vegetables? That's a big topic." Pushed, he elaborates: "I was thinking about doing something monochromatic... I just wanted to go to the market and do something really seasonal and see what was there—I was thinking about doing something all-white, but then I wasn't really finding what I wanted. But there's some really nice green stuff, so I was thinking about maybe doing something all-green, and then I kind of went back to a black idea too. A lot of it was about color, but I was trying to pick out things that were springy and nice at the market."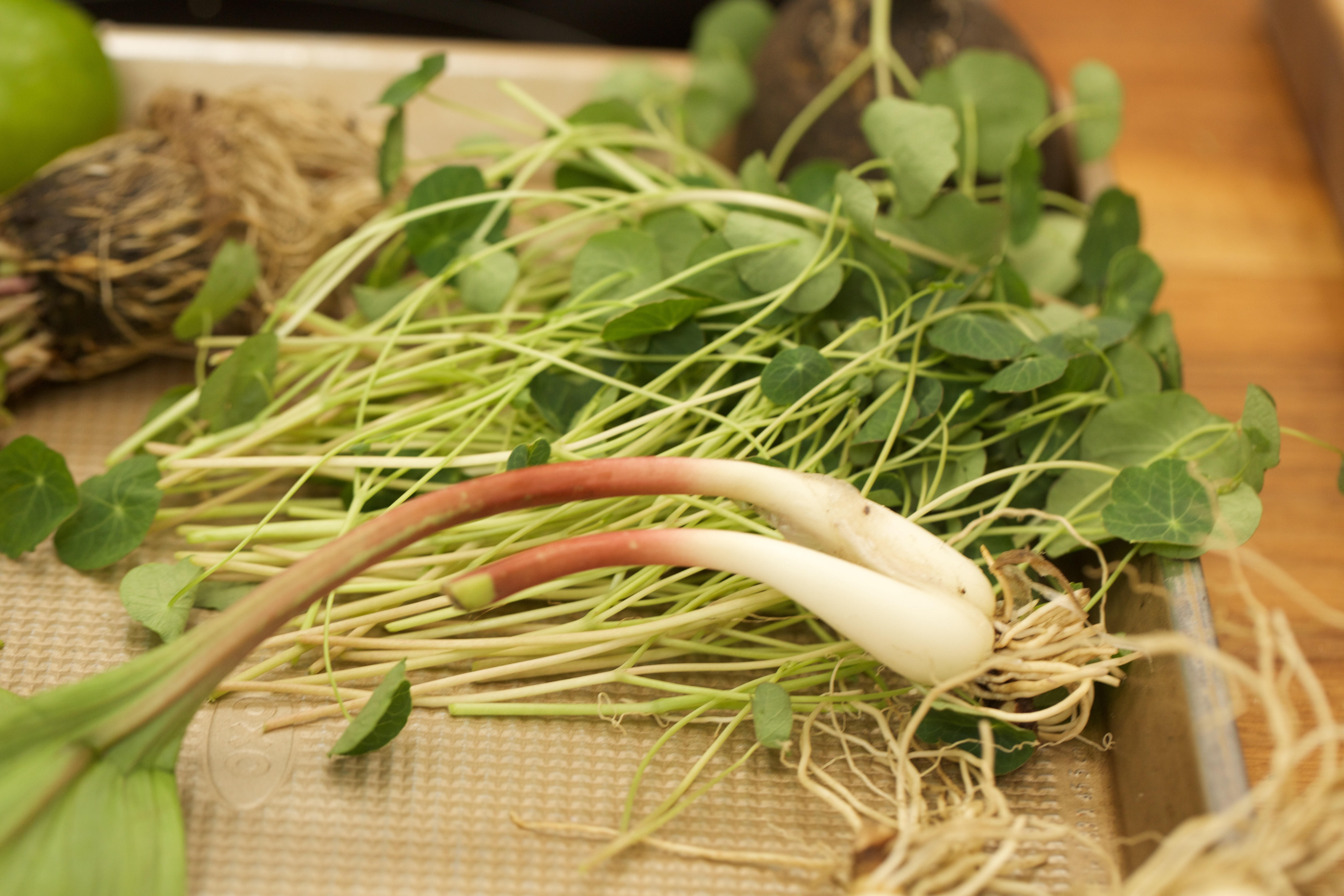 His favorite things to cook? "Seasonal vegetables that are more obscure. Wild ingredients. I like to use a lot of herbs, especially herbs people grow in gardens that are, like, less-used normally. I really love using anise hyssop and lemon balm, things like yarrow even, more medicinal herbs—I like using flowers a lot. I like to educate people about produce in general."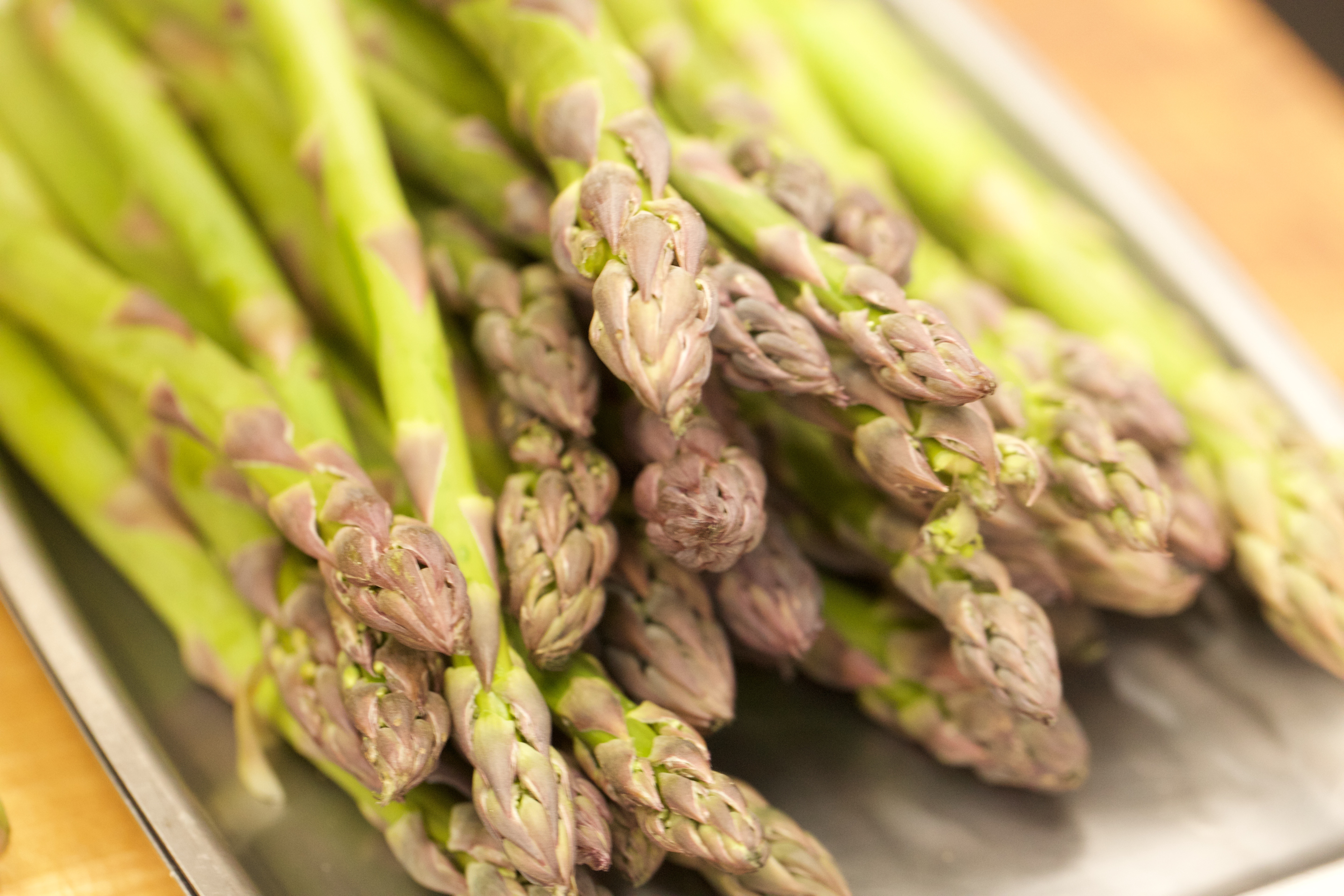 Today, the Greenmarket has inspired Hedendal to roast the asparagus in a hot oven till just the far side of tender.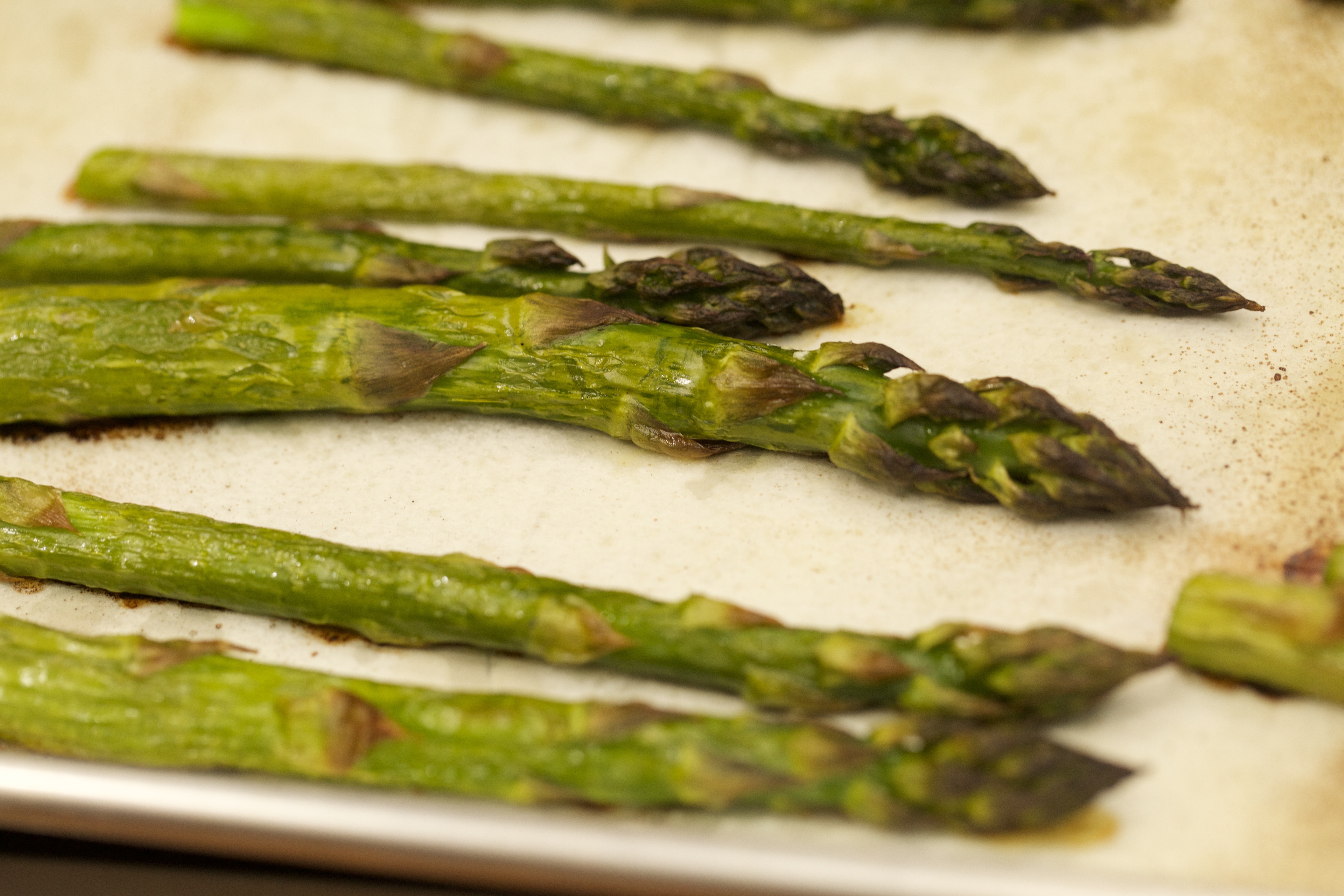 MAKE THIS: Roasted Asparagus with Mushrooms and Ramps
While the asparagus roasts, the ramps go into a saute pan with a little minced ginger and an entire habanero chile: "That habanero's going to get someone coughing, I bet."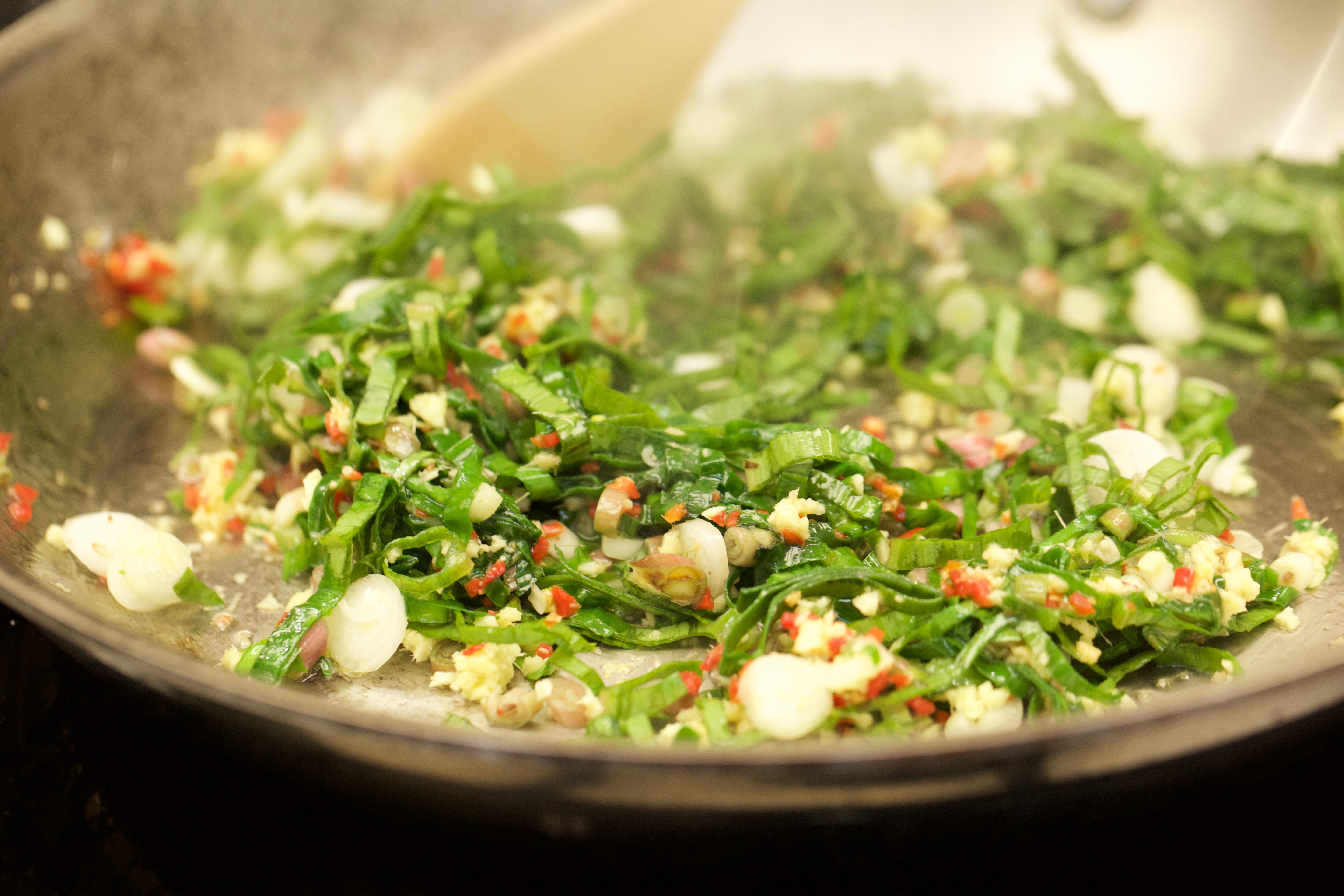 Once they're aromatic, a bunch of oyster mushrooms go in, then the pan gets a quick deglaze with mirin, a dusting of black garlic powder and Aleppo pepper, and a squeeze of lime.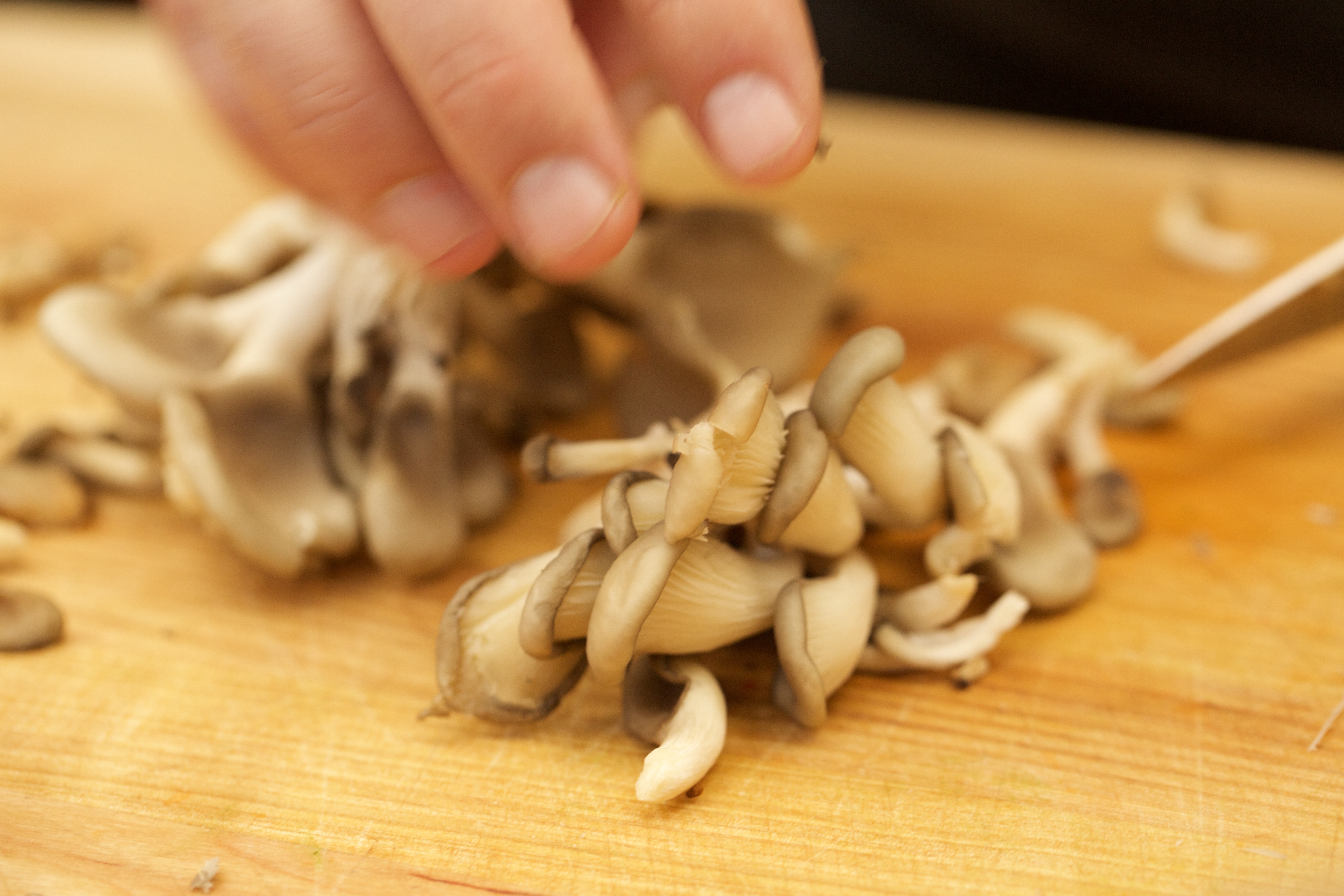 At some point around now, Hedendal notices that his playlist has ended and The Cure is playing instead and he's not thrilled: "Are we off the playlist? We're just playing sort-of-goth music now?"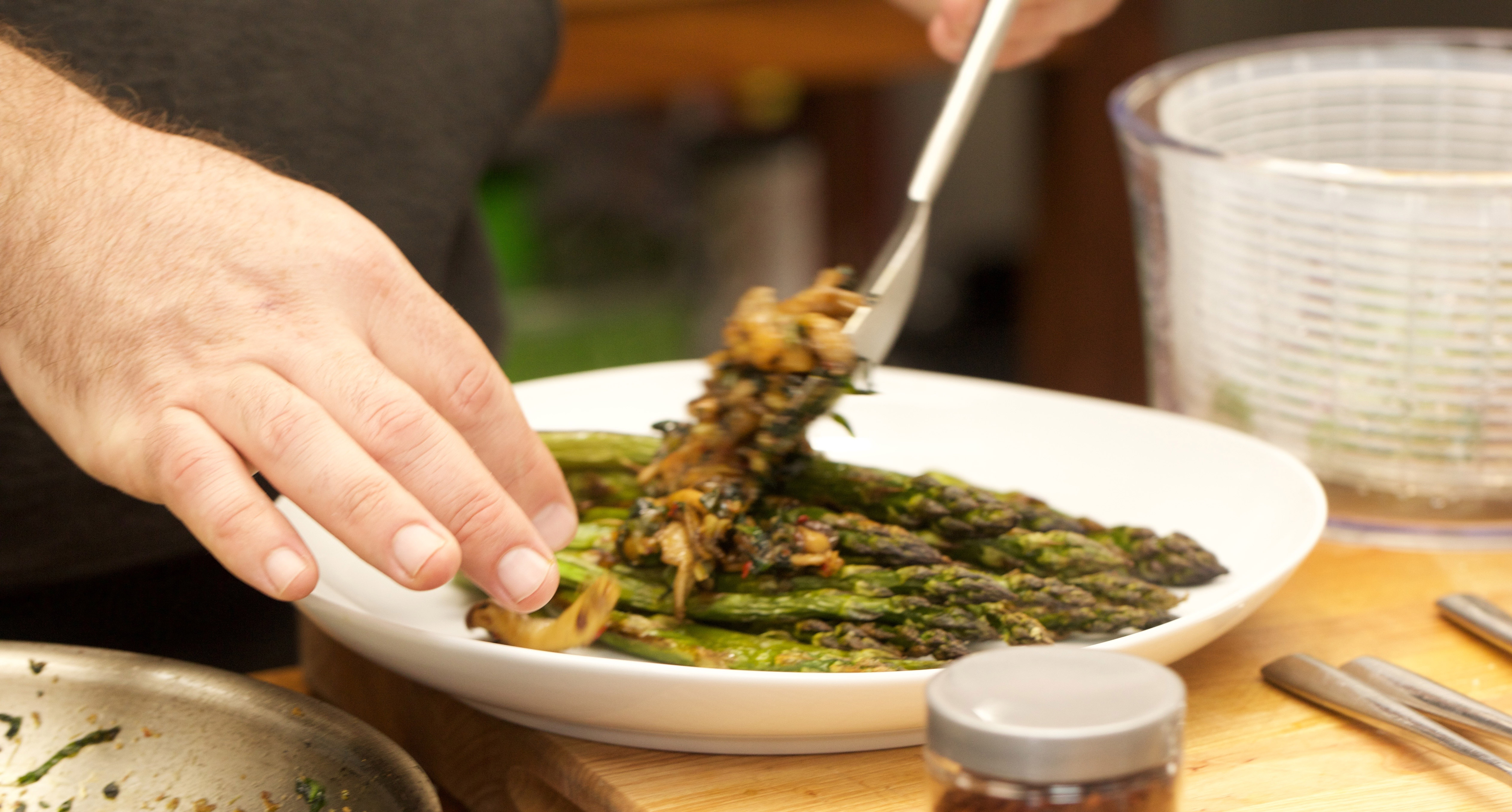 Once the asparagus comes out of the oven, it gets heaped on a plate and then topped with the spicy mushroom mixture, plus a final garnish of torn lambsquarters and shiso.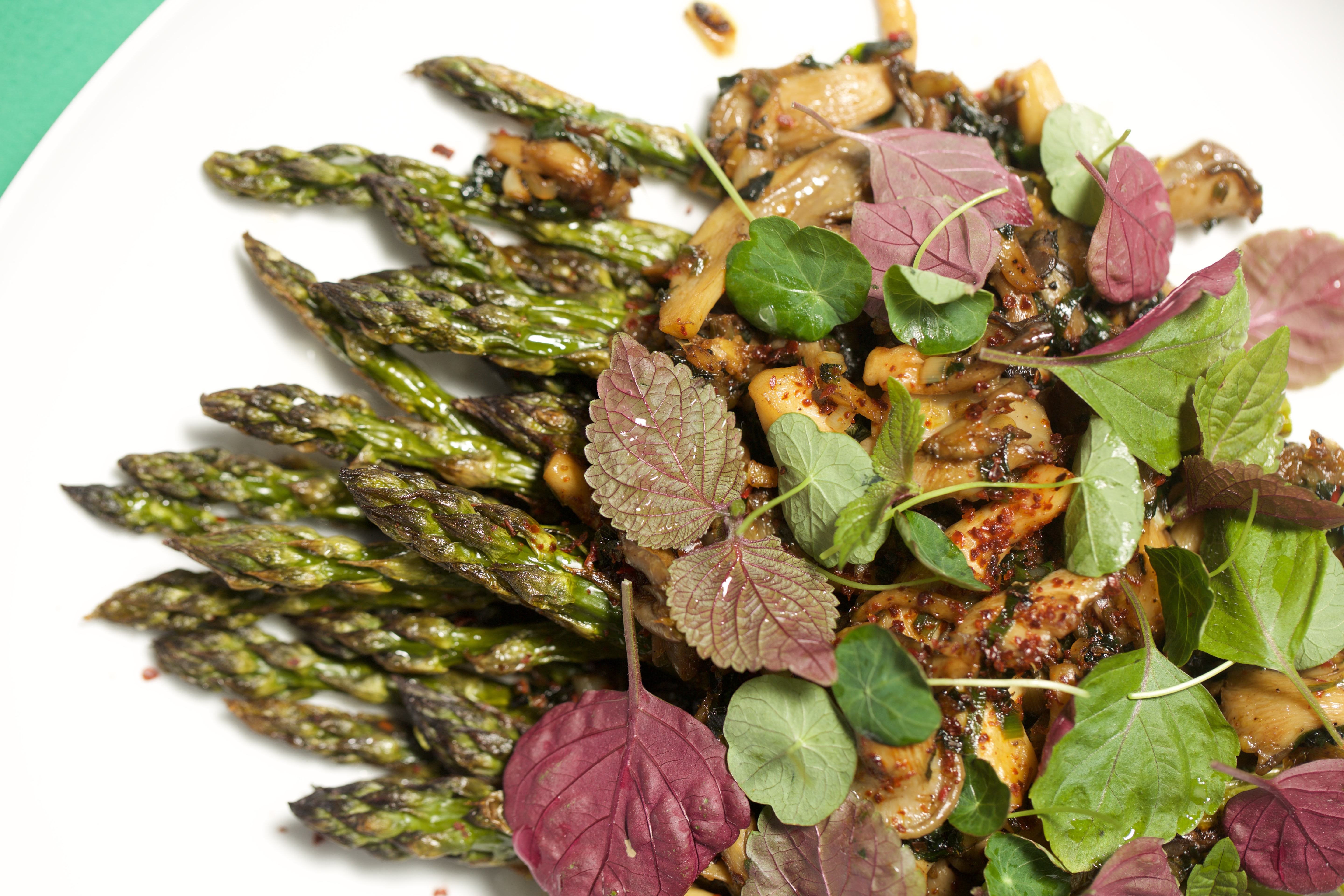 Monochromatic(ish), seasonally-inspired, obscure(ish): perfect.