Just 11 days after Oklahoma educators stormed the state's Capitol building in early April to demand higher wages and more funding, more than 100 teachers declared their intentions to run for legislative office.
Now, 98 of them will appear on the ballot in Oklahoma's Tuesday primary. They represent more than one-fifth of the 466 running for legislative office in the state. In the throes of a heated and public fight over teacher pay and other education funding issues, teachers' coordinated efforts to break into politics could provide a strong rebuke of the state's near decade-long slide into mediocrity in education.
"There was a lot of frustration with how [the walkout] ended," said Alberto Morejon, an 8th-grade teacher in Stillwater Oklahoma and the web administrator for the now-famous group that helped organize the march on the Capitol. "A lot of teachers just came together and agreed that since the walkout didn't turn out the way we wanted, the next step is that we're going to remember when it comes time to vote."
Morejon's group, "Oklahoma Teacher Walkout - The Time Is Now," gave many teacher candidates a platform to discuss their ideas — and even a push to run for office. To start, they want better pay and another $50 million in education funding. Oklahoma ranks dead last in teacher funding, and over the past decade, funding for schools has decreased almost 25 percent. But the walkout ended without the governor meeting their demands. That's when many decided to make a bid for the state Legislature.
READ: Oklahoma teachers aren't happy their union ended the walkout after 9 days
Cyndi Ralston, a 30-year veteran of Broken Arrow Public Schools, had no intention of running. But she became one of the first teachers to file her candidacy after an unlikely push from her district's state senator. Ralston even thought she was done teaching when she retired in 2016, but the increase in demand for qualified teachers brought her back into the classroom.
"She knocked down every reason why I thought I couldn't win," Ralston said of Oklahoma state Sen. Allison Ikley-Freeman. "It's been encouraging. I haven't had any doors slammed in my face. It's been reinforced to me by speaking to the people in my district that Republicans, Democrats, Independents, Libertarians, all have kids in their schools. They want good schools. And they want someone who cares enough to get stuff done."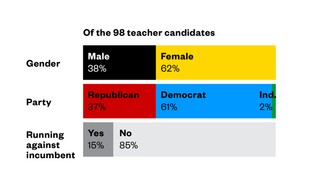 If she wins, Ralston would face Republican incumbent Kevin McDugle in the general election come November. McDugle became widely known among teachers in the state after he posted a video criticizing their behavior at the state Capitol. "I'm not voting for another stinking measure when they're acting the way they're acting," McDugle had said. After taking down the video, he posted a second one, apologizing for how the first video came across and assuring constituents that he would continue to support teachers.

"Teachers are basically non-confrontational people. And they are really compassionate and have this drive to serve the public," Ralston said. "But we just came to the realization that people don't understand education and what we need. And if they are going to understand, teachers need to step up and help people understand."
WATCH: We talked to 18 teachers in Oklahoma who are calling it quits
Morejon has spent an estimated 100 hours compiling candidate info for Oklahoma's House and Senate primaries on Tuesday. He posted the data in a 51-page, color-coded Google Doc for the group's 78,363 Facebook Members to use as fuel for the movement in their respective races. According to his research, which VICE News confirmed, of the 98 teachers running, 60 are Democrats and 36 are Republicans, while only two are running as Independents. A majority, at 61, are also women.
"The list is simply a way for people to see who they can vote for, get a little detail, and then do their own research," Morejon explained. "That was my goal."
Although nine teacher candidates are running unopposed in their party, nerves are still high. Ralston was helping three other candidates phone-bank Tuesday morning to get out the vote. As the results pour in Tuesday night, she plans to play "Primary Bingo" to take everyone's mind off the stakes.
Cover image: VICE News compilation from candidates' campaign websites.