In the Age of Trump, Female Comedians Are Using Humor to Fight Sexism Now More Than Ever
A grassroots movement, led by Gloria Steinem's Ms. Foundation, is here to advance gender equity with a few jokes too.
Image via
Gloria Steinem has been defining feminism (equality) in a male-dominated world for decades. With the founding of Ms. Magazine in 1972, she fought to buck the long-held notion that female-focused ad content should be relegated to makeup and cleaning products, and she argued against a mainstream idea that women's bodies should be valued for how they looked instead of what they can do. Her early books, Revolution from Within and Outrageous Acts and Everyday Rebellions, helped to inspire the generation that fought for the reproductive rights that we are still fighting for today. And when she took the stage at the Women's March in D.C. last January, she drew on her reservoir of experience to inspire the diverse millions listening to her around the world to fight back.
Last week, Steinem and a group of bright, sharp female minds took the stage at Caroline's Comedy Club in Manhattan for Laughter is the Best Resistance, an evening of stand-up to benefit the Ms. Foundation's work to promote safety, reproductive rights and economic equality for all women. Comedy and the resistance intersect here in interesting ways.
"What women fear in men is violence," Ms. Steinem told VICE Impact on the red carpet before the show. "But what men fear in women is ridicule."
Thus, one of women's most powerful tools in the face of overreaching male dominance is humor.
"Let's face it," said Steinem, "the vision of somebody masturbating into a pot and making someone else watch is not the greatest pleasure of mutual human sexuality. But it does make you laugh."
That laughter is crucial right now, when exhaustion is setting in for some activists.
"It's a difficult time," Ms. CEO Teresa Younger told VICE Impact. "With attacks on reproductive freedom, countless stories of #metoo and #ustoo, mixed with emotional and physical exhaustion… We're in the first inning and we're keeping pace."
---
Check out more videos from VICE:
---
The lineup at Caroline's that night included a half dozen women that we really all should know. Even if we don't know their names, we probably know their jokes. Like Jena Friedman, whose work on The Daily Show with Jon Stewart and Late Night with David Letterman got her ideas out there long before anyone would recognize her face. Friedman suggested that the best way to secure women's rights over their own bodies might be a simple case of rebranding.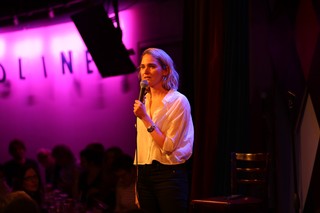 "In Texas, we could just call abortion fetus-hunting," she said, and then turned to Gloria Steinem in the front row. "That abortion stuff is just for you. It's such an honor."
Or Ashley Nicole Black, a writer and correspondent for Full Frontal with Samantha Bee. She had a little advice for the outraged white women in the world.
"That feeling of white hot rage?" she said. "You get used to it after a few generations."
She pointed out that the resistance is currently overwhelmingly female, saying that 80 percent of calls to congress are made by women.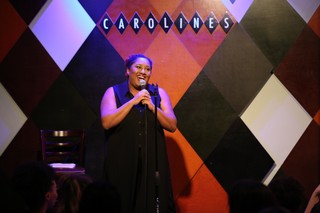 "One more thing to fucking do," she said. "We didn't break this world, but we're gonna fix it."
Jen Kirkman, who was a longtime writer on Chelsea Lately and now has two bestselling books, approached the subject of fear through her comedy, speaking directly to the men in the audience as a way to inform them about the nearly-indescribable feeling of being a woman on the street at night.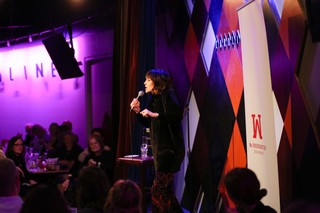 She tried to explain how it feels when a man leans out a car window with a comment about her body. She empathized, that the man just had to express that a woman had "nice tits", he just couldn't keep it in. But she implored him to simply say it to himself, or if he must, shout it into a pillow.
"Just don't scare us," she said.
Gloria Steinem has never scared easily. She sat in boardrooms across from long-standing giants in the advertising and editorial industries to convince them that the strong, independent, smart readers of Ms. Magazine deserved content that challenged them and deserved ads that served them. And she fought against a mindset that if something was geared towards women or girls, that it was less valuable. For example, Lionel trains. Ms. attempted to convince Lionel to publish ads with little girls playing with their trains, and Lionel resisted. Eventually, they agreed to picture girls with boys playing with trains, but only in some instances.
"If trains are associated with little girls," she wrote in her book Moving Beyond Words, "Lionel executives believe they will be devalued in the eyes of little boys."
It's an exhaustive fight, but one that Steinem has been fighting as a marathon. That's what she said at the Women's March last year.
"One of the uses of a long life," she said, "is that you remember when things were worse. We remember the death of the future with Martin Luther King, with Jack Kennedy, with Bobby Kennedy, with Malcolm X."
It's useful to keep that perspective, as well as a light heart, on the long road of resistance.
"Laughter is a free emotion," Ms. Steinem told VICE Impact. "You can compel fear, and you can also compel love. But you cannot compel laughter… The ability of women to laugh – there's nothing more important. Laughter is the ultimate freedom."
If you want to have a voice in how your community is run make sure if you vote in your local elections. if you're not already registered to vote, there's not time like the present to get started.
CORRECTION: A previous version of this story stated that the Ms. Foundation CEO's name was Teresa Young, when in fact it is Teresa Younger. It has since been change. We regret the error.