Khoresh-e Fesenjan
This fragrant and simple Iranian stew is laced with pomegranate molasses and toasted walnuts, giving it a pleasant sweet and sour flavor.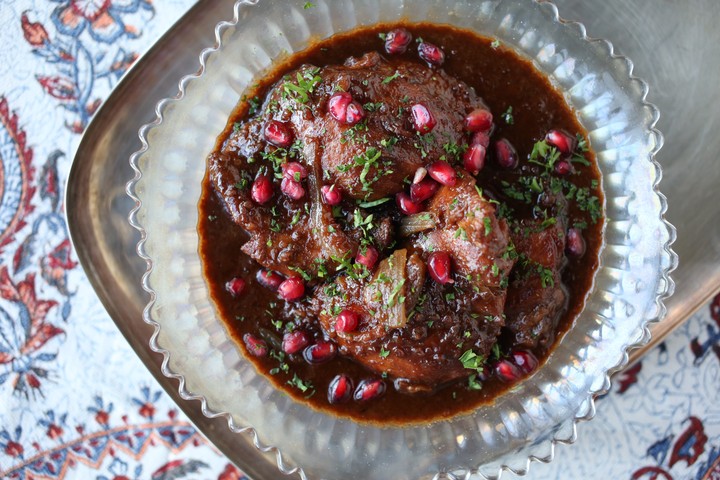 Photo by Farideh Sadeghin
Servings: 6
Prep: 10 minutes
Total: 3 hours
Ingredients
1 pound|450 grams shelled walnuts
2 tablespoons olive oil
2 tablespoons unsalted butter
2 pounds|900 grams bone-in skinless chicken thighs
kosher salt, to taste
2 medium yellow onions, thinly sliced
2 cups|500 ml pomegranate molasses
1/2 teaspoon ground cinnamon
granulated sugar, to taste
pomegranate seeds
Directions
1. Heat the oven to 350°F. Spread the walnuts into an even layer and bake until toasted, about 15 minutes. Remove from the oven and cool completely, then transfer to a food processor. Purée until well ground but not quite like a butter.
2. Meanwhile, heat the oil and butter in a large saucepan over medium-high. Season the chicken all over with salt and cook, turning as needed, until golden, 6 to 8 minutes. Transfer to a plate. Add (more oil?) the onions and cook, stirring, until lightly golden and soft, 5 minutes. Transfer to the plate with the chicken.
3. Add the ground walnuts to the saucepan along with the pomegranate molasses and 3 1/2 cups water. Bring to a boil, reduce the heat to maintain a simmer, and cook, stirring occasionally, until thick about 2 hours. Add in the reserved chicken and onions and cover. Continue to cook, stirring occasionally, until the chicken is very tender, about 1 hour longer. Season with the salt and cinnamon and top with pomegranate seeds. Serve with cooked Persian rice.
Stories