The Artist Using Sunlight and a Magnifying Glass to Make Amazing Wood Canvases
Michael Papadakis works and lives Golden, Colorado, a city that gets 300 days of sunshine a year.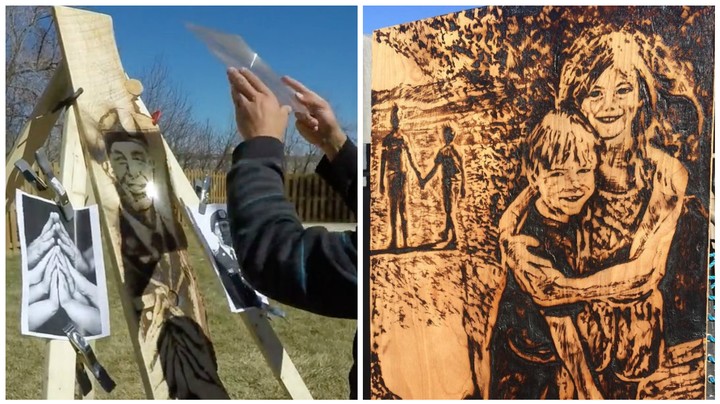 Instead of ants, Michael Papadakis uses a magnifying glass to burn complex artworks onto wooden panels. Similar to the fumage technique of fire painter Steve Spazuk, Papadakis, a.k.a., sunscribes, uses a variety of magnifying glasses ranging in size and shape to concentrate the sun's rays and burn creative decals into his wood canvases. His work captures everything from romantic landscapes to candid dog portraits and can take anywhere from one to 30 hours to finish, depending on the level of detail. The artist currently works out of Golden, Colorado, the perfect place for his practice as the city gets 300 days of sunshine a year.

In 2013, after graduating from college, Papadakis purchased a one-way to ticket to South Korea to travel the silk road, make art, and do a little soul searching. Working with limited resources at his disposal, Papadakis stumbled upon a new material, one that wouldn't run out of juice anytime soon: "When I was in China my friend had a magnifying glass sitting on his table and I vividly remember the sun shining through the window and onto the magnifying glass," Papadakis told Caters News. "I instantly had a moment of realization where I thought to myself, I could probably draw with that." This was an earth-shattering discovery for Papadakis, who discarded the rest of his drawing and painting supplies and started making works exclusively with a magnifying glass.
Papadakis classifies his artworks as a type of heliography, which a refers to a photographic process invented in the early 19th century that involved using hardened natural asphalt to capture different light exposures. Papadakis refers back to the archaic practice because of the way it similarly harnesses the power of sun to create artwork.
Papadakis is also a filmmaker, and, as time went by, he began to see his practice more and more as a performance that people needed to witness in order to fully appreciate. His Instagram has since become populated with process videos showing the artist in the act. Check out some of his sizzling snapshots below:
Learn more about Michael Papadakis's magnifying glass artworks on his website.
Related:
Sun-Worshipping Treehouse Combines Architecture with Nature
"Eco Flamethrowers" Fire-Paint in Slow Motion
Flaming Spiral GIFs Will Make You Want to Light Shit on Fire