I forget the exact context of the conversation, and I'm paraphrasing entirely, but not so many years ago another games journalist and I were talking, and she said something like: "Who in the world is happy to make the new second-best version of any particular game?" I suspect we were discussing Grand Theft Auto, in relation to other open-world games with contemporary, "real-world" settings. "Nearly as good" is never quite enough.
Technōs Japan's Double Dragon might have been amongst the first side-scrolling beat 'em ups in arcades, and later available on a plethora of home systems, but the 1987 game was quickly outclassed. Konami's 1989 Teenage Mutant Ninja Turtles copied the style but improved the play. Capcom's Final Fight of the same year inarguably improved on the formula, too. In homes, Sega's Streets of Rage of 1991 and its '92 sequel made the Double Dragon series—by that point onto its fourth iteration, the SNES-exclusive Super Double Dragon—an afterthought amid many a fan of arcade-style fighters.
Above: 'Double Dragon IV', teaser trailer
Seeing Double Dragon IV amongst January's new game releases is therefore puzzling. The first question to cross my mind is why? And then, who is this game for?
We're accustomed to reboots applying new paint to old franchises, sometimes even shaking up how they play, but when Double Dragon tried to do that with 2012's Neon, the results were spectacularly average. The game worked, and its not-so-serious tone aside, there wasn't a great deal more to say about it. But Double Dragon IV—which, in case you'd not already worked it out, is pretty far from the fourth game in the series—isn't armed with slick, modern visuals. It's deliberately designed to replicate the blocky 8-bit style of the 1980s NES ports of the first and second games. It's rather less than a traditional reboot or sequel, more a copycat biting on its own tail.
When Double Dragon IV launches on PlayStation 4 (and PC) at the end of January, celebrating the 30th anniversary of the debut title, it'll join the first two games on PSN. When the second, subtitled The Revenge, debuted on the digital store in February 2016, its director Yoshihisa Kishimoto, who also helmed the original game, spoke to the PlayStation Blog.

He said that Double Dragon, and its predecessor Renegade (which I played to death on the Spectrum, but this isn't the place), represent the only two games he's worked on that "I felt would be hits during their development." He calls Double Dragon his "masterpiece" and "a precious work," adding that, in his opinion, it helped "create a genre." "I thought I could lead the world for years while producing that game," he recalls. History shows that the world caught up.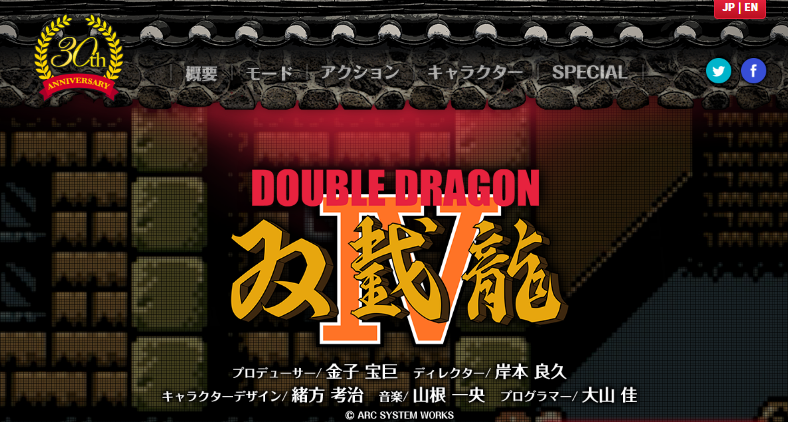 The Revenge is included among the 30 preloaded games on the NES Classic, so I took it for a little spin on seeing that Double Dragon IV was at least aesthetically aiming to emulate the originals.

All I can say is that I hope the new game plays a little nicer. Double Dragon II's twist on the first game is its directional attacks: the B button, on the left, deals kicks and punches to enemies on that side of the player character, and A to the right. A novel idea in principle, it's infuriating in practice. I batter and bruise my way through to the third level before I fall out of a helicopter and lose my final life. I don't feel any desire to continue when there's a pile of games from just last year left to play, beside my TV: bigger, shinier, more spectacular.

Why bring this style of game back, then? If it's to tickle the nostalgia bone of people in their 30s and 40s who recall the first games, coinciding with a convenient anniversary, I might have just shown, using the smallest sample survey available, that old-school Double Dragon's pretty boring these days. Are there franchise obsessives out there positively champing at the bit for throwback throw-downs? There's the Double Dragon Dojo website here, beyond that, though, there's a whole lot of nothing online representing a "fan-club" community.
The who, then, for me, comes down to one group of passionate video game enthusiasts: those who made the first game. Kishimoto again directs, with producer Takaomi Kaneko, character designer Koji Ogata, composer Kazunaka Yamane and programmer Kei Oyama all reprising their roles, so to speak, from 1987. Another, possibly final hurrah, perhaps, for a team that's not only progressing in years, but growing ever more distant from what they consider success—from those kinds of games that felt like they were hits before they were finished.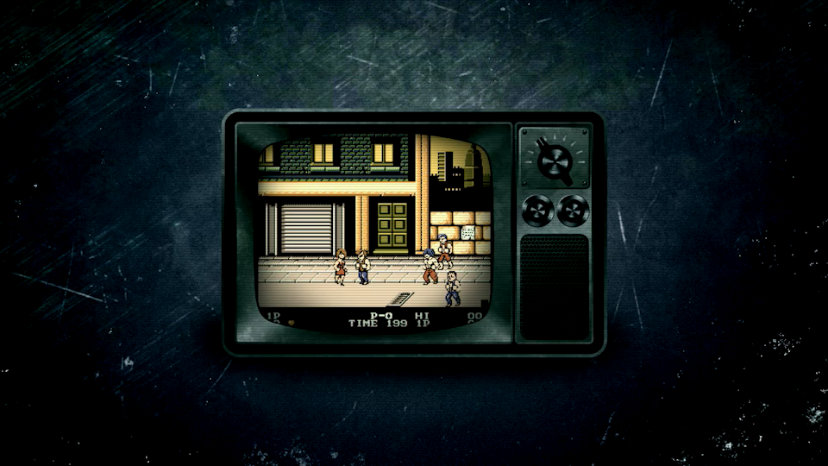 The most recent credit for Kaneko on Giant Bomb, aside from Double Dragon IV, is the poor 3DS fighter BlazBlue: Clone Phantasma. Kishimoto was a creative consultant on the Kickstarted River City Ransom: Underground, but he's not directed a game since 2000. Yamane worked on the music for 2003's Double Dragon Advance but hasn't done much else beyond the series. The others are harder to find much solid information on. But who would want to deny them, whatever they've done since, a return to what might feel like halcyon days?

Who do games makers really make their games for? You'll get a different answer from everyone you ask. Some are certainly in it for the thrill of a growing, dynamic industry. Others, for the singular means of expression it offers.

I wonder if Double Dragon IV is the natural product of a group of these creative people not particularly caring about who, or why, but asking only: what if? What if we make this game, again? We'll be having a grand time, but will people play it? Will that matter? Naturally the higher-ups at developers Arc System Works, the makers of Guilty Gear and BlazBlue, will hope to see the game turn a profit; but I get the feeling, from the little any of us have seen so far of Double Dragon IV, that it's not about the money for the key members of its team. It's about the memories.
That Kishimoto et al are making a "new" version of a not-even-second-best example of a game genre, in my opinion, is therefore a moot point. The object of the project isn't to progress, but quite deliberately to devolve and, by doing so, revisit themes and imagery, sounds and systems that made these people so happy, and so proud, 30 years ago. Against all usual expectations, it nearly might well be enough for Double Dragon IV, for those who matter.