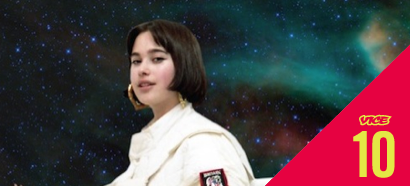 Ten years ago, these ten people were ten. Here's what they wanted most in the world.
"I wasn't allowed to eat McDonald's, but I was obsessed with Happy Meals. Once a friend's mom got me one and I kept the toy under my pillow."

Curtly wears top, shorts and trainers by Nike, vintage cap.

"I got a bike, but I never got a Nintendo 64. All I wanted was to sit in the dark playing GoldenEye until I died of hunger."

Gregk wears vintage dressing gown, T-shirt by Just Jam, shorts by Nike, socks by Umbro.



Nicole wears vintage jacket, playsuit by American Apparel, shoes by Office. Special thanks to Grace the sheep at Spitalfields City Farm.
"I wanted to be in the Spice Girls. I was a girl—what would be the point of not wanting to be in the Spice Girls?"

Django wears vintage Spice Girls t-shirt from Sick, leather skirt by American Apparel, customised Adidas shoes UK.
"I was a tomboy. I wanted to join the army and kick the shit out of people."

Hollie wears jacket by Duvetica, crop top by American Apparel, vintage camo trousers, boots by Dr Martens, sunglasses and vintage cap.



Georgia wears jumper by Monki, red skirt and pink skirt by American Apparel, creepers by Underground UK.
"I wanted a sword and a round table and some dragons to fight."

Jake wears vintage chain mail, jeans by Bench, shoes by Underground, gold skirt (worn as tunic) by Monki, helmet from Costume Studio.

"Sherlock Holmes was my hero. I started a detective agency but my only case was about some boys I saw pissing in my garden."


Val wears vintage Mackintosh, tie and shoes from Beyond Retro, suit jacket and trousers by Farrell, shirt by Topman.

"I had my own pink skates and I was certain I was going to be an Olympic ice skater."

Anna wears silver crop top by Sparkle and Fade, scrunchie, legwarmers, blue dress and red skirt by American Apparel.
"What kind of dickhead kid wouldn't want to go into space more than anything else?"


Blanche wears astronaut suit, rucksack and helmet from Costume Studio, shoes by Kickers.

PHOTOS BY DASHA LOVE
STYLIST: MISCHA NOTCUTT

Stylist's assistant: Jess Propper
Art directors: Jamie Clifton and Bertie Brandes
Hair and make-up: Amber Pitkin, Nails: Georgia-Rose Fairman
Models: Django, Georgia, Blanche, Curtly, Val, Hollie, Nicola, Jake, Gregk, Anna