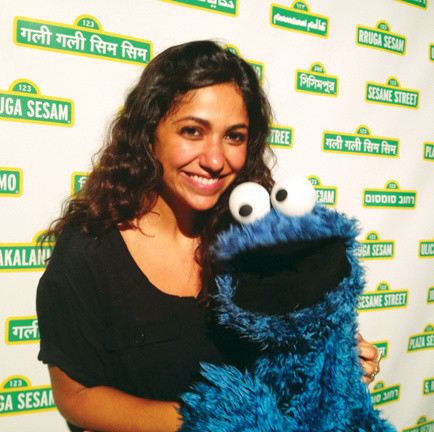 Assistant Editor Angelina is really excited about being an Employee of the Month, mostly because she gets to share a picture of herself next to her alter ego, Cookie Monster.
AMIE BARRODALE AND CLANCY MARTIN 
The Vajrayana approach to passion and desire is—allow me to get it wrong—to use them to destroy themselves. Passion to cure passion, etc. When Clancy and Amie get together, two crazy alcoholics become movie watchers, popcorn eaters. We were supposed to write this bio as though we're one person, but I am tired, and Clancy is lazy. My mom just called me to suggest that—since my house in Iowa is haunted, and I have to move—she drive her silver PT Cruiser from a Buddhist retreat in Whistler, Canada, to Iowa. She will make the drive and move me out alone, so Clancy and I can attend the Buddhist Red Tara retreat. God forbid we miss the Red Tara retreat. Well, we'll keep you posted. (Clancy added that last part.) 
See SHIVA'S WEDDING
JOE STRAMOWSKI
Before being forcibly abducted by VICE and intimidated into joining its staff as a video producer, Joe Stramowski labored as a freelancer who made mediocre television that everybody watched and wrote screenplays that never got read. Now we're like, "Hey, Joe, you need to go to the Democratic Republic of the Congo, where a bunch of people are shooting one another, and produce a video piece on Joseph Kony's army. Oh, also, can you write something about it for the magazine and take photos?" And he's all, "Sure," because, like most people worth a shit, he is a hard worker who enjoys what he does. This also goes a long way to ensure that everything he makes turns out great. Thanks, Joe, and keep 'em comin'. 
ANGELINA FANOUS
Assistant Editor Angelina, who has often been mistakenly (but awesomely) referred to as "Ms. Famous," once went to Europe for two weeks just to devour good food. She is really excited about being an Employee of the Month, mostly because she gets to share a picture of herself next to her alter ego, Cookie Monster. They both love the same things: eating, cookies, and more eating. She likes butter and bagels, but not together (jalapeño-cheddar cream cheese, please). She also hates stuff, like the smell of McDonald's hand soap (which, according to her, stinks like an old folks' home), the phrase "Just do you," and answering the question "Where are you from?" (originally Egypt, but it's complicated). 
See KEEPING THE EDITORS FROM KILLING THEMSELVES AND EACH OTHER 
SUSAN MILLER
Hey, did you know it's VICE's birthday this month? It's OK if you forgot, really—most people don't know that our first-ever issue came out in October 1994 (we were known then as The Voice of Montreal, but that's a story for another time). Since no one bothered to get us a present, we decided to gift ourselves with one and hired astrologer extraordinaire Susan Miller to give us a natal-chart reading. Her website AstrologyZone receives 6 million visitors a month, and she writes for too many magazines to name. She consulted the stars and the planets and concluded that we're 1) good with money, 2) creative, and 3) doing just fine. Turns out astrology isn't bullshit, huh?   
See VICE'S BIRTHDAY
WILLIAM T. VOLLMANN
When we were putting together the Employees of the Month section for this issue, we realized that we had never featured William T. Vollmann, which is a terrible oversight. We're huge fans of the National Book Award-winning author and have had the honor of publishing his fiction, nonfiction, and illustrations on a few occasions. His past work for us has included meditations on cross-dressing and dominatrix shows, as well as absinthe-fueled prose poetry. For this issue he gave us a peek at his forthcoming collection, Last Stories and Other Stories. He is also the nicest person we've spoken to on the phone, ever. And considering the plethora of idiots and assholes we're forced to talk to on a daily basis, that really is saying something.