(A brief note on language - this article will use the term 'migrant' to refer to the people currently caught up in Calais attempting to get to the UK – this is the widest possible term, and includes refugees, asylum seekers and economic migrants. All names have been changed to preserve anonymity unless otherwise noted.)
It's five o'clock on Monday night. While most people are coming back home from work, Gabriel and Chloe won't get back for another five. Every night, the pair go out on what's been dubbed 'the vulnerability run'. It consists of picking up the most vulnerable unaccompanied children fleeing home (usually Eritrea, Ethiopia, Afghanistan, Syria, Darfur) and finding a roof for them for one night. At 27 and 23 years old respectively, these activists are shouldering, what two of the wealthiest nations in the world, the United Kingdom and France, not only refuse to support but consistently abuse. Welcome to Calais.
Across the English Channel from the clifftop town of Dover, the port city of Calais is the principal ferry crossing point between France and the UK and has, since the 1990s been an important transit route for refugees, asylum seekers and migrants from Afghanistan, Eritrea, Iraq, Syria, Darfur and South Sudan, wishing to reach the UK. With no legal safe passage, many attempt to cross the channel by stowing away on lorries, ferries and cars, often risking (or losing) their lives in doing so.
With nowhere to go, and no end in sight of the war in Syria and elsewhere, the north of France is still home to an estimated 800 migrants, around 200 of whom are minors.
Issues escalated in 2015. The UK blamed the French authorities for not doing enough to keep migrants out and bought nearly £2 million worth of fences to stop migrants from crossing into the UK. In October 2016, French authorities cleared the makeshift migrant camp, which had become home (usually in the shape of a soaked through tent) for 9,000 migrants. Six months later, the camp in Dunkirk (a few kilometres away from Calais), home mostly to Iraqi and Syrian Kurds (many of which were families) fleeing the so-called Islamic State was burnt down.
But with nowhere to go, and no end in sight of the war in Syria and elsewhere, the north of France is still home to an estimated 800 migrants, around 200 of whom are minors.
We get in the car and arrive at the first spot for the night. It's pitch black and bitter cold. Tonight is going to be especially tough Gabriel tells VICE Impact. Despite the fact that it's about 2 degrees Celsius, the local council has decided not to open emergency shelters tonight. The shelters — a warehouse with tents — had opened a week prior under the pressure from activists like Gabriel and Chloe, and grassroots groups working in Calais, such as l'Auberge des Migrants, Help Refugees and Utopia56.
---
Check out more videos from VICE:
---
"When the migrants woke up last week covered in snow [tents are banned and snatched by the police], we sent tons of emails to the local council, asking them to open emergency shelters," Gabriel explains, recalling that snowy morning that still haunts volunteers on the ground.
"When I woke up and saw the snow, I immediately went to check on my [migrant] friends," Vicente, another volunteer tells VICE Impact. "All I saw was sleeping bags covered in snow and it dawned on me that my friends inside those bags might not be alive. It was fucked up!"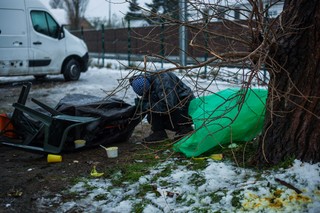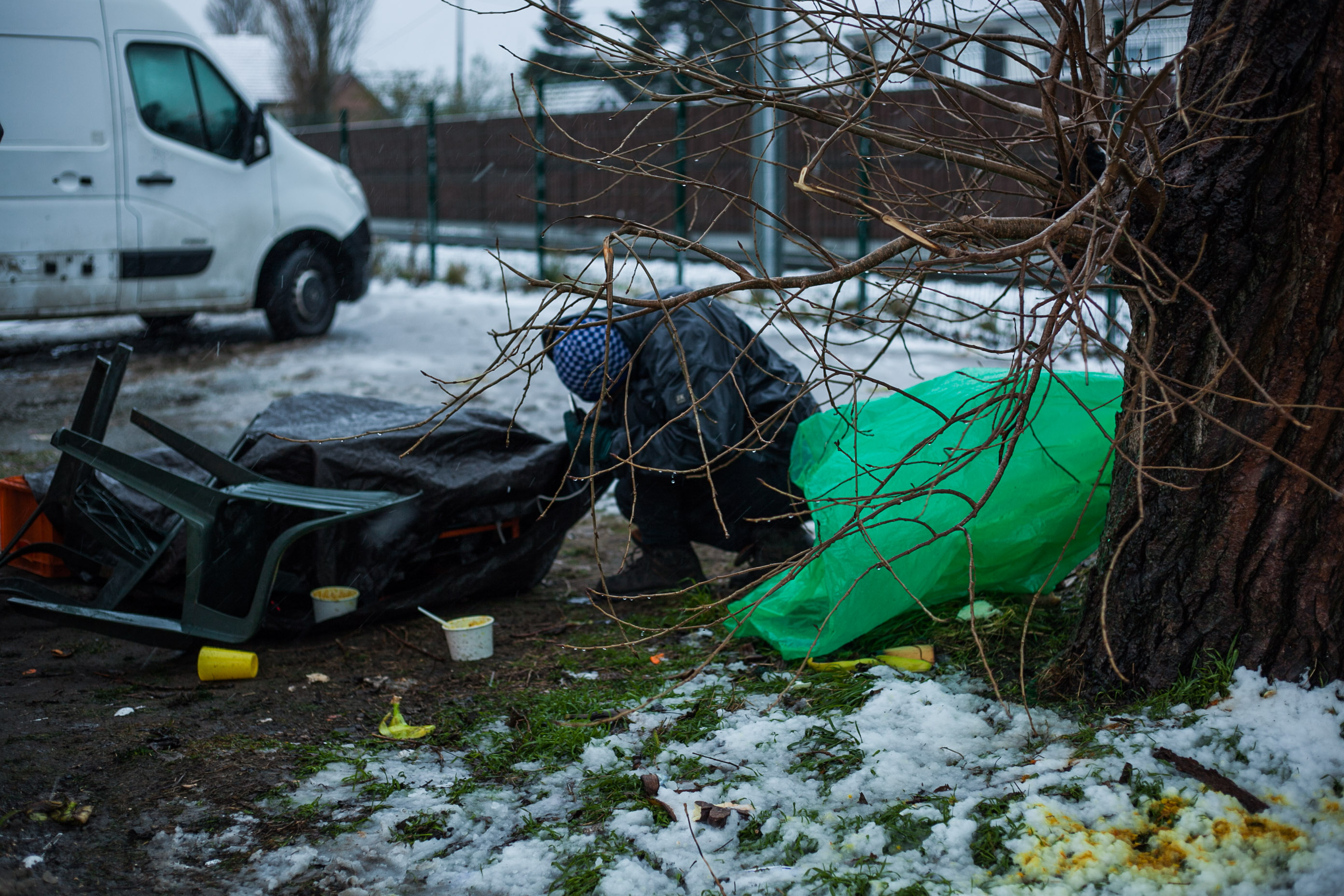 Hassan, who comes from Aleppo, Syria, remembers just as much. "The day [of the snow], I woke up and saw that my sleeping bag and face were covered in snow," he tells VICE Impact. "It is really, really cold, but this is Europe," he sighs, pointing at a few migrants squatting over a small fire.
Gabriel and Chloe recognize most faces and exchange strong handshakes with the boys and men there.
"We have a special relationship with them. We drop them off at the hospital [another initiative set up by activists in Calais]. We're there in some of their darkest moments," Gabriel tells VICE Impact. There are undoubtedly around ten minors surrounding Gabriel and Chloe. "Some maybe look older than their age, but sleeping under a bridge in the cold for six months ages you," he explains. The pair starts making some calls, eager to find a solution.
"Nothing at all?" The only government-run center dedicated to sheltering children under 18 located 40 kilometres away in a small town called Saint-Omer is full. Despite the fact that President Emmanuel Macron is looking to reduce the rights of refugees who are under 18, the government currently still has an obligation under EU legislation to provide shelter to minors who ask for it. Gabriel asks Chloe if any of their go-to local host families in Calais have space. "They are all full," she tells him, opening up the boot of the car to give out a couple hand warmers to a 15-year old.
A small white van distributing warm food cooked by the volunteer-run Refugee Community Kitchen means at least the migrants have a full stomach.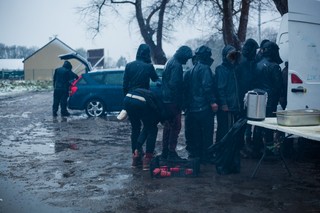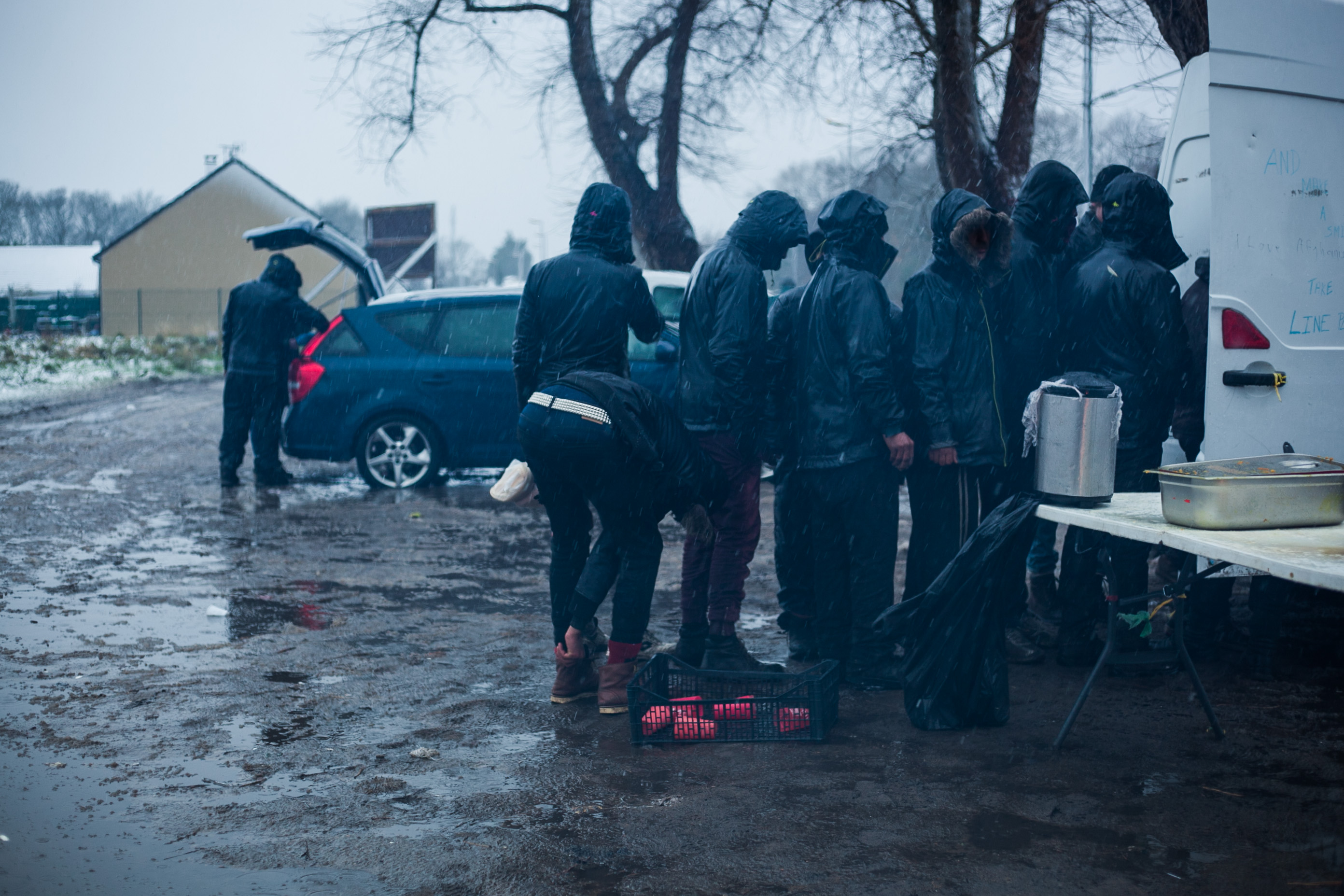 Gabriel and Chloe spend nearly an hour chatting with the young boys. "It's mostly just moral support at this point," he says.
At the next stop, on the outskirts of Calais, Gabriel feels even more despaired. He points to another group of unaccompanied minors, some as young as 13. "Every night, we are supposed to pick up the most vulnerable, but they are all vulnerable." He and Chloe spot two, who seem especially down. One has an injured leg and is limping. The other has been here for six months and looks visibly exhausted.
"I'll just see whether they want to stay at mine," Chloe tells Gabriel. Chloe and her flatmate have, in fact, been hosting a dozen migrants every night for the past six months. She already has a dozen staying over tonight, "I'll find the space," she shrugs.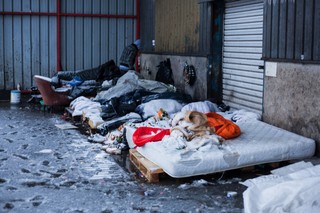 The rest aren't so lucky. Sleeping rough in Calais means two-to-four hours of sleep per night. Armed with teargas and metal rods, the French riot police (CRS) spray the sleeping migrants on a nightly basis and confiscate sleeping bags, blankets and belongings. "The other night they came at 2am and we ended up with nothing. It was so cold," Mohammed. a young migrant from Darfur, tells VICE Impact. "So we stayed up all night with all the boys playing football. Just to stay warm, you know? It was too cold to sleep."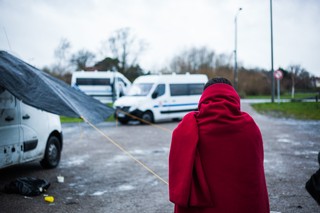 "I have Hepatitis B and I depend on my medicine," Ahmed, a migrant, tells VICE Impact, "The CRS came the other day to clear all my stuff. I told them, 'I have Hepatitis B, I've got my medicine in there, please just let me take it out.' They laughed and took it all away. They didn't care."
And despite the fact that Human Rights Watch (HRW) have repeatedly called out the French government and the CRS for violating human rights, the situation is only getting worse.
"The ongoing police violence and destruction and confiscation of people's belongings is inhumane and unconscionable," Bénédicte Jeannerod, the Director of France's HRW office said in a recent report. "The French authorities should immediately put an end to these abuses and ensure that migrants are treated with the dignity to which every human being is entitled."
"The problem is that you have two governments refusing to take responsibility."
Violations have gotten so bad that a team of young activists have actively been on the ground collecting testimonies of human rights abuses, which they file daily on Kobo Toolbox, an open data collection software designed for humanitarian organizations.
The aim is to make sure events like these are recorded and ready to use in court: "Four days ago, the CRS came and beat up my friend who's 15 using a metal rod. I was there, the CRS officer said to him 'I was in Afghanistan, the Taliban killed my friend, a colleague. We can't do fuck all in Afghanistan. That's why I'm beating you up now," Ahmed, an Afghani migrant told VICE Impact, a few days earlier standing beside a motorway.
Activists on the ground are constantly testing out various ways to stop the confiscations. During the summer, when the police weren't letting organizations distribute water and food, their efforts to shame and blame the government worked.
One of their recent initiatives was a double-shift 'CopWatch' operation. The aim is to deter and document police brutality by monitoring abuse by the CRS. But the CRS quickly adapt.
"They confiscate less now, they just go and teargas migrants' belongings so that they become unusable. The operation takes five minutes. By the time we get there to document the abuse, they are gone," Valentin, one of the young activists running CopWatch and the Human Rights Monitoring team, explains.
However, the French riot police (CRS), the shelters, the local councils, the hospitals — are taking orders from someone. And that's President Macron and his Minister of the Interior Gérard Collomb. Since taking office in April 2017, Macron and Collomb have adopted a deliberate and harsh migration policy, which aid groups on the ground say is "without humanity."
"The ongoing police violence and destruction and confiscation of people's belongings is inhumane and unconscionable."
And while France continues to abuse migrants in Calais, the UK continues to give them the chance to do so. Many minors in Calais actually have the legal right to be in the UK, but the UK is not letting them in.
"The problem is that you have two governments refusing to take responsibility," Annie, a young activist and legal campaigner for Help Refugees, tells VICE Impact. "The children [and adults] in Calais have an intent to go to the UK, that means that the UK can turn around and say, 'Well they are still in France, so it's up to France to look after them', and France can say 'They don't want to stay here, it's the UK's responsibility'. It's literally a ping-pong of responsibility that no one is taking."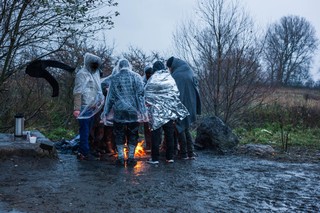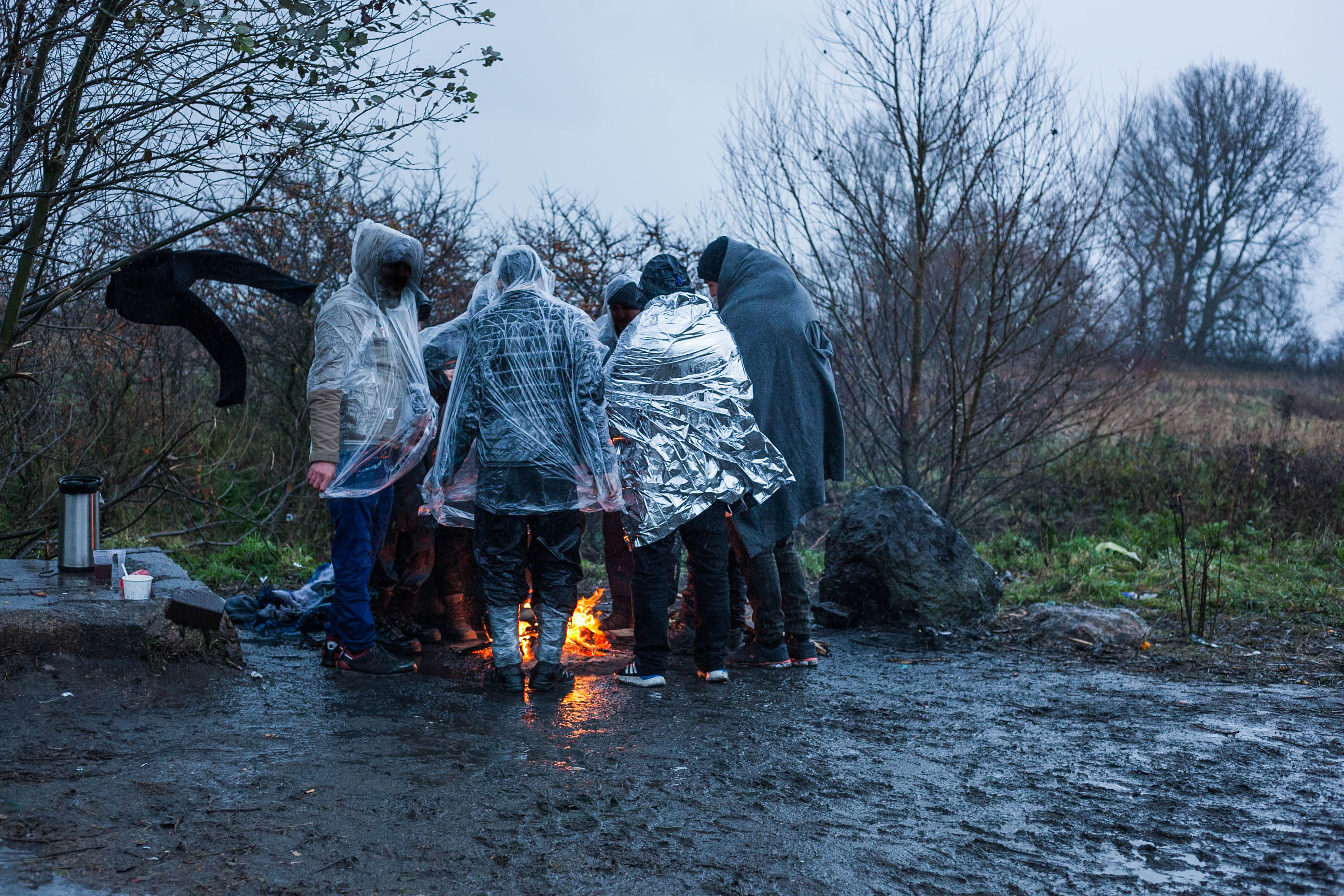 Without a support network, the children remain infinitely more vulnerable to abuse, to disappearing, to being led and taken away by smugglers and traffickers. Activists on the ground are aware of too many cases trafficking, smuggling and disappearance. "With the little resources we have, we know the smugglers, the traffickers, we know who does this. You're telling me the UK and French government don't?" Gabriel tells VICE Impact.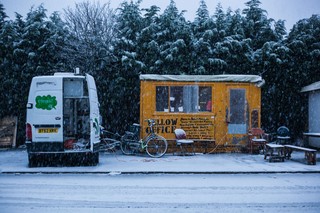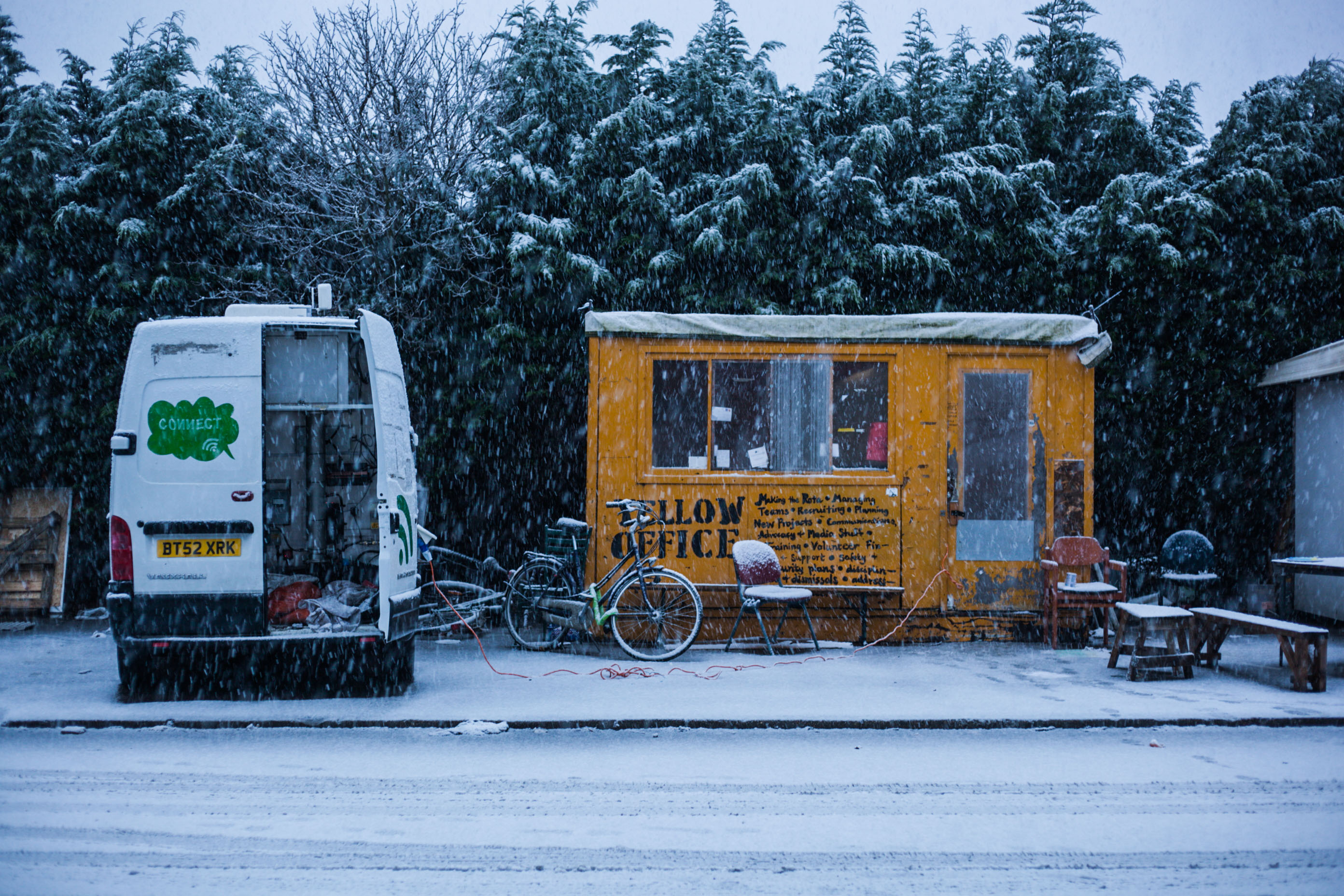 Back at Chloe's flat, Abel and Adonay, the two young Eritrean teenagers take turns to shower while Chloe makes a bed for them. Out of the shower, Adonay winces in pain. Gabriel sits him up on a chair and, crouching down begins to gently rub painkiller cream on his leg.
As both the UK and France tighten up their grip on migrants, it's activists, volunteers and small grassroots organisations that continue to fill the gap.
In the past couple weeks, three migrants have lost their lives in Calais. At the time of writing, emergency shelters in Calais are still closed. Help Refugees l'Auberge des Migrants , Utopia56 and the Refugee Community Kitchen have launched a new campaign. It's called #StopDeath at #CalaisBorder . Sign it, share it, support it here . The organization are always on the look out for dedicated volunteers, donations and advocacy support, get involved via their respective websites.
In the UK, the Dubs amendment, part of the 2016 Immigration Act, was passed after a campaign to transfer 3,000 unaccompanied child refugees stuck in camps across Europe to Britain. There are more than 3,300 unaccompanied children in Greece , 11,186 in France and 13,867 in Italy. The Home Office has agreed to resettle 480 under the Dubs scheme. And has, so far, only resettled one. Contact Help Refugees , if you'd like to help them hold the UK government to account.