Steamed Mussels in Garden Tomato Sauce
You can easily use store-bought mussel meat if you don't feel like pulling mussels from the shell, or even just leave them in their shells once you've steamed them. The choice is yours.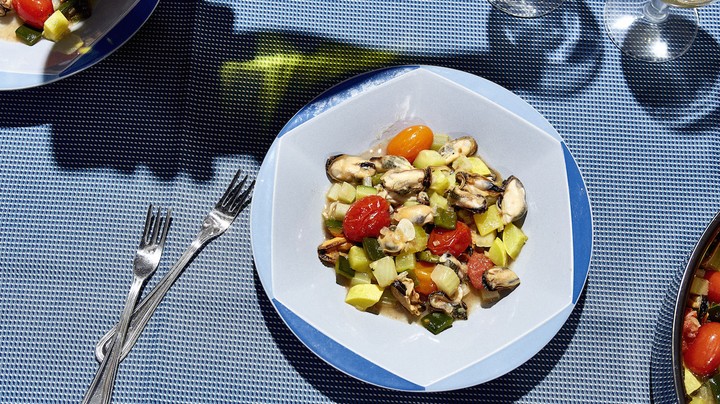 Photo by Heami Lee
Servings: 4
Prep: 15 minutes
Total: 30 minutes
Ingredients
5 pounds|2 1/4 kg cleaned mussels
1/4 cup|60 ml olive oil, plus more for serving
3 garlic cloves, thinly sliced
2 shallots, finely diced
1 long green pepper, diced
1 poblano pepper, diced
1 rib celery, diced
1 small green zucchini, diced
1 small yellow zucchini, diced
1/2 fennel bulb, diced
kosher salt and freshly ground black pepper, to taste
3 cups|500 grams cherry tomatoes, preferably on the vine
1/2 cup|125 ml chicken stock
1/4 cup|60 ml white wine
1 cup flat leaf parsley leaves
Directions
1. Place a steam basket in a large pot with a cup of water over high heat. Bring the water to a boil, then add the mussels to the steam basket. Cover and cook until the mussels open, about 2 minutes. Transfer the mussels immediately to an ice bath to cool down. Pick the mussels from the shell, discarding the shells.
2. Heat the oil in a large skillet over medium-high. Add the garlic and shallot and cook until translucent and fragrant, about 2 minutes. Stir in the peppers, celery, zucchini, and fennel and season with salt and pepper. Cook for 2 minutes, or until soft. Add the tomatoes, chicken stock, and wine and cook until the tomatoes have burst and the vegetables are tender, about 5 minutes. Stir in the shucked mussels and cook until warmed through, about 2 minutes. Garnish with the parsley and drizzle with olive oil to serve.
Stories