In a few weeks, the American government could begin deporting as many as 800,000 undocumented immigrants who've been here since they were children. They did not choose to come to America, their parents did. Last September, Trump rescinded the Deferred Action for Childhood Arrivals (DACA) program, established under Obama as a clumsy band-aid for the country's broken immigration program. Trump, a politician whose mind changes based on the last person he speaks to, repeatedly claimed those impacted would be fine: Congress would come up with a solution.
So far, Congress has not done much. The March 5 deadline approaches, and while the deportation of nearly a million people wouldn't happen overnight, it would open the floodgates for the newly emboldened Immigration and Customs Enforcement (ICE) agency, who have already been accused of targeting immigration activists.
I had a chance to speak with several DACA recipients last year, as part of a piece exploring what it's like to live in the dark, knowing your fate is tied to the whims of politicians. In various ways, each credited games with helping them make it through such confusing times. Games allowed an escape, where they controlled destiny. While anxious, many hoped there was a chance their lives could could be less chaotic.
"The biggest fear would be being sent to a country I do not know," said 22-year-old DACA recipient Armando Orona. "Mexico is my birthplace, but it's not my home."
He was not alone.
I recently touched base with several in that story, to see how things were going, Though a solution for DACA hasn't come, their lives continue to move forward.
Orona, currently chasing a dream to become a games journalist, remains remarkably encouraged, calling the ongoing discussions about DACA and undocumented immigrants "a slight beam of light in the dark tunnel that we're in." From his perspective, it's better than being ignored. People are talking about the issue.
One way to make sure you're not ignored is to be visibly present, and to that end, Orona has become active in his local community of undocumented immigrants, helping organize events and rallies around the cause. His group is trying to appeal nationally and locally, holding recent events in both Washington DC and his hometown.
"Because I'm more active and talk to more DREAMers like myself," he said, "I've learned and heard the stories of their lives, how they've struggled because of their circumstances and how hard they've worked to get where they are. In the end, we're all here for a reason, to succeed and give back to this country that we consider our home."
Orona is currently on his second playthrough of Persona 5—"I love to play lengthy JRPGs like Persona to pass my time because I can get immersed in them"—and just started Dragon Ball FighterZ.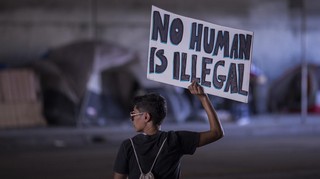 Not everyone shared Orona's positive sentiment.
"Things are going well in my personal life, except for the immigration stuff," said one DACA recipient, who reached out after my story published and asked to remain anonymous. "I try not to let my status anxiety affect my daily life, but it's always there running in the background, whether I want it to or not."
I've had people ask for anonymity when being quoted for different reasons, often because I'm being told info the public isn't supposed to know. In this case, folks in this individual's community have used the reporting of immigration status as a threat.
"I'm really wary of attaching myself to anything on the Internet," they said.
This person's DCA status came "really close to expiring" recently, which would have resulted in losing their job. Despite applying for extension in advance of the deadline, the application became unexpectedly stuck in a "pending" state. One week before he was set to lose his status—and protection—a lawyer was able to push things through.
"I still hold out hope that Congress can do something soon for us," they said. "I think there's enough support them from both sides of the aisle, just hope Trump doesn't screw it up. Maybe if SNL does a President Miller skit we might have a better shot."
(President Miller is a reference to White House advisor Stephen Miller, an far-right conservative on immigration who, in media reports, is characterized as one of the chief individuals responsible for holding up a DACA deal. In the past, when members of the Trump administration were lampooned on SNL, Trump has reportedly been upset.)
To relax, they've been playing PlayerUnknown's Battlegrounds "almost nightly."
Each described their relationship with games as a way of finding a sense of normality.
"Since the Trump administration decided to rescind DACA, I've tried to live as normally as possible," said Lucas Guimaraes, who was told about his undocumented status after his father took him to a movie at 13 years old, hoping to find a way to break the news gently. "Still going to school and working. Still [hoping] that I won't be forced to leave."
Every time there's a headline about immigration, Guimaraes gets "excited and scared" because there's no way to know if it's "a good or a bad thing." Some days, it can be both.
Guimaraes is generally pessimistic about a DACA replacement, figuring the two parties will use the issue as a political football. If the Democrats retake the House of Representatives during November's midterm elections, maybe things can change.
But even if the status quo somehow moved, Guimaraes faces an enormous problem.
"I'd be ecstatic [with a DACA replacement]," he said, "but there's also one little detail: I would not be able to sponsor my parents. I'm not sure if that means my 1-year-old brother—who was born here—also won't be able to sponsor them when he turns 21, but if he can't, I'm scared for my parents future."
Given how much policy is currently in flux, that worry is understated.
At the moment, Guimaraes is busy hunting down creatures in Monster Hunter: World.
"Things are going well in my personal life, except for the immigration stuff. I try not to let my status anxiety affect my daily life, but it's always there running in the background, whether I want it to or not."
Like Guimaraes, Rohit wasn't told about his immigration status until years later. After speaking with a college advisor, realizing he was unable to answer certain questions, he confronted his parents. Over the phone, Rohit was told the truth about his past.
"After so many failed attempts [at reform]," he said, "I'm a bit numb to it all."
Like others, Rohit asked to keep his last name anonymous, citing the political climate.
One of the immigration deals being discussed in Congress would limit what's called "family reunification," the ability for new immigrants to bring their family over, as well. (An alternative term, "chain migration," is often used in pejorative, racist terms.) Even if family reunification were axed, Rohit would be fine; he's already here with his family.
"But what good is my becoming officially American if the country is screwed up in the process?" he said.
Citing "a lot more gray hair than I'd like," Rohit has struggled to find friends to confide in. A recent falling out with friends has left him lonely. Though he doesn't think about his status every waking second, it's always there. It's not conducive to socializing.
"I've suffered from depression for a long time," he said, "and the last time I tried finding a counselor, they marginalized the impact of my status. It's made it hard for me to search for another one."
Like others, Rohit has tried to find solace in speaking out. Despite his status, he's been using social media accounts to try and spread information about topics like DACA and immigration, even as he worries about raising the ire of trolls and white nationalists.
While we exchanged emails, the Democrats announced that, after only a few days, they were signing a bill to re-open the government, despite little assurances on DACA. It was only the latest in a list of events that have given contributed to Rohit's cynicism.
"My first response was actually just to laugh, because I knew this would happen, and I know this again means nothing will happen for DACA," he said. "In general, it feel like Democrats aren't willing to inflict pain on the country, even if it's necessary, and Republicans are more than willing to let people drown if it means getting their way."
While he waits, Rohit is splitting his time between League of Legends, Minecraft, and Battle Chasers: Nightwar, depending on whether he's feeling creative or competitive.
Eventually, time will run out for Rohit, Guimaraes, Orona, and others. Though it's been argued the Trump administration could artificially push back the March 5 deadline for the 800,000 impacted, it's impossible to know what might actually happen. But as much as video games have given everyone involved, they remain pixels on the screen. Games won't give them protection. That requires people doing the right thing.
Follow Patrick on Twitter. If you have a tip or a story idea, drop him an email: patrick.klepek@vice.com.