Whole Foods, the supermarket giant with which many of us have a love-hate relationship—ah, the joys of perusing a seemingly infinite array of colorful kombuchas, but oh, the agony of inadvertently dropping an entire paycheck while doing so—has long striven to create a glowing, ethical image for its brand. The retailer's website has a whole section devoted to its mission and values, where the store spells out pretty clearly its lofty goals: "Our purpose is to nourish people and the planet," its mission statement reads. "Quality is a state of mind at Whole Foods Market."
Any omnivore today is familiar with the complications of trying to find an organic, humanely raised cut of meat. From the antibiotics and steroids routinely pumped into our beef, pork and chicken to the inhumane conditions found on the vast majority of factory farms, finding a clean, happy pork chop can feel overwhelmingly difficult—a significant reason why more and more eaters are hopping on the plant-based "meat" train.
But Whole Foods claims to have the issue covered. On the extensive "Animal Welfare" section of its website, the supermarket asserts that, "Throughout our meat department we not only have standards for the freshness and quality of our meat and poultry, we have standards for how the animals are raised." But in spite of these assurances, the grocery chain has repeatedly come under fire from a variety of animal rights groups; most recently, it has been targeted by Direct Action Everywhere, a sometimes-militant organization founded in California's Bay Area.
Since 2014, the group, also known as DxE, has undertaken multiple undercover investigations of California farms that supply Whole Foods with meat, including Sonora's Diestel Turkey Ranch, Sanger's Pitman Family Farms, and Petaluma Farms. In reports that is has made available online, the group alleges widespread animal abuse present at these farms, including turkeys trapped in feces and with swollen-shut eyes, and chickens packed into filthy, crowded sheds. DxE had been planning a weeklong occupation of the store's Berkeley location at 3000 Telegraph Avenue, slated to start today, but last Wednesday Whole Foods sued the group in an Alameda County court. Two days later, on Friday, September 21, the restraining order was granted, forbidding DxE members from stepping onto that property.
"The company, despite claiming it believes in being transparent, is unwilling to even have a conversation about these subjects," DxE cofounder Wayne Hsiung told MUNCHIES on Monday. "For years, we've encouraged them to have a conversation with us about these issues, but instead they choose to sue us, to intimidate us. I don't think this is the response of a company that's genuinely interested in transparency."
DxE is known for its publicity-generating stunts. In August 2016, activists interrupted the ribbon-cutting ceremony at the opening of a Silicon Valley Whole Foods store, dressed in fake blood-spattered butchers' coats and mime-slaughtering one of their cohort while shouting that "Whole Foods sells a lie." The group also routinely enters factory farms to "rescue" abused animals, such as in July 2017 when members removed several piglets from a Utah facility. But Whole Foods has also come under attack from more moderate animal welfare groups. In 2015, PETA observers at a Pennsylvania pig farm that supplies the grocery chain documented widespread abuse of the animals; days later, the group sued the company for claiming that its meat was "humane." The case was later dismissed by a California judge.
Since its founding in 1980, Whole Foods has strived to present itself as a leader in the sales of ethically raised and slaughtered meat. Marketing itself as a one-stop shop not only for specialty ingredients and fresh produce but also for high-quality meat—which can be much harder for a discerning shopper to find—the supermarket chain has consistently stressed its commitment to animal welfare and the soundness of its suppliers. The company's website exhaustively outlines its registered-trademark "5-Step Animal Welfare Rating" system, which ranks the meat its stores carry on a scale from 1 to 5+. The minimum welfare rating required for meat sold by Whole Foods is 1, defined as "no cages, no crates, no crowding." Farms that comply with Steps 2 and 3 provide animals with "enriched environment" and "enhanced outdoor access," while Steps 5 and 5+ farms are "animal centered," providing access to pasture and shade and providing habitat for natural behaviors such as foraging and perching.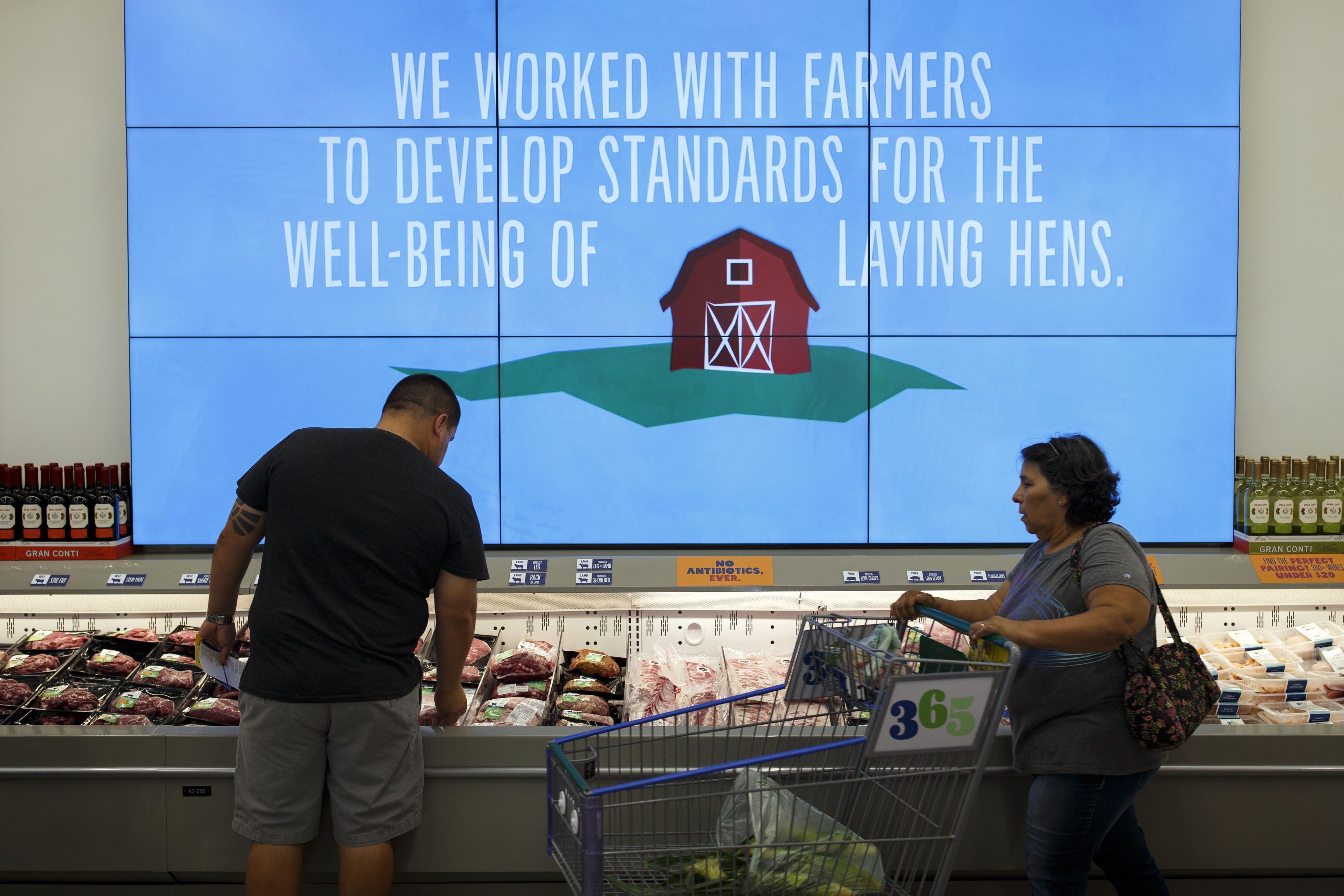 Because Whole Foods' animal welfare policy seems so comprehensive, it's an interesting target for animal welfare groups. The company did not respond to multiple attempts to contact its press representatives as of publish time for this article.
Regarding Whole Foods' animal welfare rating system, Hsiung says, "I think at this point they're willingly deceiving people." Hsiung alleges that while Whole Foods aggressively promotes its suppliers as humane, family-owned and -operated small-scale farms, many of the suppliers that receive a high rating from the company are, in fact, actually enormous factory farms. He cited Diestel, the turkey farm that gets a Step 5 rating from Whole Foods, as an example; in 2015, DxE launched an undercover investigation of the "ranch" to find "bird stuffed in crowded indoor sheds, cannibalizing each other, and suffering from horrible diseases," he said. "And this is a farm that's marketed as the best of the best."
The problem is largely one of enforcement, Hsiung says. Whole Foods' inspections of the farms it works with are limited, according to Hsiung, occurring once a year or every two years and always set up ahead of time as opposed to being unannounced. That leaves farmers free to continue churning out low-cost, factory-farmed meat—and to collect a large profit, since the supposedly cruelty-free meat is sold at higher, Whole Foods prices.
"There's no one holding them accountable for execution," Hsiung said. "So Whole Foods can appear to create change without actually creating change."
At a higher level, the USDA is supposed to ensure that statements made by corporations about the farms they work with are true. But because the agency is "in bed with the industry" it's supposed to police, Hsiung said, there are no avenues to hold corporations legally accountable.
"And if you sue big ag, big meat, they pull out their expensive lawyers and nothing ever goes anywhere."
In spite of Whole Foods' reluctance, throughout the years, to engage with animal rights groups, Hsiung said that DxE will continue to push for open dialogue about the company's policies—in place of protracted legal battles.
"We'd relish the opportunity to have these conversations, to have them take look at our footage," he said. "We have a right to ask these questions."
This story will be updated if we receive a response from Whole Foods.