There Are 700 Protests in All 50 States Today in Support of Net Neutrality
We spoke to protest organizers from across the country to find out why they decided to get involved.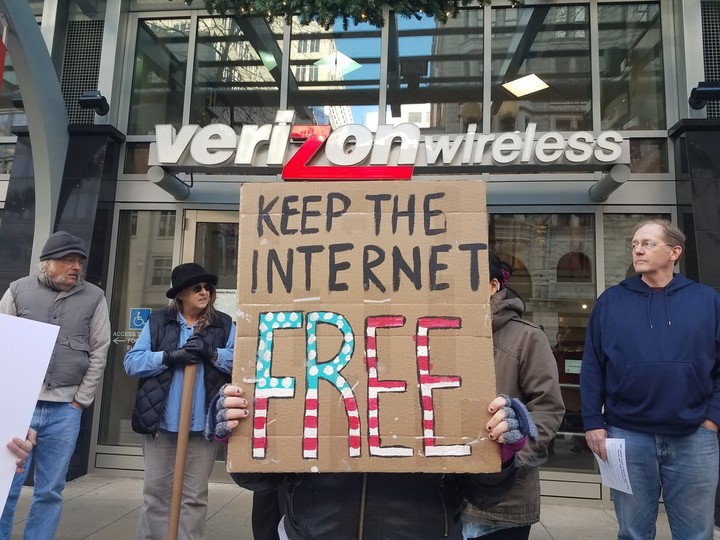 Image: Courtesy Free Press
Thousands of Americans are expected to protest in cities across the country Thursday to speak out against the Federal Communications Commission's plan to rescind net neutrality rules. These rules, which the FCC will vote on repealing December 14, ensure that internet service providers and telecom companies can't limit, censor, or charge different prices for certain content on the internet.
Across the country, 700 protests have been organized in all 50 states, led by a coalition of progressive nonprofits and local volunteers. They are expected to range in size from a few dozen people in some smaller towns to hundreds of demonstrators in places like San Francisco, New York, and Boston. (You can look up protests in your city using this online tool.) The goal is to educate people who may not be aware of the pending vote, and to encourage more pressure to be put on members of Congress, who can act to slow the FCC down.
I spoke to five protest organizers from across the country to find out why they decided to get involved and what net neutrality means to them. Many of the organizers I spoke to told me they were never particularly politically-involved or interested in organizing protests, but felt spurred to act after last year's election.
"I got more civically-involved because of this past election; the Bernie Sanders campaign and the Trump campaign both, in their own ways, inspired me to be more active," said Jill Young, a 27-year-old travel agent who organized protests in Indianapolis. Young told me that she was particularly concerned about the ability for social movements to organize if net neutrality is revoked.
"I'm thinking of the Dakota Access Pipeline protests and Black Live Matter: those movements got the attention they warranted because people from those groups were able to talk online, organize, get information online, and get an audience," Young said.
"We could essentially be losing a significant portion of our free speech rights."
In Phoenix, 60-year-old Leslie Dow, who has worked in the biotech industry for 20 years, said she felt a sense of responsibility to protect the internet that she has relied on for most of her career.
"It's incumbent on those of us who grew up with the internet, and maybe were on the original listservs, to act," Dow said. "We didn't do enough to protect it. We didn't do enough to educate."
In Boston, 28-year old organizer Nina Vyedin expressed similar sentiments. Vyedin grew up in Silicon Valley, the daughter of two engineers, and works as a software development and program manager. She told me her entire career depends on an open and free internet.
"If the FCC takes this away and changes the way that it's distributed and who has access, it's going to vastly change the tech industry and people's personal lives," Vyedin said.
Multiple organizers expressed concerned that the average American might not recognize the threat of losing net neutrality until it's too late, which is why they're hoping the protests will draw attention and help amplify their message.
"When people have the accurate information in front of them, they get it," said Zoë Williams, 31, a community organizer who is leading protests in Denver. "It can definitely get a little wonky to wrap your head around. But as soon as people make the connection that we could essentially be losing a significant portion of our free speech rights, people are pretty activated by that."
In San Francisco, 25-year-old Denis Geary Lopez organized the local protest to take place this afternoon. Lopez told me the silver lining of President Trump's election is that it seems to have galvanized a lot of people into action. He said having visible (and vocal) demonstrations in every state shows how concerned Americans are about net neutrality.
"This is politics 101: if you want your member of Congress to feel pressure, the easiest way is to have huge masses of people to demonstrate how displeased they are," Lopez said, adding that he hopes the San Francisco protest will swell particularly big. "San Francisco loves its protests."
Motherboard is empowering people to build community-owned broadband networks . For regular updates, subscribe to this newsletter .
Stories