"That was my introduction to heavy metal. It was also one of the first records about climate change. I promise you." The song in question is The Osmonds' ever-abrasive 1972 smash hit "Crazy Horses." It's a fine enough track made by a handful of Mormons from Utah. What's more interesting, however, is the man speaking about it is Shane Richie, the real, literal Alfie Moon off Eastenders.
So why is Shane Richie walking me down memory lane? The reason is simple: he has recorded a country album. Why? Look, it's 2017 and we eat Double Downs and we're probably going to be nuked into oblivion before Boxing Day and there is no reason whatsoever that there shouldn't be a Shane Richie record comprised of soft-edged country covers that sound a bit like songs by Jason Aldean or Eric Church sung by, you know, Shane Richie.
A Country Soul—of course it's called A Country Soul—is the work of a dying breed. Like Bruce Forsyth and Brian Conley, Richie is an unabashed Great British entertainer. The thing is, not everyone likes entertainers. For the naysayers, an entertainer is an end-of-the-pier jack of all trades, a suited and booted crooner-cum-magician with ideas above their station. Aren't they a bit corny, I suggest, a bit naff; maybe even a smidge smug?
"That's a very British thing," he says. "You get people thinking, 'Hold on, you're a singer, what do you mean you do a game show? You smug bastard!'" The kind of multi-tasking Richie is referring to might go down well in Las Vegas, but here in the UK it marks you out as, well, a bit of a wanker. Especially if you then go on to be a central character in Eastenders for a decade, lighting up sitting rooms across the country.
Over the years, Richie has become a cultural figure unto himself. When I'd told friends I was going to interview him, several of them immediately acted out an imagined account of our meeting—all of which involved sturdy slaps on the back, arms round shoulders, and "HOW YA DOIN' MATE"s. These were, in fact, oddly accurate, as in the west London record label office my back was slapped, shoulders were embraced, and I was greeted with a "HELLOJOSHPLEASURETOMEETYOUIMSHANEJUSTNIPPINGOUTFORAWEEBACKINFIVEMINUTESMAKEYOURSELFATHOMEMATEOKAYLOVELYTOMEETYAFELLA".
Soon after that motormouthed introduction, Richie swaggered back into our meeting room, a whirling olfactory dervish of cigarettes and aftershave. He slid onto and into the sofa, his arms sprawled out, legs tucked under themselves, intense eye contact only broken by the occasional perturbingly long glimpse out onto the Kensington streets below. It's at this point that I remembered the reason why I was actually staring deep into Alfie Moon's eyes: the country record.
When an email first slid into my inbox announcing the imminent arrival of A Country Soul, my heart sank slightly. "Bugger," I mumbled to myself, "Shane's done a Manford." The world didn't particularly need to hear Alfie Moon pulling a Manford. It didn't even need the original Jason Manford in the first place. As we've recently documented on this very site, we are living through a period in which mum-friendly dad tunes occupy the upper echelons of the charts. The soundtrack of our national psyche as we slide towards Brexit is Bradley Walsh covering "Fly Me to the Moon" and Alexander Armstrong's haunting rendition of "Macarthur Park."
But you get the sense that Richie doesn't quite see A Country Soul—his third album, following on from flatly titled 1997 debut The Album, and 2000's Once Around the Sun—belonging to that lineage. "The danger is, I've been roped in and compared to other people with similar profiles. But I do this for a living: it's not a hobby. If the album's a success I'll play gigs with my band. If it's not, I'll play gigs with my band."
Richie's had years to develop this 'go on then' plus a shrug attitude. After all, some people crave attention and know what to do with it when they get it. And Shane Richie is one of those people. It doesn't take a psychoanalyst to see that his upbringing might be responsible for that. The son of an Irish working men's club owner, Richie and his brother grew up in a refuge for victims of domestic abuse. "We had a flat upstairs, and my mum helped run it. The police'd turn up at three in the morning with women—predominately Irish or Asian, occasionally Caribbean—and children," he recalls.
In an act of almost unwitting morale-boosting, an eight-year-old Richie transformed himself into a showman. "I'd dress up, put on Punch and Judy shows in the garden, or host a circus where I was the ringmaster." Encouraged by his mother, Punch and Judy soon developed into impressions of Frank Spencer, Tommy Cooper, and pre-sexual abuse conviction Gary Glitter. The glitzy excess of glam rock made Richie want to swap the back garden for the stage, though. A Top of the Pops sighting of the band Sweet, famous for stompers like "Blockbuster," "The Ballroom Blitz," and "Fox on the Run" gave him a glimpse of a something beyond the everyday. "Unlike Marc Bolan or David Bowie who were beautiful-looking men, Sweet looked like builders with eyeliner on. And I related to that."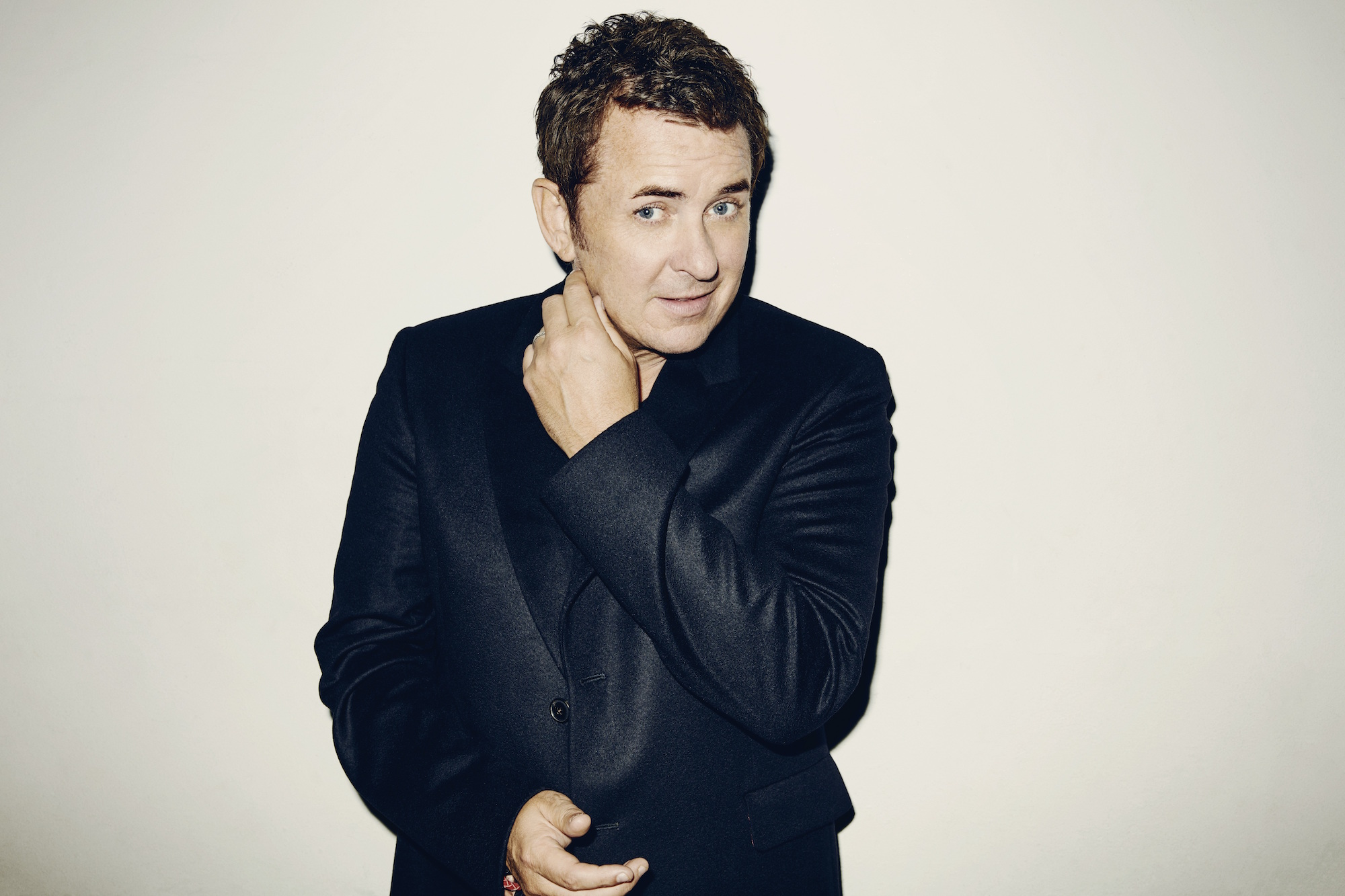 Fast forward through a local youth theatre group, and working in holiday camp bingo halls via stints singing in his dad's many clubs, Richie parlayed all he'd learned as a Pontins Bluecoat into the cut-throat world of TV game shows, where his big break, Lucky Numbers drew in viewers ("Big game show. Biiiiig game show. We were getting nine, ten million on a Friday night"). However it also pissed off the more established stalwarts. "I was in my late twenties and I hosted it with an air of confidence. I remember your Tarrants, your Monkhouses, Noel Edmondses thinking, 'who the fuck is this smug bastard?'" But entertaining has always been Richie's modus operandi. Put simply: the man was born to entertain people and entertaining people however he can seems to be the only thing that interests him.
Now, to the leap between Richie's last album, Once Around The Sun, and this one. For reasons that never came up during our conversation – see also: the wild rumour that he was allegedly lined up to be the support act for the London leg of Michael Jackson's This is It tour – Once Around the Sun has been deleted, removed, nuked from existence. All that remains in public is "Let's Do Sex," a genuinely very odd ditty about lunchtime bunk-ups that sits somewhere between Marvin Gaye and the kind of thing the Turquoise Jeep crew would go on to parody a decade later.
And so A Country Soul feels less like a quick cash-in for the mom market than the work of an entertainer finally old enough to stop caring quite so much about what everyone else is doing. Even if that means singing lines like, "my wife looks hot and the pinot's cold." To be clear, A Country Soul isn't a masterpiece. It isn't going to replace American IV: The Man Comes Around as the sole credible country record in your collection. What it is, however, is one of those totally, utterly average albums that manages to charm you with effort alone. Listen to just how anthemic "Heartache on the Dancefloor" wants to be! Luxuriate in the saccharine squalor of "22 Gardens!" Heed the anti-alcohol warning of "That Bottle Ain't Your Friend!" If you try really, really hard, you can kind of, sort of, maybe hear Kacey Musgraves or Miranda Lambert covering "What Hurts the Most," and that, we should remember, is a compliment. It is music for the Radio 2 C-List. And that's fine. That's preferable to Nick Knowles doing "Every Kinda People."
I finish by asking Richie if he feels frustrated by being lumped in with the Alfie Boes of this world. He claims to understand it, noting that if you're not an Eastenders fan, or happen to be someone less-than-intimately-familiar with his body of work, you might think of A Country Soul as a canny piece of pre-Christmas bandwagon jumping engineered to be lobbed in supermarket trolleys alongside festive fruit and net selections. "I'd get that. Totally." But he'd want people to give the album a fair listen before trashing it.
"If they hear it and go, 'Yeah, this is shit,' I'm fine with that. If they listen and go 'HERE, MARGARET, HAVE A LISTEN TO THIS, IT'S NOT BAD,' I can buy into that. But I am aware of people's perceptions of me. I think to have a career in the business you have to be. There's something in my DNA as a performer that means I want to be liked. You want people to like what you've done." And who knows: in 22 years' time, there may be a musician-turned-actor-turned-musician again who cites an album by a former soap star as a life-changer. "That was my introduction to lite-country," they might say. "Did you know 'Shut Up (Cause All I Want Is You)' was one of the biggest heterosexual marital sex bangers of 2017?"
You can find Josh on Twitter.