'There's a Revolution Happening': The Woman Behind the UK's First 'Black Girl Festival'
Art curator and festival co-founder Nicole Crentsil says it's about time young women of color had a space to call their own.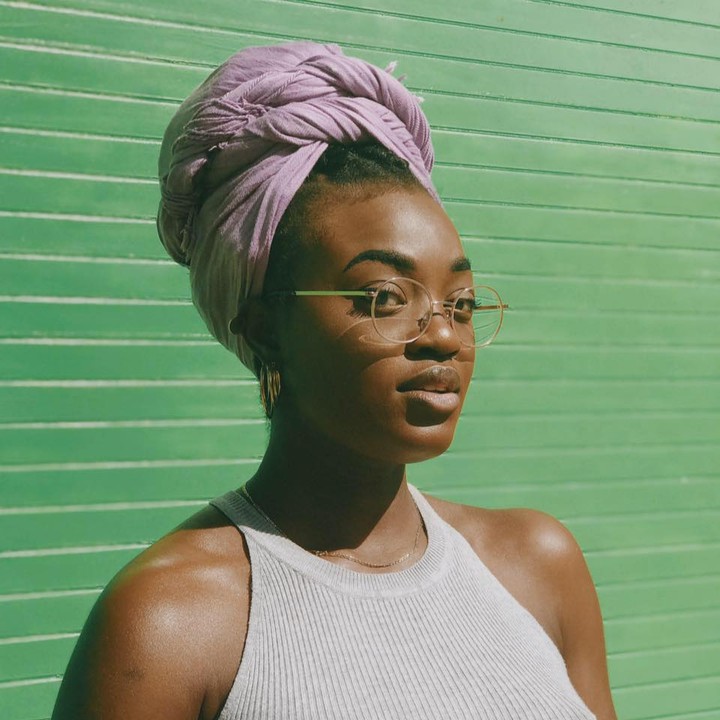 Black Girl Festival co-founder and arts curator Nicole Crentsil. Photo courtesy of subject
Nicole Crentsil was talking to her friend and writer Paula Akpan, when they realized that the UK didn't have a single event that sought to celebrate young black women and gave them a voice.

Crentsil, a tall and thin woman in round glasses, is telling Broadly how the Black Girl Festival—the first of its kind in the UK—came to be.
"We wanted to do something we didn't have growing up," she says.
Crentsil is an arts curator based in London. A TED Talk regular—her last talk explored black British identities through art—she focuses on promoting art created by black women in the UK. This time, she wanted to set up a safe space to empower black women.
"Black women face racism and sexism at the same time," Crentsil says. "But we're still amazing, we're still awesome."
---
Watch: Meet One of America's Only Female Rally Race Car Drivers
---
Crentsil and Akpan launched an online crowdfunding campaign to raise the funds for the event and mobilized the local community. They promoted their event on Twitter, Facebook, and just about every online platform they could think of to make some noise and get people to contribute. In just a few months, their target goal of £6,000 was achieved—with an extra grand to boot.
"With social media, we could do something that would have been impossible back in the 80s," Crentsil says. She was delighted and surprised by the result—she had never guessed that she would be able to fully crowdfund a DIY space for an underserved and underrepresented community.
Read more: 'We Need to Have Our Stories': The Black Girl Gamers Fighting for Inclusion

"I think there's a revolution happening," she says.
Last week, the Black Girl Festival was in full swing in the bougie and now-gentrified neighborhood of Shoreditch.
"We're having some technical issues, so if you have to make a payment, please, make it outside," Crentsil said, climbing on top of a chair in Kachette, the former railway arch-turned-warehouse that served as home to the festival and its market stalls. The next talk, she told everyone, would be delayed by ten minutes.
Dressed in a black shirt and pants, Crentsil spent the day walking through the crowd, welcoming friends and making sure workshops and panels ran on time.
At the market, women roamed through booths selling hair and skin care products, earrings shaped like the African continent, gold necklaces reading "Miss November," posters for Resisdance, a women-led radical DJ organization, and an art zine called Sweet Thang.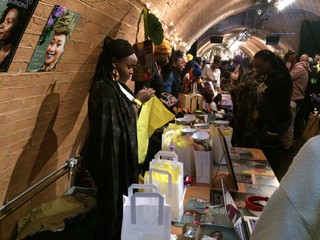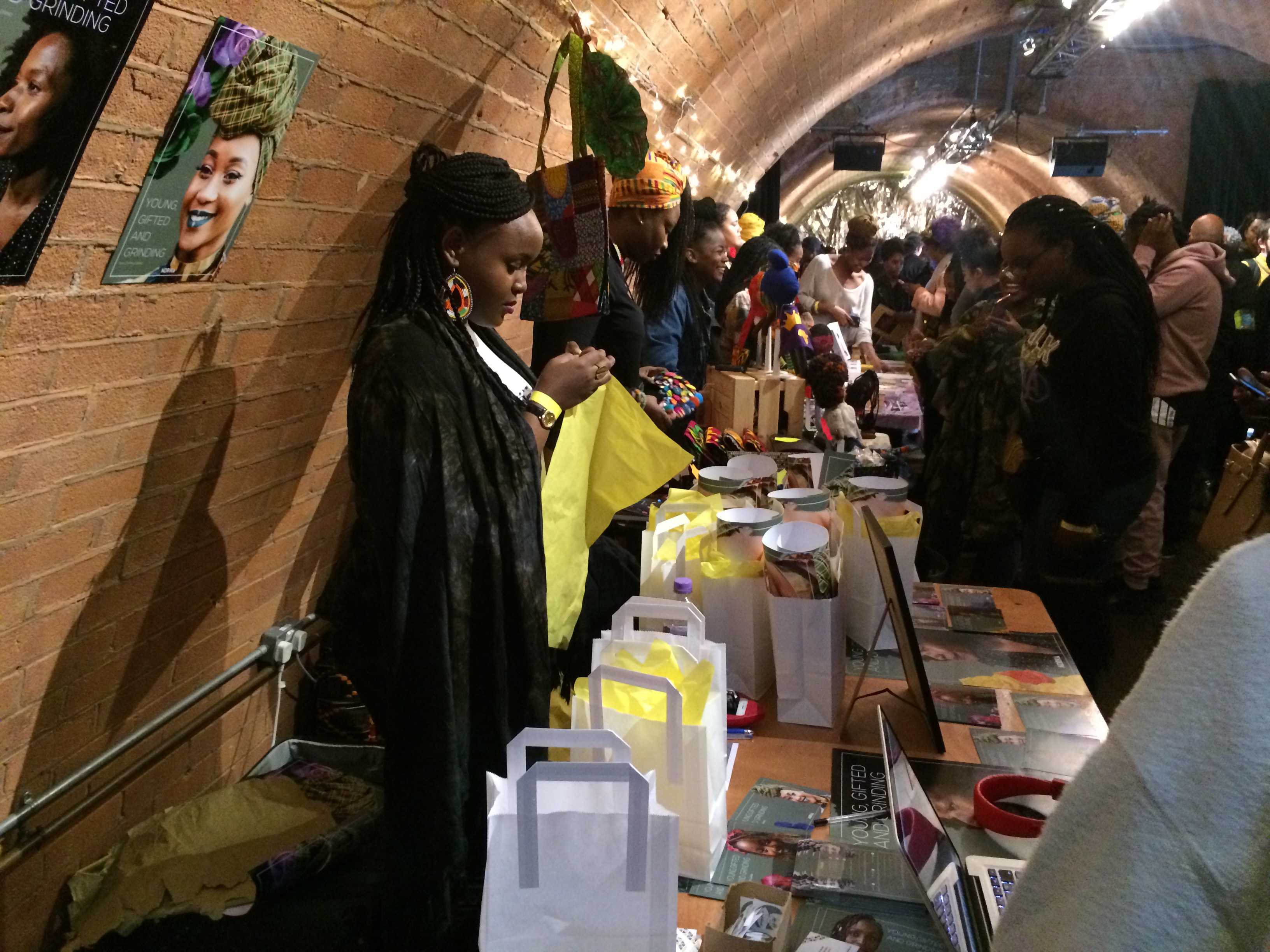 There were children's books featuring black families, promo materials advertising a documentary about black-owned businesses called Young, Gifted and Grinding, stacks of magazines made by black artists, and a T-shirt shop with a poster reading "Melanin Mvmnt."
The event was open to black girls and women of all ages, and the place was alive with young children of no more than six or seven years old, and teenage girls helping out on stalls or spending time with their girlfriends.
A group of four girls with blonde, candy pink, purple, and black hair were taking pictures of each other and posting them on Snapchat, waiting for the panel on black women in the media to start.
A little later in the day, Crentsil made an appearance again, this time in a large, low-ceilinged room designated for the panels. She was introducing the panel on black women in education.
"I'm so happy you all are here," she said into the mic, and did a few dance moves to show her excitement. "But, we are now at capacity, so if you've been around for several hours, please go outside so other people can enjoy the festival."
Outside the space, there was indeed a line of people some 290-foot long patiently waiting their turn to walk through the doors. By the end of the day, Crentsil later estimated, over 4,000 people had attended the festival.
Beyond the color and cheerfulness of the food stalls and fashion booths, there was a real sense of concern from the event's panelists and organizers about the position of black women in today's Britain.
"Here [in the UK] we don't talk about race. But racism happens every day," Crentsil tells Broadly. "When does it stop? When I stop being black?"
Crentsil says that there's a lack of dialogue about racism in the UK—and she hopes that the event might have helped open up a crucial space to talk.
"We can't stop existing. We need to talk about our experiences as black women."
On the panels, speakers broached issues of online bullying and bullying at school, discrimination, cultural appropriation, and the difficulties of making it in all-white and male-dominated industries.
Sixteen-year-old Tekisha Henry, speaking at the panel on education, made the point that black women are constantly asked to be strong.
"We need to be able to cry," said Henry, who talked about a teacher who wouldn't believe she was being bullied at school.
Henry said girls are seen as the "rebel black girl" at school or as the "angry black woman" at work and are asked to live up to impossible standards.
Despite the seriousness of the topics, panelists were quick to dispense advice on how to deal with stressful situations and the pains of everyday racism.
Most of all, there was a sense of safety and comfort in an all-black-female space. "It's not often that we get a space where we can feel good about ourselves," UK Black Pride Executive Director Phyll Opoku-Gyimah told the audience on a panel about black women in media.
For More Stories Like This, Sign Up for Our Newsletter
Crentsil says she is hoping to make this event an annual event and is open to the idea of developing the concept in other cities across the UK. She said she is also looking for new ideas to collaborate with artists in London.

"We can't stop existing," Crentsil says. "We need to talk about our experiences as black women."
Crentsil is hosting a TEDxUCLWomen Talk in London this Sunday. You can buy tickets here.
Stories