New Orleans Is Bubbling Over
A young collective called the Pink Room Project is pushing the city's musical legacy into the future, catching the eye of Solange in the process.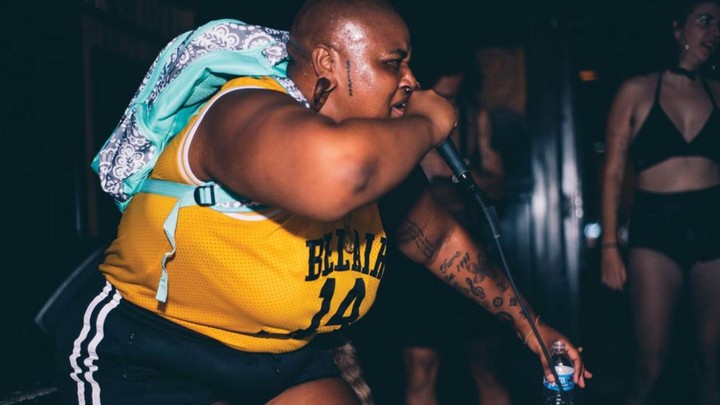 Rapper Delish da Goddess, who collaborates with the Pink Room Project's Cavalier and Ares, performs at the Ace Hotel downtown.
This story appears in VICE magazine and Noisey's 2017 Music Issue. Click HERE to subscribe to VICE magazine.
Blunt smoke clouded the front yard of a house in New Orleans as young folks dressed in Juvenile tour tees and health-goth looks spilled out onto the sidewalk and street, snapping group photos for Instagram. It was a breezy August night, and about 300 people had descended on a corner house in the Seventh Ward to see the show going on inside. It seemed like the type of scene—loud, majority black crowd, late at night—that the police would shut down, but people I met assured me that I shouldn't worry about cops coming to this part of town.
"You ain't seen NOPD not one time," a short, dreaded dude said to me while we traded pulls of a blunt. "They down the quarters. You see who down there?"
He was referring to the French Quarter, the city's oldest neighborhood and biggest tourist attraction, where every two doors you can find a ridiculously strong daiquiri or a po' boy sandwich. "That's that bullshit," he told me with a stoned smile. "This the real New Orleans."
Continue reading on Noisey.