On Saturday, when UFC women's bantamweight champion Amanda Nunes fights Valentina Shevchenko, it marks the first time since 2011 that a title fight in MMA's premiere women's division hasn't featured either Ronda Rousey or Miesha Tate. (Hat tip to Reddit MMA for pointing that out.) That's not meaningless trivia: it's a sign of transformation.
Once upon a time, the UFC's interest in women's MMA was only theoretical and limited to one-off attractions featuring Gina Carano and Fighter TBA. Now, the promotion is gearing up for the addition of women's flyweight and a reboot of women's featherweight, bringing its divisional grand total to four. In between, there was the Rousey-Tate rivalry, born of acid-tongued acrimony during the final months of Strikeforce and sustained on The Ultimate Fighter, the first season to cast beyond men after the UFC added a women's bantamweight division in 2013. As one-sided as the Tate-Rousey feud was—Tate, who earned her title by beating Holly Holm, lost both Rousey bouts by armbar—it provided a running narrative, a point of relativity for everything else that happened in a young division that grew up on the strength of two oil-and-water personalities.
Now Nunes, who beat both of them in just over four combined minutes, has to craft a new narrative in a division where Tate and Rousey are both either officially or effectively retired. If she beats Shevchenko, as she did in March 2016, she'll bring stability to women's bantamweight. If she loses to Shevchenko, the marquee division in women's MMA will seem more adrift than ever—a little like a shrunk-down, feminized version of heavyweight, where haymaker-induced havoc is the rule. This is nothing new. Back when four different women held the 135-pound belt in the span of eight months, the best argument for giving Rousey an immediate title shot after a year on the sidelines was that her years of dominance looked even more impressive in light of how chaotic the division could be.
Then Nunes knocked her out in 48 seconds last December at UFC 207, becoming the only UFC women's bantamweight besides Rousey to have successfully defended the belt. Nunes starts fast, her boxing is precise and powerful, she has a jiu-jitsu black belt, and she trains alongside some of the best in her sport at American Top Team. And while she doesn't have Rousey's cinematic backstory, Nunes has texture: she's an openly gay champion—a fact that goes acknowledged but unexploited, as it should—and she managed to cut through the noise by donning a lion mask at the UFC 207 weigh-ins.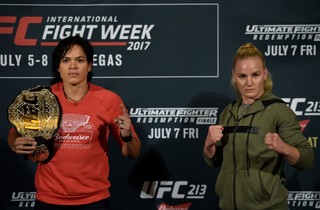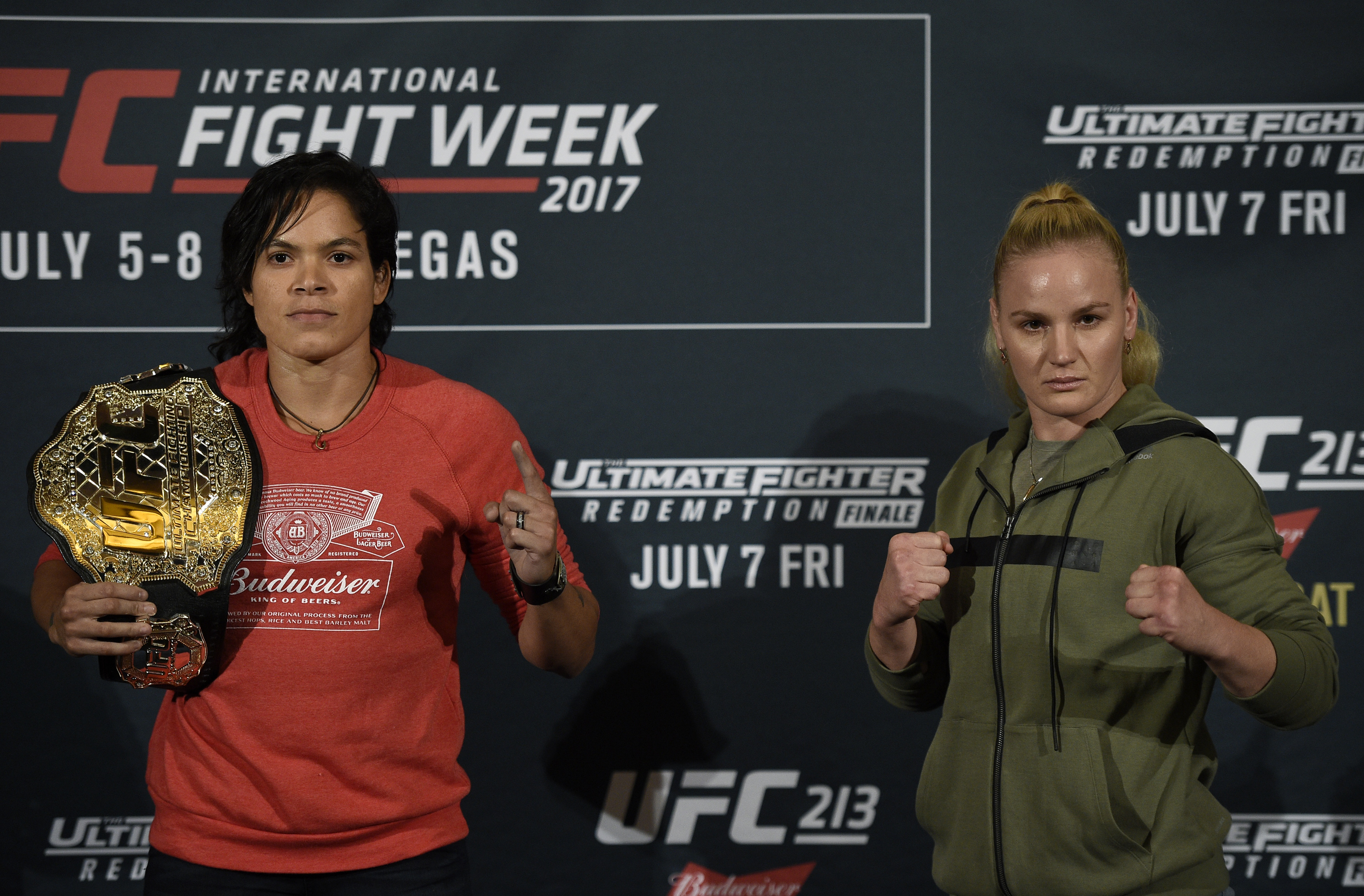 Whether Nunes wins again isn't assured. Shevchenko excels in countering and clinching, and since she's four fights into her UFC career, she can dole out surprises like the armbar she caught off her back against Julianna Peña in January. And by the third round of their first meeting, Shevchenko was revving up while Nunes was slowing down. Sucking wind as the fight wears on has hindered Nunes before—namely, in her last loss, a TKO to Cat Zingano three years ago. Shevchenko, meanwhile, dominated a cautious, five-round fight with former champion Holm.
So what's at stake when in a rematch for a title? If Nunes wins, will she have demonstrated the balance of dominance, vulnerability, and charisma that makes her the first great champion of the post-Rousey-versus-Tate era? If Shevchenko wins, does it announce a new round of the chaos we saw in late 2015 and early 2016, where the belt gets passed around like a hot potato and the champion's name changes every few weeks?
Whatever the outcome of the first post-Rousey-post-Tate title fight, the UFC's marquee women's division will survive. UFC 213's main event is for a belt and all the money and honor attached to it—the usual stakes, not ones where the fate of an entire sub-genre of MMA is on the line as it might have been years ago. And consider where the main eventers were in months before: Nunes has headlined two million-selling pay-per-views, and Shevchenko main-evented two UFC on Fox cards. While UFC 213 pales compared to UFC 214 and its three bona fide title fights later this month, it's still a coveted spot on the promotion's calendar and the culmination of a week's worth of festivities in Vegas. With Nunes-Shevchenko, the UFC's personality-driven dalliance in women's MMA has given way to something else: seeing it prosper after its pioneers move on.