Lamberts Point is a small neighborhood in Norfolk, Virginia with a population made up primarily of working-class people of color. They say they have suffered the effects of toxic dust from a nearby coal shipping facility operated by major railway transit company, Norfolk Southern.
Now, after decades of enduring air-tainted by coal pollution, the people of Lamberts Point are calling foul on the company.
New Virginia Majority is a state-based social justice organization that aims to transform Virginia by organizing communities of color, women, working people, LGBTs, youth and progressive people, according to their mission statement. Members of New Virginia Majority are helping residents take action by holding regular meetings and community discussions to educate people about the dangers of coal dust in their air and empowering them to fight back.
The demographics in Lamberts Point indicate a community that hasn't been able to advocate for itself due to residents' marginalized status in terms of race and class. According to statistics from online database City-Data, the majority of the population is black, the median income for multiple households is under $30,000 per year and at least 40 percent of residents live below the poverty line in certain areas.
The quality of life for the people living in areas polluted by the coal dust has been dramatically affected by the contaminants from the coal facility. Residents have noted respiratory issues as causes of death for people that have never or rarely ever smoked. Also, according to New Virginia Majority, people in the neighborhood say that they're experiencing more severe symptoms of asthma as well.
"Most times, communities of color are less aggressive or at least less successful at preventing and fighting against toxic facilities in their environment."
"People of color are often impacted first and worst by pollution and climate change, but environmentalist groups have not elevated that narrative," New Virginia Majority Climate Justice Organizer, Lafeetah Byrum told VICE Impact.
---
Watch some more video on VICE Impact:

---
Climate justice is one of the foundational building blocks for New Virginia Majority. It's the ethos that climate change must be addressed as an economic and political issue and not just an environmental concern. Even though environmental issues are everyone's problem, people of color and low-income populations are often hit the hardest by the effects of pollution, toxic air and rising temperatures and issues like economic inequality, race, and workers rights must be part of the conversation. New Virginia Majority feels that the residents of Lamberts Point are at the intersection of a civil rights and environmental debate on the impact of industry on human health.

"We became involved in the issue after noticing that a clear black narrative around the air quality, and public health at Lamberts Point was missing from the discussion," Byrum said. "The community is rich in history and has undergone so much change and gentrification over the past few decades that we saw the need to lift up those voices."
Jasmine Leeward, Communications Associate for New Virginia Majority, also stated that race is a major factor at play in the Lambert Point community's fight with Norfolk Southern.
"Most times, communities of color are less aggressive or at least less successful at preventing and fighting against toxic facilities in their environment," Leeward told VICE Impact. " Majority white, home-owning neighborhoods often manage to successfully push back against toxic practices."
"The community is rich in history and has undergone so much change and gentrification over the past few decades, that we saw the need to lift up those voices."
On their website, the Virginia Chapter of the environmental group the Sierra Club reports an estimate that 90,000 pounds of dust escape from Norfolk Southern's rail cars annually. The solution that residents and New Virginia Majority have offered to is to cover rail cars and dumpers, which they say the company has refused to do because it's too expensive.
Bill Hayden, a spokesperson from the Virginia Department of Environmental Quality (DEQ), told VICE Impact that when DEQ receives complaints about air pollution, the agency first sends an inspector to the location to determine whether Virginia regulations for controlling air pollution are being followed. However if the regulation aren't adhered to, there isn't much that agency can do legally.
"If they are not being followed, DEQ would investigate further to help determine the source and type of pollution and what type of control measure would be appropriate," Hayden said.
According to Hayden DEQ is aware of concerns about air quality in the Lambert's Point area and other locations where coal piles exist.
"DEQ frequently evaluates these sites to ensure that regulations are being followed. For the most part, they are," Hayden added. "DEQ also has worked with the railroad companies to voluntarily find new ways to control coal dust, such as dust suppression methods and use of covers on coal piles
In May, New Virginia Majority members led a rally outside of the site of Norfolk Southern's shareholder meeting to mobilize residents against what they feel is environmental negligence following multiple attempts to reach a solution with the company.
"New Virginia Majority has sent two letters signed by the community requesting a meeting [Norfolk Southern] CEO James Squires and have received what can only be read as a refusal and excuse letter from his office," Leeward said.
Leeward added, "We have launched a "Where Is Squires campaign to increase public pressure."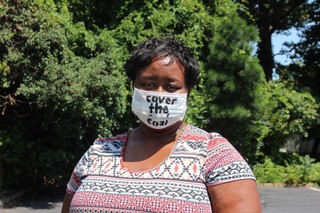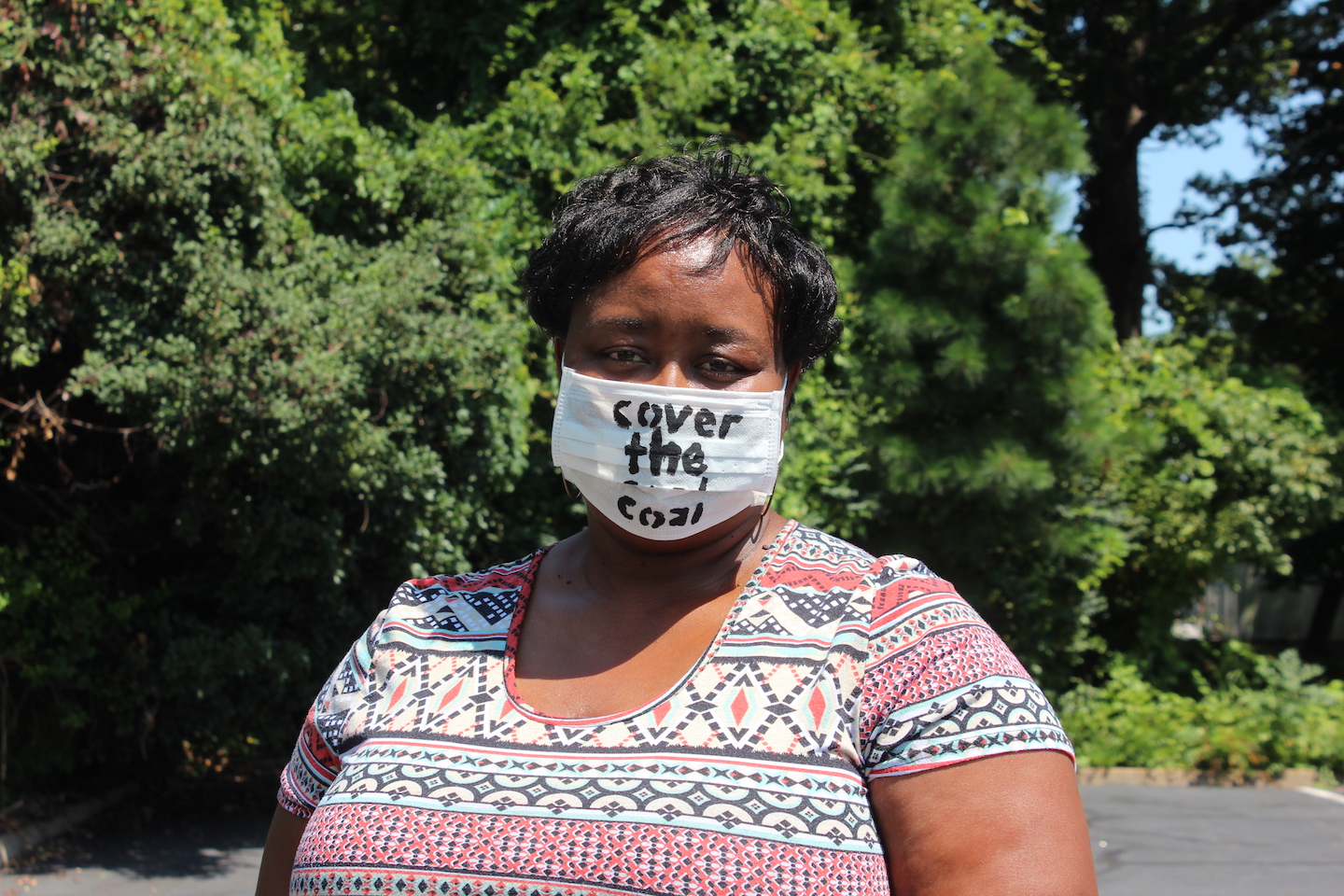 Norfolk Southern says that their company has acted within the environmental regulations set by the government and have complied with due diligence.
"Norfolk Southern has conducted numerous studies on the amount of dust that may be generated at Lamberts Point," Susan Terpay, Norfolk Southern Director Public Relations told VICE Impact. "The results of these studies have consistently shown that any dust from Lamberts Point is well within EPA and OSHA [Occupational Safety and Health Administration] standards and does not pose a threat to the neighboring communities."
According to Terpay, the company has taken "great strides throughout the years to greatly minimize the dust from its operations, including installing a sprinkler system that sprays each car with water as it is dumped to the conveyor belts."
The activists of New Virginia Majority feel differently about the company's efforts and are asking supporters to sign a petition to demand that Norfolk Southern CEO, James Squires, meets with the community to implement a better solution for dealing with the toxic dust.
Read more: Activist Movement Exposes Link Between Gentrification and Climate Change
Politically, the entire state of Virginia is poised to elect a new governor and lieutenant general governor who could both have stronger platforms on environmental policies and regulations. If you're a Virginia resident, the deadline for voter registration is Monday, October 16. So far, Democratic candidate, Ralph Northam, has come out strongly in opposition to President Trump's attempts to weaken environmental protections and has made the environment a major issue for his campaign.
Republican candidate Ed Gillespie noted a clean energy and innovation initiative in his bid for office. However, on Gillespie's campaign site he says he's in a favor of natural gas pipelines and critical of current governor Terry McAuliffe's Clean Power Plan for reducing carbon emissions. Libertarian Cliff Hyra-- the youngest of the three gubernatorial candidates-- mentions on his campaign page that he is opposed to the government taking private land for pipelines to benefit private companies.
Decisions made at the state and local level, could have a huge impact on small communities like the residents of Lamberts Point. No matter where you live or which side of the aisle you're on, make sure you're registered to vote so that you can have a voice in shaping legislation that may affect you or your neighbors. If you're not registered to vote here's how you can get started today.