Olayami Dabls in front of a mural outside his museum. Photo by Felicia Tolbert
In the 1980s in Detroit, Olayami Dabls started collecting African beads from artisans at local craft fairs. As the African-American artist and curator's collection grew, his vision of what to do with them evolved. "I started collecting beads because I thought they were used for adornment, but to my surprise they were never used for adornment," Dabls explained.
African beads, according to Dabls, are traditionally used to communicate specific information about a particular culture and its history, mark a rite of passage, or indicate the wearer's wealth. "The vendors would say some of the beads were two and three hundred years old," he said. "What were the stories of these beads? I wanted to know, and I knew that I needed to show these beads in such a way that other people could see and appreciate their richness and the African history that went along with them."
In 2002, he opened the Dabls MBad African Bead Museum, which spans an entire neighborhood block in Detroit. From the outside, the museum feels like a work of outsider art. Eighteen elaborate mosaics and murals cover the facade of Dabls's century-old row house and the surrounding buildings. A yard out back is filled with sculptures that echo the same collaged aesthetic. Inside the museum, hundreds of beads are catalogued in glass jars. The collection and the murals together seek to connect African identities, histories, and rituals to the black American experience.
The Middle Passage Fence is a colorful installation that abstractly alludes to the slave trade that brought Africans to the Americas. The African Language Wall features 25 of the continent's languages painted in red, yellow, orange, and black, alluding to Africa's diversity and the multiplicity of the African-American experience. A large mosaic mural on the side of the museum, featuring color-blocked geometric shapes and symbols, according to Dabls, "honors the lives of African women from enslavement to colonization."
Dabls was born in Canton, Mississippi, in 1948, but his family moved to Detroit in the 60s. "The mission of the museum is mainly to preserve an aspect of recorded history as it relates, primarily, to African people," he said. "We are trying to make beads available for everyone in the community, because what has become quite clear to me over the years is that the strongest way to communicate history is to allow people to talk about their own particular culture." He believes beads tell a story about black identity and history that connects communities in places like Detroit to the African continent.
I spoke with Dabls recently about the future of Detroit, how art can empower a community, and what it meant to establish the first and only African bead museum in America.
VICE: What kinds of stories about black identity and history are you trying to tell with the beads and installations?
Dabls: When I first started, I had a major obstacle. How could I create something that would be representative of African culture and not be contrived? I figured it out. I decided to use these materials and define what it is these materials become. I empower these materials—the wood, iron, rock, and beads—to be what they are, and that's how people perceive them. The installations represent metaphors that deal with specific events that occurred between Africans and Europeans over the last 500 years. For instance, there's one out there that's called Iron Teaching Rocks Table Manners. I used Rocks and Iron as specific characters. Iron is teaching Rocks how to rust. Now, rust is a state of deterioration. So, if Iron is teaching Rock how to rust, what exactly is going on there? If you mimic or assimilate to someone else's culture, then your own culture deteriorates. And rust is a state of deterioration.
There's a cake on the table in that scene. What does that represent?
Iron is teaching Rock table manners. What exactly is involved in table manners? Well, in order to teach someone table manners, you also have to teach them language. Table manners normally represents the best that a particular culture has to offer. I see table manners as art, dance, and music. So if I'm teaching you table manners, it means I'm also teaching you what art is, I'm teaching you what dance is, I'm teaching you what the edicts are of a culture.
Why was it important to use the public art to create messages for the community?
When I was a very young person in the 1980s, I used to take women on what I'd call a "cheap date," where we would visit different ethnic neighborhoods in the city. There were Polish, Italian, German, Greek, Mexican, and Islamic communities, and it always fascinated me how those communities exhibited and displayed their own cultures. I noticed that there was no African representation in the city. In a city that is over 80 percent African-American people, there was no culture that was on display in public space. So the art outside of the museum exhibits some of the cultural pride of African people, and I decided I would show the very divisive history between Africans and Europeans.
---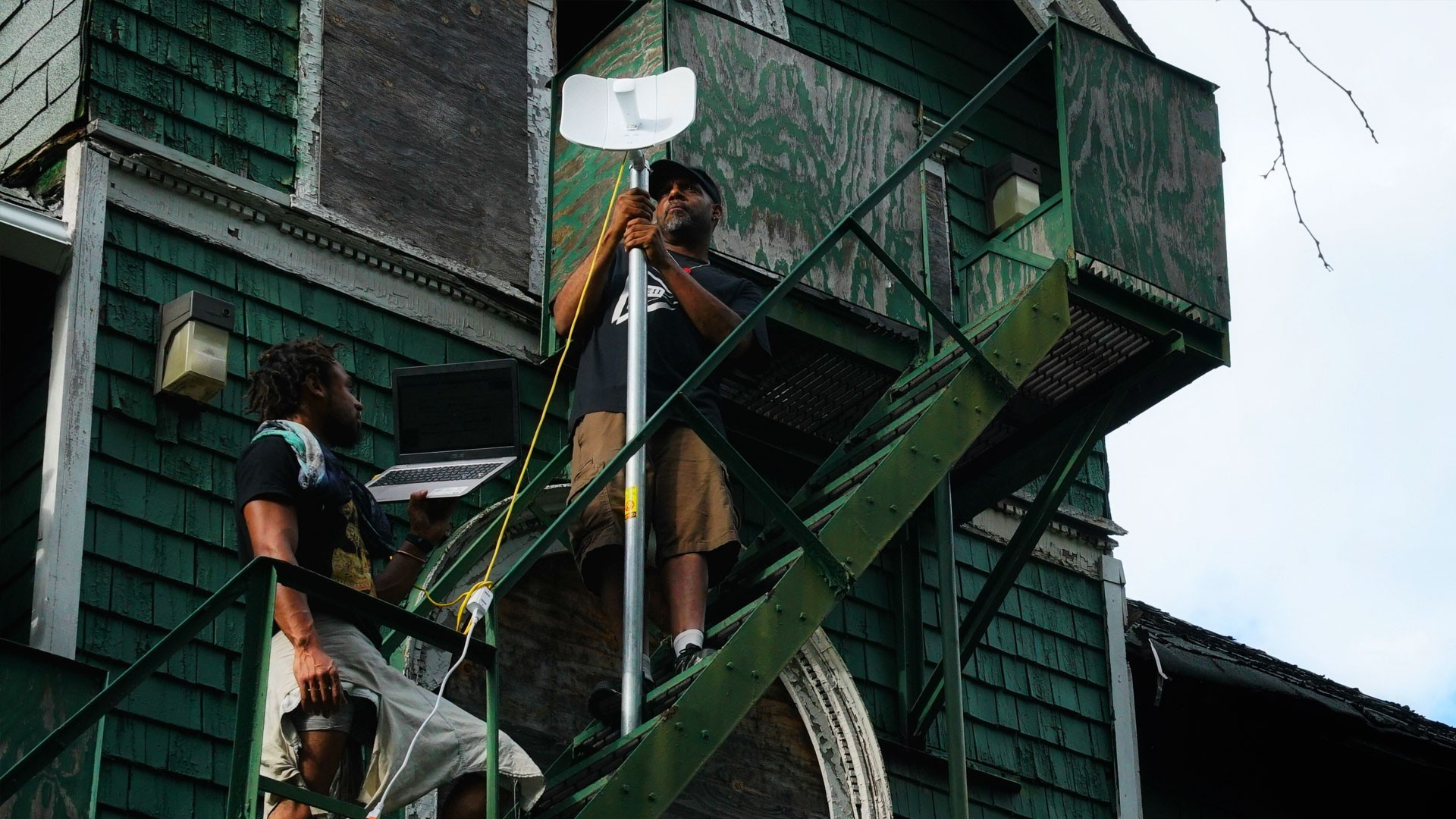 ---
As Detroit has changed, why has it been important to maintain a community museum?
The first museum I worked with was in the community. So, when I wanted to make a museum, I came back to the community with a hope that if I opened this museum with an African emphasis, it would be embraced and accepted. Art has always been in the community long before it was put in museums. So that's only a natural course of action to have the art available in the community, and the community to respond to it.
Did your art change once you discovered African beads as a material?
Yes. I trained at Wayne State as a painter in a program with a Western approach to art. One thing I was taught was: You don't give your art away. But then when I came to the community to put my stuff up, it was a greater reward when strangers would walk up to me and just engage me, which is an artform in itself. Normally people stay to themselves and keep their distance, but people began to just talk to me as though they knew me, because my art kind of had made the place more palatable and made them feel more comfortable. If I hadn't started giving my art away, I wouldn't know that.
When did you start making art?
Well, when I began working at the museum, all the pictures and documents that dealt with that whole movement, they are by the photographer, the newspaper, the publishing company. So I had to create my own images. So I began to use my art to tell the story that I wanted to tell about those points in time. Being an artist has showed me that artists are the documenters of the present and the past, so that information can be viewed for decades in the future.
Do you have an African bead that is personally most important?
Yeah, normally the bead that I deem to be most important is the one I just sold. [Laughs] But all these beads have reasons for being, and because they were connected to a particular culture, they all are valuable. The value is not necessarily that one is better than another, but the value is in their depictions of the cultures from which they came.
Has the shifting nature of Detroit impacted the museum's mission?
The city is going through growing pains, and that growth doesn't necessarily include the people who I'm in contact with all the time. I think what we are doing here in this community, as the city changes, is more important than it was when [the museum] first started. This museum and its art represent a community, a culture of the people that really have been here a long time who built this city. I've felt reassured for a long time that wherever the city of Detroit goes, that I am a part of it because I am here representing the culture of African people.
Sign up for our newsletter to get the best of VICE delivered to your inbox daily.
Follow Antwaun Sargent on Instagram.