Easy Karaage Recipe
Some of the best and simplest gluten-free fried chicken you'll ever make.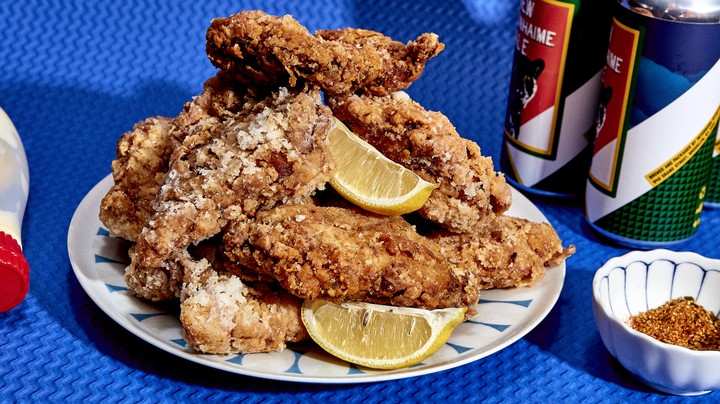 Photo by Heami Lee
Servings: 8
Prep: 10 minutes
Total: 3 1/2 hours (3 hours marinating)
Ingredients
¾ ounce|24 grams ginger, minced
¾ cup|175 ml sake
¾ cup|175 ml soy sauce
3 tablespoon togarashi, divided
2 garlic cloves
juice of 1 lime
8 boneless, skin-on chicken legs (about 2 ½ pounds|1.2 kg)
canola oil for frying
2 cups|296 grams potato starch
1 cup|250 ml kewpie mayo
1 kobosu or yuzu
Directions
1. In a large bowl, mix the ginger, sake, soy sauce, 2 tablespoons tablespoons togarashi, the garlic, and lime juice. Add the chicken thighs and toss to coat. Cover and refrigerate for 3 hours.
2. Heat 2-inches oil in a large saucepan until a deep-fry thermometer reaches 350°F.
3. Place potato starch in a large dish. Working in batches, coat the chicken in the potato starch, shaking off any excess. Fry until golden, 4 to 5 minutes. Transfer to a paper towel-lined plate and zest the kobosu over the top. Serve with kewpie mayonnaise sprinkled with remaining togarashi.