Stream sir Was' Existential Dread-Filled Debut, 'Digging a Tunnel'
Gothenburg producer Joel Wästberg talks about his process and how a stamp of approval from Stones Throw label boss Peanut Butter Wolf helped push his new album.
The only person who has kept Joel Wästberg from success is Wästberg himself. The Swedish born multi-instrumentalist had been toying with the idea of going solo for quite some time—he has played drums with both Junip and Jose Gonzalez—before the creeping fear of failure comes to ruin his plans, again and again. This pattern has consistently repeated, until now. Wästberg, who records under the name sir Was, is finally set to release his debut. Digging a Tunnel is out March 10 on City Slang Records, but you can hear it right now, streaming below on Noisey ahead of its release.
It wasn't until Wästberg departed for South Africa on a collegiate exchange program that he discovered a whispering internal monologue, edging him towards songwriting. Even when he managed to write his own music, he was hesitant to show it to anyone. The impetus behind this resistance? Fear. Fear can be the catalyst for great art, yet it can also cripple the most confident creators into permanent stasis. Wästberg tells us, "I've always been so scared of failure. I'm so scared of being mediocre." Having been shattered by this existential dread for long enough, Wästberg began creating his own music in 2014. He says, "I couldn't wait any longer. The only thing I'd regret is that I didn't even try. I decided to make an EP."
After playing some demos for Stones Throw label boss Peanut Butter Wolf—who subsequently gave it the stamp of approval and expressed interest in signing sir Was—Wästberg took his music to Berlin-based City Slang Records, who put out his debut EP last summer (Noisey premiered the stream). Less than a year later, Wästberg puts forth his first LP, no longer afraid of failure because, well, the album is great. Blending cLOUDDEAD's loose-grip rap prose with dusty samples and earworm melodies, Digging a Tunnel is eclectic yet cohesive, the sound of an artist grappling with inspiration in live time.
When we ask Wästberg about the album's title, the answer is sardonic and silly and distinctively Scandinavian. "It's just me digging myself out of my own asshole," he says. Fair enough. Now that he's emerged from the darkest crevice of his own behind, Wästberg appears to be here for the long term. If Digging a Tunnel is any indication, Wästberg owes it to himself to make a lot of music he was once too afraid to create.
How did you end up in South Africa to continue your studies?
It was an exchange program going on between the university in Gothenburg and the school in South Africa. I didn't really have to do anything when I got there because I had already graduated from Gothenburg University. It was insane because I could do whatever I wanted. I was 26 when I went there. Since a lot of the students are much younger, I got to play with teachers and stuff like that. I had been playing the saxophone for over 10 years at that point, so I was fairly skilled. I got to fill in for teachers sometimes, but mostly I just did whatever I wanted [laughs ]. I remember I met some dude who wanted to show me Zimbabwe so I just told the university I was leaving for two weeks, and they were like, 'Okay! Have a great time. Just call us when you're back.' I got to go to Johannesburg, Mozambique, it was fantastic. I had no money at that time—well, I still don't have any money—so it was a great way to travel.
I read that you used to practice interviews in the shower. Is this different than you imagined?
Yeah, maybe. Everything's always so different than you imagine it. I'd really just be dreaming of doing something on my own, coming out with something I could feel proud of. It happened, so I think about it pretty much all the time. It's amazing that someone's gonna call me and ask questions about my life and my music. I have to pinch myself. I don't know what's going on, but it's fantastic.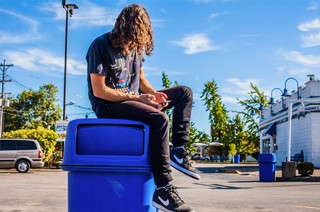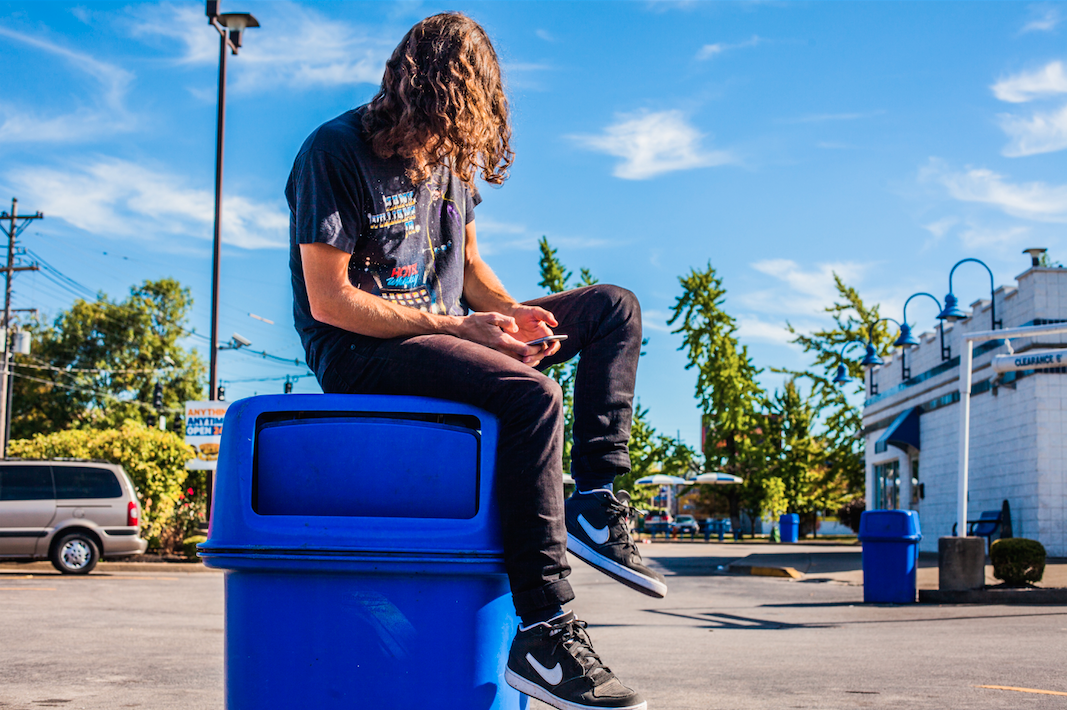 It took you a while to get to a place where you felt comfortable enough releasing your own music. How did you finally overcome that fear?
I came to a point where I was so frustrated with myself. I was working so hard, working on so much stuff, but I was doing it all secretly. I didn't dare show it to anyone. Around 2013, a lot of stuff was going on, and I was like, 'What am I doing?' I was spending so much time on my music, but I still felt like I couldn't...I got so tired of it. I was working so hard, but I couldn't finish anything. I closed down my studio and just started playing with others. Finally, I realized I just had to do my own stuff. It's what I love to do. A couple of months passed, and it was a combination of many things. A lot of things in my life went bad—relationships, money, a living situation, gigs with bands. When you're busy you don't have to think about things. I had a bit more time and I was like, 'What the fuck am I gonna do?' I got to the point where I realized I had a chance to make something. I've always been so scared of failure. I'm so scared of being mediocre. In 2014, I couldn't wait any longer. The only thing I'd regret is that I didn't even try. I decided to make an EP. It turned into an album, and I had decided that I was gonna do it and put it on the internet. If anyone asks, I can show them my stuff. It all of a sudden became a bigger thing. When I approached the end of the album, I started playing it to friends. I was encouraged to put it out on a label, I was like, 'Sure.' But it went pretty fast and someone wanted to put it out. And here I am.
What's the music scene in Gothenburg like?
Gothenburg is fairly small but there are a lot of musicians playing. It's a small city, which is great sometimes and not so great other times. Sometimes you need some fresh air, when you see the same guy at the same bar three nights in a row. You know, 'Is he here again?' But your second thought is, 'Shit, am I here again?' There are a lot of musicians in Sweden that are really great. It's the same everywhere, though. Everybody's got a band.
How big is your band?
It's a 26 piece band so it's pretty hard to book shows. No, there are four of us on stage. Just me and three others. I sing, play the keyboard, and do a little bit of guitar.
The album has a ton of samples on it. What influenced that?
How could I not. It would be so fucking boring if I didn't have the samples. I don't know, maybe it's the hip-hop in me. I love John Cage, too. It's half hip-hop, half artsy-fartsy. It just made sense to me. I just like the sound when you put your headphones on and you play a Madlib beat, something that sounds thick and full...Soil-y, what's the word. If you could see me I'm doing a thing with my fingers where I rub them together. It's a texture.
Gritty?
Yes! Gritty. A physical sensation of the music.
What does the title, Digging a Tunnel, reflect about the process with this album?
It's just me digging myself out of my own asshole [laughs]. It's just digging through my own fears. I hadn't really been thinking of a title for a while, then I realized it could only be that title. Everything else would be— Velvet Sky...I can make anything up. As we spoke about, it's the fear of standing up and saying, 'Hey, I made a song, do you want to hear it?' It took me so many years to do that. How that can be so frightening, I don't know. But apparently, it was. It's me digging a tunnel through my own weird thoughts and finding something beautiful.
Will Schube is a writer based in Texas. Follow him on Twitter.
Stories