If you've played a modern free-to-play game on the PC, chances are you've come across loot drops, which typically dole out random pieces of cosmetic gear to players. It that sounds a lot like pulling a slot machine, you're on the same page as the Chinese government! China passed a law in late 2016 forcing game companies to publish the drop rates for loot drops. Since that law went into effect a few days ago, the mysterious drop rates have started appearing.
The first games to disclose their drop rates have been League of Legends and DOTA 2. Here's what that disclosure ends up looking like for Riot Games' MOBA: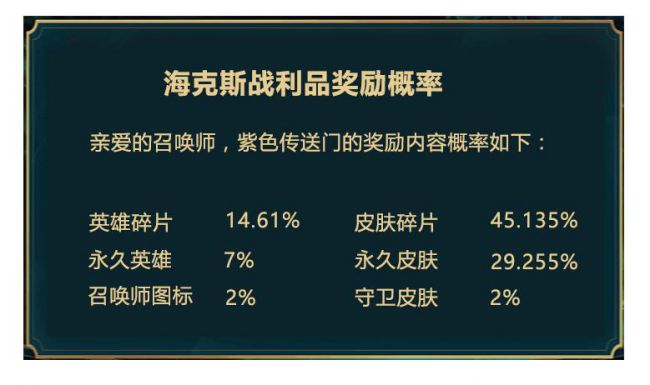 Several Chinese speaking League of Legends fans on the game's subreddit took a crack at translating the image, which Riot Games hasn't released in English:

Hero shards: 14.61%
Skin shards: 45.135%
Permanent Heros: 7%
Permanent Skin: 29.255%
Summoner Icons: 2%
Ward Skins: 2%
And here's the (untranslated) drop rates for DOTA 2.
One thing that's important to note: The drop rates are exclusive to China, so this doesn't tell you anything meaningful about what to expect from loot elsewhere.
The law, as you might expect, only impacts the Chinese version of the game, though it wouldn't be shocking to see pressure for similar practices outside of China, once more people become aware of how loot drops work.
At the moment, though, there's no such movement.
"[China's] Ministry of Culture noted that the online games industry has been developing rapidly over the past few years," said Niko Partners gaming analyst Daniel Ahmad in a blog post last year about the new law, "but that the regulations put into place have not been clear and this has led to a number of online game operators not following the rules that were put in place to protect a user's rights."
One extremely dedicated Overwatch player tried to work out the numbers for that game's loot drops, though Blizzard never publicly commented on the results.
You could argue that not knowing the math driving loot drops is part of the appeal; if you think the next box might contain what you're looking for, you're more willing to give it a shot—and more willing to spend money to get more chances. How player behavior does (or doesn't) change will be fascinating to watch.
Follow Patrick on Twitter. If you have a tip or a story idea, drop him an email here.