The CW Archie adaptation is a damning critique of parental tradition and small town America.
Dean Buscher/The CW
The titular town in Riverdale is built on tradition and the American dream. Most of the characters' parents settled down early, literally and figuratively building the town into a booming economy. Home-grown enterprises handle everything—from the Blossoms and their maple syrup micro-empire to the Andrews' construction company, to the Coopers and the Riverdale Reporter.
It's the ideal portrait of America: pure, red-blooded and hardworking—and where the similarities begin and end when it comes to the relationship between Riverdale and its source material. The CW's modern Archie-verse adaptation reimagines the 70-odd year-old comic for a new generation, using the classic characters and locations to create a construct of small-town America the series then sets about deconstructing. Beginning with the discovery of Jason Blossom's dead body, the show challenges the idyllic façade of small-town America and tells a story of its protagonists trying to avoid being captured by the same social hierarchy and untrustworthy history of their parents.
In the wake of Jason's death, the Blossoms become predatory to protect their company, lineage, and public image. Cheryl, Jason's twin sister, is seen as being too emotional for head of their maple syrup company and not stoic enough (read: not a boy) to lead the family. She speaks at Jason's funeral despite being told not to and slowly begins developing ties of friendship with girls outside her cheerleader circle like Betty and Veronica, all of which makes her a liability. She threatens the rigid social status the family enjoys and the emasculated impression they outwardly employ.
The Blossom family are so cold and toxically patriarchal they'd sooner offer their daughter for marriage than have her lead their company and become head of the family. Cheryl and Jason's father tries to bribe Archie with their privilege, offering him academic and professional security if he were to become Cheryl's "partner" and put himself next in line to become CEO of their maple syrup company.
Betty Cooper's parents are similarly obsessed with perception of their family, to the point of inflicting emotional abuse. Early in the season, Betty's sister, Polly, was thought to be missing until it was revealed that Betty's father, Hal, had her committed to a home for troubled youths after becoming pregnant with Jason's child. Meanwhile, Betty is bullied by her mother, Alice, for wishing to be friends with rich new girl Veronica Lodge and showing Cheryl Blossom some kindness after Jason's death, despite Cheryl not returning the sentiment. Along with desperately wanting the perfect idyllic family portrait a teenage pregnancy would ruin, Betty's parents all but demand her and her sister carry the same resentment they do toward the rich kids that looked down at them when they were younger.
The Coopers and the Blossoms are so consumed with the notion of being a perfect American family that they hold their children to impossibly high standards; they must be perfect, pristine advertisements of their ability to raise a family. They see their children not adhering to their image of them as an attack on their family name and character, and would rather shun them than alter their family values in some way.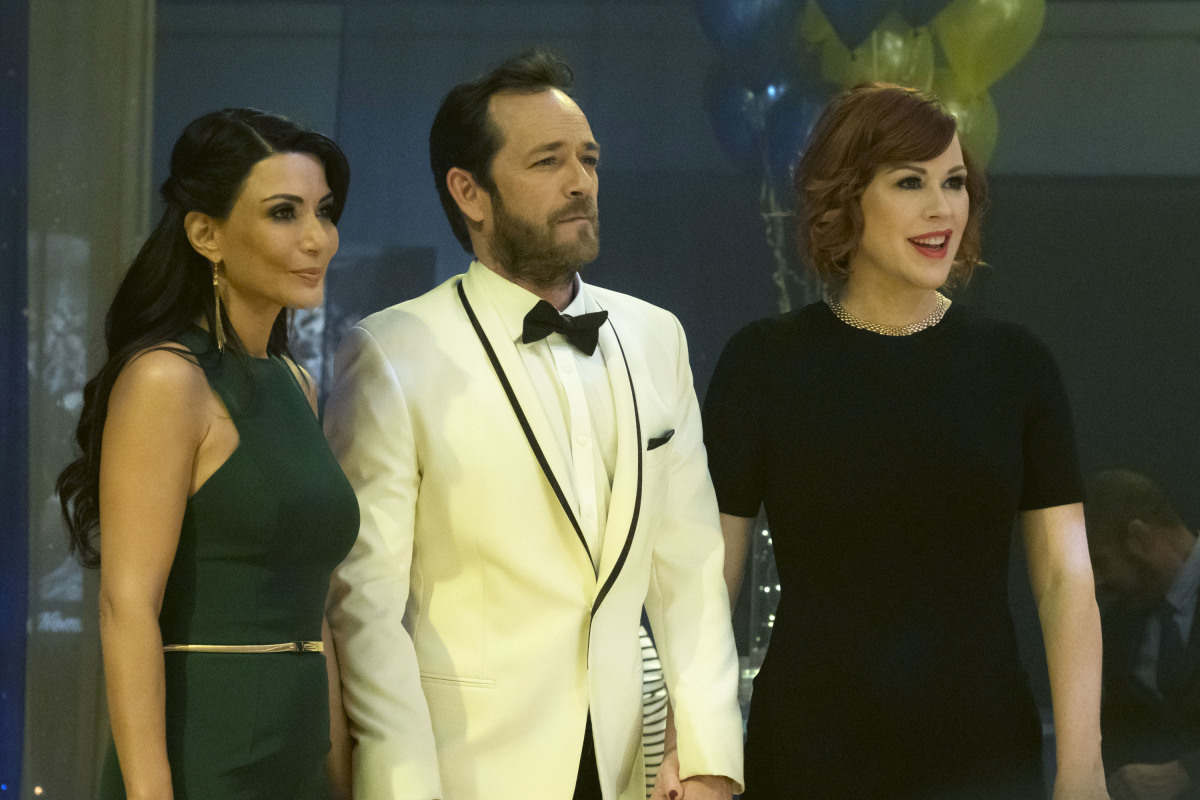 For others, a different kind of shadow looms. Jughead's father, FP, is leader of local biker gang the Serpents and an alcoholic. For Jughead, his struggle is to find some semblance of a stable family life, even becoming willfully homeless to avoid watching his father's compulsive drinking. Meanwhile, Veronica, as well as her mom, Hermione, are consistently coming up against her jailed dad Hiram's dirty dealings—dealings that continue to disrupt the town as Hiram remains behind bars.
Small towns can have a way of trapping people. For Jughead and Veronica, the threat is that they'll never outrun the legacy of their parents. Before it was torn down, Jughead lived in the Riverdale drive-in theater, and now he lives in the unseen epilogue of a true American classic like Rebel Without a Cause, with a deadbeat dad and nowhere else to go. Hiram is the richest man in Riverdale, and his influence was far-reaching, meaning Veronica may have to question every relationship she ever enters to make sure her dad hasn't in some way affected some aspect of the person's life.
Ironically, it's Archie himself who's given the baggage in his family life. His dad comes around to him not wanting to continue to construction business within a couple of episodes and that's that: Archie is pursuing music instead. Archie's dramas are more manufactured, first with his relationship with his school teacher, second with the Blossoms propositioning him. But that's part of the point—Archie's schoolboy fantasy is boring. It's outdated and comes across too broadly simplistic and adolescent. He's too good at everything and has too many obvious ways out.
The compelling narrative of Riverdale is whether or not the rest of the characters can rise above the town and its skeletons. Escaping their parents—that'd be the real fantasy.

Follow Anthony McGlynn on Twitter.