So: You're heading to SXSW. Welcome to Austin! By the time you read this, you will be neck deep in swag, your nostrils filled with the smell of slow-smoking beef brisket, and your belly full of Texas craft beer (or Shiner Bock and Lone Star, if you roll old-school). You will be assailed by many a mook bearing flyers to late-night events you will never want to attend—and most important, you will have been exposed to the great-tailed grackle, the prissy, hilarious, and brash psychedelic blackbird that Texans have such a complex relationship with.
Those of you from more northern climes may think you know grackles, but you don't—not ours, anyway. What you're likely acquainted with are mere common grackles, but we do things big down here, and the great-tailed grackle is an entirely different beast. It's about twice the size of common grackles and is very much at home in urban areas; for Texans, it's a scourge of supermarket parking lots and college campuses, earning nicknames like "taco raptor." The creatures congregate in Hitchcock-like flocks that easily reach the tens of thousands.
They can, on occasion, get downright confrontational over their young and food, and they aren't shy about dive bombing those they perceive to be too close. When dining al fresco in Texas, it's best to keep a close eye on your plate; grackles have been known to steal sugar packets, take them to the nearest puddle or man-made water feature, soak them until they get a paste, and tuck in.
They'll take food right off your plate, too. "I had a grackle steal a french fry and mayonnaise packet from my table when I was sitting outside at Central Market one day," says Austin musician Steven Stubblefield. Former Austinite Mamie Joseph still recalls a certain limping grackle repeatedly hopping on her table at Central Market and helping itself to her fries while looking her in the eye. "It was unsettling," she says. "All my grackle stories involve fries."
"Back in the day, I was hanging at the Posse East, and a kind of bro dude looking guy came out, set his burger down on the bench, and went back inside for a moment," recalls Houston musician Clint "Hydro" Heider. "Grackle flies down, casually flips the bun off the burger and pecks at the innards for a bit, then flies off just before the guy comes back. He angrily looks all around him to try to figure out who messed with his burger, no one says a damn thing, and he goes ahead and eats it."
You've never heard such a cacophony as grackle racket.
Male grackles are about 16 inches long from beak to end of vertically V-shaped tail; they're the purple-black color of deep space or an oil slick. Females are about two thirds that size and sport a more muted chocolate-brown plumage. Dude grackles and lady grackles tend not to hang out much—except during mating season, when the males put on one of North American avian life's most amusing displays: They strut, preen, hulk, skulk, and bunch up their feathers to look more buff. Texas real estate developer Bob Schulz was amazed by their Mick Jagger–esque strutting and their "music," which he characterizes as "guttural exploding popcorn ending in a preposterous elevating tweet." "It took me a bit to realize that was his 'Check out how sexy / I'm the one for you' dance. Still makes me laugh every time."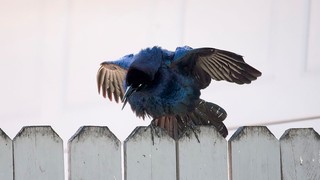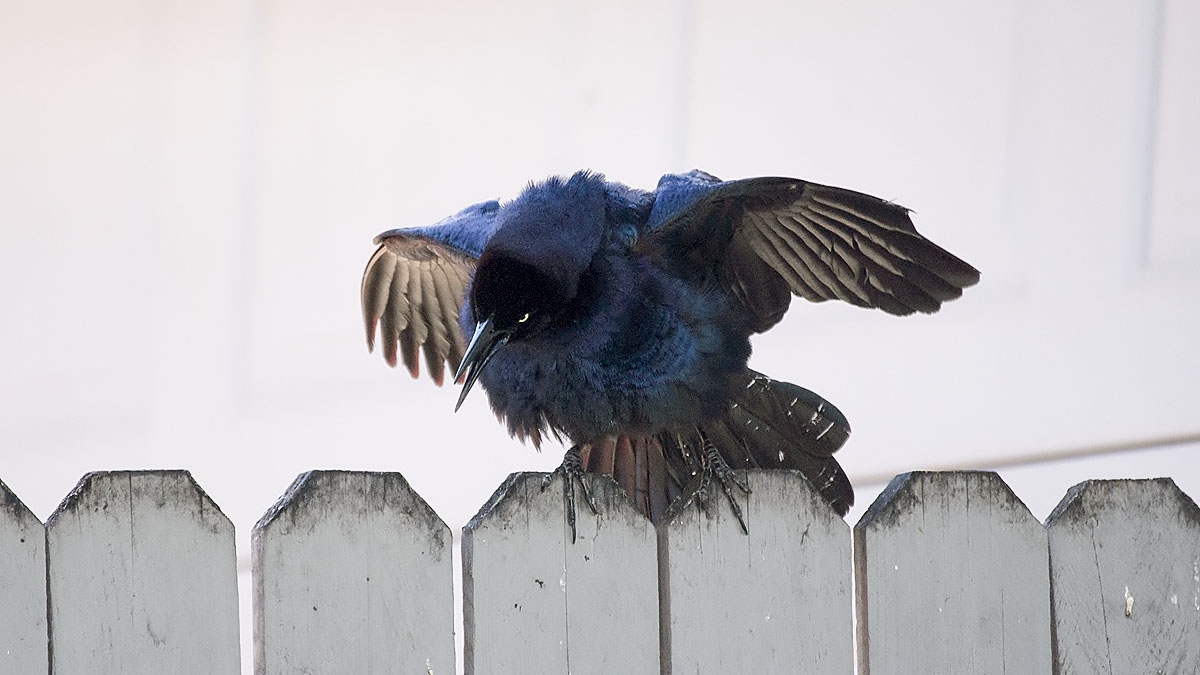 And if the male grackles think that macho shit isn't getting them where they need to go, they stop, elevate their noses in the air, unpuff their chests, and strike a pose worthy of a sleek Brancusi sculpture.

And the noise—good lord, the noise. Especially at night. You've never heard such a cacophony as grackle racket: From lewd whistles to robotic clicks to TV static-like nose-clearing snot explosions to actually pretty liquidy warbling whistles—the great-tailed grackle rocks them all, especially when you're trying to sleep.
And wherever they take a shit will make you want to hurl. They're not exactly the most fastidious eaters—they devour everything from every manner of insect to other birds (and their eggs) to whatever they can scavenge from parking lots and garbage cans—and you don't want that stuff coming out the other end of those birds and on to your car. Since they're flock birds, we're not just talking a splotch or two: After a decent-size grackle baptism, you might have a hard time recognizing your ride.
"If you see some 'whitewash' on the street under a tree, you might want to park somewhere else," says Richard Gibbons, conservation director at the Houston Audubon Society. "Unless you are in a rental, and in that case, who cares? And isn't everyone in a rental at South By, anyway?"
As with the breakfast taco, Austin likes to think it invented the grackle; because it's the first place many tourists meet it at, that story has started to become official, as the city has adopted it like no other. Before it made the Riverbat its official mascot, students of Austin Community College were known as grackles. A hipster bar bears the name of the noble bird, even though it uses a picture of the wrong (common) grackle instead of the big-city grackle on its Facebook page. (C'mon Grackle Bar! If you want to be ironic, at least square your ornithology away!). And Austin grackles have their own Yelp page. (Two-and-a-half stars, pretty evenly divided between haters and fans.)
But Austin didn't invent the grackle, which has been in Texas a long time (despite those stories you might read declaring it as an "invasive" species). Gibbons says they've been in south Texas since prehistory and don't get enough credit for all the pest insects and litter they consume. "We'd have more rats eating all those fries and thrown-away bread if it weren't for the grackles," Gibbons says.
"'Invasive' is an ecological term, and it tends to mean 'very successful,' and I would say that that is true," he says. After all, their numbers are increasing, and their range is expanding, but they are not doing so with the direct aid of humans, unlike other species, such as house sparrows, pigeons, and starlings. "What it is not is an 'exotic invasive.' It's a native and a survivor. It's a black bird, and it's very smart, and I think people freak out because they make them uncomfortable. [Texas] Crows don't swarm in parking lots like they do."
Love the grackles or hate them, you can't argue they aren't a lot like us. They crave junk food. They will go to ridiculous lengths to get laid. They talk loud and say little. To love grackles is to love humanity, and to hate them is to be a misanthrope.
Follow John Nova Lomax on Twitter.