Just call Julia Bosski the perfect party hostess. She's the bon vivant behind Polish Thursday Dinners, one of Berlin's most successful long-running supper clubs. If anyone was ever born to entertain, it's her—whether she's turning people onto Polish culture by reinventing traditional recipes, or singing in the jazz duo Bosski & Gall.

Once a month, Bosski holds a five-course affair at Berlin's Arminiusmarkthalle, a historic market hall opened in 1891. On this particularly evening in late January, the most-attended Polish Thursday yet, waiters are shuffling out appetizers of golden beet borscht, sumptuously dashed with smoked eel and parsley oil. Guests are lapping it up, as well as conversation with strangers, cozied around long antique wooden tables.
After the first course, the chef emerges from the kitchen into the dining room, moody lighting bathing the everest green wallpaper. Even if it weren't for the microphone in hand, Bosski is unmissable—statuesque and sporting a gently-coiffed black bob, and tonight donning a pale blue scoop-necked top reminiscent of Jacqueline Kennedy.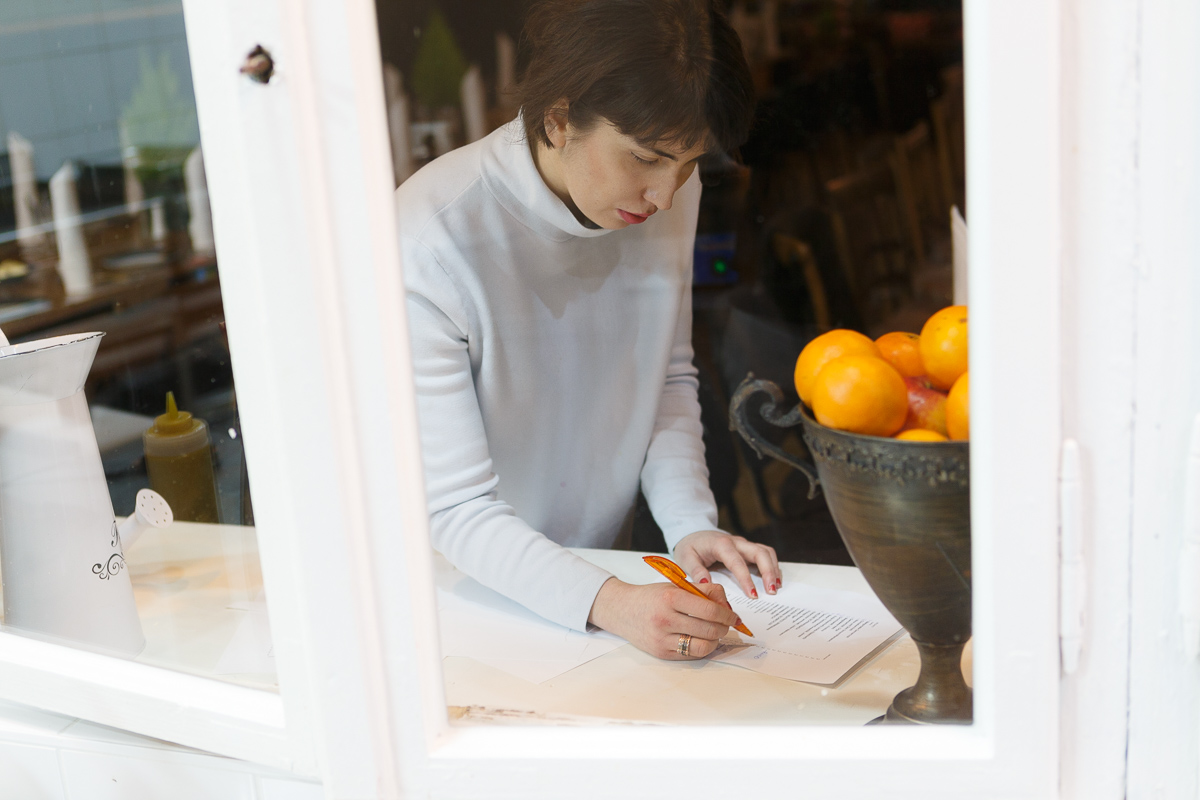 "I just want to sing you a couple songs," she says warmly, gesturing to a lone electric guitarist. "The first is an original called 'And I.'"

Chatter dulls to a murmur as Bosski croons, wagging her bob with badass attitude. Sixty-five souls are eagerly watching while sipping wine and snacking on buttered-up sourdough. After applause and a round of sauerkraut pierogi topped with yellow peppers, chive sauce, and a dollop of nut butter foam, she's gone again—but back soon enough après an outfit change, now wearing a lacy black number and mingling around with guests.
Polish Thursdays are known for a sundry crowd that's a sampling of eclectic Berlin itself—there are plenty of hipster locals and expats, a well-dressed Polish crowd, and even a cluster of Polish grandmas. A baby in a high chair sits just a few seats down from a teacup chihuahua sitting underneath a table.

It's that diversity and bubbling energy that drew Piotr Wolski, a Polish tech employee, to the dinners two years ago.
"I started coming here because it's always a good atmosphere and good networking," he says.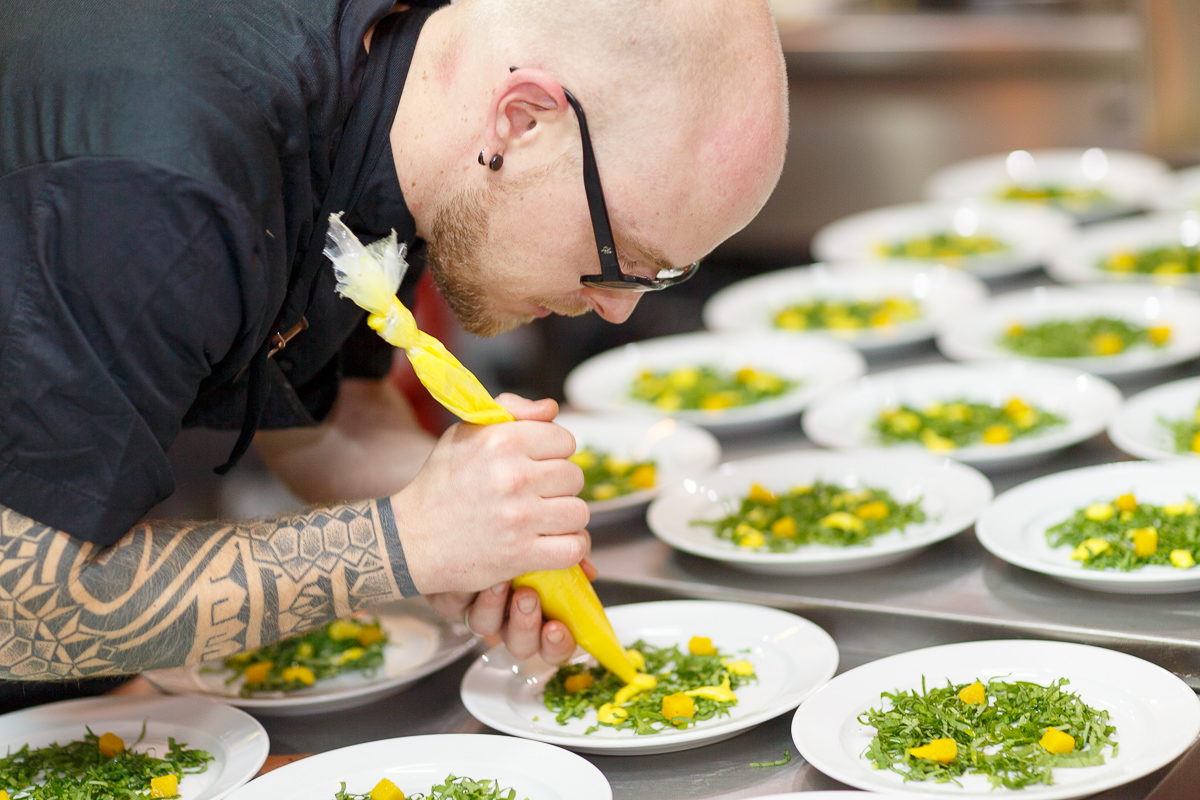 He's only been living Berlin for six months, and before that traveled from Kostryn, on the German border about 90 kilometers away, for evenings with Bosski.

"[Her food] doesn't remind me home," he says. "It reminds me of my heritage, but it's always something with a twist."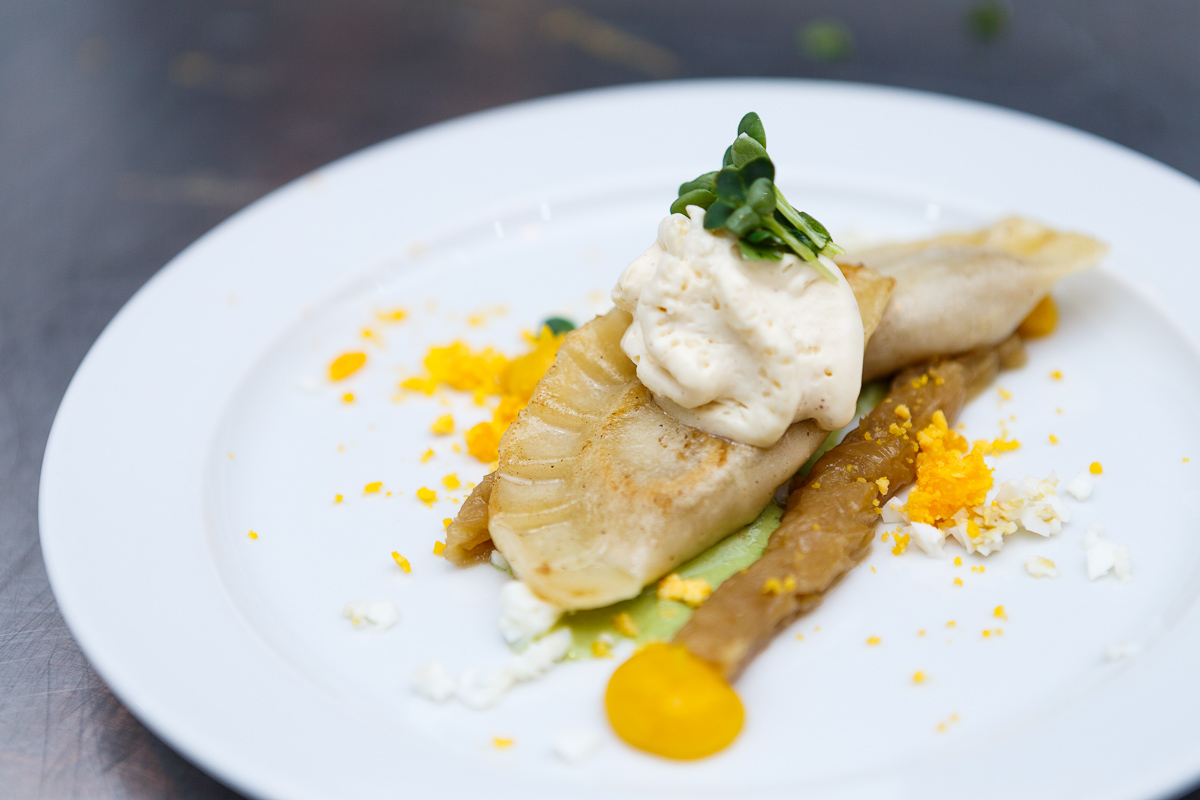 On this particular dinner, Bosski is hosting with Marcin Gancarczyk, a German-Polish chef who interned at Noma. He's taking care of the kitchen while she takes care of the guests. She often collaborates with other chefs so she has the freedom to entertain, and it's led to a lot of interesting fusions since starting in 2013—Polish dishes with elements of South African, Danish, and even French cuisine.
"These dinners are not just for Polish people. The aim was to have completely a mix of people from different countries and professions—doctors, philosophers, opera singers—to show it's a small world at the table, or a small Berlin," the chef explains a couple weeks later, over lattes at a Polish-owned cafe called Oak & Ice, where she also often holds dinners and other events.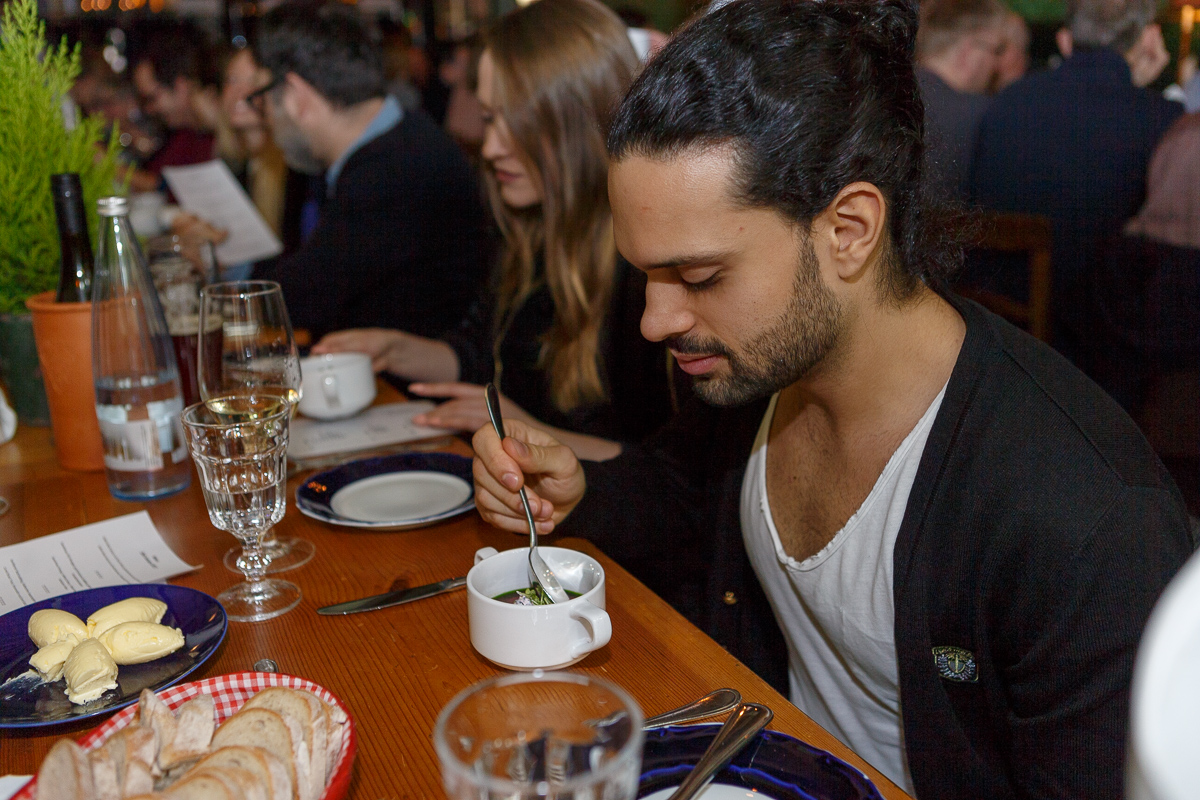 It all started five years ago, when Bosski started organizing events with an ex-boyfriend, merging gourmet dining with musicians, DJs, art exhibitions and film screenings. A few months later, she decided to do her own exclusive gatherings, presenting Polish food for neoteric palates, exactly how she enjoys cooking for herself at home.

"The Polish King in the 18th century was known for organizing Thursday feasts and that's how I got the concept," says the self-taught chef. "He invited politicians, artists, writers, and only men. It's so funny now in the 21st century, it's a woman who organizes this. I always said I didn't want to be the girl in the kitchen. I'm the man!"
The first events seated just ten to 15 people and served homemade liqueurs, garden preserves and fermentations, kielbasa, and plentiful amounts of vodka, naturally. Bosski and her best friend, who used to share hosting duties, got many ingredients from family members back home in Warsaw.

"We were really bringing stuff from our grandmas in Poland in big suitcases," she laughs. "We looked like Polish black market dealers."
Soon enough, Bosski was serving a cocktail called "Sex on the Grass" (Poland's smooth Żubrówka bison grass vodka with tonic water and rosemary) and black squid ink burgers stuffed with sliced gherkins and juicy herring glazed in lime, honey, chilli and nuts.
On this Thursday, cured brook trout is coming out next with a bright leafy sorrel salad, doused in horseradish, lemon, and yoghurt. It's followed by braised beef cheeks and gravy on top of kopytka, Poland's version of gnocchi.
Those doughy dumplings are close to Bosski's heart. Her grandfather often made them with beef goulash. Some of her fondest memories are feasting together with her "highly intellectual" family. Her great-grandfather was a performer who starred in a Polish satire TV series, and his wife was a singer who co-founded a women's league after World War II.
There was never a shortage of nourishment for the body and soul, Bosski explains.
"The idea was, 'I'm the party host, I wanted to create my family here,'" she says. "Or the feeling of those family dinners. I just wanted to have this crowd sit at my table and entertain them with conversations and food. I think my favorite part of this is that strangers who came to my dinner have become my great friends. That is the most beautiful thing."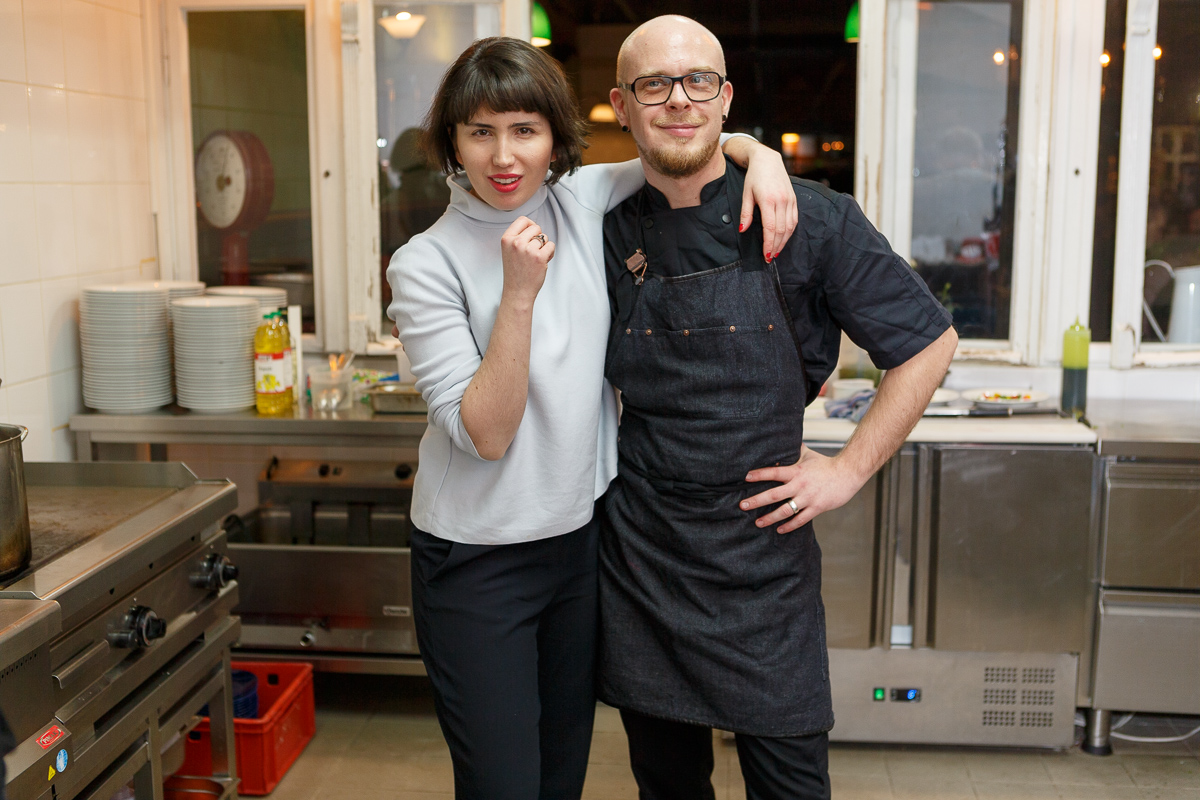 Bosski's relationship to cooking has been long, but also complicated. Becoming a self-taught chef has also been special for the 25-year-old after dealing with anorexia during high school. She came down with pneumonia once, and knew she had to "start eating or die."

"For three years long, I didn't eat, but that was my therapy to start loving food and not being scared of food," she says.
The young Pole has been in Berlin for eight years now, and is thinking about taking her show on the road to other European cities, and perhaps in London to stay. She's still full of imaginative ideas, like the grand finale to this evening's dinner: a deconstructed apple pie, made with goat cheese ice cream topped with fresh apple purée and pie crumbles.

"It's great, right? It's just the best parts of the pie!"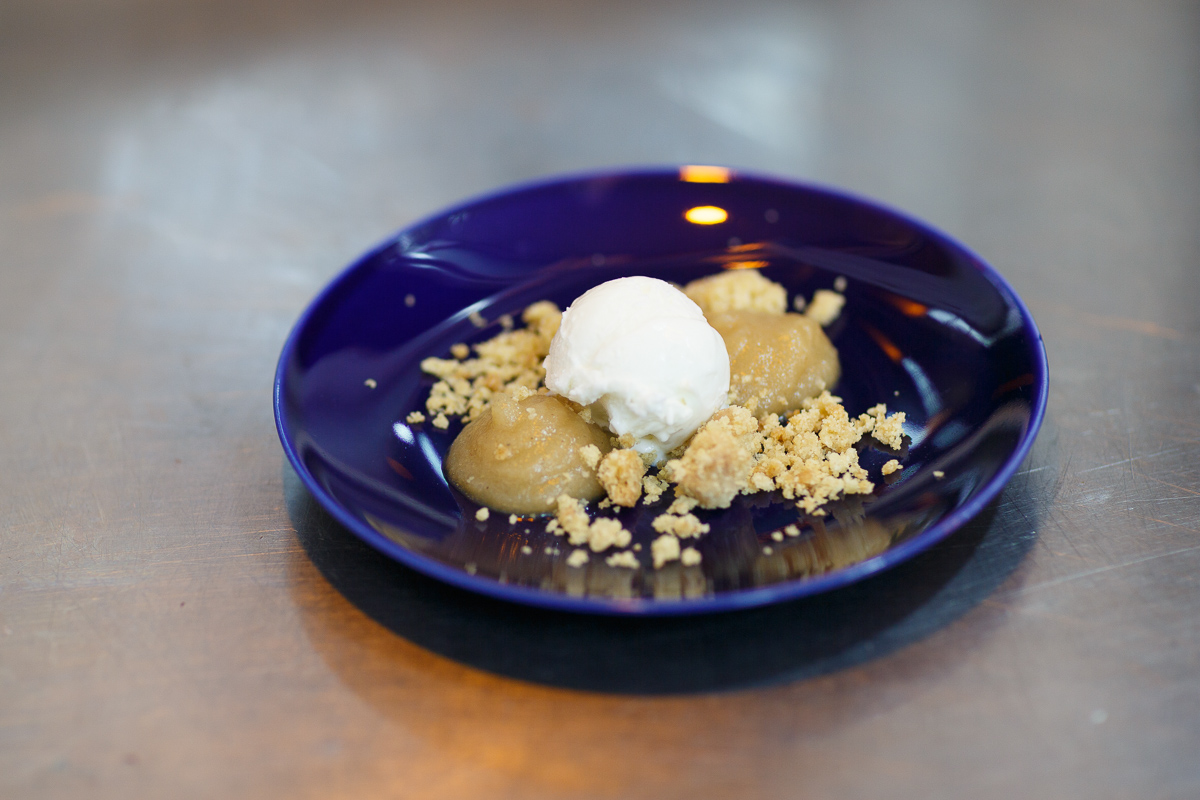 By this time, vodka shots are being downed—guests are either calling it a nightcap or getting the weekend started a little early. Bosski admits to being exhausted, but she looks out of breath and ecstatic at another evening that's gone off flawlessly.

"You know, I've done about 100 of these already," she says, plopping into a chair in the dining room, cradling a glass of wine. "I still really don't take myself as a professional chef, but a passionate one."