I am Nick Gazin and this is my comics column on the VICE site in which I discuss comics, zines, art books, toys, and anything of aesthetic merit.
I went to the MoCCA Arts Festival this past weekend, as I have done every year since 2001, when it began. The necessity for MoCCA has been mostly removed by Gabe Fowler's carefully curated Comic Arts Brooklyn festival, but I found this year's MoCCA to be more worthwhile than the last few years. I'd like to tell you about the objects I obtained and the people I saw.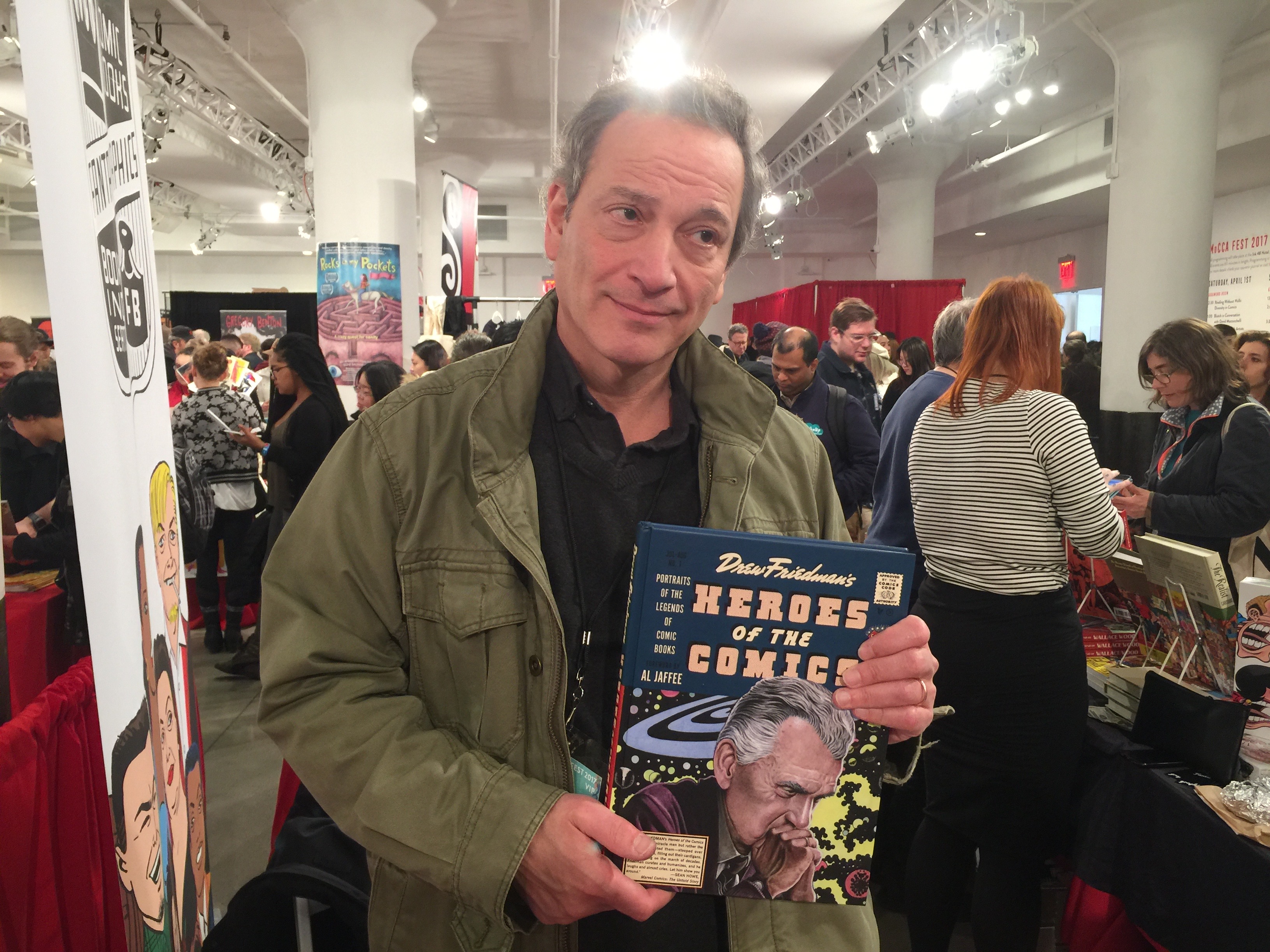 This is famed illustrator, Drew Friedman, promoting his 2014 release from Fantagraphics, Heroes of the Comics. I had never met Drew before. I found him both charming and eager to leave the festival.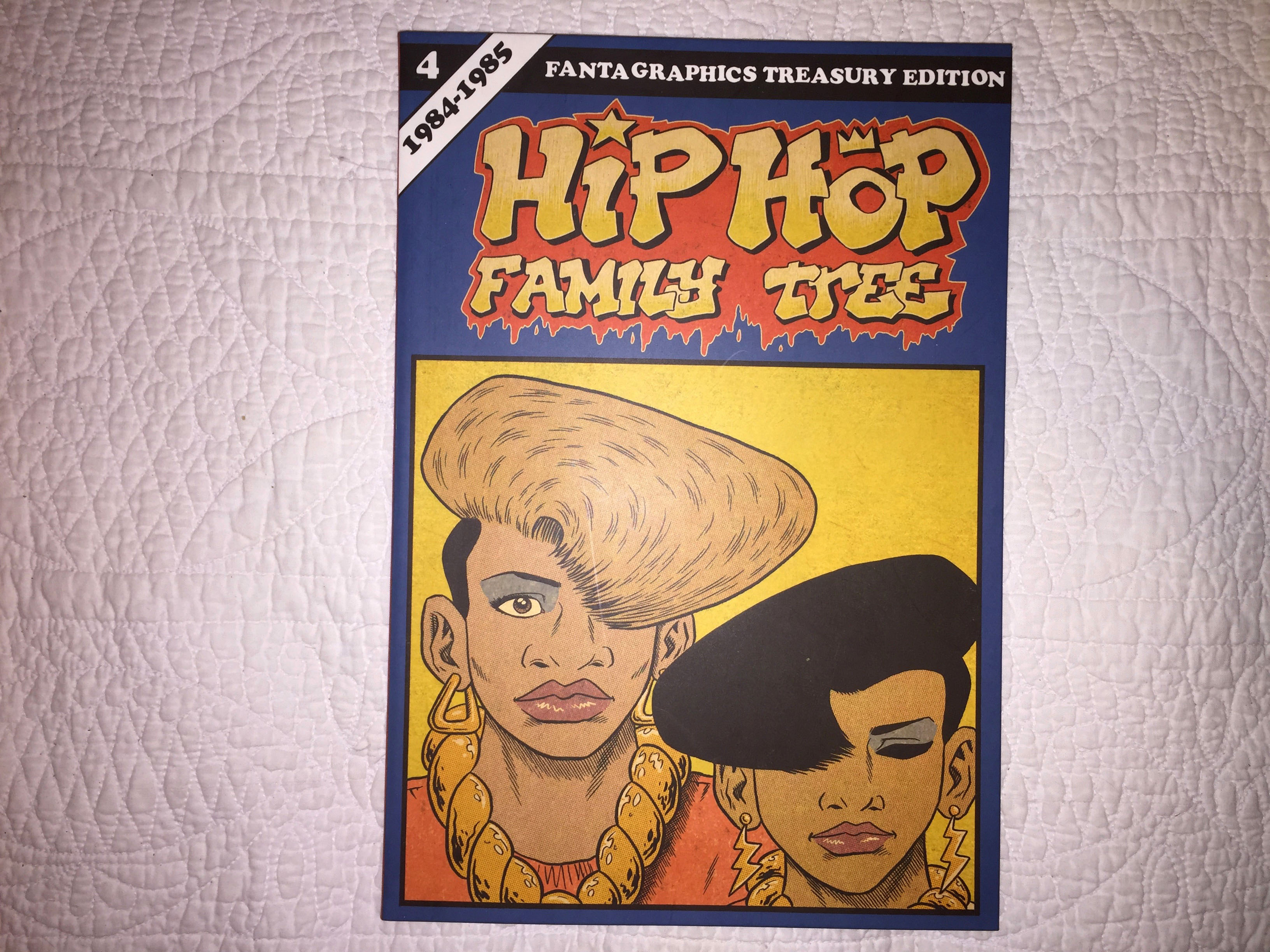 Fantagraphics gave me a copy of Hip Hop Family Tree 4: 1984–1985 by Ed Piskor. Piskor weaves together all these disparate elements based on the real events that formed the history of hip-hop culture, focusing on rap music. As with the first three volumes, this book is fun, educational, perfectly designed, and hyper-readable. Unlike the previous volumes, the sense of an overarching narrative is kinda lacking. I don't really blame Ed for this and it doesn't hurt the enjoyability of reading the comic. This one focuses on the Beastie Boys, the rise of Def Jam, Krush Groove and Beat Street, KRS-One, Dr. Dre, and Egyptian Lover. As with previous books, Russell Simmons is a constant presence, lisping and being goofy. You're not going to read another comic about rap music that is as fun to read and own as this one. The oversized format and fake-yellowed pages transport you to the joy of childhood comic reading and it's exciting to see the foundation of hip-hop culture being cemented.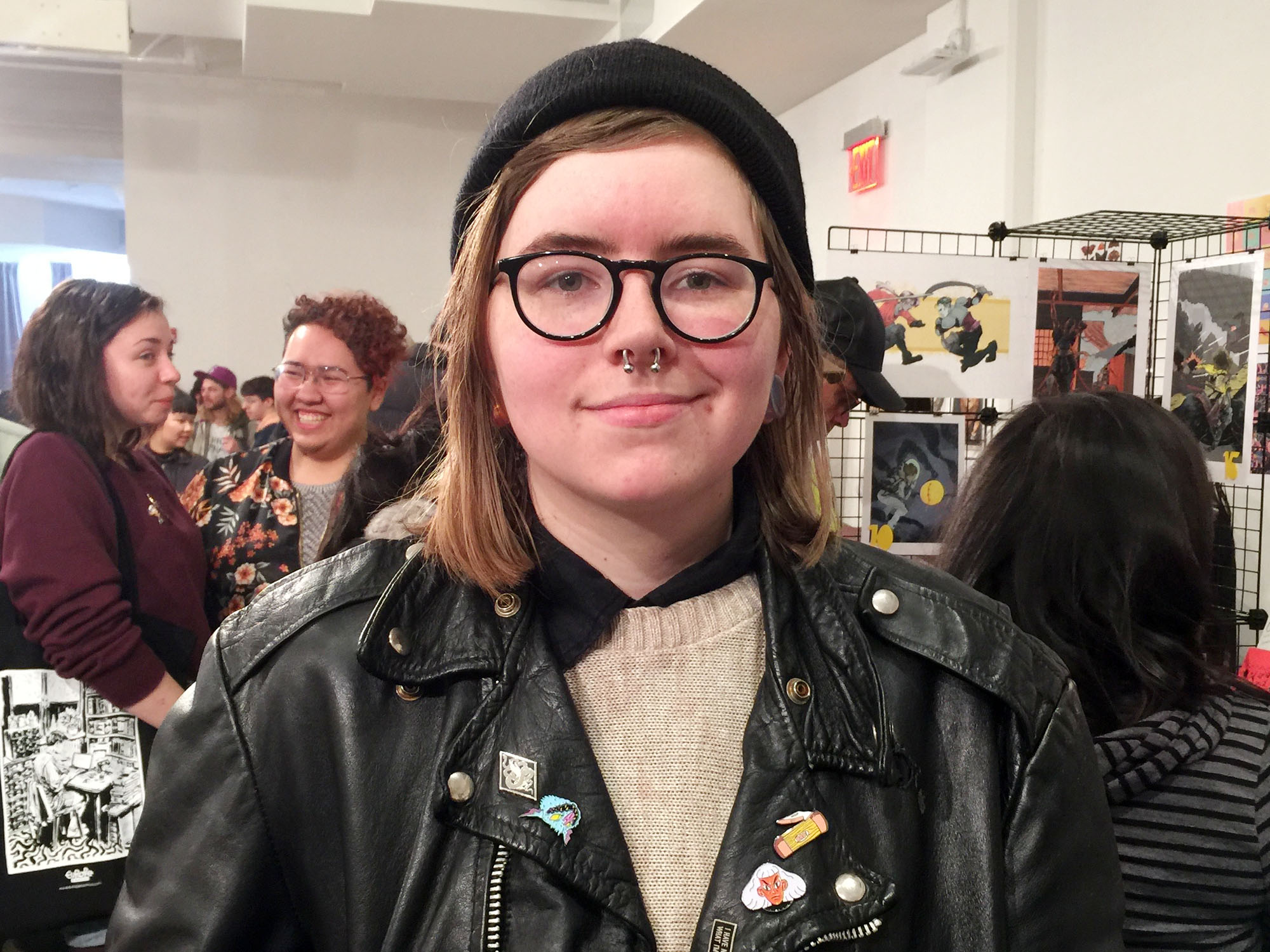 This is comicker and illustrator Kelsey Wroten, who has made several very long comics for VICE and illustrates a lot of our queer-interest stories. She recently moved to New York and this was my first time meeting her in person. I feel like I've been involved with her career for a long enough time that I can say that I'm really proud of her progression as a professional artist without it seeming patronizing or unearned.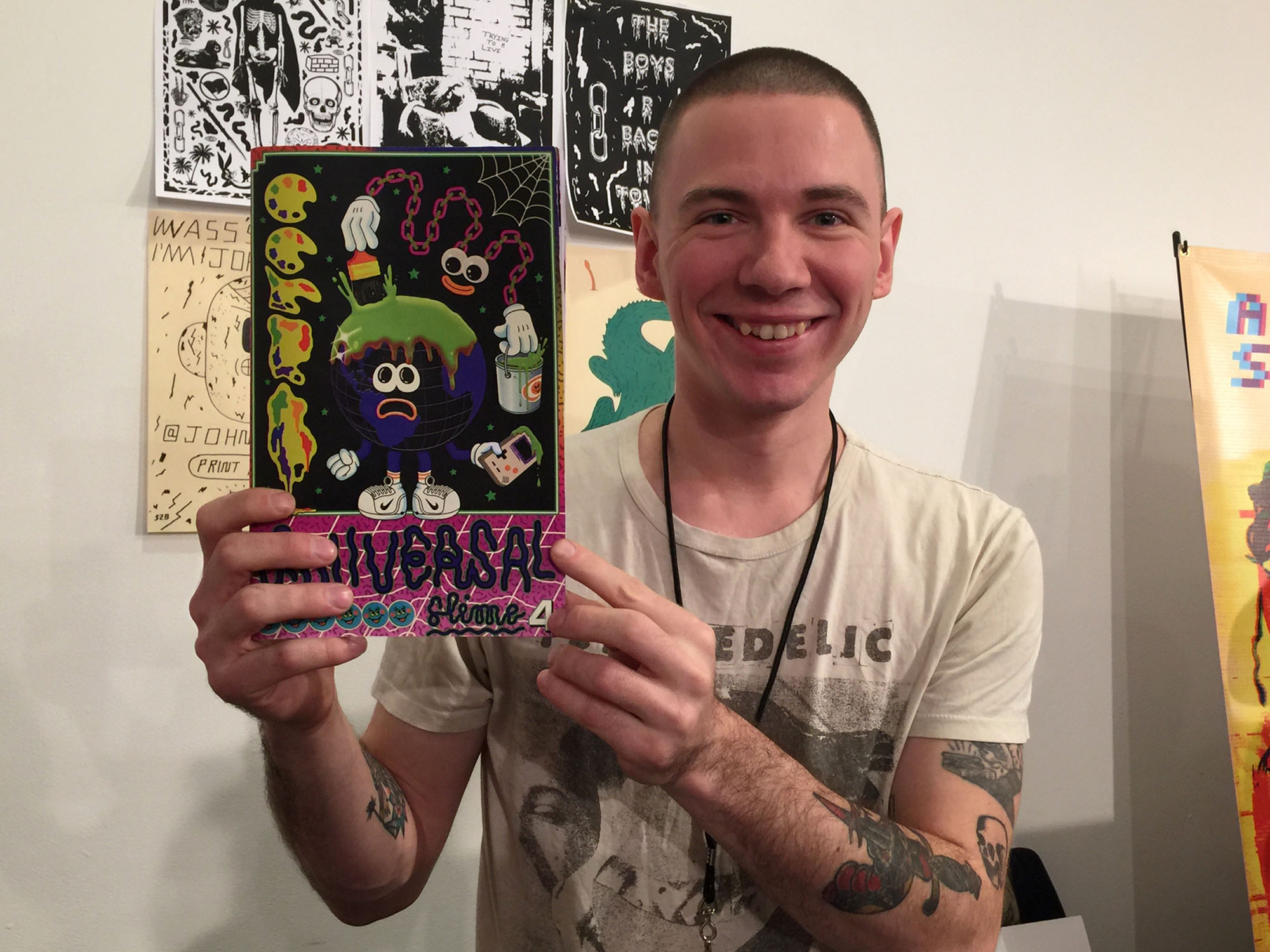 This is sometimes VICE-contributing cartoonist John Malta holding up the latest issue of his anthology comic, Universal Slime.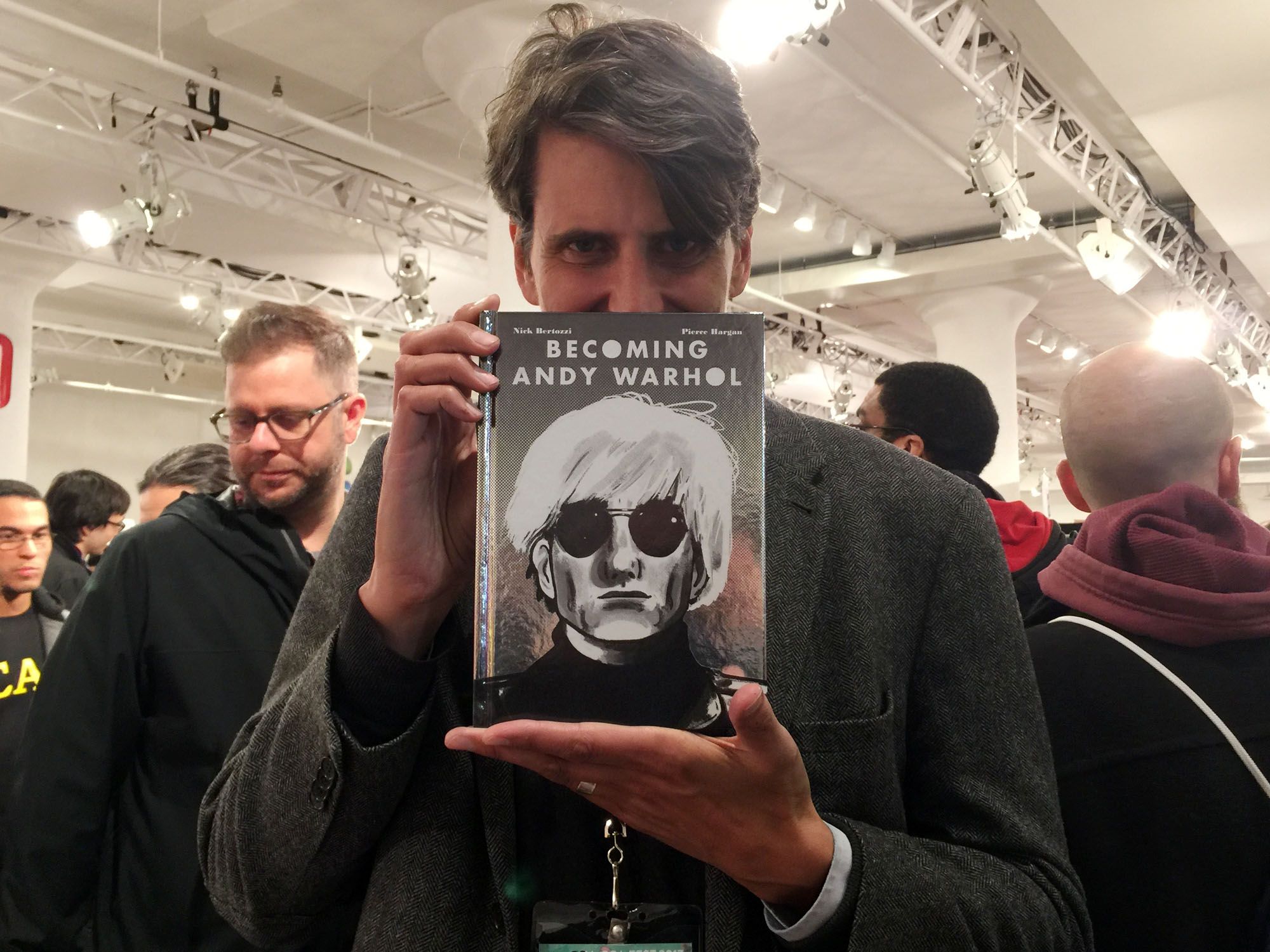 This is Nick Bertozzi holding up his most recent book, Becoming Andy Warhol, which he scripted and drew page breakdowns for. (Artist Pierce Hargan illustrated the book.) In recent years, a lot of publishers have tried to make smart comics by adapting celebrated books into comic form or making biographical comics about famous folks of sophistication. Those comics are almost universally garbage. This one is not.

Bertozzi and Hargan have deftly skirted the common bio-comic pitfalls to make a really nice book. Instead of attempting to retell Warhol's entire life story, they include a spread at the front of the book with a timeline containing all the publicly known major milestones of his life and career. In his introduction, Bertozzi mentions that this isn't an objective historical document. It's a subjective, albeit well-researched, account of Andy Warhol's struggle to be more than an illustrator. Bertozzi and Hargan present you with the objective facts and a macro view of Warhol before presenting their own personal micro view. I admire this presentation very much.
Being a master of comics storytelling, Nick also avoided cramming in too much text or narration boxes and lets the visuals tell the story. I told Nick that he "Kurtzman'ed the shit out of this book" and he told me it was the highest praise he's ever received as a cartoonist.
I asked him a little about Becoming Andy Warhol.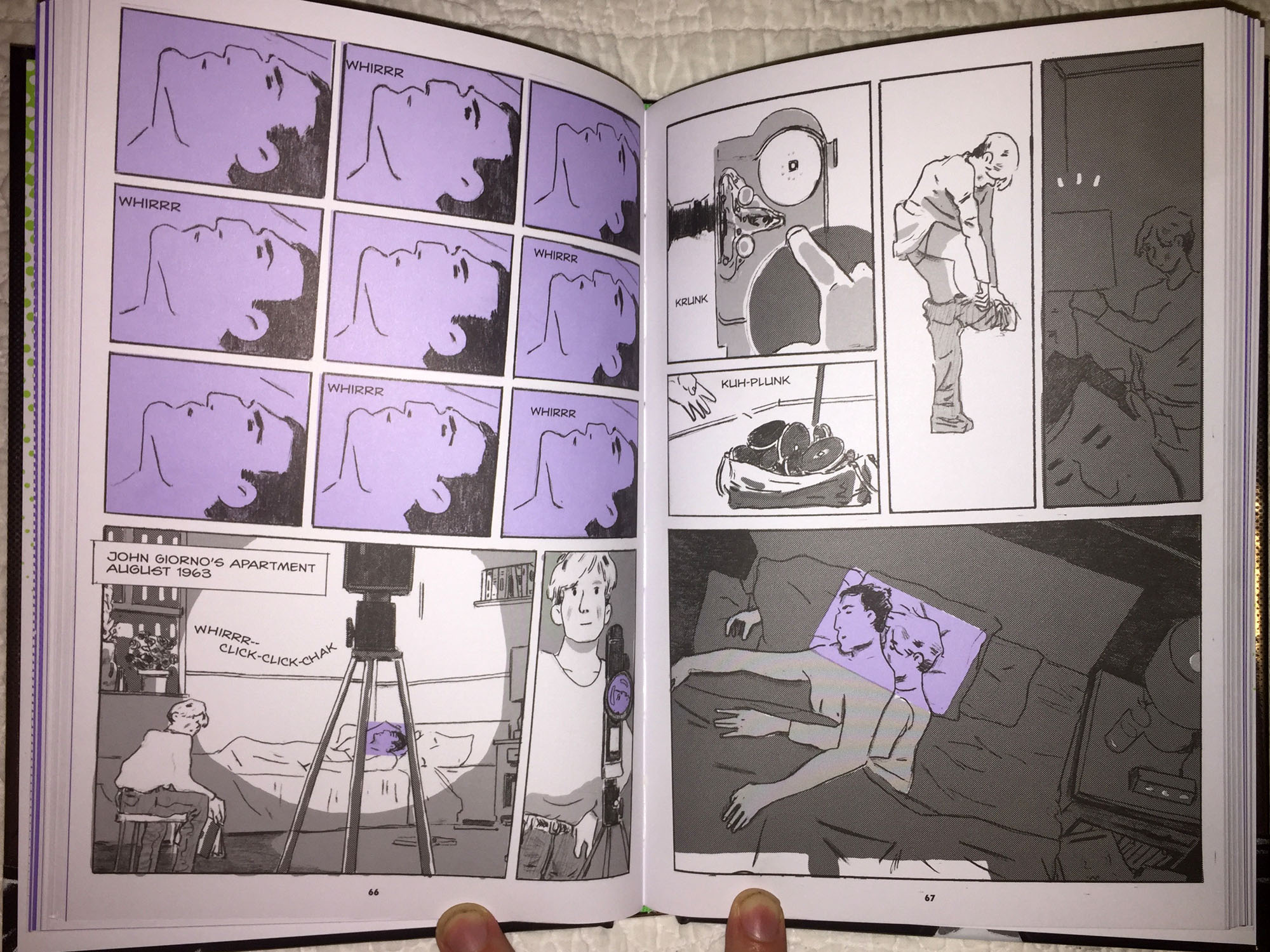 VICE: Mike Allred's Madman and Dan Clowes's Ghost World are probably the most famous spot-colored comics. Were you thinking of either when you chose this coloring method?
Nick Bertozzi: I'd used spot color in my comic series, Rubber Necker, and in a map comic that I'd made. I was influenced by the artists you mention. Toned comics pages, gray-toned, or spot-colored limit cartoonists and push them into habit-breaking choices. Purple was Pierce [Hargan]'s perfect choice. It's warm and cold and complements the line. It fits the mercurial content of the story, too.
What do you think about the wave of biography comics and comics based on famous novels? Which are the best?
It's better than the current proliferation of terrible fantasy and sci-fi comics that degrade their genres. The best biographical comics show the reader the quotidian life of the past and how it effected a protagonist and examine—not lecture about—the culture and mores of their times. Louis Riel by Chester Brown and Billie Holiday by Muñoz and Sampayo are successful examples of that.
Did you learn anything that surprised you while researching for this book?
I was surprised that Warhol couldn't get a solo New York gallery show. He was considered a joke and a loser. His first solo gallery show was in LA. He hanged the soup cans and it was a failure. It took him a while to find his feet. That's the story covered in the book.
Get Becoming Andy Warhol from Abrams.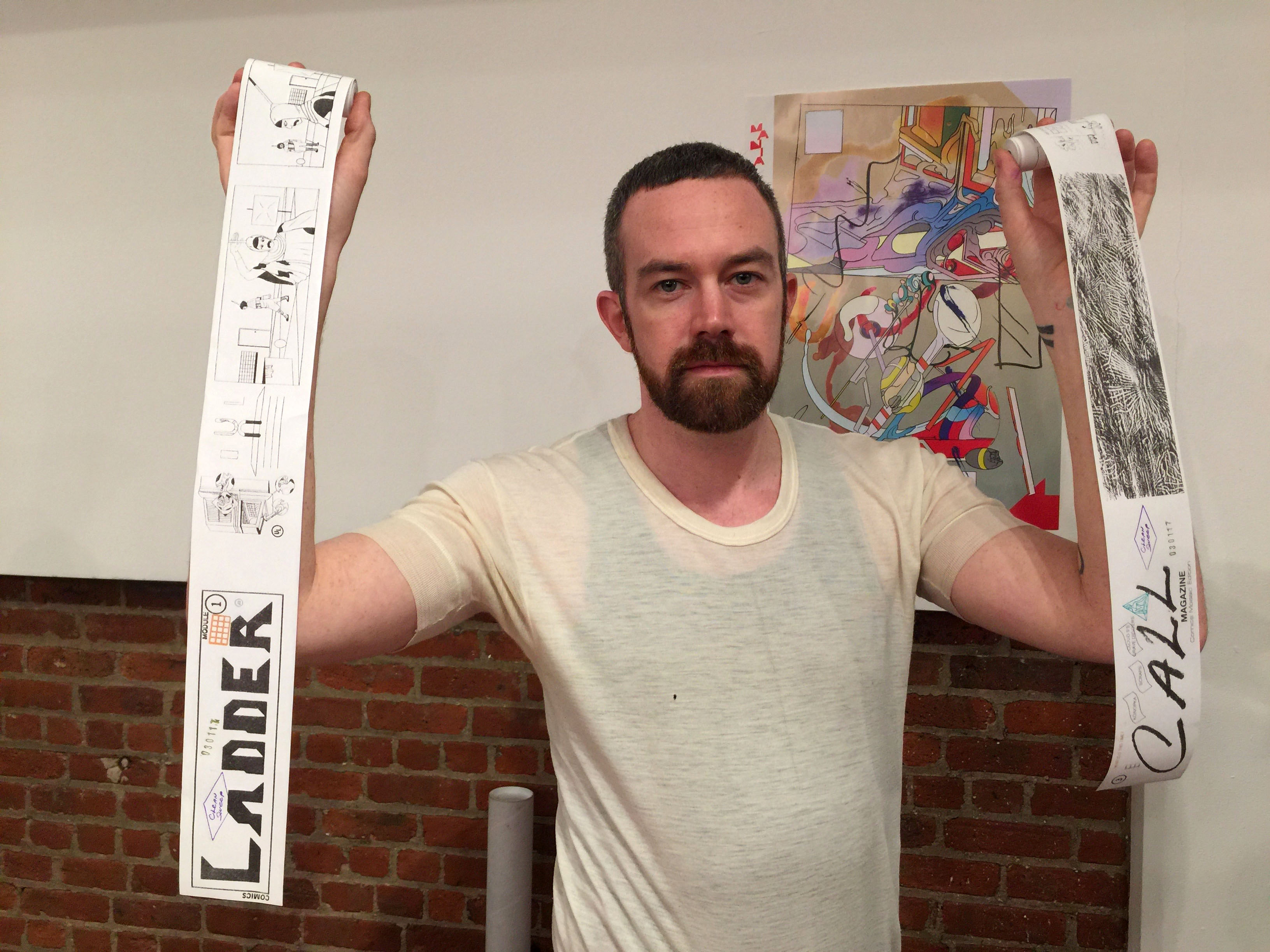 This is the super-amazing Chris Forgues, or C. F., holding up his newest comics. He's always breaking down the barriers. What he's holding up are two of his recent comics that are printed on long rolls of receipt paper. C. F. was a revelation when he first appeared on the comics scene and although he's not currently being promoted with large PR pushes, his influence is with us all the time.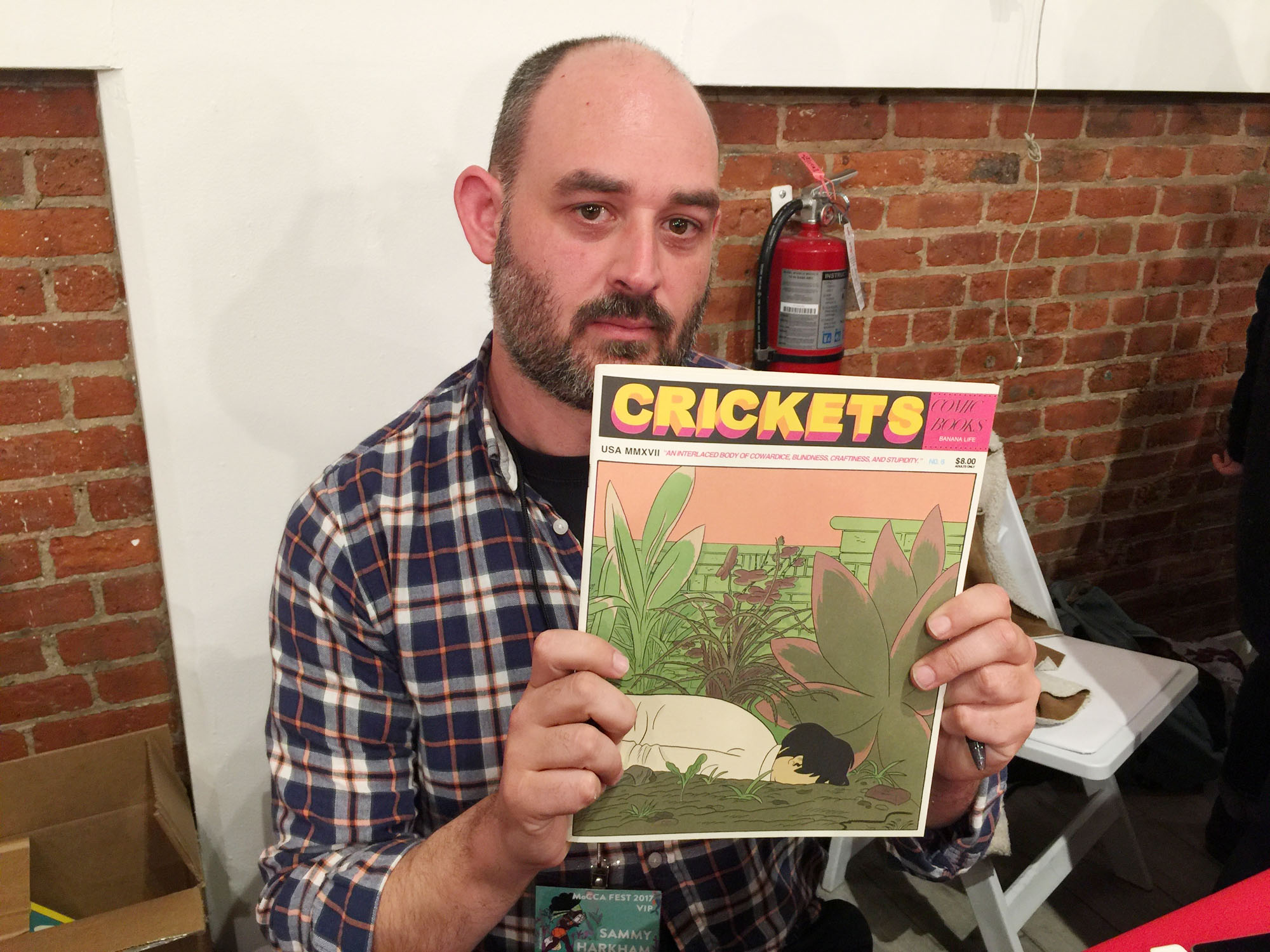 This is Sammy Harkham, comics master, holding up the latest issue of Crickets, which continues his serialized story, Blood of the Virgin, a story about an independent Jewish filmmaker in 1971. Each chapter shifts focus and deals with different aspects of his life. One issue will focus on his frustrations with the movie he's working on. Another will deal with his problematic marriage. Sammy Harkham is perhaps the most masterful comic storyteller I can think of who is still making comic-book pamphlets, besides the Hernandez Brothers.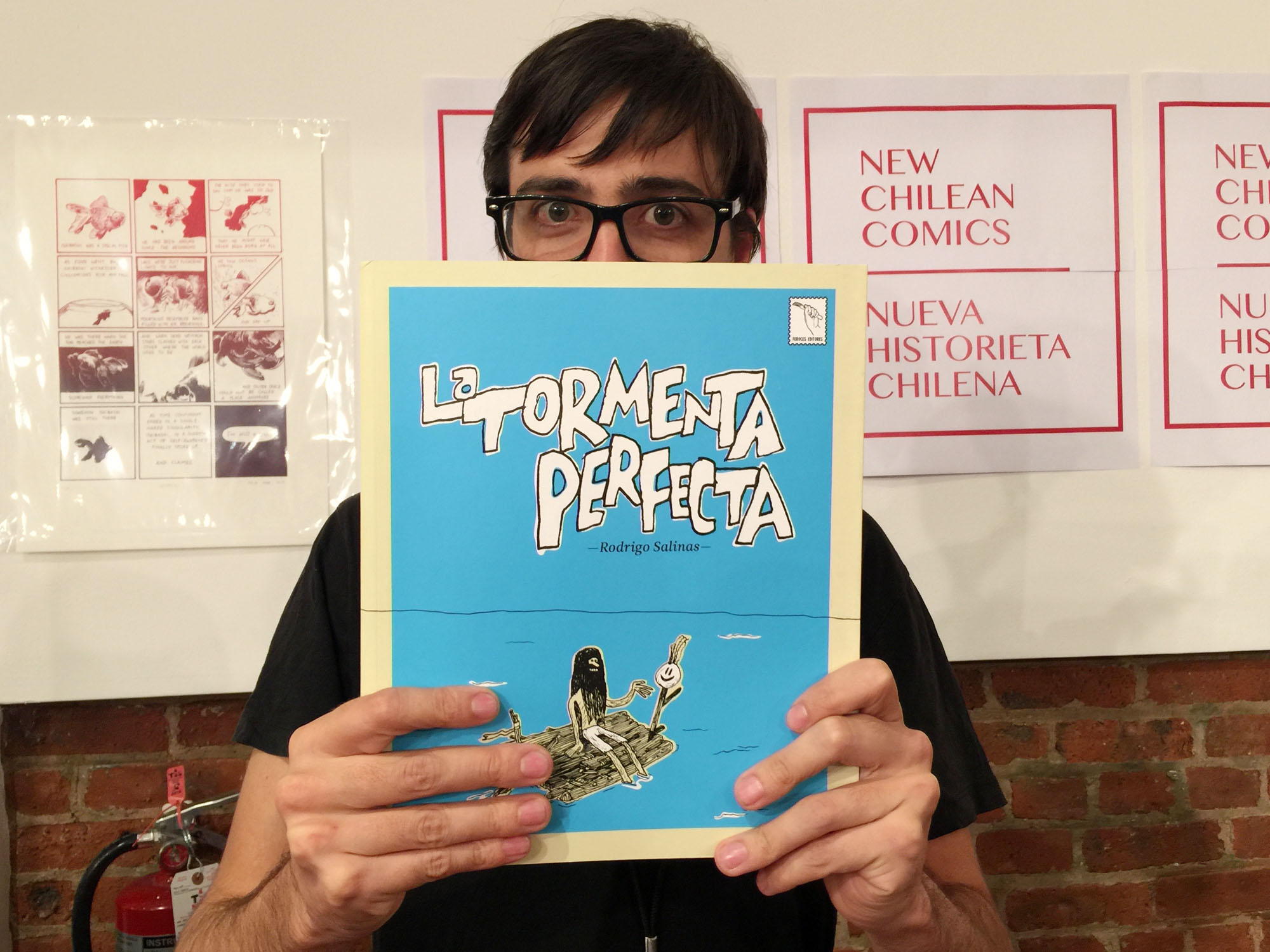 As we approached this table, the Chilean friend I'd brought with me started chanting, "Chi! Chi! Chi! Le! Le! Le! Viva Chile!" in a moment of pride for her homeland. The man holding up the book is Felipe Muhr from New Chilean Comics. The book he's holding is La Tormenta Perfecta by Rodrigo Salinas, better known as Guatón Salinas (Fatso Salinas), who is better known as a comedic TV star than a cartoonist. This large book collects all his various early comics, which are often commentaries on Chile's military dictatorship and the Chilean Marxist fantasies of the 1970s. Salinas's approach to comic-making changes from story to story. This is a great book of funny and pretty comics.
At the back of MoCCA, my old SVA classmate Panayiotis Terzis was hanging out by a risograph machine. The School of Visual Arts now has a riso lab and they were letting people make their own riso prints. A risograph is a machine that sort of combines a photocopier with silkscreen and makes very cheap multi-layered images. I made this one and then I went home.
Follow Nick Gazin on Instagram.