Over the weekend, Carmelo Anthony was traded to the most talented and complete non-Olympic basketball team he's ever played for. One of the most perplexing 10-time All-Stars in NBA history, Anthony has removed himself from an uncomfortable-at-best situation with the New York Knicks and is now a devastating third option on the Oklahoma City Thunder, functioning inside a roster that—in any universe where the Golden State Warriors are not an inescapable tidal wave that makes the progress of 29 other organizations feel pointless—should be recognized as a shockingly sudden championship contender.
Russell Westbrook has yet to sign a massive extension that's already been offered, Paul George yearns to suit up for the Los Angeles Lakers, and Anthony has a $27.9 million Early Termination Option for the 2018-19 season. Time and patience are not friends with the NBA's latest Big Three experiment; it's more likely than not at least one of them will wear a different jersey next season—all three can become unrestricted free agents.
But opportunity cost was not a factor in their assemblage. Oklahoma City has done extremely well for itself in the short term; forking Enes Kanter, Doug McDermott, and a second-round pick for someone who just averaged 22.4 points per game in an increasingly joyless environment is a no-brainer.
It's hard not to look at the Thunder without stacking them up beside the Warriors, but it's also difficult to look at this personnel and not marvel at how neat the pieces fit. Anthony is slightly overqualified for his new role, and that's a good thing for everyone involved. The pressure that mounted on his shoulders over the past half decade will evaporate when he takes the floor with Westbrook and George.
Now 33 years old, Anthony's day of tentpoling an above-average offense is over, but his complementary traits will shine beside two All-NBA-caliber weapons who simultaneously free him up for direct attacks.
Anthony can space the floor as well as any wing in the league. He can distract help defenders on the block and create deadly shots for himself whenever he wants. The Thunder won't ask Anthony to isolate on the perimeter or even engineer pick-and-rolls as often as he's used to—the steady stream of pull-up twos he frequently turns to can morph into more menacing catch-and-shoot threes.
Much like Kevin Durant, who had the fat extracted from his already-brilliant offensive repertoire during his first season in Oakland, Anthony finds himself in a situation where life will be easier against scrambling defenses who have several options to worry about. Again, the fit here is ideal.
According to Synergy Sports, Anthony finished in the 94th percentile in spot-up situations last season, but those possessions only made up 15.2 percent of his individual onslaught. He knocked down 41.8 percent of his catch-and-shoot threes and canned 44.8 percent of his outside shots when wide open. This part of his game will age exceptionally well, and if Anthony conforms to the confines of a notably lower usage rate, his efficiency should rise higher than it's ever been.
The longer Anthony holds the ball, the more time defenses have to respond, the less accurate his shot becomes. His effective field goal percentage was 55.8 when he launched a shot within two seconds of catching a pass last year. If he held on any longer than that, it plummeted to 41.5 percent—the difference between Chris Paul and Stanley Johnson.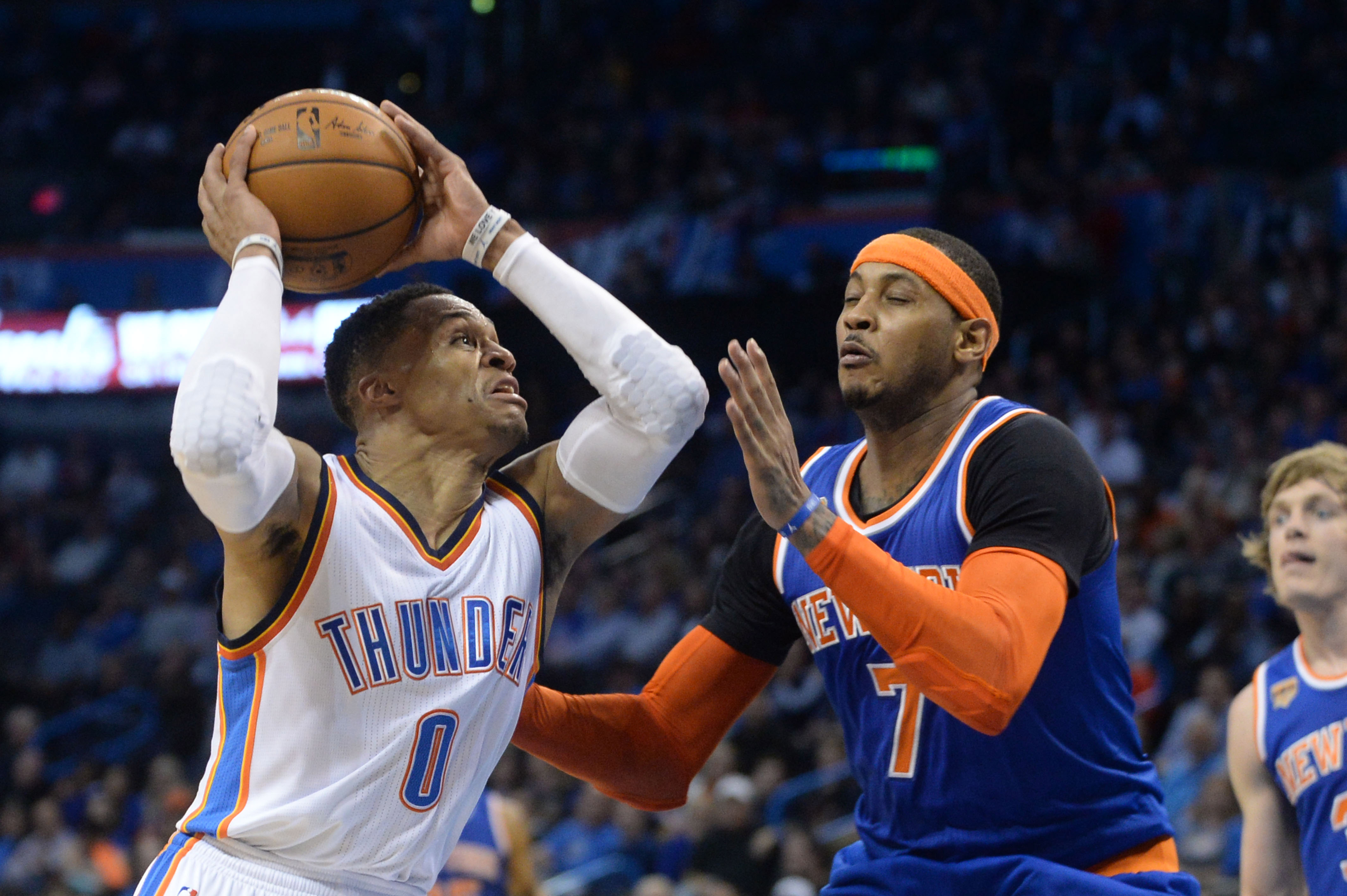 Not that his quick release requires it, but Anthony should have all the time he needs in Oklahoma City. Picture him spotting up in the weakside corner as Steven Adams rumbles through the lane to sky for a lob. Or jogging up, unbothered, in transition as Westbrook races towards the rim and forces three or four retreating defenders to collapse into the paint. This is basketball's version of the opening scene in IT.
Anthony can also exist as a pick-and-pop threat, setting high screens for Westbrook (or any of Oklahoma City's ball handlers) then watching opposing brain cells discombobulate as they try to contain one of the most furious cannonballs the game has ever known, while an elite marksman (who can also back down smaller defenders) hovers on the outside. It's a gravitational presence the league's reigning MVP didn't have last season.
There will also be scenarios where Anthony is the focal point, and the Thunder are well-equipped with role players who can make his life easier on both ends. As a small forward in lineups that almost always featured at least one big who couldn't stretch the floor (Joakim Noah, Willie Hernangomez, Kyle O'Quinn, etc.) plus impotent outside threats like Derrick Rose and Brandon Jennings in the backcourt, only 12.7 percent of Anthony's field goal attempts came within three feet of the rim (down from 21.3 percent the previous season), and of the 90 forwards who attempted at least 150 shots in the restricted area last season, Anthony's 54.2 percent ranked 84th.
He dunked 12 times, which was three fewer than two seasons ago when he logged 1,110 fewer minutes. Age and declining athleticism are a factor, but so is space, attention, and the fact that whatever system Oklahoma City deploys will be approximately 10 million times more productive than the Triangle Offense. George and Patrick Patterson are two respectable three-point threats, Westbrook is too dangerous (particularly on the glass) to be ignored when he doesn't have the ball, and Alex Abrines made 40.7 percent of his catch-and-shoot threes as a rookie last season.
Andre Roberson has developed into a reliable cutter, doing all he can to negate porous shooting with constant movement, screen setting, and effective rebounding. But his primary value comes on the defensive end, where lineups that feature him and George will allow Anthony to hide out on an opposing team's power forward or center—whichever is less bothersome.
Like-sized lineups that feature Westbrook, Roberson, Anthony, George, and Patterson have enough shooting, passing, rebounding, intelligence, and defensive versatility to mask most flaws. That's a devastating fourth-quarter quintet, and when you toss Jerami Grant's wingspan or Adams's brute strength into the conversation, all of a sudden the Thunder are able to throw haymakers at Golden State's jaw from several different angles without leaving their own chin exposed.
Beyond that particular matchup, Anthony makes it so Billy Donovan doesn't necessarily have to stagger Westbrook and George. He can sub the six-time All-NBA member out at the five or six-minute mark of the first and third quarters, then bring him back at the start of the second and fourth quarters while the team's two best players rest.
(It may not be politically feasible, but if Anthony is willing to come off the bench and thrive as a shoe-in for Sixth Man of the Year, stifling the Thunder for 48 minutes will be almost impossible.)
Anthony's ability to score at all three levels will make George and Westbrook more efficient than they were last year, too. We've already mentioned how he spaces the floor, but as an effective iso scorer, his contributions in a playoff setting will be invaluable. The ability to go one-on-one against any defender in the league matters, particularly from the mid-range, where only DeMar DeRozan launched more shots a year ago.
All in all, Anthony's presence doesn't just redefine everyone else's duty, it settles things down. Each player's task will be more clear than before; players like Patterson, Abrines, and Adams will never have to venture outside their comfort zone by contributing in areas they don't belong. Yes, Anthony's defense is worrisome, particularly against a Warriors team that knows how to attack their opposition's most vulnerable spot. There is also hope that he can level off as an average cog on that end, given the humongous stakes (relative to where he just was), redistributed energy level, and increased focus in this new setting.
The offensive dynamism that he adds to Oklahoma City raises its ceiling in ways Anthony wouldn't do for the Cleveland Cavaliers or Houston Rockets—two teams that have already loaded up on compatible spacers who directly help their star power.
For 99 percent of players in the NBA, the system in which they play, surrounding personnel, and the specific burden they're demanded to carry all have a dramatic impact on how effective they can be on a consistent basis. Anthony now falls in that 99 percent, and by accepting a trade to the Thunder, he's finally accepted what's best for his game is less of his game.
Anthony is no longer one of the best 20 players alive, but alongside Westbrook and George, he'll thrive as a difference maker within a role that couldn't be more perfect.