Some users of the popular dark web drug marketplace Dream Market are complaining that their Bitcoin wallets are empty after an hours-long outage on Wednesday.
The Dream Market went down for several hours, prompting the usual whispers of an exit scam—a popular type of fraud where dark web operators shut down the site and disappear with all the users' Bitcoins—or a law enforcement takeover. A few hours later, however, the market came back up. But several users are claiming that their accounts are now empty of funds. On Dream Market, just like other similar sites, buyers first transfer their cryptocurrency into a Dream Market account. Rather than sending funds directly to the seller's wallet, the cryptocurrency is held in escrow by Dream Market until after the sale.
"I bet these assholes just earnt a fortune," wrote a user in the official Dream Market forum. "maintenance my ass. its not even safe to have $10 in youre account and were supposed to trust them with $$$$$$$ ? fuck that. FUCK DREAM."
The operators of the site, however, are blaming both the outage and the disappeared funds on a "hard drive crash."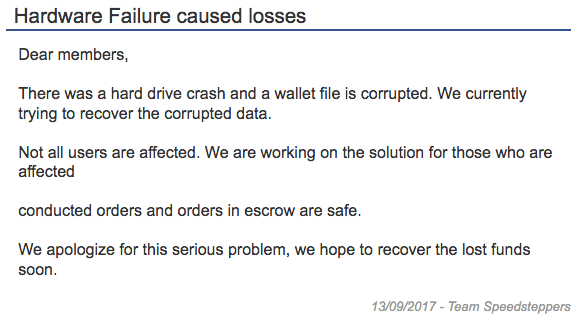 Several Dream Market users, both on Reddit's subreddit dedicated to dark web markets and in the market's official forum, complained about their funds being gone.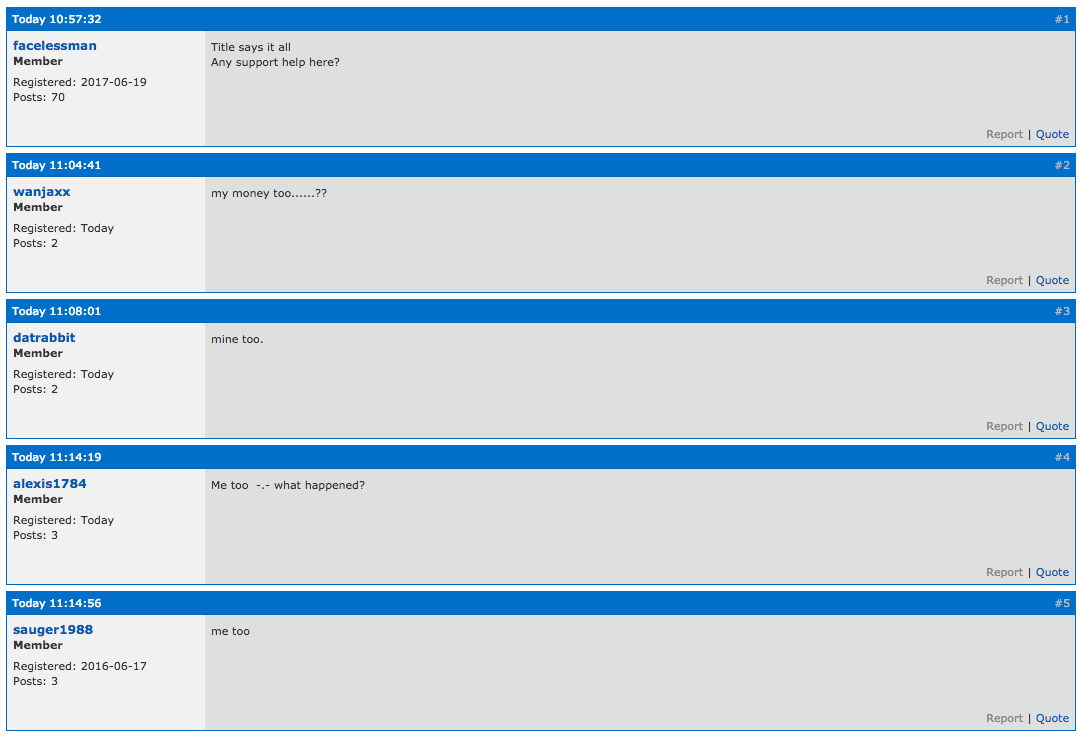 Read more: Here Is a List of Every Single Possible Dark Web Site
At this point, it's unclear exactly what happened. If the operators wanted to do an exit scam they probably wouldn't have put the site back up.
"I don't know why you'd bring the system back up publicly if you were going to scam. It gives people a chance to pull funds," a dark web researcher who goes by the name Flanvel told Motherboard in an online chat. "After unscheduled maintenance vendors/buyers will take that time to pull funds and return them to private wallets."
Exit scams are regular occurrences on the dark web. At this point they're just part of the dark web marketplace lifecycle. So are law enforcement takeovers. Over the summer, the FBI and Dutch police announced that they had taken over and later shut down two massive markets, AlphaBay and Hansa.
This outage, whatever the reason behind it, will raise suspicions about Dream Market even more. After Hansa and AlphaBay went down, buyers migrated in flocks to Dream, which is now arguably the largest market left. But even before today, there have been rumors among users that it's been infiltrated and perhaps even already taken over by law enforcement (there's no evidence of that, however.)
Earlier on Wednesday, while apparently under maintenance, Dream Market appeared to have left its real IP address exposed, as noticed by the security researcher known as x0rz.
This opened up the possibility for law enforcement to raid the data center where the market is hosted, or send a legal request and obtain data that way, according to x0rz.
Got a tip? You can contact this reporter securely on Signal at +1 917 257 1382, OTR chat at lorenzo@jabber.ccc.de, or email lorenzo@motherboard.tv
Get six of our favorite Motherboard stories every day by signing up for our newsletter.