The unveiling of Vice President Mike Pence's portrait in Indiana on Friday was live-streamed to the American people via the White House website. But for anyone tuning in, imagination was key.
The event, which transpired with great fanfare, was broadcast as audio-only. That's right. An official portrait unveiling was broadcast live, with audio and no visuals. The casual listener could be forgiven for assuming the White House was sending a clear message — Pence has a face for radio.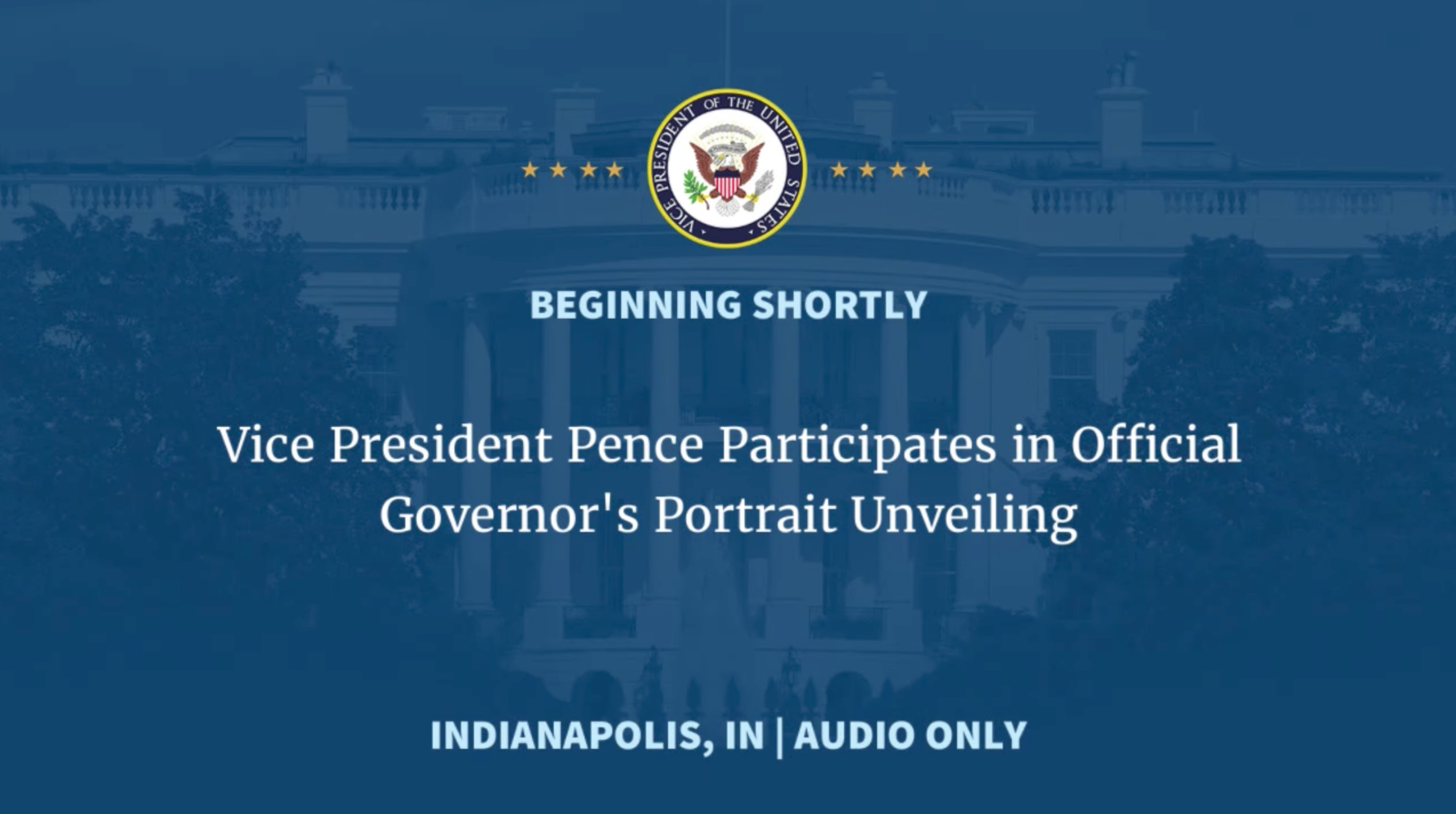 But thanks to news media present at the event, photos and video appeared online shortly after, and we know exactly how Pence will be remembered as Indiana's 46th governor. In the portrait, he perches on a desk, smiling softly, his hands clasped gently in his lap, wedding band on display. He wears a navy blue suit, an unbuttoned jacket, a baby blue shirt, and a tie reportedly designed by his wife that's based on the Indiana state flag. (He wore the same tie to the unveiling ceremony and joked to the crowd that he did own more than one tie.)
Pence, whose strong sense of family values preclude him from dining with any woman that is not his wife, will be remembered as just that — a family man. Beside him on the desk is a framed photograph of Pence, his wife Karen (who he calls "Mother"), and their three children, Audrey, Michael, and Charlotte. Pence, whose evangelism now influences policy at the highest levels of government, will also be remembered as a pious man, reflected in the bible that lays open next to him in the portrait, opened to his favorite passage from 1 Kings 3:9: "So give your servant a discerning heart to govern your people and to distinguish right and wrong." To his left sits a stack of books about law.
The artist, Mark Dillman, the IndyStar reported, wanted to give Pence "a pleasant and dignified look instead of a traditional toothy smile."
"The portrait is really about paying tribute to all those who are not the subject of the portrait," Pence told the audience. The event was open to the public, and drew about a 300-strong crowd, according to local media. The Pences were joined by Gov. Eric Holcomb and his wife, Janet Holcomb, as well as other officials.
Here's the portrait the White House presumably wanted you to see: