All images courtesy Nintendo
On Wednesday, Nintendo blindsided North American Style Savvy fans not only with a release date for the latest game in the series, but also with a shiny new demo in the eShop.
This comes after a conspicuous omission when the game was announced this past September. While Japan would be getting their version ( Girl's Mode 4: Star Stylist) on November 2nd and Europe theirs (New Style Boutique 3 - Styling Star) shortly thereafter on the 24th, there was no word at the time about a potential North American release. Given the fact that it took Style Savvy: Fashion Forward over a year to make the jump across the Pacific, as a longtime fan I was braced for yet another delay. So calling Wednesday's news a pleasant surprise would be an understatement.
The full version of Style Savvy: Styling Star will be out on the eShop on December 25th of this year (with no physical release planned) but until then the demo seems like a sound example of what can be expected. I've written about the joy of Style Savvy games for Waypoint in the past so I won't retread that ground here, but I will say that what I saw in the Styling Star demo has impressed me.
Nintendo's press release about the game makes some interesting promises, but one that stood out in particular was the mention of new in-game items. At the end of the demo they actually specify that there are over 2,400 new items, which is a pleasant detail given how much of the wardrobe in the series has seemingly been around since the original DS days. There have been items of clothing with noticeably lower texture quality than others, things that appear in installment after installment seemingly unaltered, and while I saw plenty of old favorites in my closet in the demo I also saw quite a few new ones as well. There are new categories of items to wear and new areas of customization like nail art existing alongside the old favorites.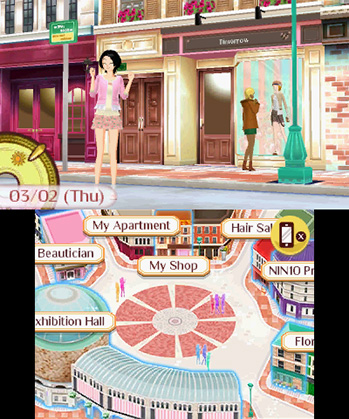 This new stuff also looks damn cute. Faces have been completely redone, with the characters becoming slightly more stylized and illustrated-looking look than previous versions. This aesthetic shift carries over to the new hairstyles as well, which look soft and silky and wonderful compared to the much flatter older styles.
Styling Star also seems poised to walk back some of the things that Fashion Forward fumbled. Like the first Style Savvy game, Fashion Forward operated on real time, but Styling Star returns to the internal day/night cycle that Style Savvy: Trendsetters used, allowing players to experience a full day in-game and then go to bed to see a summary of their earnings, as well as their experience gained. Also returning from Trendsetters is the ability to style male characters, even though the player character is still presumed to be a woman.
But the biggest addition to Style Savvy: Styling Star is, as the name implies, the ability to style up-and-coming celebrities at a local talent agency. The demo gives players a taste of this through making-over an aspiring pop star who arrives fresh off the farm with photos of her family's beloved cows in her pocket. Once she's dressed up, she performs a song complete with some super-cute choreography and a cheering crowd.
It's hard to tell how often this will actually come up, if it will get played out like the optional stage shows in Fashion Forward, if it replaces features like the contests present in previous games, or if it will have a structured story component. I've got countless questions, but all said the little slice served up in the demo certainly has me curious to see where that aspect of the game leads.