The Outlet Pass: Time For Award Season!
Also: Otto Porter needs a nickname, San Antonio's disturbing transition defense, Kyle Lowry's atomic transition offense, video evidence that proves triple doubles are stupid, and more.
Photo by Troy Taormina - USA TODAY Sports
Welcome to The Outlet Pass, a weekly roundup of observations, questions, and predictions from Michael Pina's NBA notebook.
1. It's Award Season!
Minus the settlement of almost every playoff seed and a handful of games between teams that are intentionally losing, the regular season is finished. Right now we have enough evidence to argue for or against every major candidate eligible for every major award. So, without further ado, here's a quick rundown of what my (hypothetical) ballot would look like if it were submitted today.
Most Valuable Player:
1. James Harden, 2. LeBron James, 3. Anthony Davis, 4. LaMarcus Aldridge, 5. Damian Lillard
Apologies to Kevin Durant, Giannis Antetokounmpo, Victor Oladipo, DeMar DeRozan, and Russell Westbrook.
Sixth Man of the Year:
1. Lou Williams, 2. Eric Gordon, 3. Fred VanVleet, 4. Terry Rozier, 5. Wayne Ellington
Apologies to half a dozen Toronto Raptors.
Most Improved Player:
1. Victor Oladipo, 2. Aaron Gordon, 3. Julius Randle, 4. DeMar DeRozan, 5. Andre Drummond
This award is way too nebulous for me to dole out any apologies.
Rookie of the Year:
1. Donovan Mitchell, 2. Ben Simmons, 3. Jayson Tatum, 4. Kyle Kuzma, 5. John Collins
This list is perfect and overlooks no one.
Defensive Player of the Year:
1. Rudy Gobert, 2. Joel Embiid, 3. Draymond Green, 4. Anthony Davis, 5. Al Horford
Apologies to Andre Roberson, who low-key deserves to be in the conversation despite only appearing in 39 games.
Coach of the Year:
1. Brad Stevens, 2. Dwane Casey, 3. Gregg Popovich, 4. Terry Stotts, 5. Mike D'Antoni
Apologies to Quin Snyder, Erik Spoelstra, Brett Brown, Nate McMillan, and Alvin Gentry.
All-NBA First Team:
Guard: James Harden, Guard: Damian Lillard, Forward: Kevin Durant, Forward: LeBron James, Center: Anthony Davis
All-NBA Second Team
Guard: Russell Westbrook, Guard: DeMar DeRozan, Forward: Giannis Antetokounmpo, Forward: LaMarcus Aldridge, Center: Karl-Anthony Towns
All-NBA Third Team
Guard: Kyrie Irving, Guard: Stephen Curry, Forward: Paul George, Forward: Al Horford, Center: Joel Embiid
Apologies to Chris Paul, Jimmy Butler, Nikola Jokic, Kyle Lowry, Victor Oladipo, Chris Paul, and Chris Paul.
2. San Antonio's Transition Defense is Unusually Spotty
The San Antonio Spurs have exhibited solid defensive principles for years. They don't foul, commit themselves to preventing offensive rebounds, and hustle back on defense.
But even though the numbers don't overwhelmingly point to a drop in any one of these categories—including how their overall defense has performed all year, which is at a top-five level—it's hard not to notice some uncharacteristically lazy mistakes suddenly showing up in transition.
Most blunders can be traced back to a miscommunication, where two Spurs sprint to cover one player, but sometimes they simply don't run back as fast as they should, leave the floor unbalanced, or get burned by poor positioning.
As Danny Green admires his brick, Tony Parker and Kyle Anderson go for a nice Sunday stroll. Khris Middleton says thank you:
The two plays below are more of the same, with Jodie Meeks and Jabari Parker attacking the basket as soon as they realize no Spurs are back to protect it.
Again, the numbers don't necessarily suggest that this usually solid area of their defense is cause for concern—San Antonio was magnificent in retreat against the Houston Rockets on Sunday—but it might be something to keep an eye on in the playoffs, knowing that without Kawhi Leonard in the lineup, their margin for error is smaller than it normally is.
3. Kyle Lowry in Transition
For all the myriad ways Kyle Lowry can pummel his opponent, whiplash-inducing pull-up threes have officially cemented themselves as his most savage move. They aren't new, but are more rampant and powerful than ever before.
According to Synergy Sports, over 20 percent of all Lowry's possessions are in transition, which is up about three points compared to the past three seasons. His adjusted field goal percentage in transition ranks fourth among all guards with at least 200 possessions (Klay Thompson, Gary Harris, and James Harden are ahead). Three years ago it was 56.1 percent. Now it's 66.4 percent.
These game-changing turns often begin as Lowry scampers up the floor, scans both wings to see if any teammates have broken free, and then slams on the brakes to deliver a colossal haymaker from 28 feet. Sudden, demoralizing, and unavoidable. The basketball equivalent to stepping outside in a new suede jacket and having a bird relieve itself overhead.
Sometimes Lowry already knows what's going to happen as soon as a teammate outlets him the rebound. He'll jog up, lull the defender to sleep, then detonate from an unreasonable distance.
With opponents already having to deal with Toronto's relentless wave of coordinated athleticism and outside shooting, Lowry's transition pull-ups add an unfair wrinkle to their attack. No All-Star has watched his role get reduced more dramatically than Lowry has this season (in the first year of a new contract, nonetheless!), but the way he's adjusted for the sake of Toronto's overall growth is admirable and terrifying.
His minutes and shots are way down, as are the percentage of his possessions where he gets to initiate a pick-and-roll. According to Synergy Sports, that number has fallen 12.5 percent, one year after he was one of the best pick-and-roll scorers in the league. Lowry still has an unquantifiable and hugely positive effect in the half-court (he's so excellent at knowing when to cut into open space, catch a pass, and then immediately kick the ball out to an open teammate), but the way he guts defensive schemes by scoring before they have a chance to set up is what truly makes him special.
4. Luke Kennard's Fundamental Drawback
Comparing Luke Kennard to Donovan Mitchell is only something Detroit Pistons fans who want to punish themselves should do. Here's how they match up statistically. It's not great. But the exercise is unfair to Kennard, who can still grow to become a reliable third wheel beside Blake Griffin and Andre Drummond. He's already made nearly 43 percent of his spot-up threes.
But there's one flaw that may permanently lower his ceiling. According to CTG, 44 percent of Kennard's shots are from the mid-range. He's been excellent on long twos and okay with his floaters, but a solid in-between game is only worth so much from a contemporary wing. Kennard can't get to the rim and displays very little explosiveness once he gets there. Only 16 percent of his field-goal attempts are at the basket, and from those he's only made 55 percent. Both those numbers are really bad.
On plays where he's able to attack, Kennard usually swerves into the paint off a dribble hand-off. As Andre Drummond's roll forces the shot blocker to guard two players at the same time, Kennard gets a step on his man and finds a way to lay it in. But these plays feel more like fortunate blips than sustainable action. Detroit's offense is too jumbled for someone as relatively sluggish to find consistent success. And all too often Kennard tends to get swallowed whole.
To reach his potential as an offensive weapon—be more than someone who runs off screens and knock down spot-up threes—Kennard has to hone a lethal floater, get more unpredictable with his ball-handling, and continue to make himself available on perfectly timed cuts into the paint.
He'll always be at a physical disadvantage—with a slim margin for error that more athletic, longer colleagues don't need to worry about—but Pistons fans will eventually forget all about Mitchell if Kennard widens his tool box to make up for weaknesses he can't control (just kidding).
5. Ban The Triple Double
The triple double is dumb and bruises the game. There's probably no more defective sight on an NBA court than when someone actively goes out of his way to hunt for it, instead of just, you know, playing to win and letting individual stats fall where they may.
Since Kevin Durant left Oklahoma City, no player has been less opaque about these intentions than Russell Westbrook. This play from the Thunder's recent overtime loss against the Denver Nuggets might be my new favorite example of why the triple-double chase tends to subconsciously have a negative effect on the game.
Westbrook's defensive assignment is Jamal Murray, who for most of the possession is wide open on the weak side. As the play ensues, the reigning MVP drifts closer and closer towards the basket, until Wilson Chandler comes down to (barely) set a screen that Westbrook opts not to fight through. There is no close out, and Murray—who's drilled 43.6 percent of his wide-open threes this season—launches a wide-open three.
Westbrook values that defensive rebound more than he does contesting a knockdown three-point shooter's shot, in the second-half of a critical game with his team trailing by 13 points. (At this exact time in the game, he had 17 points, six assists, and eight rebounds.) The best part is the look Paul George gives Westbrook when he realizes how alone Murray is. It's very 'we've talked about this at least one thousand times!' but Westbrook's obsessions with a meaningless statistical benchmark knows no bounds.
All that said, it's hard to hold Westbrook accountable for his greed. He's Oklahoma City's best player, and actually scored in transition a few seconds after Murray missed the shot. The end didn't justify the means for Westbrook's teammates, coaches, or anyone watching at home, but it worked, and sometimes that's all that matters. Overall, of course, this remains a bad habit, and will burn the Thunder badly if carried over into the playoffs.
6. Diagramming a Nickname for Otto Porter
Otto Porter is unwaveringly monotonous. He magically turns kick-out passes into three points with more regularity and faith than just about anyone else, never turns the ball over, and is characterless as a defender. There's nothing creative about his pick-and-rolls, to which defenders get burned every single time they duck under the screen, but every year his all-around game gets a little better, as the third option on a team that will never soar above third place in their own conference.
That right there basically sums up the Otto Porter experience. That's fine, but still makes him one of the least-appreciated legitimately good players in the NBA. And the answer to changing how he's perceived might be had with a nickname. Basketball-Reference has "Bubba" listed as one possibility, but that's obviously ridiculous. Instead, simple initials will do. Washington's broadcast team sometimes calls him "OP," and that's perfect. It's how basketball fans everywhere should exclusively refer to Porter whenever he comes up in conversation.
Each letter is one syllable (think CP, KG, PG, AD, LJ, etc.) and they flow into each other. Two problems: 1) People might think you're saying Opie, as in Ron Howard's character from The Andy Griffith Show and 2) it could come across as an abbreviation for the Naughty by Nature classic, which is sometimes played at Capital One Arena whenever he makes a three.
In my opinion, it's worth the risk. As one of the better shooters alive (he's made over half his long twos for the second year in a row, and currently owns the sixth-highest three-point percentage in the league) "OP" is better than "Otto Porter," and the world will be a better place as soon as everyone acknowledges it.
7. D.J. Augustin: A Rose in Concrete
Here's a philosophical thought experiment: If D.J. Augustin posts an impressive True Shooting percentage while playing for the Orlando Magic, does it make a sound?
In 23 starts since he replaced Elfrid Payton as Orlando's starting point guard, Augustin is shooting 43.1 percent beyond the arc, 91.4 percent from the free-throw line, and 46.3 percent from the field. The team's offense goes from stale bread with him on the court to chunk of mold when he sits.
Beyond shooting the ball better than he ever has—at age 30, in one of the league's most hopeless situations—Augustin appears to genuinely care. He finishes drives strong (even though he knows that means he'll probably end up on the ground), seeks out his own missed shots, takes charges, encourages teammates, and generally stays engaged.
Except pride and maybe a starting spot next year, this is someone who has nothing tangible to play for (he's guaranteed $14.5 million over the next two seasons), but he treats every possession like his career is on the line. Cool stuff.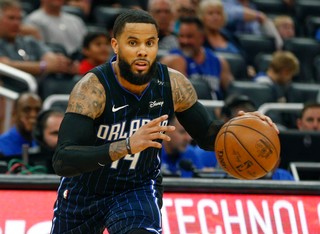 8. Checking in on the Great Tank Race of 2018
Good tank jobs are understandable and a borderline thrill for fans who understand what's in the best long-term interest for their favorite team. It's also an opportunity for players who would otherwise never step foot on an NBA court to wear a jersey with their name embroidered on the back.
The high mark of their professional careers occur in atmospheres designed for intentional failure, making their individual experience feel like a birthday party at a funeral. But it's better than nothing. Some of these players are legitimate prospects who can possibly evolve into long-term help, while others are 29-year-old Julyan Stone.
Generally speaking as someone in the 99th percentile of NBA-game watchers, eight or nine teams are currently, um, unwatchable, and a sad hilarity ensues when they square off against each other. Nobody wants to win.
In March, Orlando has started Rodney Purvis twice, and Jamel Artis (sorry but that's an incredible name) has logged 114 minutes. On the Mavericks, Aaron Harrison, Jameel Warney, Jalen Jones, and Johnathan Motley have all seen time. Memphis signed Marquis Teague and MarShon Brooks precisely because we know they can't play in the NBA.
Phoenix has rotated the following players in and out of the fourth quarter of recent games: Alec Peters, Davon Reed, and Shaquille Harrison. Alan Williams treats his touches like it's Las Vegas Summer League. I've had to google nearly half of Atlanta's roster to follow along and the Bulls just shut down Kris Dunn and Zach LaVine for the seasons so they can instead take a nice long look at Sean Kilpatrick, Ryan Arcidiacono, and Antonio Blakeney.
For whatever reason, I've been impartial to reforming the lottery over the past few years, but dear god the NBA is filled with some depressing basketball right now.
9. Will Barton's Contract Shots
Contract years can be a fickle situation, and things tend to magnify in a negative way when the player in question is one-dimensional and primarily compensated for his ability to score. Enter Will Barton and the Denver Nuggets.
Barton is not a bad player and nothing about his intentions are malicious. But it's hard to untangle his thirsty shot selection and the desire for a new contract this summer. Sometimes the Nuggets need him to approach his touches with a confrontational attitude, but as someone who's sly enough to regularly slip past his initial defender, draw help, and generate an efficient shot, Barton often finds himself forcing incredibly difficult attempts that are anything but beneficial for a team that currently finds itself in a do-or-die situation.
Overall, the Nuggets have been exceptional when Barton is their point guard, and it's not exactly the most responsible journalistic act of my career to pontificate about a relationship between Barton's on-court mentality and his bank account. Some of his problems are just because that's who Barton is—a chucker—and what the Nuggets need.
But examples that are even more egregious than the one above—when Barton dribbled himself into a corner and wasn't actively ignoring more efficient options—are impossible to ignore if you watch this team play. Here's Barton missing a contested pull-up three early in the shot clock (not great!) but then getting gifted with a second chance.
Instead of passing to Wilson Chandler who's wide open in the corner, Barton bricks a free-throw jumper. An apologist can look at this sequence and fairly conclude that Paul George is smack dab in the middle of his passing lane, and would've closed out to the corner before Chandler could get a clean shot up. Barton was open 14 feet from the basket, and it'd be water under the bridge if it went in.
But a pass to Chandler would be hard, not impossible. Also, Devin Harris was creeping into the frame just when Barton got the ball, and passing to him would have opened up a few more angles for Denver to attack.
Less debatable is this play against the Raptors:
Instead of hitting Jamal Murray as he crashes in from the corner, Barton tries a contested mid-range jumper over Jonas Valanciunas. Not the best call.
Barton has never been a black hole, and is in fact posting the highest assist rate of his career right now. And that's what's so frustrating about plays like the one above. He's crafty enough to slice through the defense's perimeter and set teammates up, and can easily command more money if Denver makes the postseason, which is more likely to happen if he settles down just a tiny bit. Instead, in meaningful spots, the 27-year-old has willingly decided to stack unnecessary pressure on his shoulders.
10. Boston's Pace
How the Boston Celtics are consistently swatting away myriad long-term injuries to sustain their early/mid-season success is as remarkable as it is baffling. But one possible (and slight) explanation might be their sedated tempo. Since the All-Star break (also before, but even more noticeably since), Boston has moved like maple syrup down a tree.
With very few ways to generate efficient offense while Kyrie Irving is on the sideline, the Celtics have slowed down to accentuate their defensive strengths. Only three teams have a lower pace since the All-Star break, and the percentage of their shots launched late in the shot clock has steadily increased.
With Irving and Marcus Smart out, they've also played more big lineups over the past six weeks than Brad Stevens could've possibly anticipated heading into the season, leaning on five-man units that pit Marcus Morris at the three—primarily when Jaylen Brown missed a few games with a concussion—or Al Horford beside either Aron Baynes or Greg Monroe.
The Celtics haven't been successful in transition all year long, per CTG, so it only makes sense for them to play to their strengths by keeping games slow, controlling the glass (they rank seventh in defensive rebound rate since the break), and limiting the game's overall possessions. Since the All-Star break, they're 29th in the percentage of their points that come via the fast break, and down to 16th in three-point rate.
Assuming Smart and Irving won't be available in the first-round, expect Boston to do all they can to bog games down and out-execute their opponent in a half-court setting. It's an uphill climb, but structure suits their young, inexperienced team well right now.
11. Evan Turner in the Post
I don't care what anyone says, Evan Turner is a delight who makes the NBA a better place. He was also quietly one of the league's most efficient post-up scorers last season. Portland's fantastic coaching staff responded to this information by mitigating what's mostly been an uncomfortable fit and shifting more of his offense to the block.
According to Synergy Sports, the percentage of Turner's possessions that are post ups has risen by exactly six percent this year. His Nowitzki-esque turnaround fadeaways are a joy (when they go in), and he's proven to be most comfortable when manipulating a slower game with the ball in his hands.
Turner still isn't particularly efficient, can't shoot threes, doesn't complement Lillard or C.J. McCollum in obvious ways, and Portland is noticeably worse on both ends when he's on the floor.
But five of Turner's seven units that have logged at least 100 minutes have a positive net rating, per CTG—including whenever he replaces Moe Harkless in the starting lineup, a lineup that's outscoring opponents by 11.3 points per 100 possessions. The Blazers can be successful when he's on the court, and finding ways for him to either score or draw help to kickstart a good shot elsewhere will be key for this team until Harkless is 100 percent healthy.