Conservative writer and alt-right provocateur Milo Yiannopoulos' appearances at major public universities in California have riled up their student bodies to the point where a huge police presence is needed to control protests that, in numerous cases, have led to violence.
Yiannopoulos' speech at the university on January 31, 2017 at California Polytechnic State University (Cal Poly) resulted in the California State University system and San Luis Obispo collectively spending more than $65,000 for security—which included the SWAT team, according to the San Luis Obispo Tribune. While the event came with a hefty price tag, university spokesman Matt Lazier told MUNCHIES that it lasted only two hours and in the end was relatively uneventful.
The Cal Poly College Republicans are hosting Yiannopoulos again tonight, April 26, at 7 PM, this time for a panel on "fake news." And rather than give any credence to the former Breitbart News editor, San Luis Obispo Mayor Heidi Harmon is encouraging residents to host potluck meals on that day with other members of the community.
Yiannopoulos' return to Cal Poly follows a rough month for the university. Last week, the president of Cal Poly indefinitely suspended all fraternities and sororities following student outrage over racially insensitive pictures that surfaced on social media, including a fraternity member posing in what appears to be blackface.
The blackface incident occurred during Cal Poly's PolyCultural Weekend, when prospective students are invited to explore campus diversity. The university has made attempts for decades to shed its reputation for being a predominantly white and affluent institution.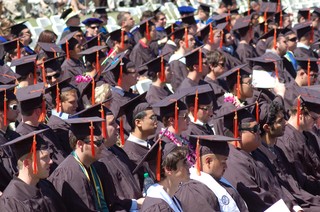 While Harmon calls the pictures "100-percent unacceptable," she'd rather ignore Yiannopoulos than cultivate outright resistance. Her experience with potlucks came long before she was elected mayor by a narrow margin in November 2016, and they're a tool she has previously used to address concern among her constituents following the election of President Donald Trump.
"I didn't know what to do, but people looked to me to do something," Harmon told MUNCHIES.
So, on the Wednesday following the 2016 election, Harmon called for a potluck at her own home. More than 100 people showed up with little notice, she says, and filled her table with homemade casseroles, desserts, and other dishes. She did the same thing when Yiannopoulos came to campus last year.
With a background in activism, Harmon says she understands how protests work. She researched a way to address her constituents without fanning the flames of Yiannopoulos' controversy, and found that the Southern Poverty Law Center encourages student groups to hold alternative, inclusive events at the same time as inflammatory figures' visits to counter what the organization calls the "racist ideology of the alt-right" on campus.
This year, Harmon wants residents with different backgrounds to break bread together in the spirit of inclusion, and more specifically, to listen to people of color and marginalized groups. Harmon called the community-wide potluck "Let's build a bigger table, not higher walls" and created a Facebook page where others can post information about their respective events on April 26. The page has elicited several events, including a potluck at San Luis Obispo's Unitarian Universalist (UU) Fellowship Church.
"One of the things I'm trusting is SPLC's call to ignore people like him," Harmon told MUNCHIES. "If we don't give them what they want, does that reduce their power? That's ultimately what I'm trying to figure out."
The Cal Poly College Republicans didn't respond to MUNCHIES' request for comment on the event with Yiannopoulos. The panel will also include YouTube personalities Carl Benjamin, who goes by the moniker 'Sargon of Akkad,' and Austen Fletcher, also known as Fleccas.
Lazier told MUNCHIES that Cal Poly is required to uphold free speech.
"Censoring language and viewpoints violates First Amendment rights and does not represent what Cal Poly stands for as a university," Lazier wrote in an emailed statement. "Rather, free speech and the open exchange of ideas and opinions—even those that conflict with our own—is an important part of critical thinking and student growth."
Harmon won't be hosting her own potluck this year, but will go to as many as she can in her central California coastal city of roughly 50,000.
When reached for comment via email, Yiannopoulos wrote to MUNCHIES that he "won't be answering questions on the record about politics or myself." In response to the potlucks, he (presumably jokingly) added that he would "[consider] attending with a homemade mac and cheese in my apron and oven mitts."
While he was probably just being coy, Harmon says she isn't sure if she's comfortable with the idea of Yiannopoulos showing up to a potluck, since the idea, after all, is to ignore him. Even the UU, a religion known for its inclusivity of spiritual ideas, is having a hard time accepting him. Member Gina Whitaker told MUNCHIES she hopes he doesn't show up.
"Part of being a Universalist is recognizing everyone's inherent worth," Whitaker told MUNCHIES. Her event can only hold 50 people and requires an RSVP. "I'm not saying [Yiannopoulos] doesn't have worth, but he's not worth my time."