A bath isn't fun when you're a UFC fighter trying to make weight. A bath is torture.
"It never gets easier," Uriah Hall says of his pre-fight weight loss routine.
In a nondescript strip mall in Henderson, Nevada, a suburb of Las Vegas, the UFC middleweight fighter warms up on the soft blue mats of a Jiu Jitsu gym. He jumps rope gracefully while his trainer, Clayton Hires, playfully gives him shit for being overweight. Hall fights at 185 pounds, but this morning he's about 220.
"The thing is, coach is a walking scale," Hall says. "Everybody is fat to him."
In order to lose those 35 pounds to make weight, the six-foot tall fighter changes the way he eats and trains weeks before a fight. He starts drinking up to three gallons of water a day. "You change your diet, you cut out a bunch of shit. It's hell," he says.
The night before weigh-ins, the bath comes into play. First Hall applies Albolene to his entire body. The moisturizing cleanser, which you can find at most drug stores, helps open up his pores. Then he sinks into a hot AF bath to sweat out as much water as possible.
"You lay in it for thirty minutes—and it sucks. It's like negro soup," he tells me. "You don't really think about it, you try not to. You lay there for ten or 15 [minutes], then all of a sudden it kicks in and you're like shit, it's fucking hot. Then you try to distract yourself."
When he finishes the first round of soaking, Hall will continue sweating his water weight outside the tub. "We wrap ourselves up in towels for another 30—that's five pounds," he says. He'll repeat the process until he's a few pounds shy of his goal weight. "Sometimes if I get to like three pounds over, we'll just sweat it out by punching. But I'll be dead by then." The down-to-the-wire weight loss routine has to work. It would cost Hall not to—literally. Competitors are fined percentages of their purse if they're over their weight the morning of a fight.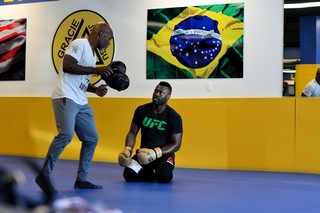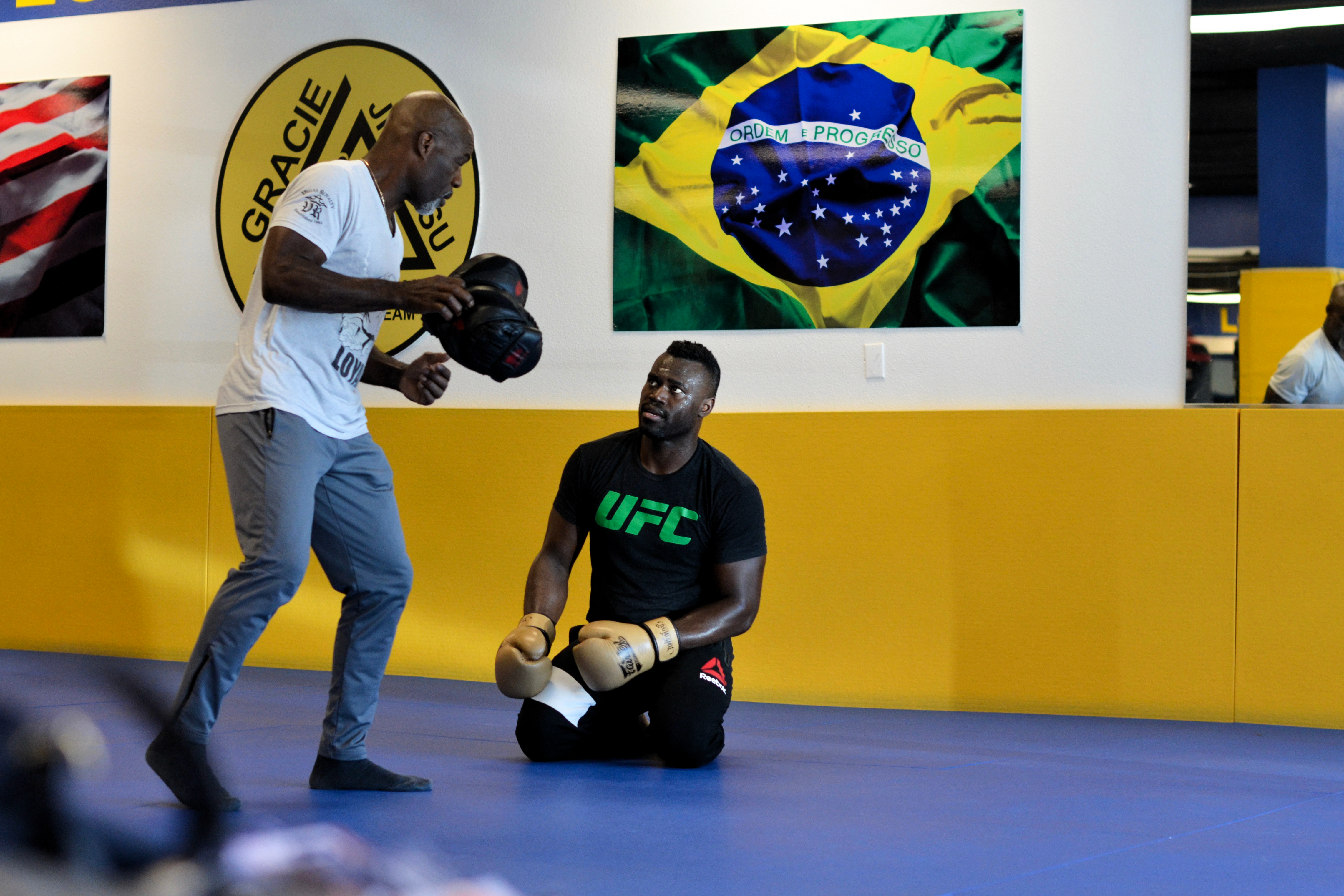 Hires tells him he wouldn't have to go through the pain if he would just hover ten pounds over his fighting weight all the time, not 35. While Hall agrees with his coach, it's not an easy thing to do. "I eat a lot afterwards because I've been deprived of food for so long. So when you finally eat, you're like oh my god. I eat like I'm in prison. I inhale my food," he says. "You're supposed to chew like twenty times, I'm lucky if I get to four." After the jump roping, Hall further wakes up his body with some shadowboxing. Next he spars with Hires, who fights back using foam pool noodles.
While Hall has the expert coaching of Hires now, the athlete first learned to fight by mimicking video games like Tekken when he was a kid. (His Snapchat name is even .tekken123.)
"It taught me how to fight. I was getting bullied, so that's why I had to learn," Hall says. "When the bullying got really bad I was cutting school—didn't realize they were going to call your house. My mom got a call and was yelling at me. I kind of broke down and cried."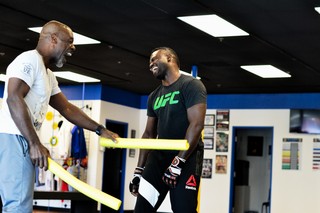 Hall was born in Spanish Hall, Jamaica, and moved to New York when he was 13. The transition was rough.
"It's just one of those things coming off the boat, especially in New York City," he says. "I didn't have style. I was dark skinned—still am, and they would pick on me for that. And it was other black kids, too. I was looking at this kid I'm like you're black, too. What do you mean I'm black? I understand now that's just a way of degrading you."
At the brink of committing suicide, Hall, then 16, was enrolled in martial arts to build up his confidence and teach him self-defense. He took to the sport quickly, and had senseis tell him he was bound to be a fighter. Hall didn't believe them.
"I was afraid," he says. "I'm still scared to death, but I'm still doing it."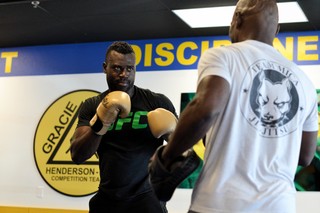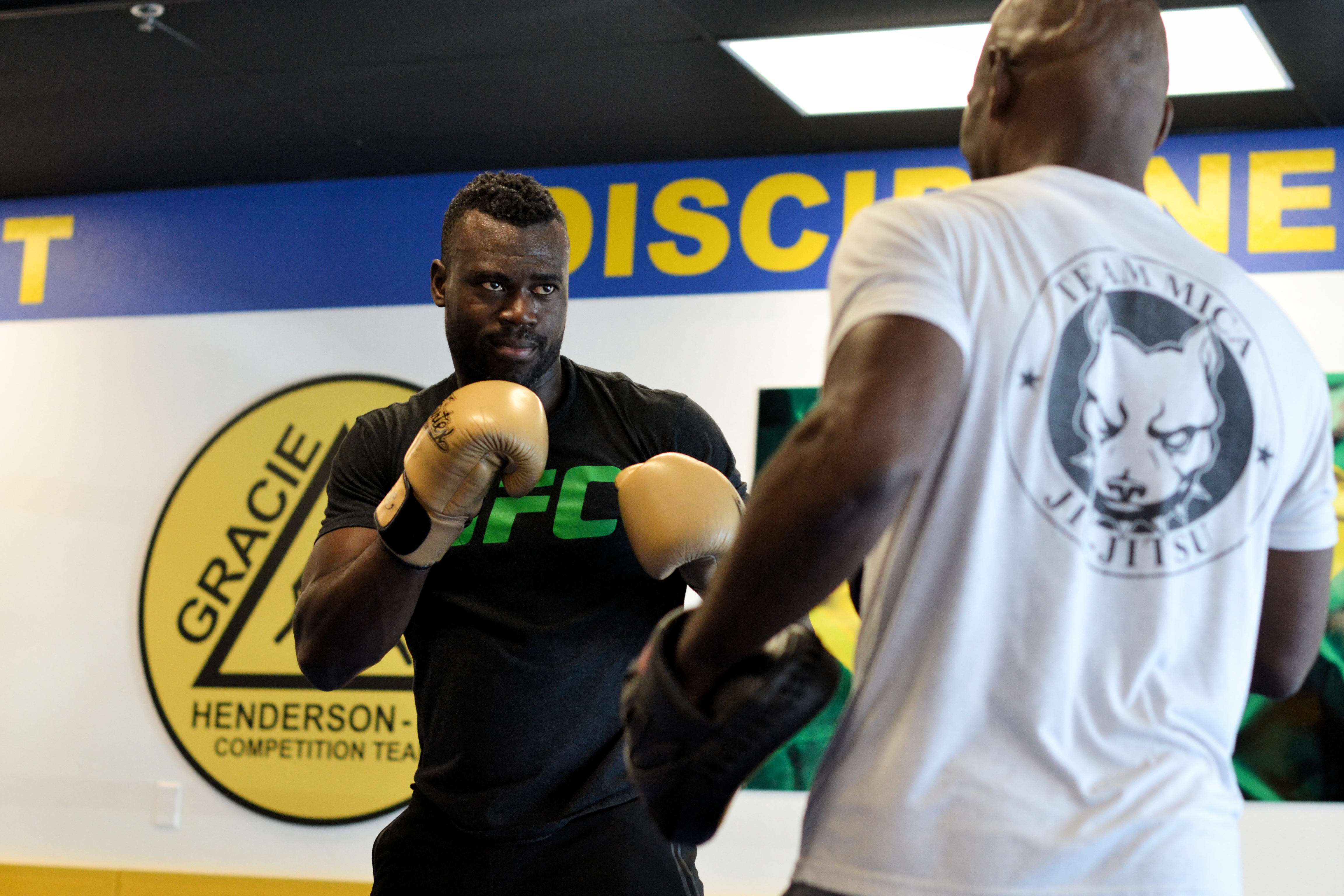 Hall has been fighting professionally since 2005, but he's never considered himself a typical fighter. He says he lacks the killer instinct most UFC competitors call on to destroy opponents. While that may be true, he's still found success in the sport. In 2013, he made his reality television debut on the Fox Sports MMA show The Ultimate Fighter. He captured the attention of the UFC world in the third episode when he knocked out Adam Cella with a spinning back kick at the end of the first round.
Kicking is definitely his strong suit: Vice Sports fittingly called his moves "Straight outta Tekken." After being named the show's runner up, Hall went on to continue competing around the world—but in 2016, he went on hiatus from fighting. "I lost a couple fights in a row, and something wasn't there," Hall says. "I felt the passion went adrift, and I got distracted in some way."
Hall was living in Los Angeles and decided to relocate to Las Vegas. He now lives ten minutes from his coach's house. "He's one of the reasons I moved here. He's good for my mindset. We're always having fun," Hall says of Hires. Once Hall decides to accept a fight again, he'll go into training mode once more. The first step is to clean up his diet, which means staying away from his favorite foods—like In-N-Out Burger and the Jamaican dish ackee and saltfish.
"Being older, you want to put the right stuff in [your body]," he says. During training, he'll start the day with fasting cardio, a thirty minute run on an empty stomach. He'll break his fast with lemon tea, then eat some real food. "I have egg whites, some ground turkey, spinach, a bit more greens, maybe tomatoes and I'll have that with a bowl of oatmeal. That's my breakfast every morning," he says.
Lunch and dinner revolve around protein and greens with limited or no carbohydrates. If he's had an intense workout, he'll go with something heartier like steak. If he's worried about weight, he'll eat fish like salmon or sea bass. He might snack on fruit during the day for a jolt of energy.
Once he's on a roll with his diet, cheat meals become problematic. "Food I definitely think plays a big part. When you're eating healthy you feel better. I know when I eat good I feel good. When I start eating crap, my body's like what the fuck are you doing man?" he says. "When you're working out a lot and you're eating properly, then you eat bad, you feel it. You feel like a pizza. I ate a pizza and I felt like a pizza—I felt sluggish, slimy, oily, cheesy."
Leading up to a fight, Hall trains for two hours in the morning and two hours in the evening all week, taking one day light for recovery. "On Saturdays I'll do physical therapy, or sauna, do ice baths or swimming. Just not put too much strain on my body."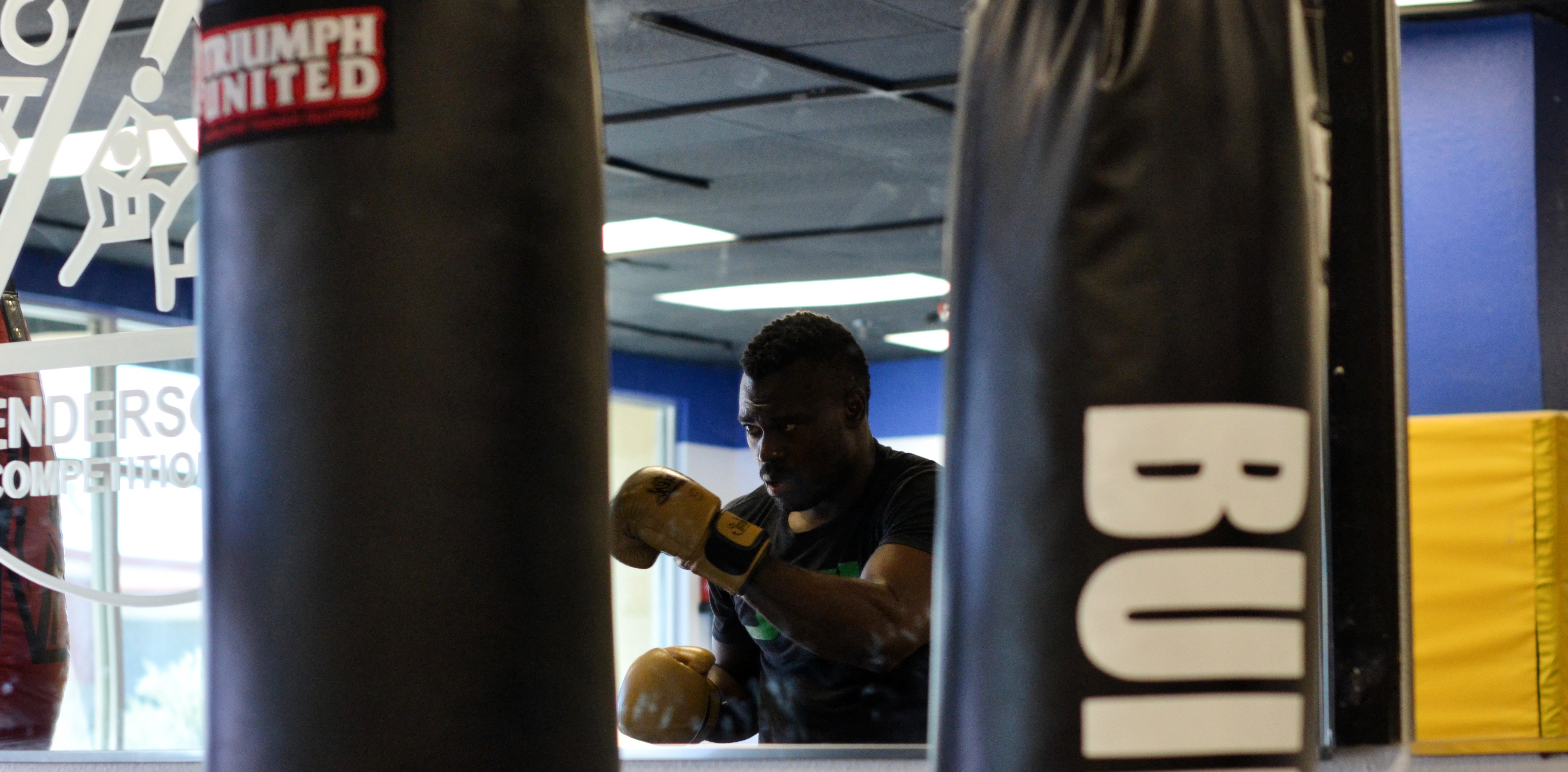 While the training and weight loss process can be unpleasant, Hall is happy to endure the discomfort. "You know what, Muhammad Ali said it the best: I hated every minute of it, but I knew if I did it I'd be a champ. Running at five in the morning is mental. It's not even the running, it's the mental aspect of it," he says.
"That's what he taught me," he adds motioning to Hires. "When you're training, your opponent is sleeping. It's the waking up and doing it when you don't feel like it."
The end game of Hires' coaching is to get Hall to learn how to be comfortable in an uncomfortable environment, to overcome the mental blocks and use those Tekken moves to knock out opponents. But in the end, it's up to Hall alone.
"It's not a team sport. You can't go hey man I'm tired, go sub for me. If you're tired, you have to figure a way out of it," he says. "Being that it's a lone sport, psychologically it gets you sometimes. You have those doubts." Hall ends his workout with bag work. This final part of his workout is grueling. He throws punches and elbows into the heavy bag, his shirt slowly becoming drenched with sweat.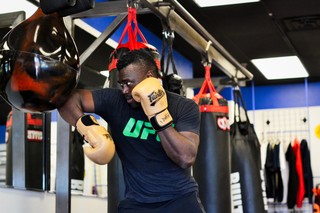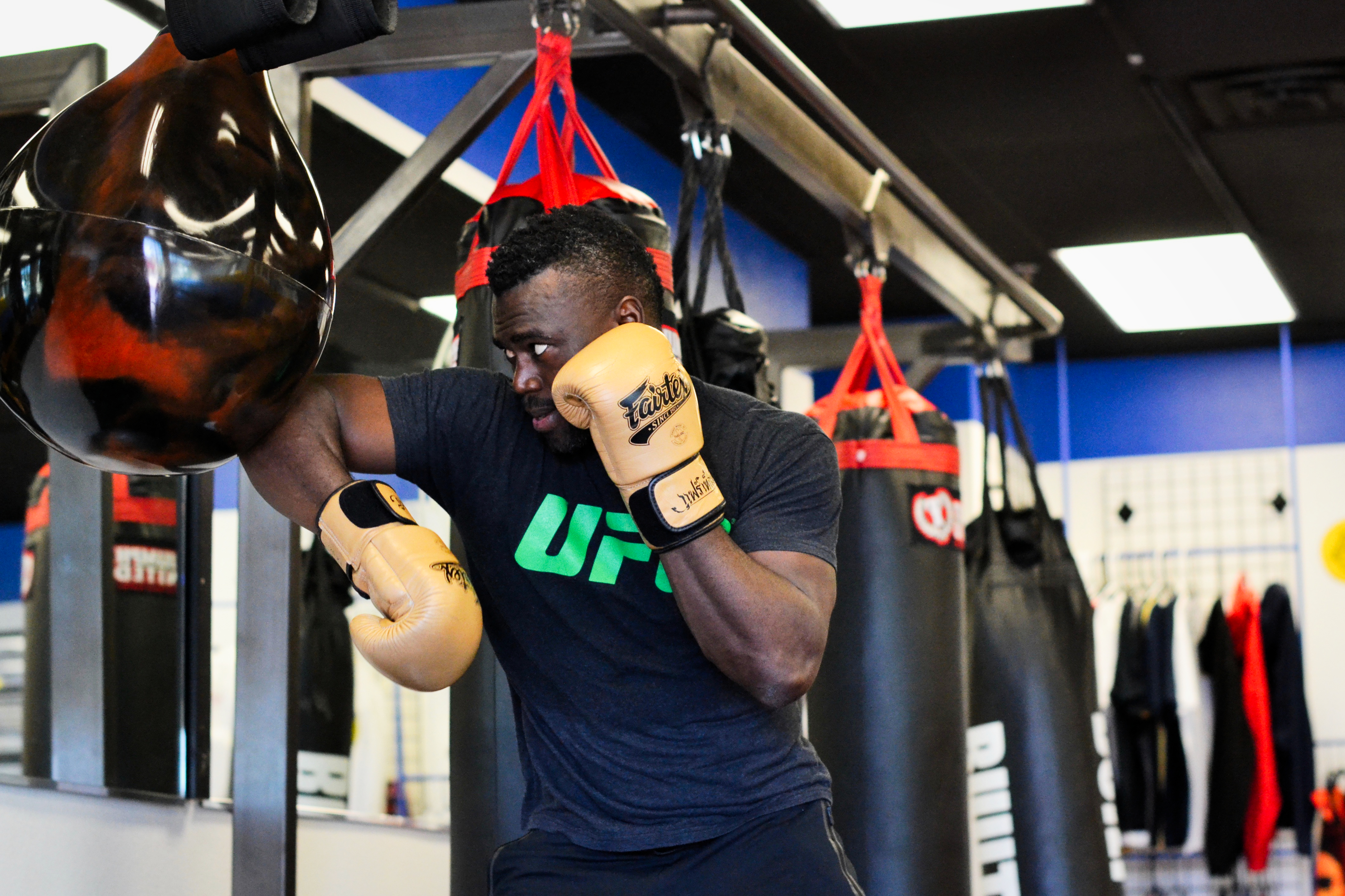 In a few more days, he'll head to the mountains to spend a week at a cabin, training in the high altitude and taking some time alone to reflect on the future. With his phone turned off, he'll be disconnected from fan messages pouring into his Instagram comments, anxiously awaiting his return to the ring.
"Where have you been Sensei? We miss you!" one Instagram user wrote.
"We miss seeing you Uriah," said another.
"Hey come back please."

Read This Next: Men Who Work Out Have Superior Sperm