Cardi B—she's everywhere! Stuck in your head. Blasting from cars. Booming on the subway platform. Quietly inhabiting your bowl of breakfast cereal.
"Rollie got charms, look like Frosted Flakes," she raps in a crucial verse of her chart-busting hit 'Bodak Yellow.' It's a line, Cardi B believes, seized the public imagination with such force and vigor that it directly influenced the release of 'Lucky Charms Frosted Flakes' earlier this month.
"Kellogg's ain't low They Hurd BODAK YELLOW and was like ROLLIE GOT CHARMS LOOK LIKE FROSTED FLAKES ?!!!," the rapper wrote in an emoji-congested Instagram post last Tuesday. "I think we have something right here !!! i want 2% of sales ."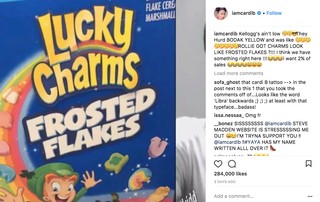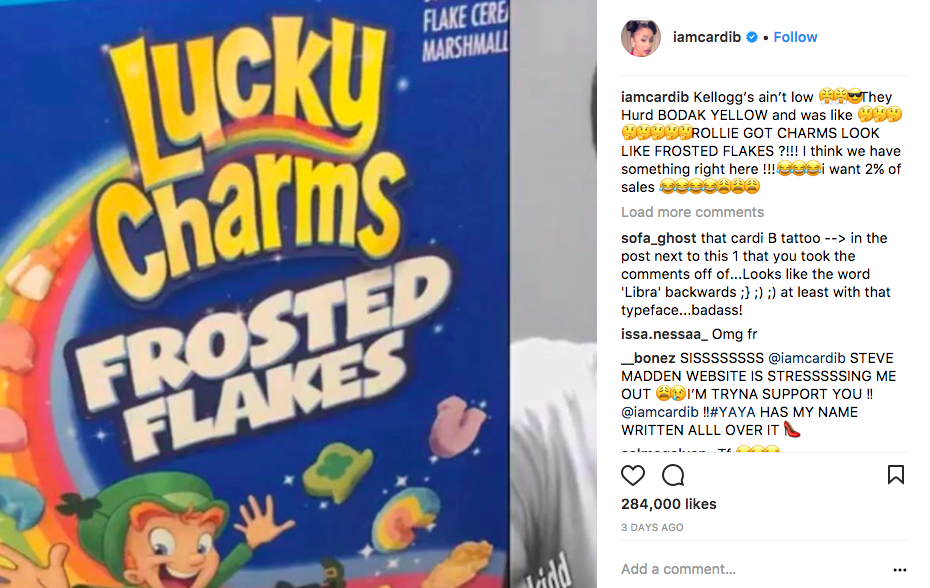 So, to take a step back: Last month, General Mills announced it'd be hoisting 'Lucky Charms Frosted Flakes' upon American supermarket shelves in early January. As the name implies, it's a sugary synthesis of General Mills' Lucky Charms and, uh, flakes that happen to be frosted.
These General Mills frosted flakes are not the same thing as Frosted Flakes manufactured by Kellogg's. They are merely cornflakes that are similarly coated with a fleece of white sugar. Luckily for General Mills, "frosted flakes" is so generic a term that it probably won't land General Mills in any legal hot water.
READ MORE: The War Between Breitbart and Kellogg's Has Spawned #BreitbartCereals

Cardi B, for her part, is likely oblivious to the fact that Kellogg's has had no bearing on General Mills' decision to release Lucky Charms Frosted Flakes. Kellogg's did not respond to immediate request for comment from MUNCHIES, though General Mills confirmed that Cardi B had nothing to do with the cereal's existence.
"We started working on Lucky Charms Frosted Flakes about a year ago," Mike Siemienas, a spokesman for General Mills, wrote MUNCHIES over email on Friday. Noted, but don't forget that Cardi makes money move.