The 1992 Winter Olympics in Albertville, France are often lost in the shuffle of public memory. They were the last winter games to be held during the same year as their summer counterpart. And for the U.S. team, they marked a turning point: all five gold medals won by the U.S. were taken home by female athletes. Bonnie Blair (twice) and Cathy Turner won gold in speed skating, Donna Weinbrecht in freestyle skiing, and Kristi Yamaguchi in figure skating.

"We realized that all the gold medals came from women, and we were really proud of that," Yamaguchi recalled in an interview with VICE Sports. "We had this unique bond after the Olympics." 26 years later, the accomplishment hasn't been replicated.
The women of Winter 1992 focused new attention on their sports. Their performances shined a spotlight on elite female athletes and inspired generations. The gold harvest seemed to indicate the strength and equality of U.S. women at the Winter Games, but the fight for equal opportunity for women continues.
Blair was skating royalty, an Olympic veteran set upon continuously challenging the clock (which she did by winning gold in both 500 and 1,000 meters). Turner had returned to speed skating after a nine-year pause to pursue music, qualifying for the new short track event. Weinbrecht was an outsider who trained by herself in Killington, Vermont in order to make the team. Yamaguchi was en route to capping off a fairy tale-like rise to stardom.
The Albertville Games were a logistical nightmare—only 18 of 57 events were actually held in the city itself, and the rest were held across 600 square miles of surrounding mountainous French countryside. The distances were grueling and made athletes' jobs more difficult, even for veterans like Blair. "It was a difficult Games," she told VICE Sports . "One of my goals was to hopefully get invited to go to a corporate dinner [where] I was going to get some good food!"
But for the first generation of American athletes to come of age under Title IX, Winter 1992 was a capstone. Women made up 34 percent of the U.S. Olympic Team, then a record high, and women dominated the U.S. silver and bronze medal hauls in addition to sweeping the gold. Although most winter sports at the time didn't directly benefit from the legislation, sportswomen gained the edge that greater opportunities to play helped foster more generally. "As a woman athlete," Weinbrecht told VICE Sports, "I grew up thinking I could do anything." That sense of no limitations bred self-confidence at Albertville. "I knew if I put my best forward, then my best could win."
Expectations for Weinbrecht were high. As U.S. Skiing's surest bet to medal, the New Jersey native faced heightened pressure as well as the variables associated with outdoor competition, like weather and constantly changing course conditions. It helped that her event was held at Tignes, familiar as a stop on the annual FIS World Cup circuit, and that she had support. "I had such great teammates that really looked after and cared for [me], hoping that I would succeed," Weinbrecht recalled. "It was a whole team effort to make me peak mentally and emotionally and physically. I don't think I would have done well if I didn't have that kind of family unit."
For Turner, making it to the Games was a dream come true. "When I was a little kid, I used to stand on a chair and pretend [to be] winning a gold medal in the mirror, with my arms up in the air," she told VICE Sports. Albertville was, for her, the embodiment of the changed mentality vis-à-vis elite female athletes. "We were putting away the makeup and getting our fingernails dirty," she recalled of chasing Olympic dreams. "We weren't afraid to just go for it."
Despite respect and relatively equal resources from their sports' federations, women still had to battle in order to fulfill their potential as athletes. For Turner, it was convincing her coaches to let her train in a way that pushed her to excel. "I knew if I wanted to be the best female short track speed skater in the world, I had to train with the men," she said. Turner launched a fight to realize her goal. While her coaches wanted her to train with the women and push them to become faster, Turner just wanted to skate with the fastest skaters, male or female—and at the time, those were men.
"I changed that whole thing," she said of how her actions paved the way for male and female short track speed skaters to train together ahead of Albertville. "Skating with the men definitely brought me out of my shell and helped me to be exceptional," she said. "I stepped out and stepped it up."
The success of the American women in Albertville also increased publicity for sports rarely otherwise seen in the spotlight. Yamaguchi believes that CBS, which broadcast the Albertville Games domestically, did a good job introducing athletes to the audience at home. But medaling generated greater awareness, even in figure skating. "It's definitely going to turn attention onto that sport and create that interest to learn more about it," she said.
For new sports that year, like freestyle skiing and short track speed skating, the attention that came along with gold medals was invaluable. Weinbrecht's win made her job easier when she got home. Previously, she had to go to great lengths to even get people to even understand what her sport was. "I was trying to explain the objective, what mogul skiing was, because it was so foreign," she said.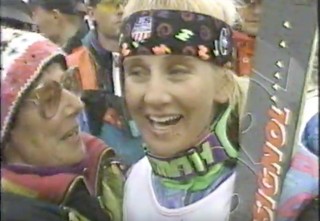 The U.S. women achieved this dominance at a time when there were more men's events than women's. Despite improvements at creating parity in the 26 years since, women are still outnumbered by men. 107 women and 135 men will represent Team USA at the 2018 PyeongChang Games. For Heather Dichter, Associate Professor in Sport Management at De Montfort University, this has everything to do with opportunity. Despite more disciplines that include women on the Olympic program, the field remains smaller than its male counterpart. "That's the big area where the battles are still to be fought within women's sport," she said.
Dichter pointed to the introduction of new events as signs of progress. The Salt Lake City Games of 2002 inaugurated men's and women's skeleton, as well as women's bobsleigh. Yet, women's ski jumping had to fight a case in court to win the right to be included at Sochi, and ice hockey only allows eight women's teams to compete, compared to 16 for the men's tournament. "From the numbers stand-point, that's where you end up with this disparity," Dichter said.
All four 92 gold medalists remain active in their sports—only now, they are paving the way for a new generation of women athletes. They answer phone calls and emails they receive soliciting their help. Blair is still involved in speed skating, most recently as a member of the Board of Directors at the Pettit National Ice Center, one of the country's primary speed skating facilities. Turner keeps tabs on the short track skaters and how their performances are progressing. Weinbrecht runs ski clinics at Killington and is a prominent fixture in the FIS Women's World Cup when it touches down on her home mountain each Thanksgiving.
Yamaguchi still mentors young figure skaters, helping them along their path. At PyeongChang, she's keeping an eye on fellow Fremont, California native Karen Chen. But Yamaguchi has also parlayed her medal into a different way of giving back. "My parents were very community minded and posed the question to me, 'what are you going to do to give back?'" she said. She started her Always Dream Foundation in 1996, dedicated to early childhood literacy.
Their work has also inspired the next generations of their families. Yamaguchi's youngest daughter is a figure skater, one of Turner's daughters is a gymnast, Blair's daughter is skating, and Weinbrecht's niece and nephew are cutting tracks down alpine slopes in the East.
But even though their feats now predate the births of many of this year's Olympians, the women of Winter 1992 remain role models to some contemporary competitors. Sochi silver medalist Mikaël Kingsbury, a Canadian mogul skier, recently broke Weinbrecht's record 46 World Cup wins, one she long held in tandem with Hannah Kearney. "These ladies are legends in our sport so to have my name just above them now is a big honor," Kingsbury told Reuters.
For Weinbrecht, it was a gracious gesture that helped her put her own contributions into greater perspective. "It's just so cool," she said of Kingsbury's feat. "Back in the day, I just wanted to do well every weekend." But, she noted, having role models helps exponentially, knowing that you've done your best to prepare and having that 'if she can do it, I can' mentality. "That's a very powerful place to be."