In New York, the most popular sport isn't baseball, football, or even basketball (the Nets and Knicks ball, but ball is not life)—it's complaining. And if there's one situation that never fails to yield kvetching, it's getting to any of the three major airports in the New York metropolitan area.
Newark International Airport, in particular, has historically gotten a pretty unfair rap. Never mind that it's often a shorter cab ride from Manhattan than construction-ridden LaGuardia or perma-swamped JFK; as Angelinos love "route talk," New Yorkers live to go on about schlepping to Newark to catch a flight.
But for travelers looking for way-better-than-average airport food, there's a new incentive to fly out of Newark: its revamped Terminal C, which houses United Airlines flights. It just got a $120 million facelift and has the fancy dining to match: In addition to Amanda Cohen's Thyme and Einat Admoney's Flora Cafe, the terminal is now home to a Global Bazaar—a sort of upscale, grab-and-go food court—which, in turn, offers some of the freshest sushi this side of the Pacific, in the form of a mini version of Tokyo's world-famous Tsukiji Fish Market.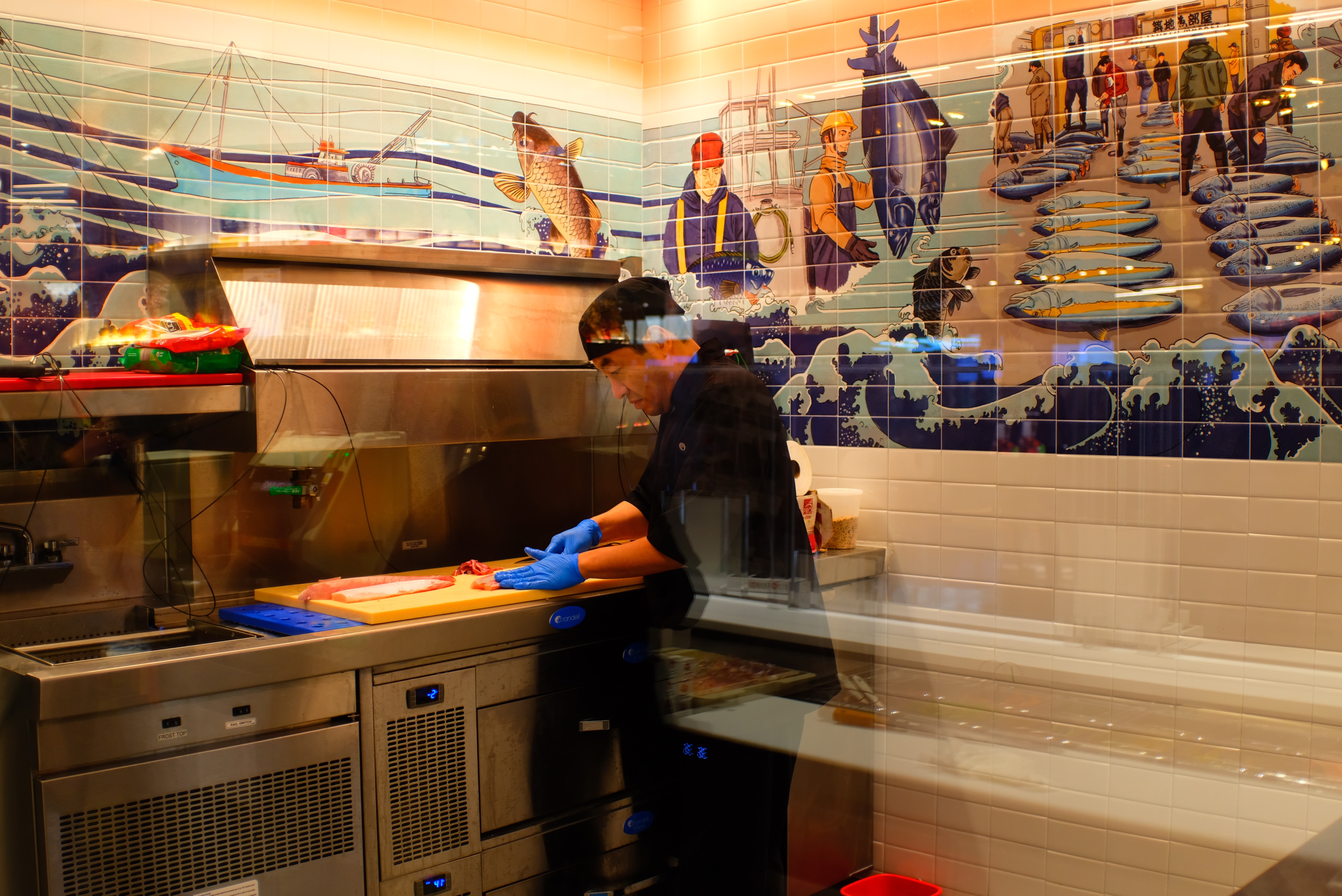 Tsukiji Fish Market is known the world over for being a) huge; b) chaotic (buyers gather as early as 4 AM, and the massive warehouse space that hosts the market is packed wall-to-wall with aquariums, crates, boxes, and buckets of every edible aquatic species that you can imagine) c) about as quintessentially Japanese as they come. It's where auction records are set, market prices are shifted, and the world's best sashimi is sourced.
READ MORE: Inside the World's Most Legendary Fish Market
Think of it as the New York Stock Exchange for seafood. A whopping 90 percent of the seafood served in Tokyo comes through Tsukiji.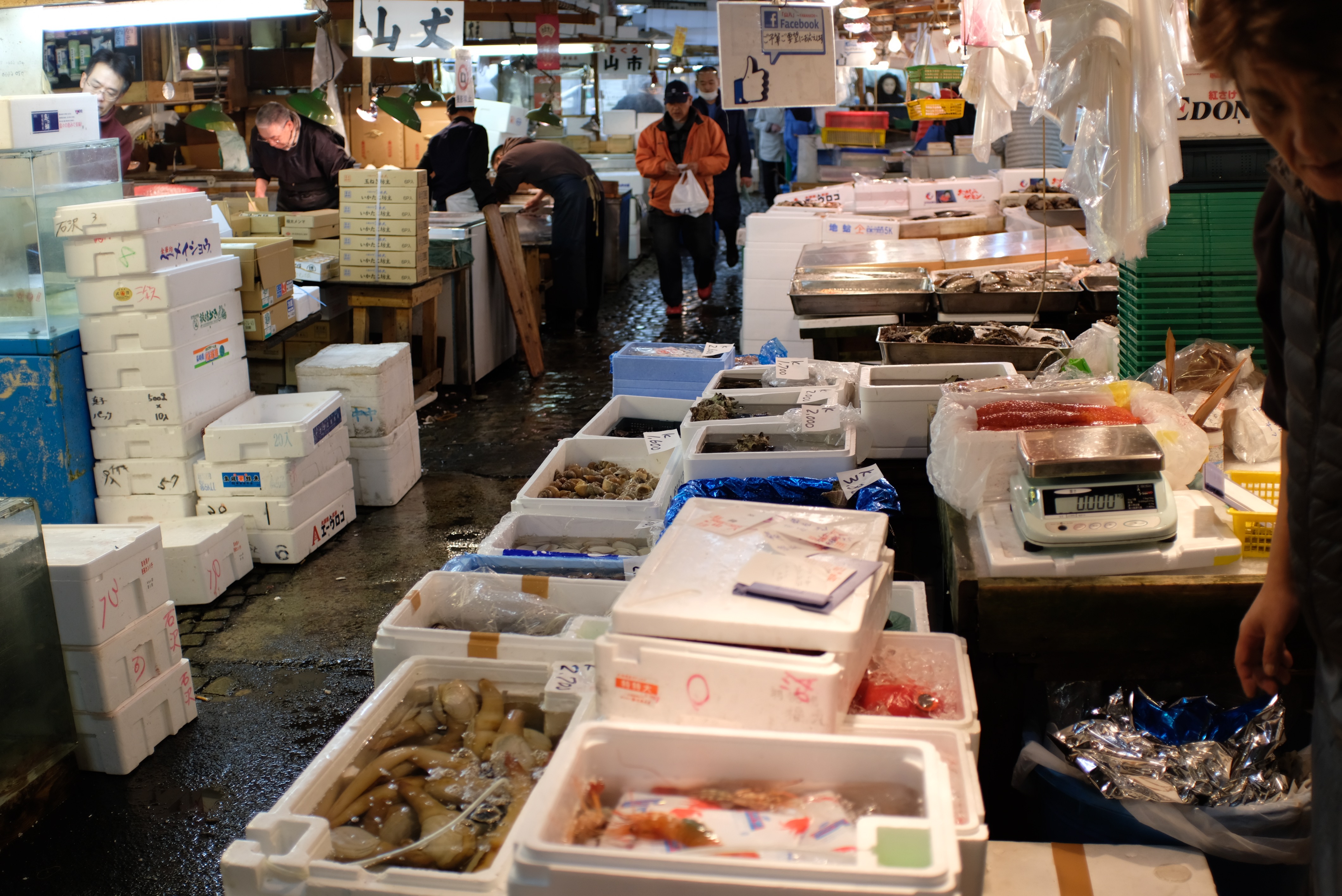 In its Tokyo incarnation, it's a staggering 2.4 million square feet (and due to relocate to a space that's 40 percent larger next year). But at Newark, visitors won't have to don boots or learn how to bargain in Japanese; they can just grab straight-outta-Tsukiji nigiri or maki and be on their way.
The brand-new New Jersey outpost of the 82-year-old market—called the Tsukiji Fishroom, and opened by airport food provider and restaurant group OTG in a partnership with True World Foods LLC—is, unlike its charmingly crazy Japanese counterpart, bright, clean as a whistle, and highly modernized. Airport-goers can watch as sushi chefs butcher tuna, hamachi (yellowtail), and salmon through a window behind its counter; then, workers use high-tech Suzumo machines to roll out perfect sheets of rice in seconds and slice their rolls into equally portioned bite-sized pieces.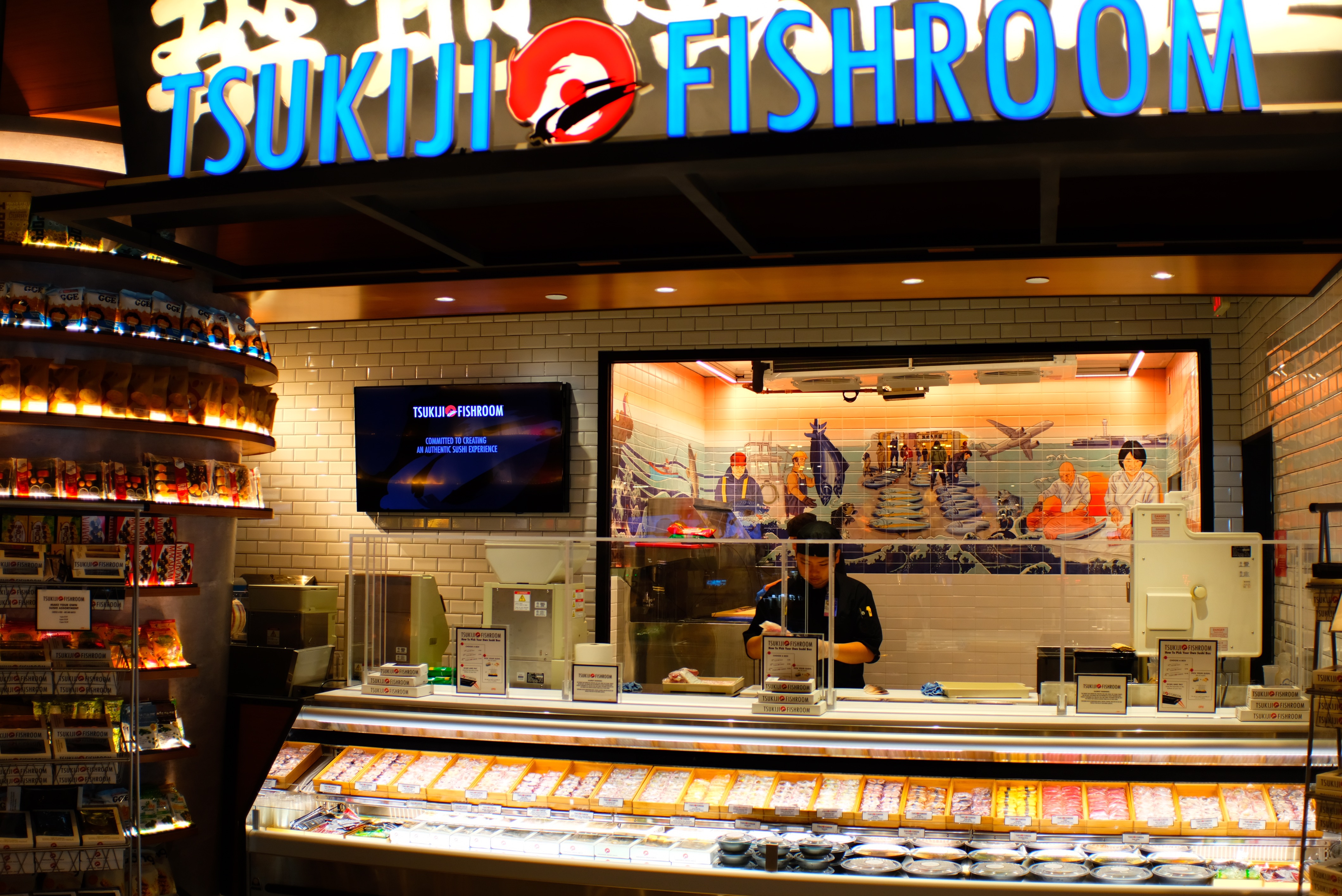 And yes, the fish is quite literally fresh off the boat (er, 12-hour flight); a 150-kilogram tuna is flown in roughly three times a week in the cargo hold of United planes. The quality of the fish is on par with many of New York's most esteemed sushi restaurants, since True World also supplies seafood to 15 East, Nobu, Blue Ribbon Sushi, Sushiden, and Kanoyama, as well as more than 10,000 restaurants in Japan.
"We like to think of it as 'sushi in an airport,' not 'airport sushi,'" says Eric Brinker, OTG's Vice President of Experience. Also overseeing the new outpost is Nate Appleman, the James Beard award-winning chef who currently serves as OTG's Vice President of Culinary.
Options range from standard sushi-counter fare (spicy tuna rolls, ebi nigiri, salmon avocado rolls) to less common catches, depending on what makes the cut that week (pun possibly intended).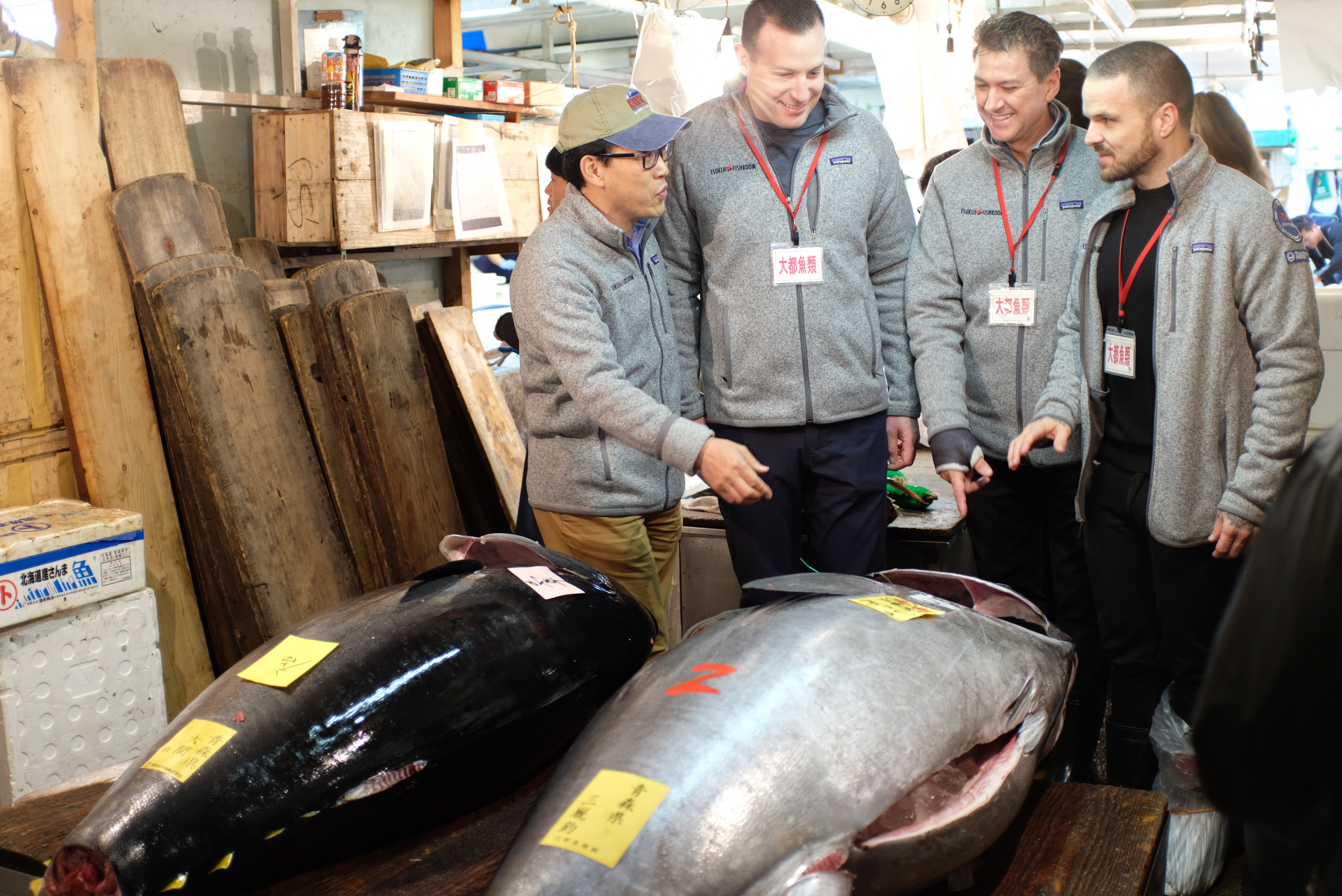 OTG Director of Culinary Dan O'Donnell says that his favorite part of the market is the DIY bento boxes, which diners can customize with the nigiri and maki of their choosing.
Eventually, the fish butchered in the Tsukiji Fishroom will be served throughout the terminal, since buying whole fish from Japan can afford the airport higher quality fish at a better price. The tuna sold at Tsukiji can cost between $30 and $150 per kilo, depending on variables such as the fat content and time of year.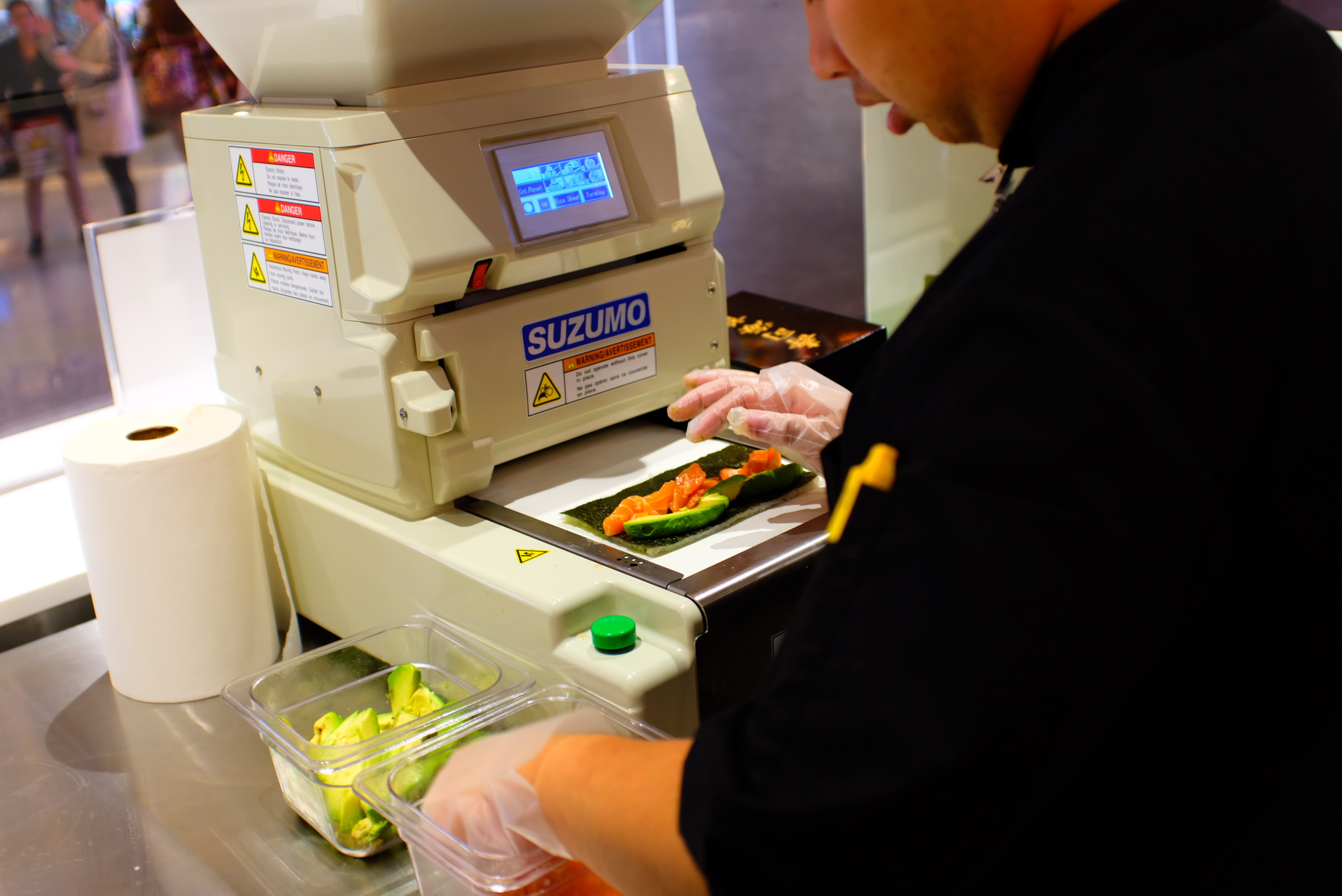 Is it the same experience as dining on melt-in-your-mouth toro at the OG location? Not exactly. But if you can't foot the bill for a flight to Japan, you just might want to give the airport a shot—even if it is in New Jersey.

READ MORE: Why Brooklyn Needs a Japanese-Style Fish Market
With the hectic holiday travel season upon us, at least the nearly 40,000 travelers flying out of Newark's Terminal C each day can count on one thing: some pretty damn good sushi.