New York-based artist Lyndsy Welgos was taught in art school that identifying as a female or feminine artist was a "weak point of view," she says. Artists were artists, she was told, and gender shouldn't come into it.
"I set out to open a space for a different narrative, with the intention to show that being female artist could be a strong critical and aesthetic point of view, and not as a joke," she says. "One hundred percent seriously."
Long before even high-profile institutions like the Saatchi Gallery began trumpeting their all-women art shows, Welgos' online platform and non-profit Topical Cream was fighting the corner of woman-identifying and gender non-conforming artists and creatives. The organization started out as an internet publication championing the work by such artists, before branching off into live events, collaborations with art institutions like MoMA PS1, online auctions, and even a line of sports bras designed by their peers. (You can get them at the New Museum.)
"In 2013," Welgos recalls, "we were working in a totally different climate regarding women, GNC and trans folks working in contemporary art." The name "Topical Cream," she says, came to her in a flash when she was hanging out in her South Williamsburg studio with comedian and multimedia artist Casey Jane Ellison. "I was like, 'That's it,'" Welgos says of the name. In 2015, writer and documentary maker Whitney Mallett joined Topical Cream as features editor; she is now also a founding member of its board.
---
Watch: Who's Afraid of Vagina Art?

Today, a look at the Topical Cream website throws up everything from an interview with queer DJ and GHE20G0TH1K clubnight founder Venus X to a critical essay on the limits of trans visibility and a feature highlighting the work of three artists working in the space of "femme black sci-fi." There's also cheeky satire, too, in the form of high-gloss fashion shoots poking fun at the cannabis industry's appeal to middle-class female consumers and playfully surreal takes on beauty industry standards. "Spring is here," one beauty editorial entreats, "and it's time to work your epidermis inside and out."
In the wake of #MeToo, the platform joined Barbara Kruger, Cindy Sherman, and hundreds of other artists, administrators, assistants, curators, and other figures in the art world in signing an open letter denouncing the culture of sexual harassment and sexism in the industry. The letter quotes US artist Jenny Holzer's billboard work Abuse of Power Comes as No Surprise:
"We are not surprised when curators offer exhibitions or support in exchange for sexual favors. We are not surprised when gallerists romanticize, minimize, and hide sexually abusive behavior by artists they represent. We are not surprised when a meeting with a collector or a potential patron becomes a sexual proposition. We are not surprised when we are retaliated against for not complying."
Collectors, curators and artists have lost jobs and prestigious shows as a result of allegations of sexual misconduct. In January, the National Gallery of Art in Washington cancelled US artist Chuck Close's show after several women accused him of sexually harassing them in his studio. (Close's lawyer denied the claims.)

"I still get the sense that some men don't really get it, that they just think they have to act on their best behavior so they don't get caught or don't get in trouble," Mallett comments. "It's a little like *facepalm* that they don't really get it. But I guess it's still better than men walking around thinking they can get away with literally anything just because they have a job at a magazine or a museum."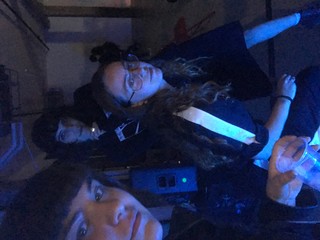 Mallett speaks passionately of the barriers that women continue to face in the industry. "There are major systemic problems in the art world that are reflected in how many women get museum shows, how many women get magazine features, how much women's work gets sold for compared to their male peers," she says. "And these biases become ingrained in us. The stories we've been told about who great artists are and what geniuses look like, these are going to influence the stories we tell unless we go out of our way to question why this version of the story has been written down in the history books."
"These historical narratives affect everything," Welgos adds, "from the history that we reference to ideas about the viability of an artists' market."
Art, Mallett points out, can be "poker chips for the uber rich." But it can also be "therapeutic" and "a form of resistance," as well as a crucial way to relieve the mental health stresses that come with being a woman or gender non-conforming person in an overwhelmingly hostile world.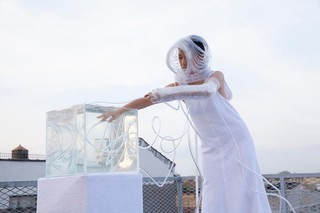 And it is true that reading Topical Cream is a soothing journey into a slice of the art world that does not, for example, routinely underpay and undervalue women and gender non-conforming people. In 2017, a study by researchers at the University of Luxembourg found that work by women typically sold for 47.6 percent less at auction than work by men. The late Georgia O'Keeffe broke records for female artists when her painting Jimson Weed/White Flower No 1 sold for $44.4 million at auction, but it pales in comparison to the $450 million record set by Leonardo Da Vinci's Salvator Mundi. The record-breaking crowds attracted to Yayoi Kusama's touring retrospective remain the exception and not the rule—not least because even the most established woman artist would struggle to gain the global recognition that she has.
Topical Cream is a "concerted effort to change the narrative," Mallett explains, adding, "I hope it gives people a space—whether that's a space to write, a space to perform, a space to be acknowledged, or a space to just read ideas."