The NFL Has Offered to Do a Study About Using Weed to Manage Pain
Is this too little too late?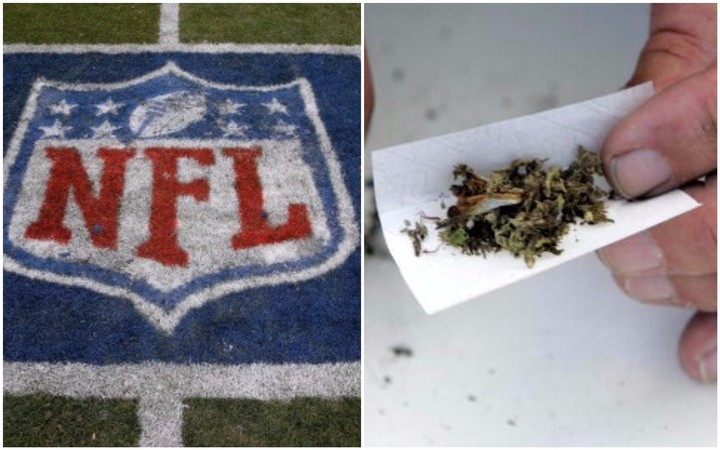 Getty Images/Doug Pensinger/Justin Sullivan
The NFL has reportedly written to the NFL Players' Association about conducting a study to investigate using marijuana as a way to manage players' pain, according to the Washington Post.
The NFL Players Association (NFLPA) is a labor organization representing football players in the NFL and is entirely independent from the NFL. Last November, the association announced that it was forming a committee to study marijuana as a pain management tool for NFL players.
The exact details of the new joint study proposed by the NFL are unclear. Neither the NFL nor NFLPA could be reached for comment. NFL players are currently prohibited from using marijuana per a drug policy that was negotiated by the NFL and NFLPA, and players are regularly drug tested. Both organizations would need to okay any proposed changes to the league's drug policy.
In 2014, the NFL modified its current standards for what counted as a positive test for marijuana from 15 nanograms of THC per milliliter of urine or blood to 35 nanograms of THC. Prior to this change, the NFL had the strictest marijuana testing standards in professional sports, according to the Washington Post.
---
More From TONIC:

---
Due to the sensitivity of the subject, most NFL players have been relatively silent on the issue of medical marijuana. The primary exception was former Baltimore Ravens offensive lineman Eugene Monroe, who spoke about the need for the league to consider marijuana as a safer alternative to current pain-management practices prior to his retirement.
"Speaking about [cannabis] can honestly ruin someone's career if the wrong team gets wind of it and has adverse opinions on it," Monroe told The Washington Post. "But my health is more important than the opinion of someone who could be my employer now or my future employer."
The study comes at a time when a record 60 percent of Americans think that weed should be legalized and well over half the states in the US have legalized marijuana for medicinal purposes.
It's important to note that when it comes to medical weed, patients using it for pain management often opt for strains that are high in CBD and low in THC. CBD is the molecule in cannabis that is known for its therapeutic effects, while THC is molecule that gives cannabis its psychoactive properties. Advocates point out that this would allow NFL players to manage their pain without necessarily getting high.
The proposed study comes on the heels of a report released earlier this year that described the rampant abuse and mismanagement of painkillers in the NFL. According to the report, the average NFL team prescribed 2,213 doses of controlled medication (such as Vicodin) to its players during the calendar year, in addition to skirting federal regulations about how these drugs are to be acquired and stored. Switching to marijuana could help avoid the abuse of these addictive substances.
It remains to be seen whether the NFL will approve cannabis for pain management, but in a sport defined by its hard knocks, it's an option that offers intriguing potential.
Read This Next: It's Ridiculous That the NFL Still Hasn't Legalized Weed

Stories