Stu Jackson has worked in and around professional basketball for nearly three decades, observing the NBA and its draft from numerous angles. He was a coach with the New York Knicks, the president of the expansion Vancouver Grizzlies, and spent 13 years working in the league office. Today, Jackson is an analyst for NBA TV, and on Thursday night he will be part of the network's first-ever live draft coverage, beginning at 5 PM EST.
With the 2017 class widely heralded as a deep, generation-shifting crew, Jackson talked with VICE Sports about the intriguing prospects, potential sleepers, the controversial Celtics–Sixers trade, and more. This interview has been condensed and edited for length and clarity.
---
VICE Sports: What was your initial reaction when the Boston Celtics traded the first overall pick to the Philadelphia 76ers for the third overall pick and a future first-round selection?

Stu Jackson: To me, it's a good trade for both teams. The Sixers are getting what they believe to be a transformational franchise point guard in Markelle Fultz. And they think that with good reason. He's got great size, great ability, very good passer, is an elite scorer. He has a mid-range game, long-range game, good vision. So I think combined with their other young players, the move makes a lot of sense to them. Even though as a team they're going to be very young, at least with their franchise and for their fans in particular there's a great deal of hope for their future.
For Boston, it makes an equal amount of sense. They're a 53-win team with a very strong backcourt core, and adding a guy like Markelle Fultz would've probably been counterproductive, in that Markelle would not have had the ability to play a lot of minutes initially, or even perhaps throughout most of the season. They were in need of a different type of player than Markelle Fultz, in terms of a different position, so whoever they draft at number three probably is not going to be a point guard, and likely will be a wing player, so that makes a little bit more sense for them.
Plus, the Celtics get yet another pick in the process to add to their already strong arsenal of draft picks, and they clear more cap space that almost gets them to the point of $30 million in room—provided that they renounce everyone—so they can go out and get a maximum-level player on the open market. So I think for both teams it made sense.
VICE Sports: Did it surprise you at all when Danny Ainge recently indicated Fultz isn't at the top of Boston's draft board?
Jackson: No, it doesn't. Fultz, like a lot of players in the draft, they just quite frankly are not ready on both sides of the ball, and I'm speaking offensively and defensively. Just my own observation of Fultz is he's a tremendous offensive talent today with the potential to be a great offensive player down the road, but defensively he's lacking a little bit. And given where the Celtics are right now in terms of what their mantra has been under Coach [Brad] Stevens, it's been at the defensive end, so I can very well see why he would not potentially be the number one player on their board.
VICE Sports: Assuming the Celtics don't trade the pick, who do you think they should select at No. 3?
Jackson: For them I think you've got to look at Josh Jackson or Jayson Tatum. And for different reasons. Jackson plays very well on both sides of the ball. He's creative offensively, he can put the ball on the floor, he's gonna have the ability to shoot the ball from the perimeter, and he rebounds the basketball. As importantly, he can really pass the basketball and defensively he's terrific. He's long. He's good on the ball in terms of putting pressure on people. He's good off the ball in terms of playing passing lanes. He's somebody you've got to consider.
Tatum, on the other hand, may be the best isolation player in the draft. If Boston has one shortcoming, it's their ability to have more than one player who can play isolation basketball. They have Isaiah Thomas and he's great, but you can never have too many guys who can score and put points on the board the way a guy like Tatum potentially can.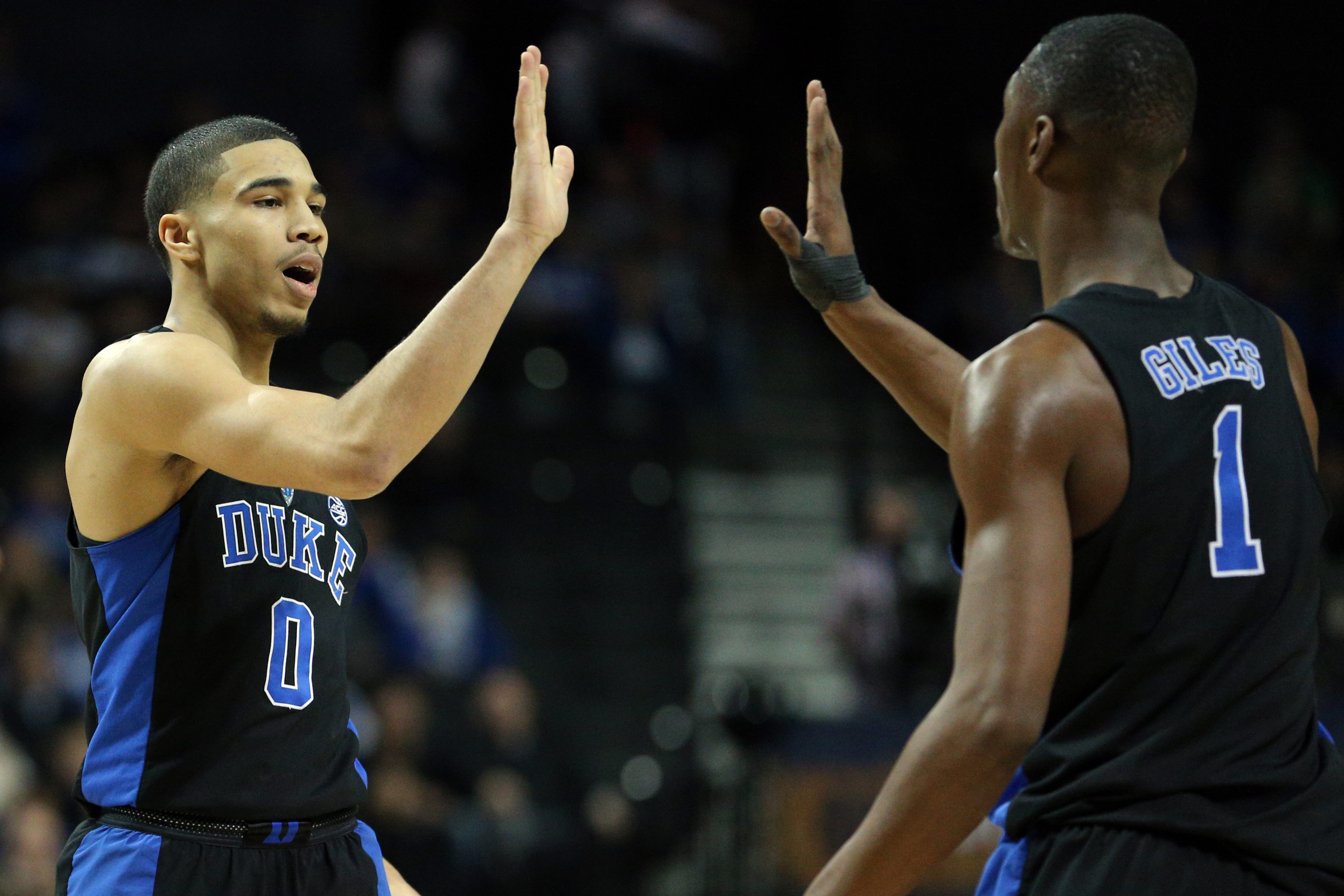 VICE Sports: You were on the coaching staff for a few Knicks teams that had a young Patrick Ewing, Mark Jackson, and Rod Strickland, then in Vancouver for a year with Shareef Abdur-Rahim and Bryant Reeves in the first couple years of their career. Having those experiences, how hard is it for the Sixers to build the way they are, with so many young, inexperienced players trying to grow together?
Jackson: It's really, really difficult. I can't overstate how difficult it is because young players collectively just don't have an understanding about what it takes to win in the NBA. And I'm not talking about a talent standpoint, I'm talking about how to endure and perform over the course of an 82-game schedule, and over the course of that schedule how important it is that you continue to develop your game. Most players at that age just don't have that understanding, so that leads to losses, sometimes frustration, and when you have a collection of young players without that veteran leadership, it can be a really trying experience. Bottom line is your collective overall maturity level just isn't very good. So, it's tough. I don't know any other way to put it.
VICE Sports: Five years from now, who will be the best player from this draft?

Jackson: That's an interesting one. Five years from now, I wouldn't be surprised if it were—I'll give you two names: Josh Jackson would be one, and my second would be Harry Giles.
VICE Sports: Whoa! Care to elaborate?
Jackson: Jackson because I just think he plays as well defensively as he does offensively. He's a gym rat, and his mentality will allow him to continue to develop as a player. Then he's a player that can potentially make others around him better. The guy over the course of 40 minutes averaged about three assists per game. That's pretty good for a small forward. And he has the ability to block shots. So you're talking about a guy who has a wealth of skill level and talent, and seemingly the mental makeup to just continue to get better.
[With Giles] the bottom line is, of all these guys in this class, he was the best of all of them at one point in time, and he suffered through some injuries which have set him back. But it hasn't really sapped his athleticism, and what you saw in one year at Duke is what I'd call his "injury recovery" year. If he stays healthy, he's just going to continue to get better and better. He shoots the ball right now from 15-17 feet. He can pass the ball, he defends, he rebounds, he can run, he plays with great energy and passion. I'll tell you what, in five years, if he's healthy, I wouldn't be surprised if we're looking back and saying Harry Giles is the best player.
VICE Sports: Who are some sleepers, guys who aren't being talked about all that much who you feel can have an impact in the league?
Jackson: Josh Hart. I'm not sure Josh is even going to be picked in the first round. Most certainly he'll be picked at minimum in the second round and play in this league for a long, long time. I think the team that selects him will understand what they have and look at Josh Hart in a system that he can flourish in. Once he finds out what the expectations are, he's smart enough to understand how to make himself successful. He's tough, he's competitive, he's a great teammate, and will be a veteran in this league for a long, long time.
Jordan Bell at Oregon is another one. High-energy guy, and having great energy at the level he does is a skill. That's a talent. I think he has a chance to be a good role player.
VICE Sports: Are there any players in this draft who are listed in mock drafts in the lottery or top half of the first round who you wouldn't have that high?
Jackson: It's too difficult to tell at this point. It's just too difficult to say.
VICE Sports: How dark is Golden State's shadow over this draft? By that I mean do you think it's wise for any team in the lottery (Minnesota, Detroit, etc.) to trade their pick for more established talent, or should they stay on course and build slowly?
Jackson: The shadow is that the Golden State Warriors are single-handedly altering personnel decisions for teams throughout the league, particularly teams at the elite level. If you're Cleveland and one player or two players away from winning a championship, I think you have to keep Golden State in your sights. For developing teams in the Western Conference, building through the draft is wise. The Warriors are going to be the elite of the elite for the foreseeable future, and you can't circumvent the process [with short-term trades]. You need to develop a roster in a systematic way in hopes of one day competing with them.
VICE Sports: How different is it for you to approach the draft from all the different roles and positions you've held, from being an assistant coach to a head coach to a general manager, to someone working in the league office, to someone working as an analyst for NBA TV?
Jackson: I try to approach it as someone who has a wide range or overview of what has been good in this league or successful over a long period of time. That's what the different roles have afforded somebody like myself. So there's just certain things you realize in terms of the makeup of teams, and what it takes to truly be successful.